Charles Torgeson Wheeler C14081
July 14, 1913 - July 11, 1945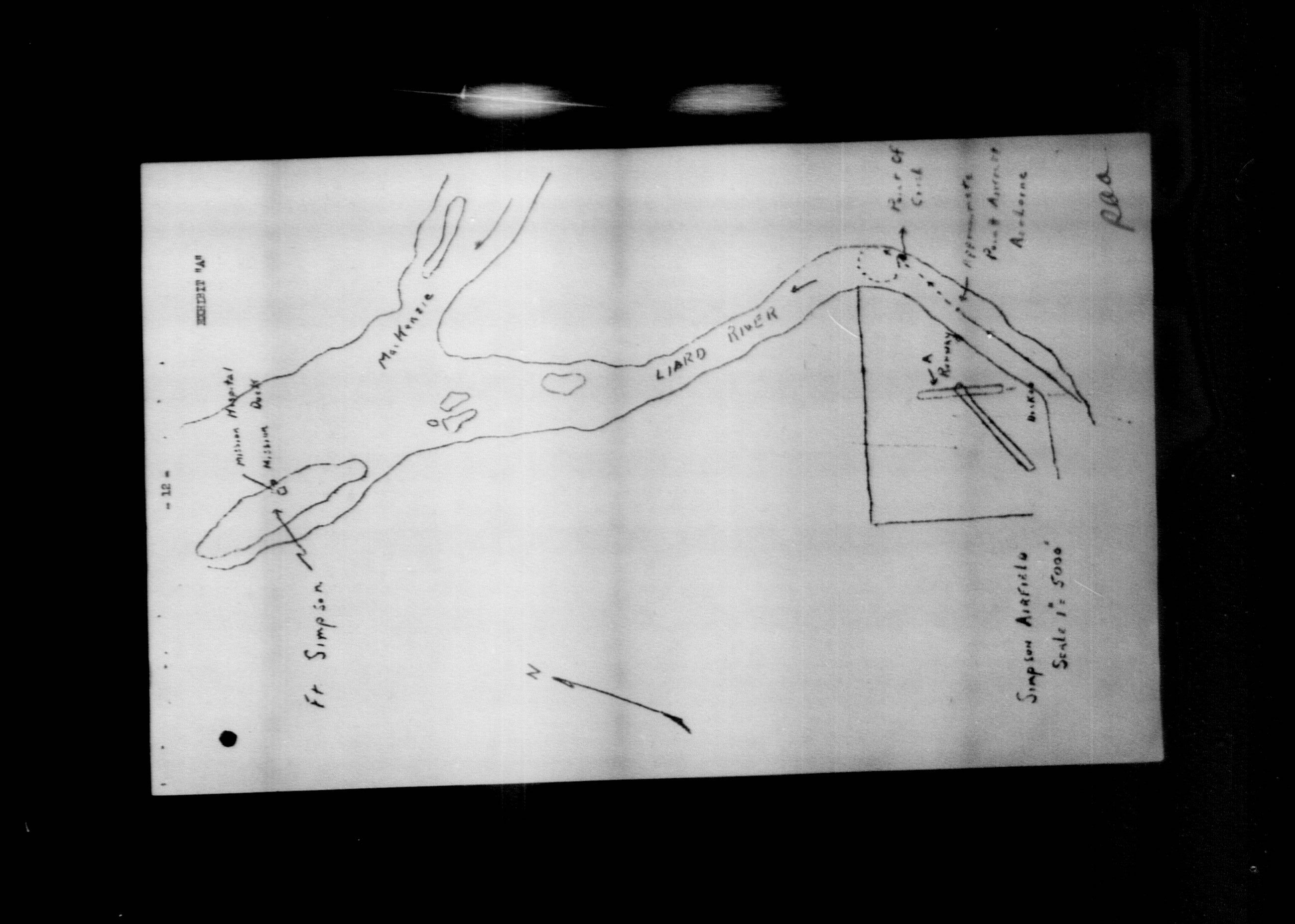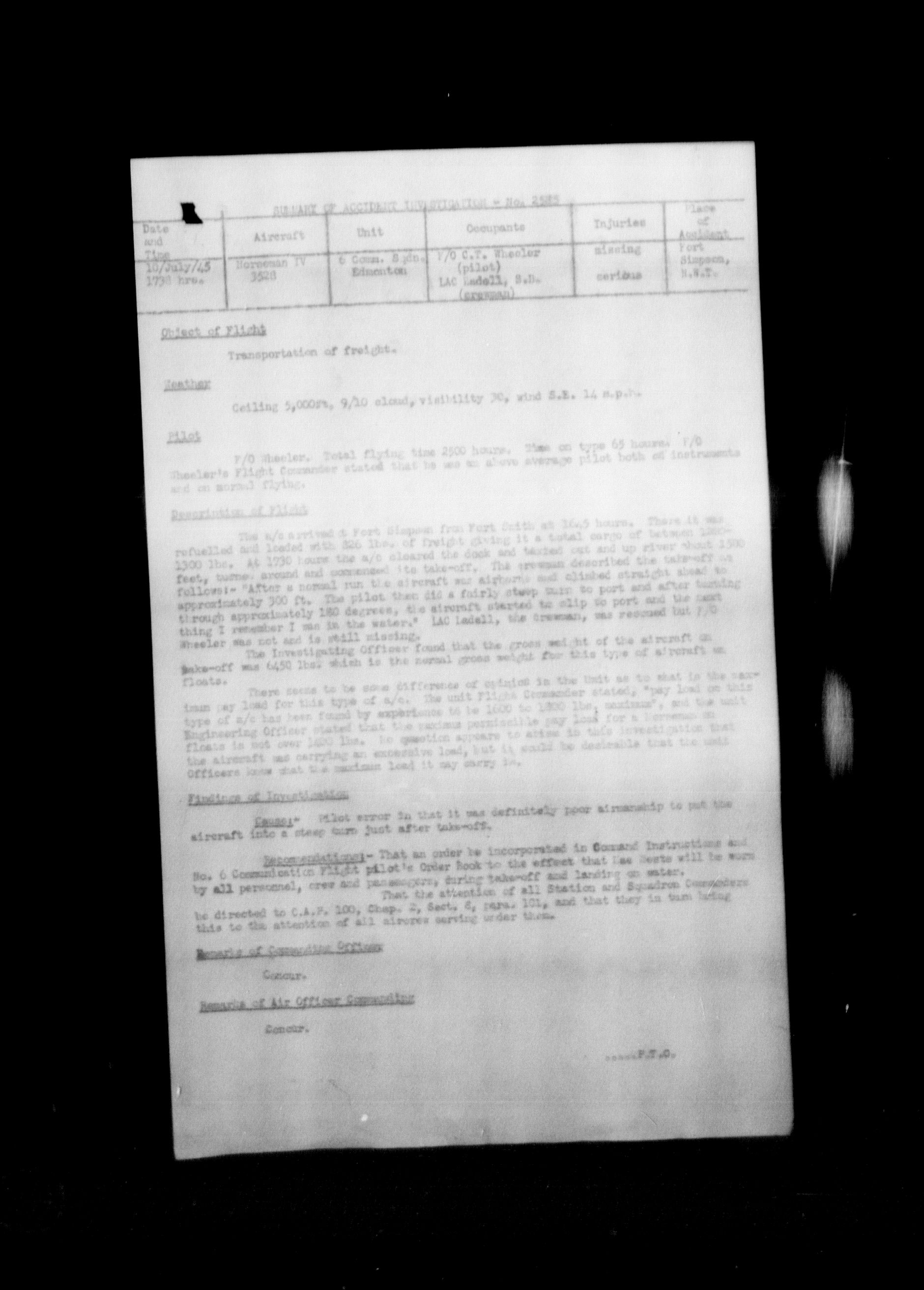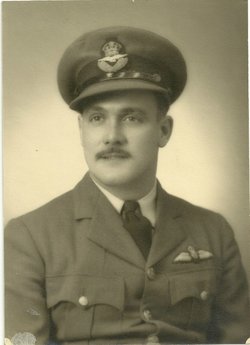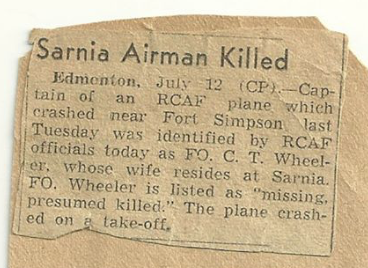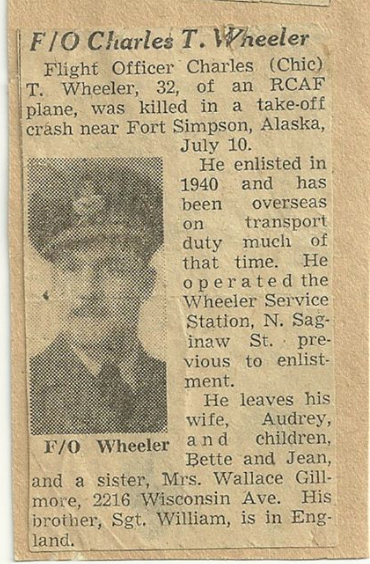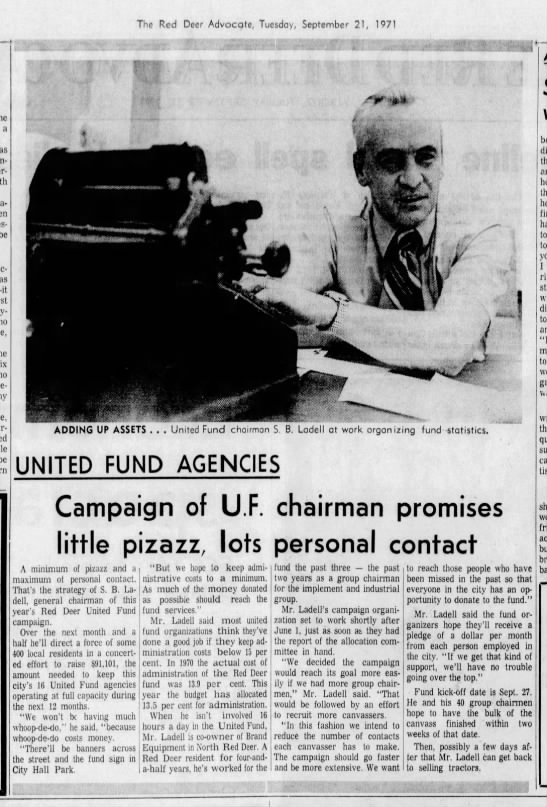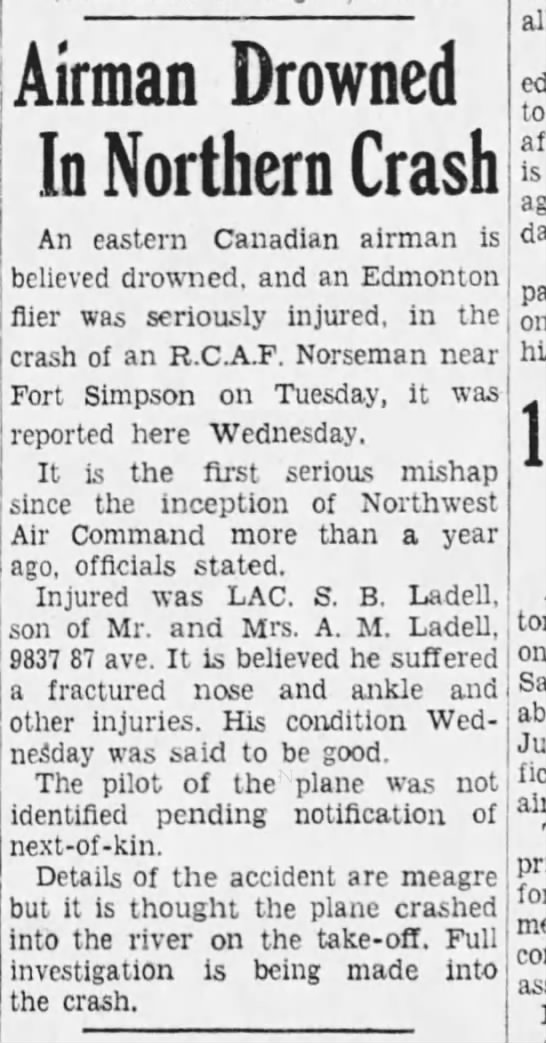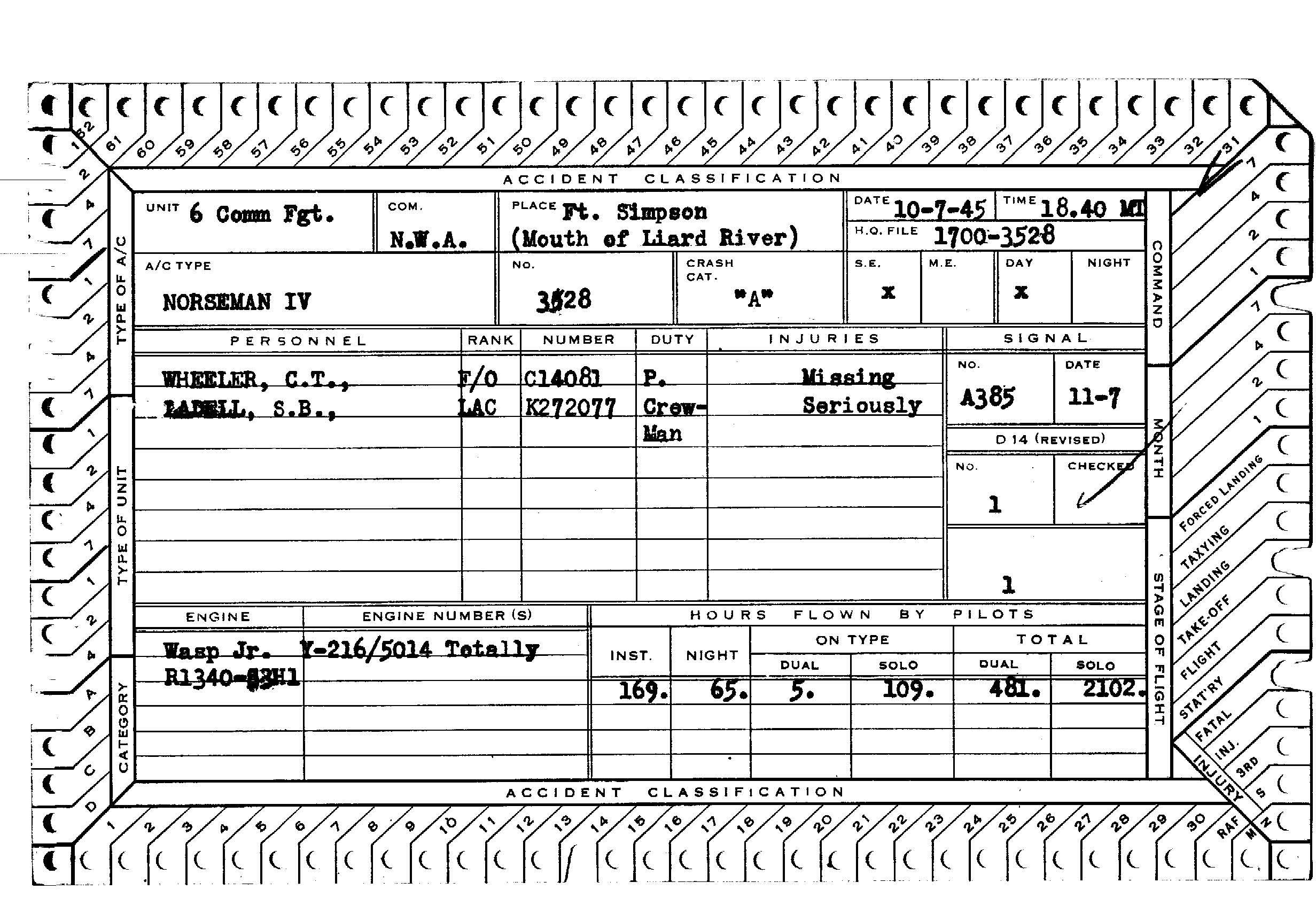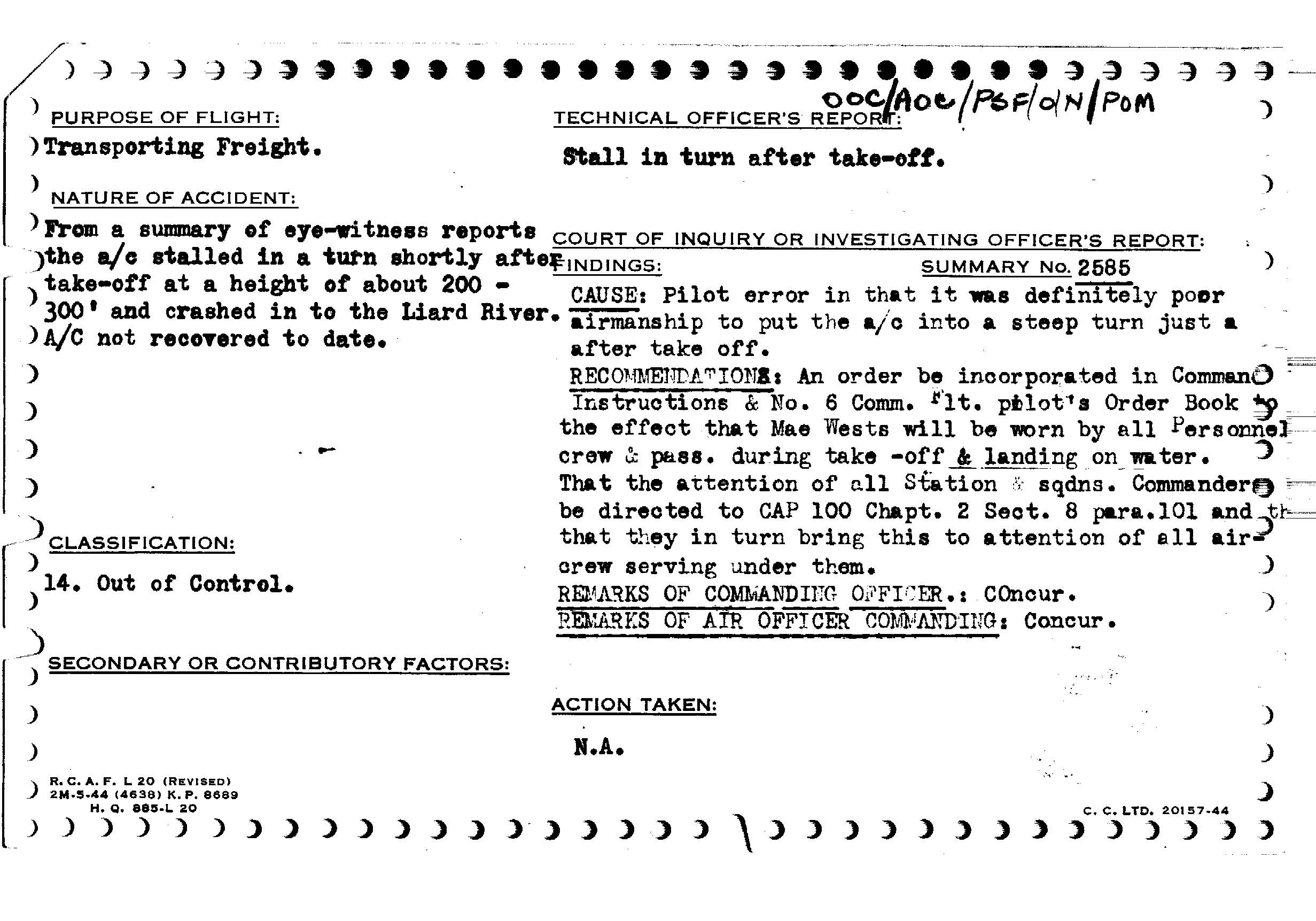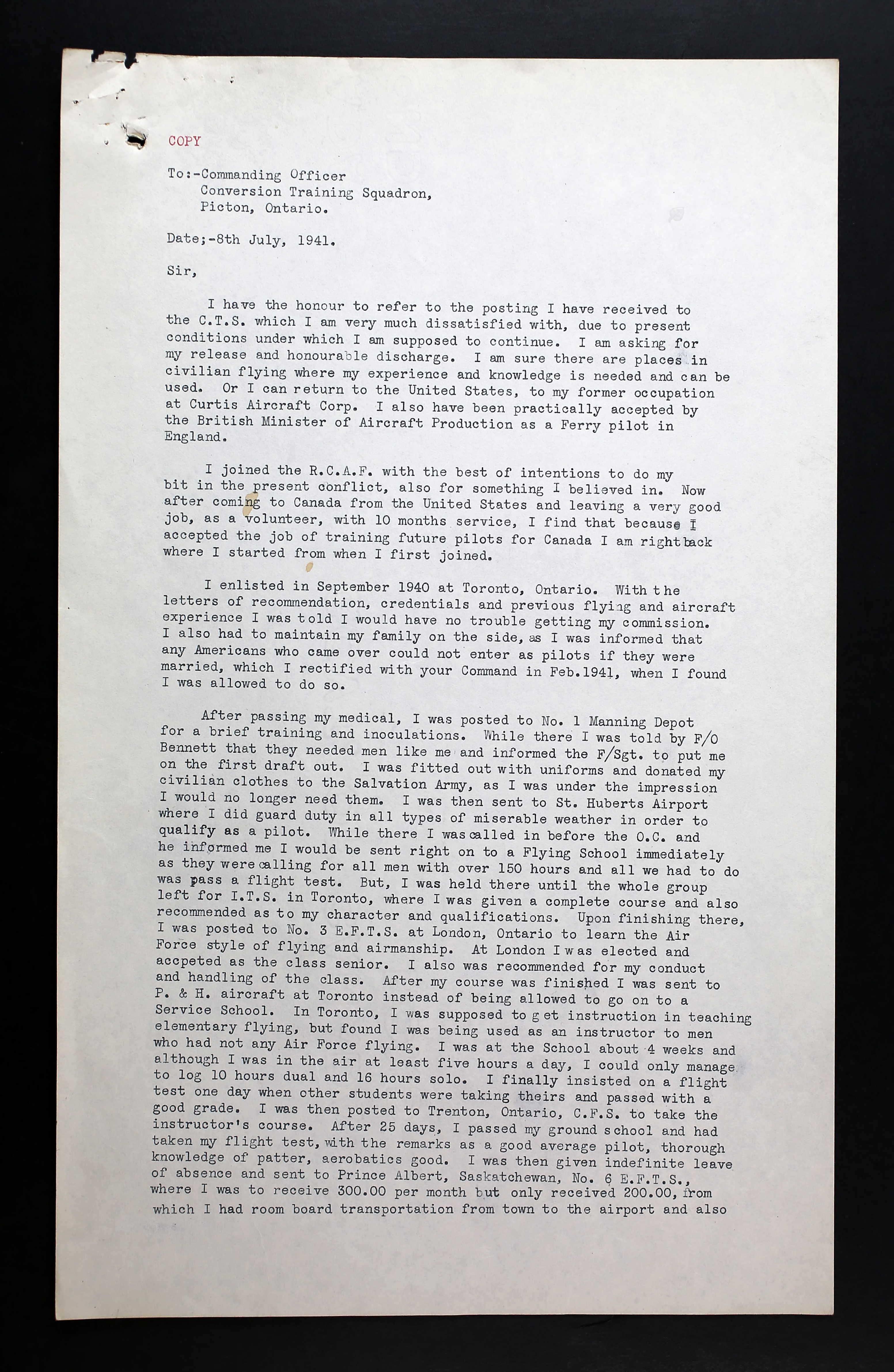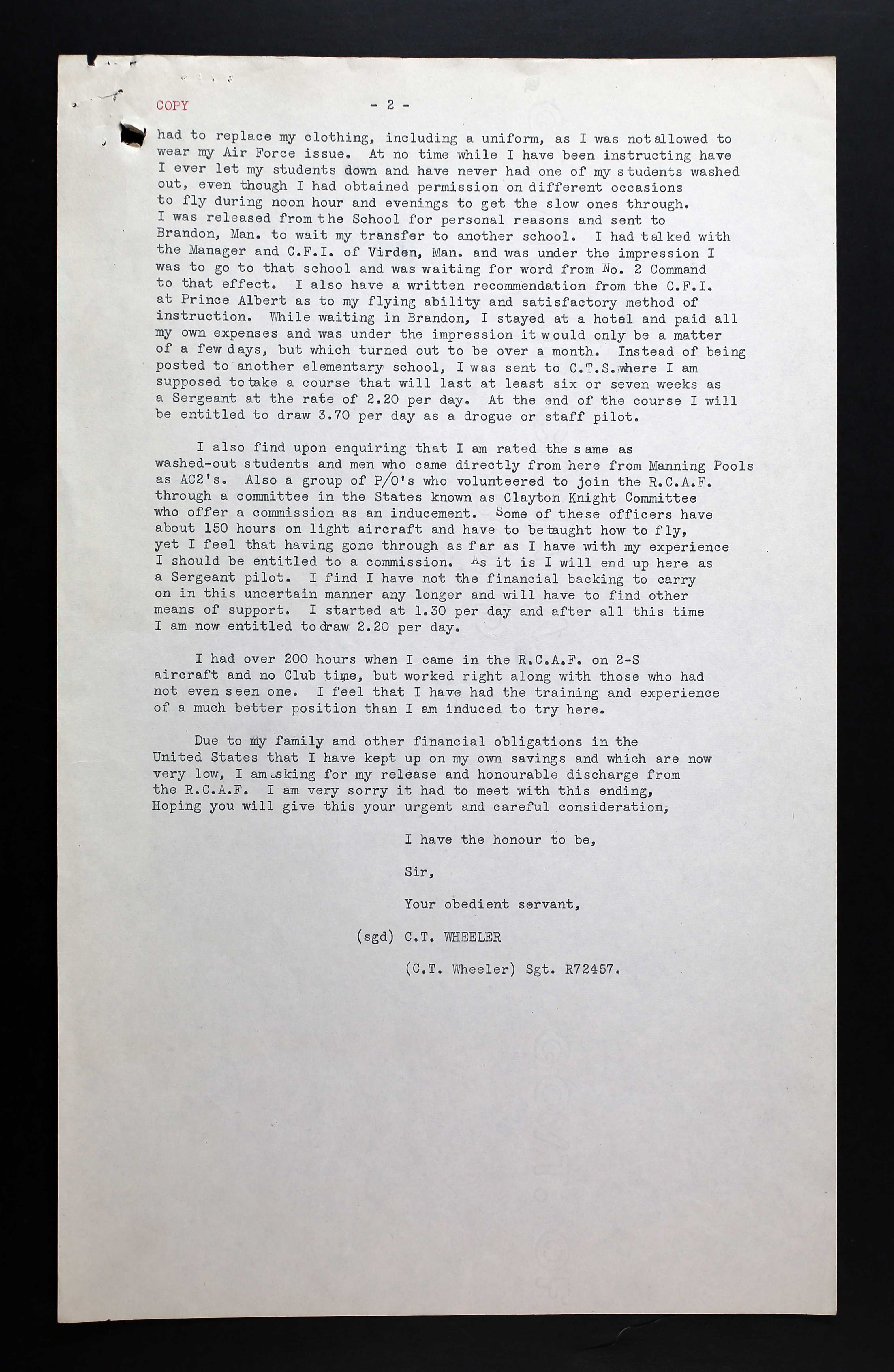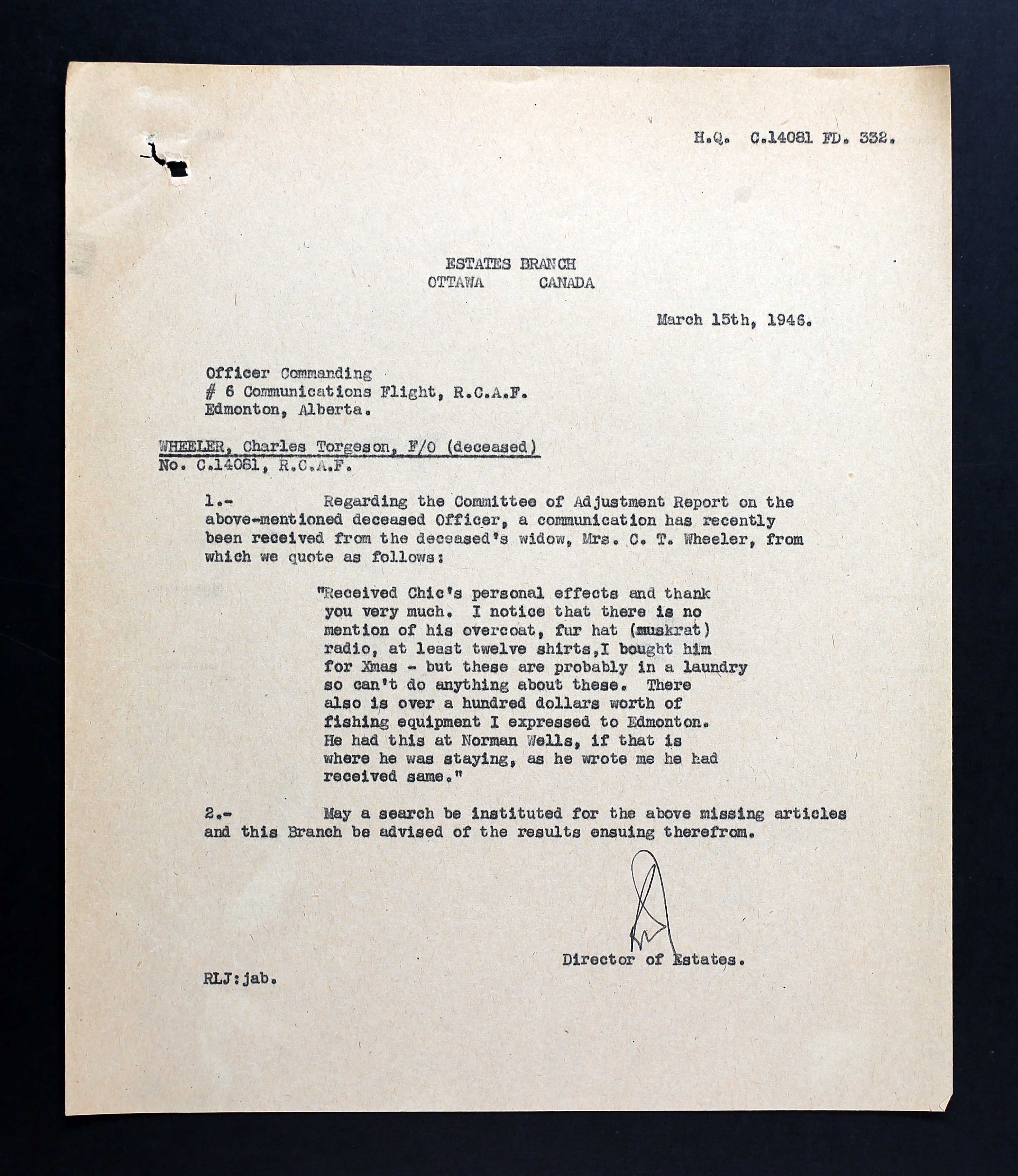 'Rough and ready type" American with race track driving experience joined RCAF and became pilot in 1940, flying numerous types of aircraft. He was unhappy with his postings over the years. With No. 6 Communications Flight, piloting Norseman 3528 out of Fort Simpson in July 1945, the plane side slipped upon take off and crashed into the Liard River, his body not recovered; the crewman was seriously injured.
Charles 'Chic' Torgeson Wheeler, born in Cheboygan, Michigan, was the son of Charles Henry Wheeler (1887-1937) and Lillian Christina (nee Torgeson) Wheeler (1886-1939). His sisters were: June Fredricka Gillmore (1916-1965), Virginia Marie Gill (1917-2011), Vera Lillian Sawyer (1919-2015), Betty Lou Slaterline (1928-2001), and his brother was William 'Glenn' Wheeler (1922-). Glenn was noted as next of kin as both Chic's parents were deceased. The family was Methodist.
Chic married Dolly Audrey Dupuis on February 23, 1935, in Clio, Michigan. At the time, they rented a home in Buffalo, New York. He had two stepdaughters, Betty Dupuis, 19 and Jeannie Dupuis, 21, by 1945. They resided in Sarnia, Ontario.
On his interview sheet, September 25, 1940, Toronto: "Sports: rugby, baseball, basketball, track and field. Hobbies: flying, race track driving. Smart chap intelligent, keen, and alert. Lots of experience around aeroplanes. Good appearance. Strong, confident, aggressive type. Will make excellent material for Air Crew." He had worked at General Motors from 1935-1937, sheet metal – layout, then Curtiss Aircraft Corp general construction. He felt that his race track driving experimenting with speed and design were special qualifications useful to the RCAF. "I have been associated around and with aeroplanes since 1926. I am very quick thinking and have been testing fuselage and wings in Wind Test and Experimental." He smoked up to 15 cigarettes per day and drank the occasional social beer. "Rough and ready type." December 6, 1940. Chic resided at New Toronto, awaiting acceptance into the RCAF.
Chic stood 5'9" tall and weighed 158 pounds. A scar over his right knee cap and two tattoo marks on his right deltoid (horseshoe with horse and whip), were noted. He had brown eyes and dark brown hair.
Chic's journey through the BCATP started at No. 1 Manning Depot, Toronto, September 28 to October 11, 1940. He was then sent to No. 1 Wireless School in Montreal for about a month before being sent to No. 1 ITS, Toronto, November 15, 1940. He forfeited two days' pay December 2-4, 1940, for being AWL. He was then sent to No. 3 EFTS, London, December 23, 1940. He was at No. 1 TC, Toronto February 9, 1941, then at Trenton March 4, 1941. He was in Prince Albert, Saskatchewan, then No. 1 Manning Depot, Brandon, Manitoba May 22, 1941. He was in Picton, Ontario June 14, 1941.
On July 8, 1941, Chic wrote a lengthy letter to the C/O Conversion Training Squadron, Picton, Ontario. [See documents above.] He was very dissatisfied with the posting at the CTS "due to present conditions which I am supposed to continue. I am asking for my release an honorable discharge. I am sure there are places in civilian flying where my experience and knowledge is needed and can be used. Or I can return to the United States, to my former occupation at Curtiss Aircraft Corp. I also have been practically accepted by the British minister of aircraft production as a ferry pilot in England." He provided details of his experience with the RCAF, donating his civilian clothes to the Salvation Army, doing guard duty at St. Hubert in "all types of miserable weather." He was not happy.
At Picton, Ontario, Chic was assessed in September 1941. "Above the average. Well-mannered and amenable to discipline, good officer material. Recommended for Ferry Flight. Excellent pilot and a good type, suitable for commissioned rank." AWL was cancelled on September 10, 1941.
He was sent to RCAF Station, Rockcliffe, November 27, 1941. On Temporary Duty, he found himself at Trenton, Patricia Bay, Toronto, Winnipeg, and Calgary, Jarvis, Dartmouth, Fort William, Edmonton, Montreal, Mountain View, London, Aylmer, and Sydney, NS between April and August 1942.
In April 1942 with No. 124 Ferry Squadron, RCAF Rockcliffe, he was assessed: "A very conscientious capable pilot with plenty of initiative." November 1, 1942: "This officer shows some signs of instability since he received his Commission a short time ago, but it is believed he will settle down. Has done excellent work in the past and has the ability." Other comments: "Would suggest parading and a talk regarding his responsibilities." January 16, 1943: "A new Officer who should be well worth watching. Recommend that he be backdated to three months after his appointment on July 1, 1942." January 18, 1943: "This Officer has shown himself to be unusually capable and aggressive in the handling of his duties as flight leader. It is recommended that he be promoted to acting F/O effective October 1st, 1942." July 2, 1943: "This Officer was in charge and appeared to be doing a very good job of work." January 27, 1944: "This Officer while at the Standish Hall in Hull, Quebec, placed a call for the Service Police from Rockcliffe. In the opinion of the Service Police, this call was unnecessary as the Officer would not lay any charges or even reveal the identity of the Leading Aircraftman in question. The fact that this Officer made a complaint and from his own admission had tolerated abuse, and later refused to reveal the identity of the airman concerned, would indicate neglect of duty on his part particularly as the incident probably took place in the presence of other personnel and civilians." March 31, 1944: "Single and twin-engine pilot and flight leader has also served as OC of North Bay detachment 124 Ferry Squadron." June 6, 1944: "This Officer has worked hard, effectively and cheerfully. He has not spared himself in advancing the interests of the service. He is promotion is strongly recommended." July 24, 1944: "This Officer has done very good work for this Unit under difficult conditions. Recently he has shown that he cannot be relied upon consistently in a position of responsibility. It is probably thought overconfidence and through being misemployed." August 11, 1944: "Good pilot, very energetic and should be employed in a place where practical work is required. Somewhat self-willed but should be outstanding in the right position. Has earned consideration for promotion." Chic was in the sick bay hospital November 30, 1940, and again July 29 to August 1, 1941, and a third time January 13 – 22, 1944. April 25, 1945: Transport Conversion Squadron. Employed as communications. "Loop orientation weak. Beam bracketing inaccurate at times. Instrument flying good. Knowledge of procedure good. Knowledge of aircraft and equipment good." On May 22, 1945, a letter from G/C W. W. S. Ross, regarding F/O Wheeler was written from Pennfield Ridge, NB. [See documents above.] "He was attached to Transport Conversion Squadron, Course number eight. He arrived over a week late for the course but attempted to get through ground school. The results of his work were poor, but due to the fact that this officer had a reasonable excuse for being late, he was given an opportunity to transfer to course #9. His work in the ground school on course #9 was not coming up to standard, and it was necessary for the CGI to warn him a number of times to put more effort into his work. He failed two subjects but managed to pass on the supplementary examinations; consequently, he was allowed to continue at the flying portion of the course. His flying is of average standard as, with his previous experience, he had no trouble in this phase. However, during this time, he was arrested by the Royal Canadian Mounted Police and brought into court for having more than one liquor permit in this province, and was convicted. He also gave a worthless cheque to the Admiral Beatty Hotel in Saint John, which later he made good. The manager of the above hotel reported this to the Commanding Officer. On completion of the course, this Officer was unable to leave the station due to lack of funds to pay his mess bill. During the time he was attempting to raise the money, he took a 48-hour pass without permission, without signing out or leaving an address. He was paraded before the Commanding Officer and logged. It is the opinion of this unit that F/O Wheeler although proficient in his trade, is not capable of assuming the responsibility and integrity of an Officer in the RCAF."
On May 26th, 1945, a reply. "F/O Wheeler was posted to No. 6 Communications Flight, Edmonton, on graduation from this course." By June 21, 1945, Chic was on temporary duty in Norman Wells.
On July 10, 1945, Chic was flying Norseman 3528 when it crashed near Fort Simpson, NWT at take-off into the Liard River. LAC Sydney Bernard Ladell, K272077, from Edmonton, was seriously injured. Chic's body was not recovered. From the Crash Card: "Transporting flight. From a summary of eye-witness reports, the a/c stalled in a turn shortly after take-off at a height of about 200-300 feet and crashed into the Liard River. A/C not recovered to date. CAUSE: Pilot error in that it was definitely poor airmanship to put the a/c into a steep turn just after take-off. RECOMMENDATION: An order be incorporated in Command Instruction & No. 6 Comm. Flt pilot's order book to the effect that Mae Wests will be worn by all personnel crew and passengers during take-off and landing on water."
Norseman 3528 had been in three accidents prior: March 31, 1942, April 1, 1942, and November 11, 1929. (See link below for more information.)
Chic flew many different types of aircraft: Fleet, Harvard I and II, Yale, Oxford, Tiger Moth, Finch, Fort, Delta Hampden, Bolingbroke, Canso A, Hurricane, Cessna Crane, Catalina, Kittyhawk, Avro Anson I, II, III, IV, V, Fairey Battle, Cornell, Norseman (Water/Land), Lysander, Stearman, Canso Catalina, Lockheed 10 and 12, Brewster "Bermuda", Beechcraft, and the Lodestar.
The full Court of Inquiry can be found on microfiche T12347 starting at image 1530.
The Court of Inquiry began on July 11, 1945, at Fort Simpson, NWT for the accident that occurred at 1645 PDT July 10, 1945, concluding on July 16, 1945 in Edmonton, Alberta. Eight witnesses were called. "Aircraft on a routine freighting job, ordered by OC No. 6 Comm. Flight, Edmonton. No instructions being given." WEATHER: Good. 6,000 feet broken cloud. Visibility 30 miles.
PILOT: F/O Wheeler. Total flying time: 2500 hours. Time on type: 65 hours. F/O Wheeler's Flight Commander stated that he was an above average pilot both on instruments and on normal flying.
DESCRIPTION OF FLIGHT: The aircraft arrived at Fort Simpson from Fort Smith at 1645 hours. There it was refuelled and loaded with 826 pounds of freight, giving it a total cargo of between 1200 and 1300 pounds. At 1730 hours, the aircraft cleared the dock and taxied out and up the river about 1500 feet, turned around and commenced its takeoff. The crewman described the take-off as follows: 'After a normal run, the aircraft was airborne and climbed straight ahead to approximately 300 feet. The pilot then did a fairly steep turn to port and after turning through approximately 180 degrees, the aircraft started to slip to port and the next thing I remember I was in the water.' LAC Ladell, the crewman, was rescued but F/O Wheeler was not and is still missing. The Investigating Officer found that the gross weight of the aircraft on take-off was 6450 pounds which is the normal gross weight for this type of aircraft on floats. There seems to be some difference of opinion in the unit as to what is the maximum payload for this type of aircraft. The Unit Flight Commander stated, 'Payload on this type of aircraft has been found by experience to be 1600 to 1800 pounds, maximum,' and the Unit Engineering Officer stated that the maximum permissible payload for a Norseman on floats is not to be over 1400 pounds. No opinion appears during this investigation that the aircraft was carrying an excessive load, but it could be desirable that the Unit Officers know what the maximum load it may carry in.
The FIRST WITNESS, Milton James Campbell, foreman, Department of Transport, in charge of airfield at Fort Simpson, Mackenzie District, NWT: "At 1645 PDT, July 10, 1945, Norseman 3528 landed at Fort Simpson on the Liard River from Fort Smith. The crew made up of F/O Wheeler as pilot and LAC S. Ladell, crewman. They reported coming through heavy weather on the way up. The aircraft was refuelled and loaded 826 pounds of freight, giving it a total cargo between 1200 and 1300 pounds. They cleared the dock at approximately 1730, taxied out and up river about 1500 feet, turned around and took off down the centre of the river. The aircraft was off the water in 4000 feet at approximately 1738, flew straight ahead for 3/4 of a mile, gaining height slowly and then started a climbing turn to the left. When the circle was half completed the aircraft nosed down and crashed approximately 1/4 of a mile from where the aircraft had left the water. I took the crash boat out immediately and arrived at the wreck approximately 3 minutes later. The aircraft was then completely submerged with the exception of the tail, 1/3 of the fuselage and 1/3 of the left hand float, which was standing straight up in the water and appeared to be broken in two. The right-hand float was badly torn and floating free. LAC Ladell was lying on this float and when picked up said that F/O Wheeler was drifting downriver. A search was made below but nothing except cargo and debris was found. The debris was scattered 200 yards below the main body of the aircraft. An attempt was made to beach the aircraft, but this was unsuccessful. The aircraft was completely submerged 10 minutes after the crash. As LAC Ladell looked in a very weakened condition, the crash boat was headed back for the dock and arrangements made to transport him to the Mission Hospital at Fort Simpson." Two others accompanied Mr. Campbell in the crash boat: Mr. Arychuk, DOT mechanic, Mr. Grimblesby, DOT radio operator. "LAC Ladell was driven to the hospital, a distance of approximately 11 miles and was admitted by Doctor Truesdell in charge of the hospital, at approximately 1855. I had sent a signal to NWAC Headquarters, Edmonton, after the crash and in response to this, Captain Jacobs, Flight Surgeon, ATC, stationed at Fort Nelson, landed at Port Simpson, in Beechcraft 1415…I took Captain Jacobs back to the hospital and after consultation with Doctor Truesdell, it was decided to fly LAC Ladell to Fort Nelson. The aircraft (1415) took off for Fort Nelson shortly after 0300 hours, July 11th, 1945. Immediately after LAC Ladell was brought ashore, Mr. Arychuck refuelled the crash boat and accompanied by some DOT personnel, started down the river toward Fort Simpson at approximately 1810. They reached Fort Simpson at approximately 2100 hours after picking up various bits of floating debris. At 2000 hours, Mr. Arychuk accompanied by Corporal Teeple, OC, RCMP detachment Fort Simpson, when I had notified after delivering LAC Ladell to the Mission Hospital. Dragging operations were carried out until 0230 hours July 11th but were fruitless. At 0830 hours, July 11th, Mr Arychuk and Cpl Teeple again carried out dragging operations until 1200 hours but again to no avail." He felt that the Norseman made a sharper than average turn after take-off, "considering the load aboard the aircraft." He commented that the aircraft did not appear to have engine trouble.
The SECOND WITNESS, Theodore Threndson, meteorological observer with the DOT, Fort Simpson stated, "At approximately 1645 hours July 10th, Norseman 3528 landed at the Liard River seaplane base, situated off the southeast end of a runway at Fort Simpson airfield... the aircraft was immediately refuelled and loaded with about 800 pounds of freight, which added to the previous freight carried, brought the total load to over 1000 pounds. The aircraft taxied out at approximately 1730 hours, going up river about 1200 feet. It then turned and took off down the centre of the river. It was airborne after a run of approximately 4000 feet. After gaining a height of approximately 100 feet, the aircraft started into a climbing turn to port and held this position until it had completed a 180 degree turn and climbed to about 300 feet. At this point the aircraft appeared to stall and lost height falling off to the port side in the direction of its turn. It struck the water, appearing to hit nose first. There was about 1/3 of the fuselage protruding from the water at an angle of about 60 degrees. After approximately 5 minutes, the aircraft appeared to turn completely over and sank from view with the exception of two black objects which might have been the floats. At this stage, the debris was last to view being carried around a bend in the river by the current of the stream. Just previous to the aircraft striking the water, Mr. Campbell, the airfield foreman, accompanied by Mr. Arychuk, DOT mechanic and Mr. Grimblesby, DOT radio operator, had started down the river towards the scene of the impending crash in the DOT crash boat, which had been alongside the dock. I ran alongside the beach for approximately 1/2 mile before the debris was carried around the bend of the river out of sight. On my way back to the dock, the crash boat passed and I could see that there was an extra passenger on board. When I arrived at the dock, they were preparing to move the injured person whom I recognized as LAC Ladell, the crewman, from the aircraft, to the Mission Hospital in Fort Simpson. Before I was assigned to the DOT meteorological section, I was employed as a pilot in the RCAF from December 1st, 1942, to December 1st, 1944 my regimental number being R198946. The aircraft did not appear to have engine trouble. In my opinion I would estimate the degree of bank that the aircraft was doing its climbing turn was approximately 30 degrees."
The THIRD WITNESS, Dr. Wallace Arthur Macoun Truesdell (1897-1963), in charge of the Mission Hospital, Fort Simpson, NWT stated, "At approximately 1900 hours, LAC Ladell was brought to the Mission Hospital by Mr. Campbell and admitted by myself. The patient was immediately taken to the operating room and put under chloroform, given an examination and appropriate measures taken to alleviate the suffering. Captain Jacobs, Flight Surgeon, USA medical core, arrived at approximately 2400 hours and after consultation with myself, it was decided to move the patient to Fort Nelson. At approximately 0215 hours, we removed LAC Ladell to the airport and accompanied by Captain Jacobs, he was placed aboard Beechcraft 1514 in shortly after 0300 hours, the aircraft took off for Fort Nelson."
The FOURTH WITNESS, A/Cpl Charles Verne Teeple, in charge of RCMP detachment, Fort Simpson, NWT stated, "At approximately 1830 hours, Dr. Truesdell called and informed me that an aircraft had crashed on the river. At approximately 1845 hours, while on the way to the airport, we met Mr. Campbell, airport foreman, en route to the hospital with a casualty who later turned out to be LAC Ladell. I obtained all necessary grappling equipment and headed back for the airport. On arrival there, at approximately 2100 hours, I found that the crash boat had gone downstream to Fort Simpson, so I headed back for the town, arriving there at 2145. At approximately 2230, Mr Arychuk DOT mechanic and myself left for the scene of the crash and commenced dragging operations. This was continued until approximately 0300 hours July 11 with no result. At approximately 0900 hours, July 11th, Mr. Arychuk and myself again carried out dragging operations until 1200 hours, but again without result. Dragging operations are being continued under my supervision."
The FIFTH WITNESS, LAC Sydney Bernard Ladell, K272077, aeroengine mechanic, No. 6 Communications Flight, Edmonton stated, "At approximately 1845 hours, on 9th July 1945, F/O C. Wheeler and myself as crewmen, took off from Norman Wells in Norseman 3528 bound for Fort Simpson and Fort Smith. As passenger we had Constable King of the RCMP who was being transferred from Fort Norman to Fort Smith. After refueling at Simpson, we took off at approximately 2145 hours for Fort Smith. Due to heavy smoke conditions, we had great difficulty in finding Fort Smith and eventually landed at Cunningham Landing at 0100 hours approximately 9 miles from Fort Smith. After waiting for an hour for the smoke to clear, we took off and landed at Fort Smith seaplane base at 0230 hours. At 1200 hours on July 10th, the aircraft was loaded with about 400 pounds of freight, refuelled, and took off at about 1430 hours for Fort Simpson. After flying through very heavy weather, we finally landed at Fort Simpson at 1645 hours. After refueling and taking on more freight, we taxied out and upstream about 1000 feet, turned downstream and started to take off. After a normal run, the aircraft was airborne and climbed straight ahead to approximately 300 feet. The pilot then did a fairly steep turn to port and after turning through approximately 180 degrees, the aircraft started to slip to port and the next thing I remember I was in the water. The pilot yelled and I grabbed for the back of his head which was protruding from the water in the cockpit. At this point, the aircraft started to settle and I climbed out on the starboard wing which gave way, as I tread water, a distance of approximately 6 feet and caught on to one of the floats. Just then the crash boat came along and they took me aboard, after which I was taken ashore and then to Fort Simpson hospital. In my opinion the aircraft was not carrying a heavier than average load. Mae Wests are carried but are never worn during takeoff and landing. There was no indication of engine trouble during the trip and the last takeoff. The L14 aboard the aircraft at the time of the crash was up to date." On Ladell's Injury/Accident report: "I was in Norseman A/D 3528. Took off from Simpson 6 o'clock Tuesday evening after normal run. We left water, climbed 300 feet, did a fairly steep turn to port, and sideslipped into the water. I crawled out of the plane on my side and heard the pilot yell. I grabbed his collar and as aircraft went under, I was forced to climb out on wing and let go. When wing collapsed, I trod water to nearby float." His injuries were noted as: facture of fibula, left leg, fracture comminuted of right maxilla involving orbit, nasal portion, small lacerations right knee, contusions over right eyebrow and lower eyelid.
The SIXTH witness was F/L Arthur Vincent Branscombe, C8256, Engineering Officer, No. 6 Communications Flight, Edmonton. "Up until three months ago, the master copy of the L14 is held at No. 6 Communications Flight in Edmonton. The procedure is to hold the master copy at the detached base between checks and carry a traveling copy in the aircraft. The maximum permissible payload for Norseman on floats at my unit is not over 1400 pounds."
The SEVENTH witness, F/L Patrick Barney Ivey, C5851, Flight Commander, Transportation Flight, No. 6 Communications Flight stated, "There is no such order in the Pilot Order Book to the effect that crew and passengers on Norseman on floats shall wear life preservers during takeoff and landing of said aircraft. The maximum payload for Norseman aircraft has been found by experience to be 1600 to 1800 pounds maximum. I found F/O Wheeler above average both instrument and normal flying."
The EIGHTH witness, Captain William Rigby Jacobs, Medical Corps, ASN017702665, Flight Surgeon, Search and Rescue, 1460th AAF Base Unit, Fort Nelson, BC stated: "At the request of F/L Lloyd Greer, RCAF, proceeded by plane from Fort Nelson BC 11th July about 2100 hours to Fort Simpson NWT, where a plane was reported to have crashed into the Liard River where it joins the Mackenzie above the town of Fort Simpson. We arrived at Fort Simpson about 2300 hours and found out that the pilot, F/O Wheeler, RCAF, had taken off from the usual dock area from the Liard and went approximately 300 feet into the air, on turning, lost control of the plane in such a manner that the plane crashed into the river. LAC Sydney Ladell was recovered from the wreckage which was floating down the Mackenzie and had been taken by truck into the Fort Simpson hospital under the care of Doctor Truesdell. Up to the time of our leaving Fort Simpson about 3 o'clock the following morning, the body of F/O Wheeler had not been recovered despite continuous dragging by the local RCMP and civilian help employed about the airstrip. LAC Sydney Ladell, patient, was visited at the hospital where his left leg had been placed in a temporary splint, moderate lacerations about the right eye, and a compound fracture at the base of the nose. The patient was in good enough condition to be evacuated to Fort Nelson, which was accomplished without difficulties. Arrived at Fort Nelson about 0530 hours July 12th, 1945. X-ray taken at this base disclosed a minor fracture of the distal half of the left medial malleolus with no displacement."
FINDINGS OF INVESTIGATION: CAUSE: Pilot error in that it was definitely poor airmanship to put the aircraft into a steep turn just after take-off. RECOMMENDATIONS: That an order be incorporated in Command Instructions and No. 6 Communication Flight pilots orderbook to the effect that Mae Wests will be worn by all personnel, crew and passengers, during takeoff and landing on water.
INVESTIGATING OFFICER'S STATEMENT: "Under the direction of A/Cpl C. V. Teeple, NCO, in charge of the RCMP Detachment at Fort Simpson, dragging operations were carried out in an effort to locate the pilot's body from July the 10th 1945 until July 23rd 1945, but proved fruitless. These operations will be resumed with subsequent fall of the river level. Boats of the northern transportation company in Hudson's Bay transport department, Mackenzie River division, have been instructed to keep a sharp lookout while moving below Fort Simpson." W/C R. A. Ashman, C934. CAP 100, para 101: "CLIMBING TURNS: a pilot shall not make a climbing turn at a height of less than 500 feet above ground or water level unless such a turn is necessary to avoid obstacles or has been authorized on form F-17, F209 or local flying orders."
F/L J. F. McGlade agreed with the findings. "1: The Investigating Officer found that the pilot had committed a breach of C.A.P 100, paragraph 101 in making a climbing turn at a height of less than 500 feet above water level. 2. The first recommendation was no doubt predicated on the crewman's evidence that Mae Wests are carried but never worn."
G/C F. S. Wilkins, CI Accidents in a memo dated September 19, 1945, wrote: "The Norseman has been in the service long enough for units to have a proper knowledge of the permissible load, but you will see by the evidence in this investigation, there is a wide divergence of opinion on what a Norseman is allowed to carry. I suggest that this should be settled once and for all and the units notified."
Dolly received a letter dated April 9, 1946, with a partial explanation of what happened to her husband. "Your request has been forwarded to Northwest Air Command, Edmonton AB, with instructions to pass all available information to you. I doubt that any more information is available then was conveyed to these headquarters which simply was to the effect that your husband's aircraft did not gain altitude and went into a slide slip and disappeared into the Liard River, and there is no reason to believe that your husband survived. I regret indeed that the advice you received from Ottawa stated that your husband was killed on July 11th, 1945. This was an error and should read July 10th. The error was caused by faulty transmission by telegraph."
In late October 1955, Dolly received a letter informing her that since Chic had no known grave, his name would appear on the Ottawa Memorial.