Charles Gordon Sawyer J12896
January 6, 1923 - September 25, 1942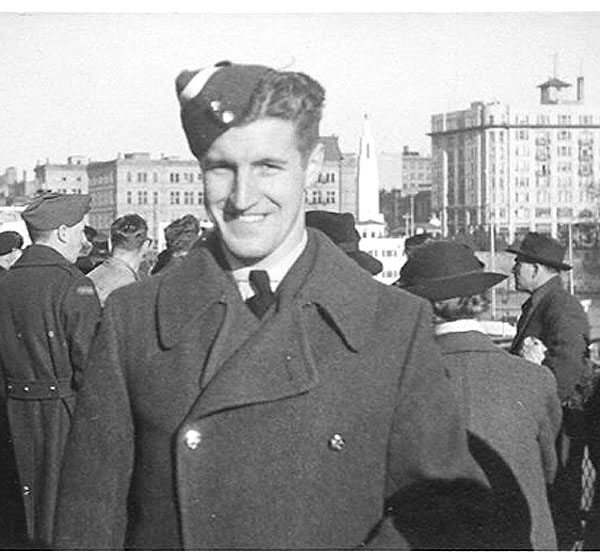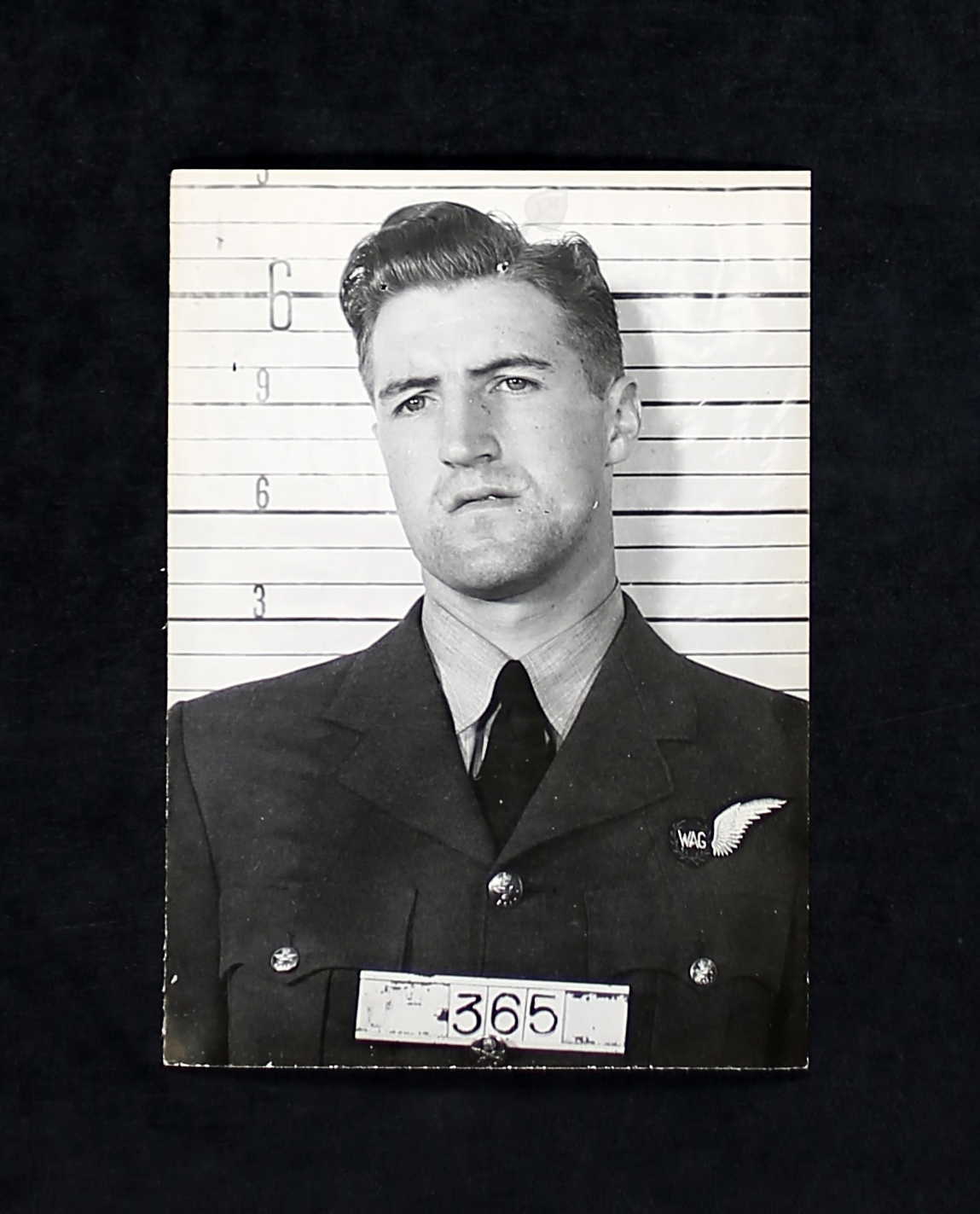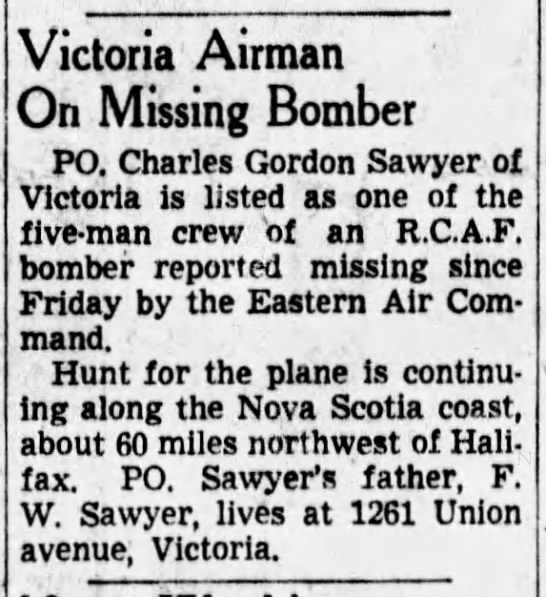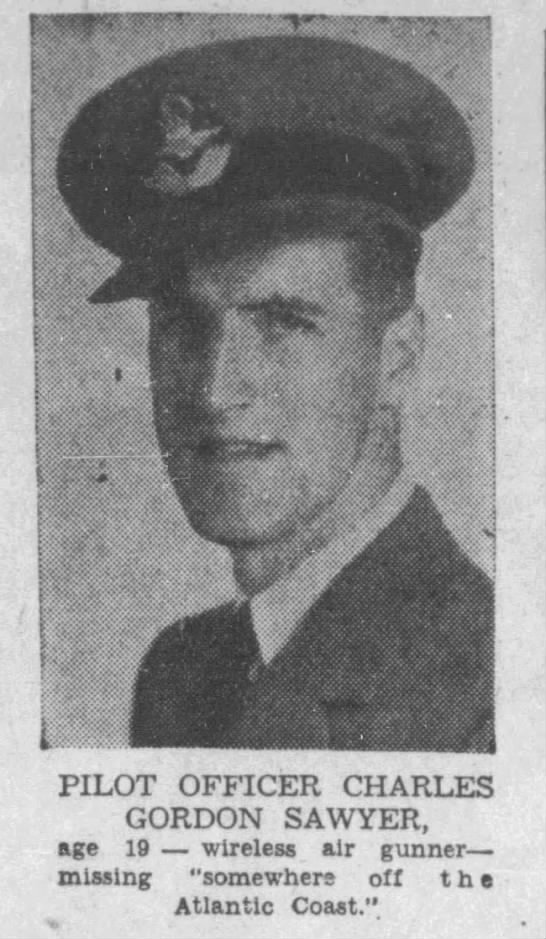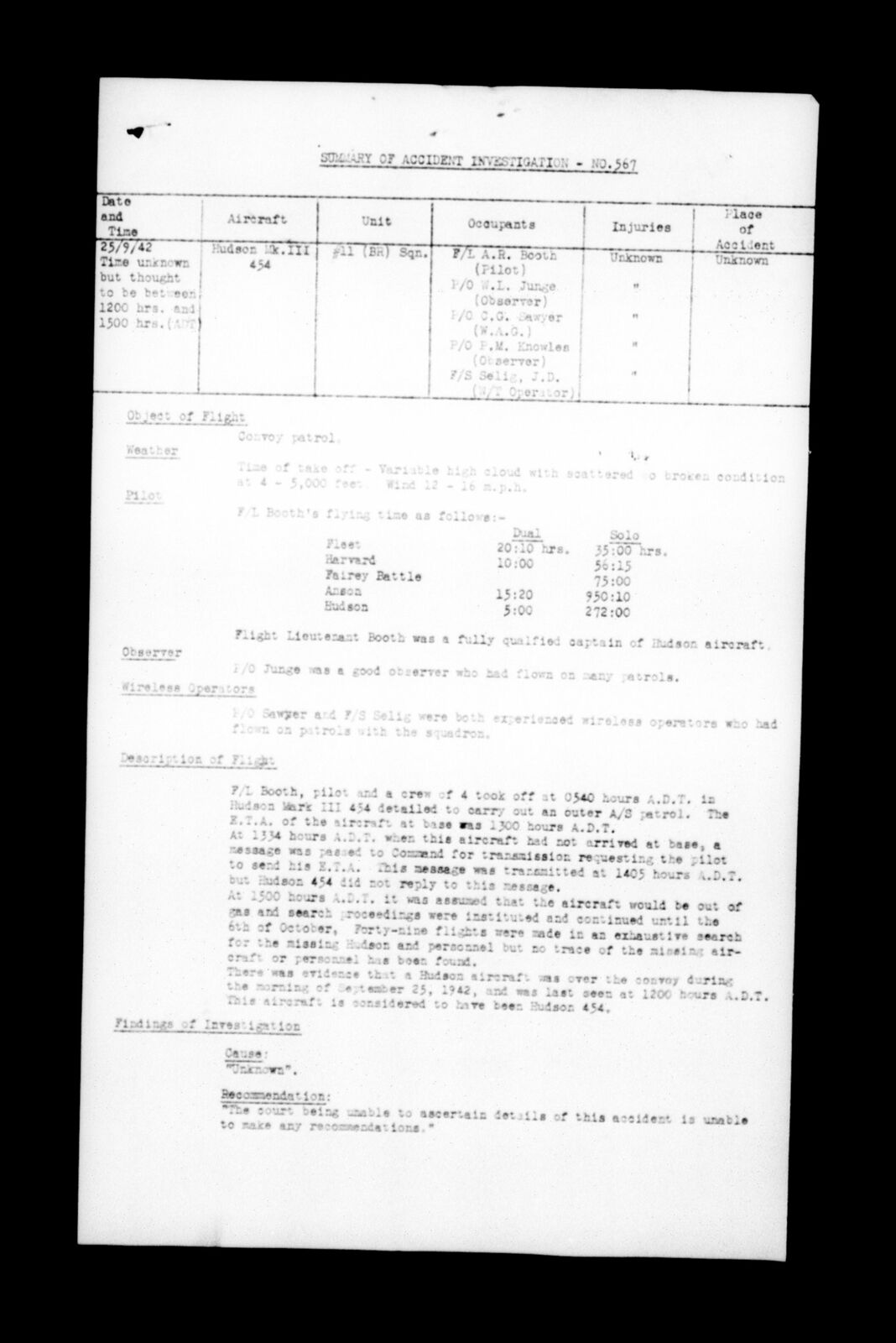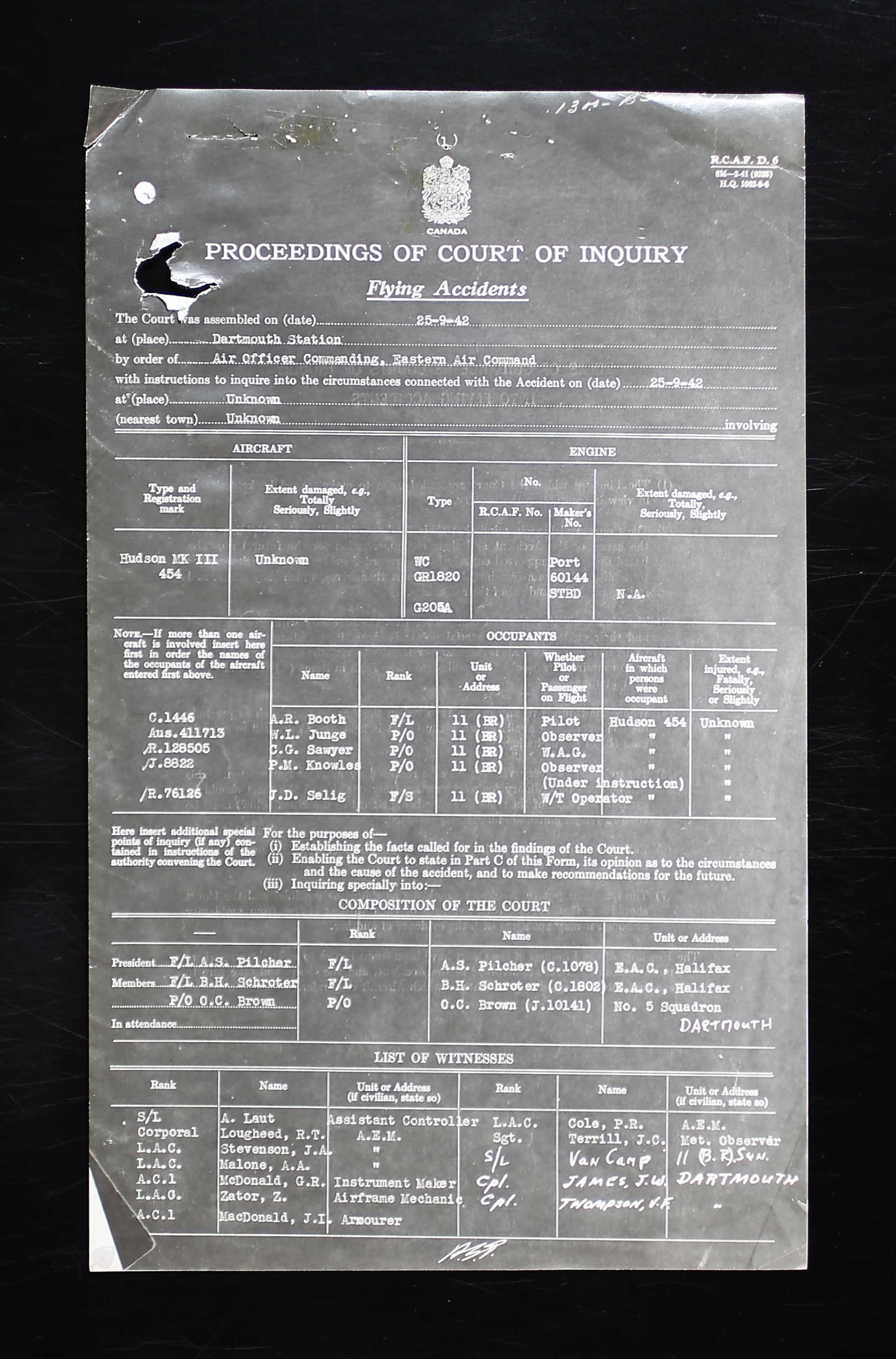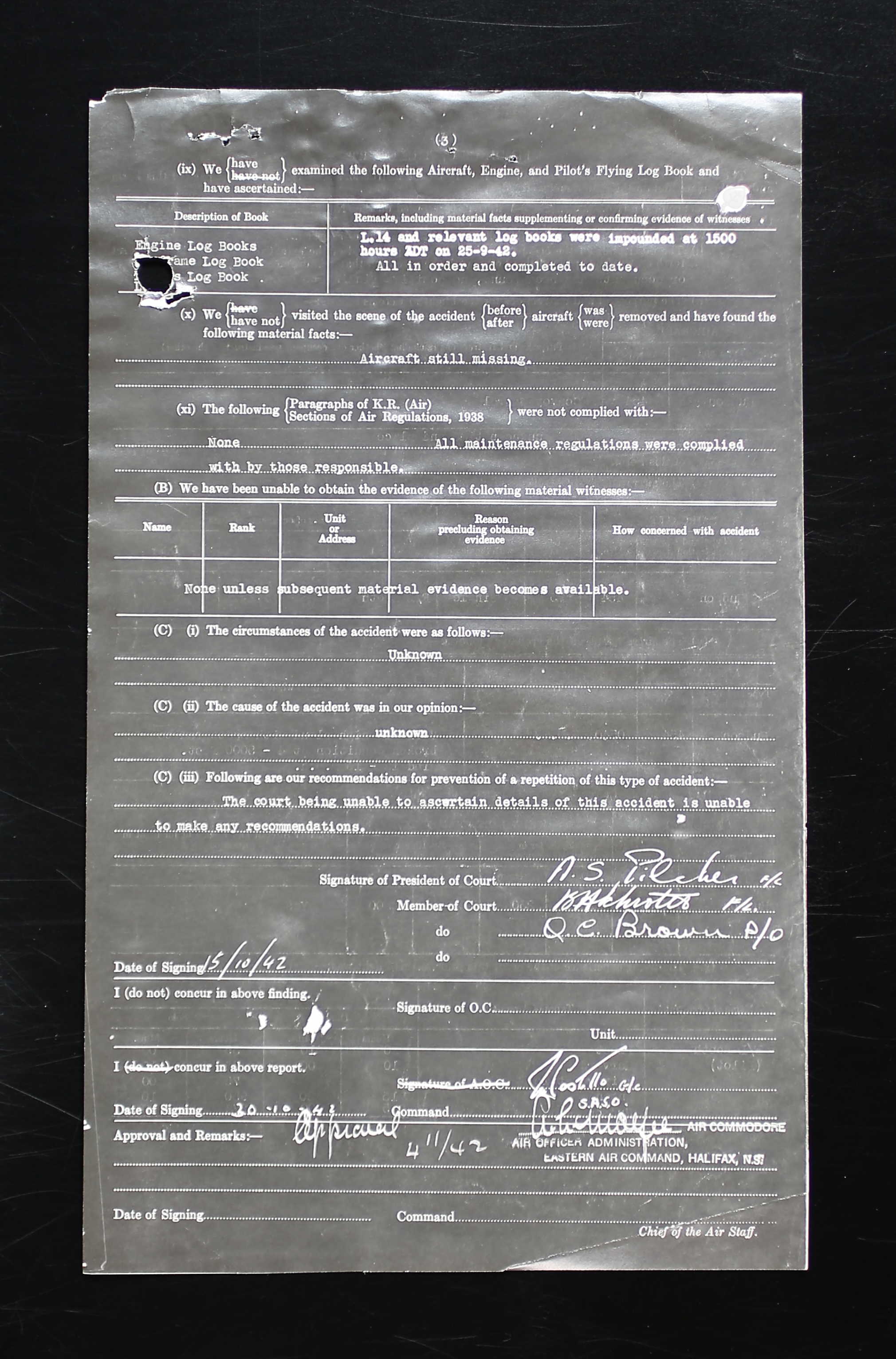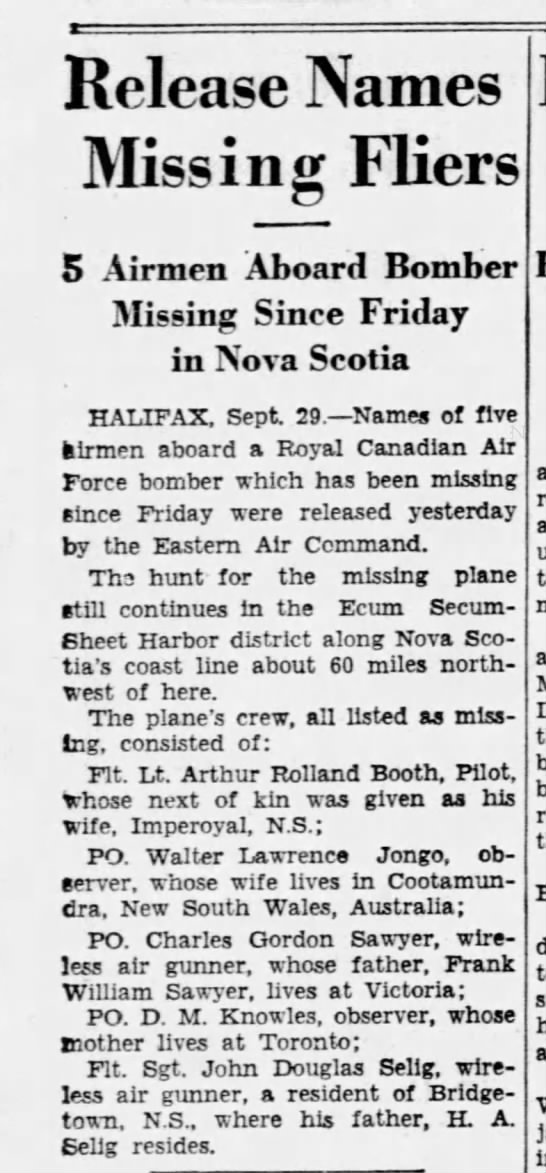 Clerk from Victoria became a WOAG. Sent to No. 11 BR Squadron, he and crew were lost during an anti-submarine patrol aboard Hudson BW454.
Charles Gordon Sawyer, born in Morse, Saskatchewan, was the son of Frank William Sawyer (1887-1970), farmer, and Mary Caroline (nee Massey) Sawyer (1895-1978). He had three brothers, William Frank (1913-2006), Thomas George (1918-2001), both in the RCAF, and Leslie Edward Sawyer at home, plus two sisters, Alice Mary Anderson and Beatrice Caroline Jarvis, RCAF, with a third sister dying as an infant. The family were Plymouth Brethern, a non-denominational Christian movement.
Charles worked as an office boy for the Dominion Government and as an office clerk/stenographer, for McLennan, McFeely and Prior Ltd. in Victoria, BC for two years prior to enlisting with the RCAF in January 1941 in Vancouver. He had knowledge of Morse Code. He enjoyed football and baseball. He hoped to become a wireless operator with aircrew. "Wiry. Left index finger amputated." He stood 5'10" tall and weighed 140 pounds. "A fit candidate for any aircrew duties." He had grey eyes and brown hair. "Slight left scoliosis, slight lumbar kyphosis. Slight deformities of back, not disabling; has excellent function. Both legs equal length. Both hips normal function. Excellent function left hand."
In July 1942: "Clean-cut, serious, quiet, keen, bright type. Should make good WAG. Had some experience with morse coding."
Charles began his journey through the BCATP at No. 3 Manning Depot, Edmonton, Alberta on August 25, 1941. He was sent to No. 3 SFTS, Calgary until a spot opened up for him at a wireless school.
Charles was at No. 2 Wireless School, Calgary, from January 5 to June 22, 1942. "Above average. 87.3%. 3rd out of 73 in class." He was authorized to wear a Wireless Operator's badge on June 22, 1942. He was at the station hospital January 12 - 16, 1942 and again February 1 - 6, 1942.
At No. 8 B&G School, Lethbridge, Alberta from June 22 to July 20, 1942: "14th out of 26 in class. 68%. Showed very good ability in armament work. Thorough and reliable." In air training, he was first in his class. "Has good practical ability. Keen and capable. Makes a good impression. Recommended for commissioned rank."
Charles was then sent east and taken on strength at No. 1 Y Depot, Halifax on August 4, 1942 and attached to No. 11 BR, Dartmouth on August 13, 1942.
Charles had $20 in War Savings Certificates. "We know our son had life insurance, but as he took all of his personal papers including his insurance policy with him, we do not know what company or the amount of his insurance. No doubt, a record of his insurance arrangements will be available in the pay and accounts branch. As to his will, in a letter written by hi on May 7, 1942, he stated he had to make a new will that day in Halifax. Since filling out the form, we find he had a small bank balance with the Bank of Montreal in Victoria BC, amounting to $10.63."
According to an article in the Ottawa Journal dated September 29, 1942, "The hunt for the missing plane still continues along Nova Scotia coastline about 60 miles northwest of Halifax. The plane's crew, all listed as missing, consisted of F/L Arthur Rolland Booth, pilot, whose next of kin was given as his wife, Imperoyal, NS. P/O Walter Lawrence Junge, observer, whose wife lives in Cootamundra, NSW, Australia. P/O Charles Gordon Sawyer, WAG, whose father, Frank William Sawyer, lives at Victoria; P/O David McGillvray Knowles, observer, whose mother lives at Toronto; F/Sgt John Douglas Selig, WAG, a resident of Bridgetown NS, where his father, H.A. Selig, resides."
Casualty details: "Previously reported missing September 25, 1942 outer anti-submarine patrol now presumed dead September 25, 1942 for official purposes."
In the Court of Inquiry, found in reel C-5936, image 1075, Arthur Booth had experience flying Fleet, Harvard, Fairey Battle, Anson and Hudson aircraft. He was a fully qualified captain of Hudson aircraft. The observer, F/O Junge was a good observer who had flown on many patrols. Twelve witnesses were called.
DESCRIPTION OF FLIGHT: "F/L Booth, pilot and crew of 4 took off at 0340 hours ADT in Hudson Mark III 454 detailed to carry out an outer A/S patrol. The ETA of the aircraft at the base was 1300 hours ADT. At 1334 hours ADT when the aircraft had not arrived at base, a message was passed to Command for transmission requesting the pilot to send his ETA. This message was transmitted at 1405 hours ADT but Hudson 454 did not reply to this message. At 1500 hours ADT, it was assumed that the aircraft could be out of gas and search proceedings were instituted and continued until the 6th of October. Forty-nine flights were made in an exhaustive search for the missing Hudson and personnel but not trace of the missing aircraft or personnel has been found. There was evidence that a Hudson aircraft was over the convoy during the morning of September 25, 1942 and was last seen at 1200 hours ADT. This aircraft is considered to have been Hudson 454.
The first witness, S/L Albin Laut, C861, assistant controller, Dartmouth, indicated that the captain of the convoy escort reported a Hudson aircraft intermittently throughout the morning. It was last seen at 1200 ADT. This must have been Hudson 454 as the relief aircraft did not take off base until 1230 ADT.
The fourth witness, LAC Arnold Avery Malone, R104172, indicated he assisted with the refuelling of the aircraft before It was put up for the night. "I was on the wings and saw that the gas tanks were full."
The sixth witness, LAC Zado Zator, R85069, airframe mechanic said that he checked the guages in the aircraft and "with a flashlight, I checked the tanks with the help of another man on the wing."
The eighth witness, LAC Perry Ralph Cole, R119683, AEM, said that he spoke with F/L Booth. "I was standing near Hudson 454 when F/L Booth came out to the aircraft at 0520 hours. I followed him into the cockpit of the aircraft. I saw him start up the engines and then he signed the L.1 and the crew list which I now submit as evidence. He asked me if the aircraft was ready to go. He said the aircraft was serviceable last night and should be already to go now. I saw five people in the aircraft. I did not know all of them by sight, but there were four officers in the aircraft and one flight sergeant as Wireless Operator. I knew F/L Booth and his Australian Observer, P/O Junge."
The tenth witness, S/L William Charles VanCamp, C873, Officer Commanding detailed F/L Booth and his crew to carry out an outer A/S patrol. "F/L Booth was a fully qualified captain of Hudson aircraft both by day and night. P/O Junge was a good observer who had flown on many patrols with 11 (BR). P/O Knowles, another observer, was under instruction having recently joined the Squadron. Both P/O Sawyer and F/S Selig were experienced wireless operators who had flown on patrols with the Squadron."
INVESTIGATION: Cause: Unknown. RECOMMENDATION: The court being unable to ascertain details of this accident is unable to make any recommendations.
FINDINGS: That Hudson 454 took off from RCAF Station, Dartmouth, NS on an outer anti-submarine patrol for a convoy at 0540 hours ADT on the 25th September 1942 and did not return, is missing and it is reasonable to suppose that it is lost.
CONCLUSION: Hudson, with an experienced pilot and crew, failed to return from an anti-submarine patrol. Considered lost at sea. Cause unknown.
A memo from the RCMP dated November 23, 1942: "It will be observed that inquiries have continued by our Sherbrooke and Sheet Harbour Detachments in an effort to secure information concerning the location of the forced landing of this aircraft, but without success, and in view of the length of time which has now elapsed since this airplane was first reported as missing, I am now considering my file as closed as there appears that little further can be done."
In late October, 1955, Mrs. Sawyer received a letter informing her that since Charles had no known grave, his name would appear on the Ottawa Memorial.