Charles Roy Holt R97663
September 9, 1912 - August 31, 1941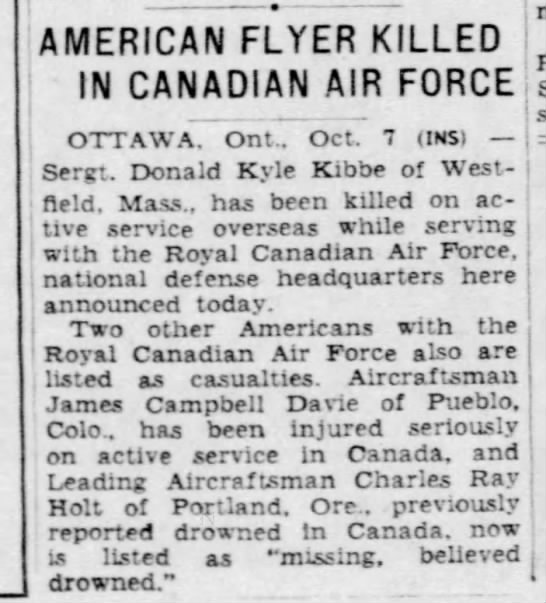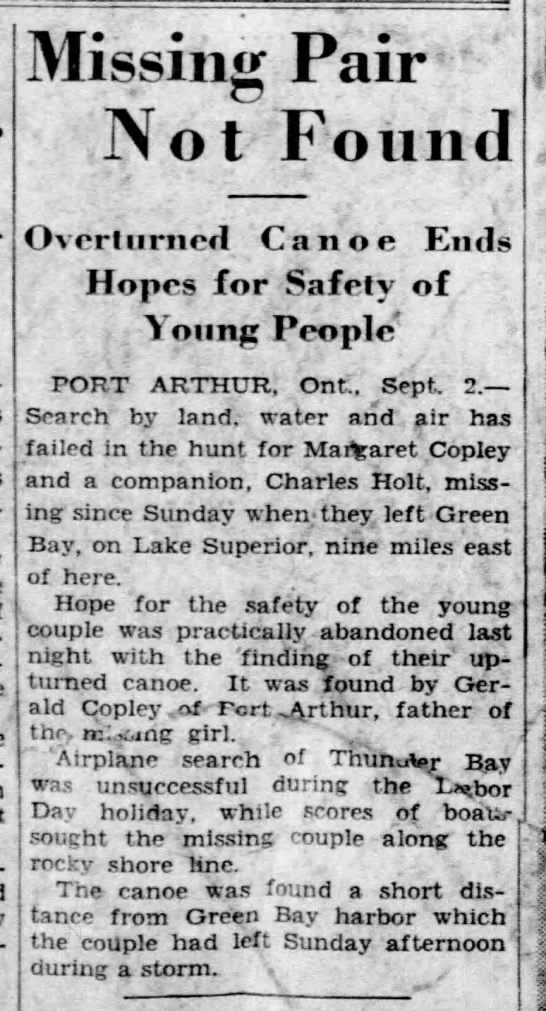 American LAC drowned on leave before resuming training, near Thunder Bay while out in a canoe
Charles Roy Holt was born in Salem, Oregon, USA and had lived in Los Angeles, California. When Charles filled out his attestation forms, he was unaware of where his parents were living. After his death, his mother, Fanny (nee Kriens) Kinney was residing in Portland, Oregon, and his father, Charles Edwin Holt, was deceased. His mother indicated Charles had one sister who also lived in Portland. The family was Roman Catholic.
Charles had resided in Oregon all his life prior to enlistment, according to his mother; yet other documents indicate he lived in Los Angeles, California for a time. He was an archery tackle maker/archery craftsman/salesman/instructor, and had been an amusement attendant as well. He said he was in debt, owing $50 for clothing and $30 for jewelry. He had studied navigation, meteorology, and air traffic regulations, plus had been up in an airplane.
It appears he travelled to Vancouver, BC to enlist with the RCAF. Here, he declared that he was willing to serve with the RCAF anywhere in Canada or beyond Canada and Overseas. He was 28 years old, stood 5'7" tall and weighed 138 pounds. He had two small scars under his chin. He had the equivalent of junior matriculation. He liked baseball, basketball, archery, football, boxing, badminton, fencing and skiing. He listed model planes as his hobby. "Good type of American citizen. Athletically inclined and should do well in aircrew service as pilot. Well recommended."
He was at No. 2 Manning Depot, Brandon, Manitoba, March 18, 1941, then was sent to No. 2 ITS, Regina, Saskatchewan until July 15, 1941. "US Citizen. Instructor and coach in many games. Very cool, alert, and determined. His sports are very much above average. Has had four hours dual." 77%, 81st out of 130 in class.
At Virden, Manitoba, No. 19 EFTS, he was part of Course 33 from July 15 to September 1, 1941. His ability was rated as average. Flying Training: "Slow to learn, hard worker, may resent criticism, lacks confidence and at times, nervous. May experience landing trouble, but is anxious and keen to fly. Punctuality and discipline good." Ground Training: "Able student and attentive, but suspicious and contentious. Bit of an agitator type. Pleasant and agreeable, usually, and deportment satisfactory." He was 35th out of 58 in his class, earning 73.5%. He was to go to No. 12 STFS, Brandon, Manitoba for further training.
On August 31, 1941, he drowned in a canoe accident at Green Bay, part of Lake Superior, near Port Arthur, present day Thunder Bay.
Constable A. L. Bonnycastle, of the Ontario Provincial Police filed a report on September 3, 1941.
At 7 PM August 31, 1941, Mr. Gerald Copley, living at Green Bay, about 8 miles east of Port Arthur, Ontario, reported to this DHQ that his daughter, Margaret Joy Copley, aged 20 and one LAC Charles Ray Holt, had left Green Bay in a paddling canoe, square stern and 16 feet long, to go for a swim out from Green Bay. At this hour, they have not returned to get their clothes. Each was clad in a swimming suit. Each was reported as strong swimmers.
Special Constable Rayner responded to this call and left immediately for the scene, arrived at Green Bay and arranged search parties and set out by boat making searches of the adjacent islands from Wildgoose Point. A thorough search was made in Thunder Bay, but no trace of the missing persons was found. On Monday, September 2, a second attempt was made to locate the missing party and the canoe was located some 14 miles due south east of Green Bay near Hare Island and about 300 yards west of the Toe of the Sleeping Giant. There were no marks on the canoe to indicate if it had been washed onto rocks and freed by shifting winds. Searches were made of Hare Island and of the mainland, but no trace of the missing persons found. The water in Lake Superior is very cold at all times and ranges from really shallow water to 200 to 300 feet deep.
At about 3:30 p.m. August 31 this couple was seen in the canoe about 2 to 3 miles south of Green Bay by a fisherman. At approximately 4 p.m., a squall came up suddenly from the north and the wind reached a velocity of about 20 to 35 mph. It is thought that this gale is responsible for blowing the canoe and its occupants out to sea and subsequently upsetting the canoe.
Charles Ray Holt, was LAC with the RCAF and had only lately completed his elementary flying training at Virden, Manitoba; he had come on leave for a short visit to the Copley Camp at Green Bay and was to report September 1, 1941 at the No. 12 SFTS, Brandon, Manitoba, for further training. From what I can learn Holt was an orphan and the people at the Los Angeles address acted as foster parents.
A watch will be kept along the shoreline and islands in Thunder Bay and should any success be met, this DHQ will be notified immediately.
On January 23, 1942, a letter from Joseph E. Harvey, Attorney at Law, representing Fanny Kenny, Charles's mother, was sent to the Estates Branch in Ottawa. There was a question as to which person was Charles's next of kin.
"It seems that documents claimed to have been found in Mr. Holt's effects quoted a Mr. Hiram L. Ferguson of 1122 Northeast 60th Avenue, Portland, Oregon as his next of kin, but we are advised that apparently, a hoax is being perpetrated by someone, as this man Ferguson is reported to have known Holt but for some three weeks. Mrs. Kinney went to Vancouver, Washington, a few miles from here, were this man Ferguson works in a laundry and confronted him there recently, and he appeared quite agitate when he learned that she had discovered what he was up to. He is reported to claim that Holt made a will, making him (Ferguson) the sole beneficiary, and also took out an insurance policy on his life, naming Ferguson as beneficiary in that, but neither of these documents has yet come to light.
"Mrs. Kinney is especially anxious to learn whether or not her son's body has ever been found. She is not satisfied with the circumstantial evident of an empty canoe and the fact that his canoeing companion, Miss Margaret Copley, is also missing. We have never heard that her body was found either.
"It is our wish to co-operate in every way possible in solving this matter, and to see that Mrs. Kinney's interests are fully protected, and that no interloper be permitted to work a 'confidence game' in connection with the disappearance of this young man. If there is anything that we can do, at this end of the line, we shall be glad to follow your instructions in helping to unravel this case."
On March 20th, 1941, Charles bequeathed his friend, Mr. Hiram Ferguson, all his estate. Mr. Ferguson was also to be the executor. Two RCAF clerks in Brandon, Manitoba, witnessed this.
In late October 1955, Mrs. Kinney received a letter from W/C Gunn, RCAF Casualties Officer for Chief of the Air Staff, informing her that Charles Ray Holt's name would appear on the Ottawa Memorial.