Charles William Thomas Field C3378
March 19, 1899 - February 14, 1943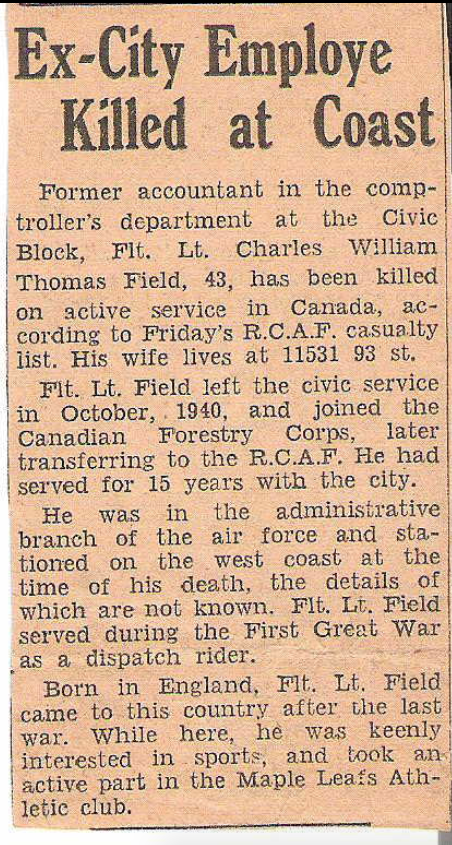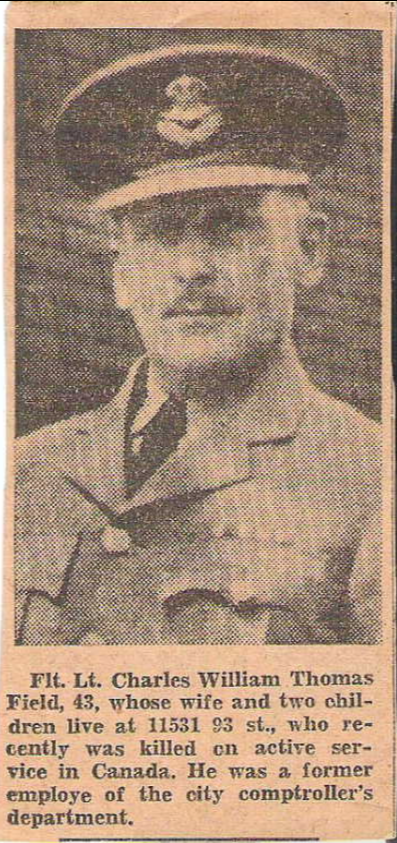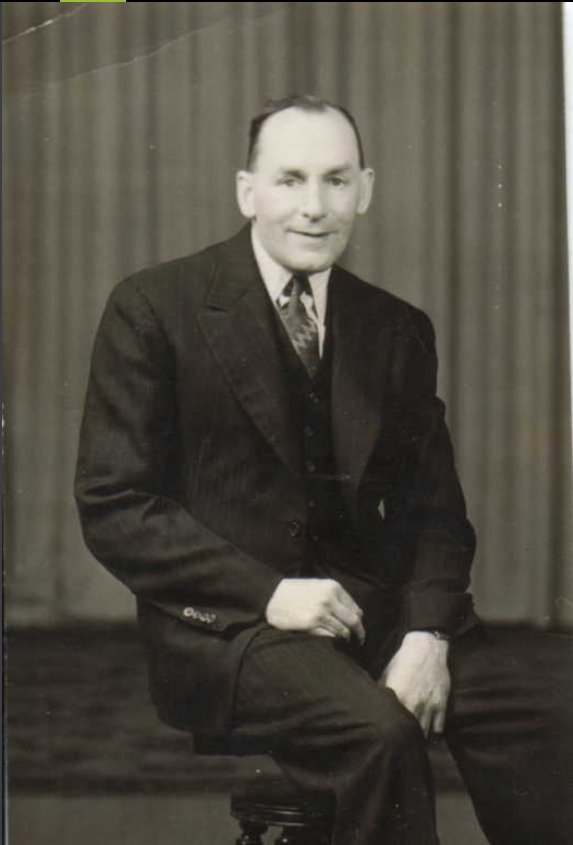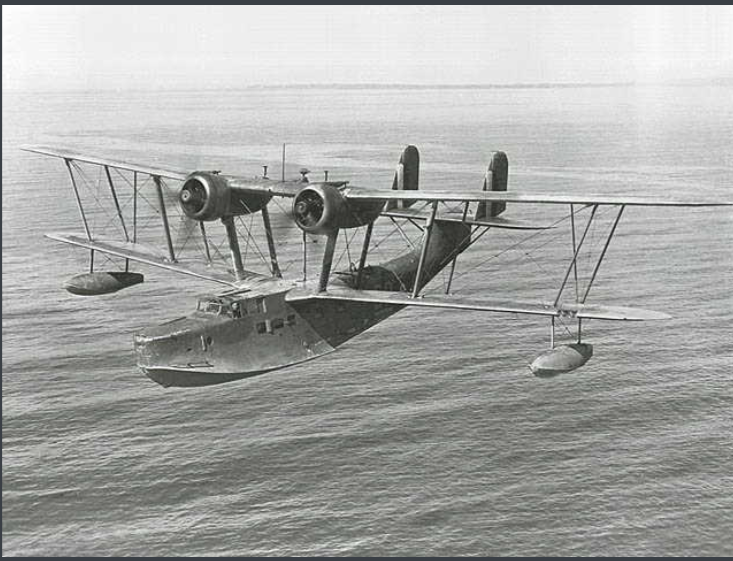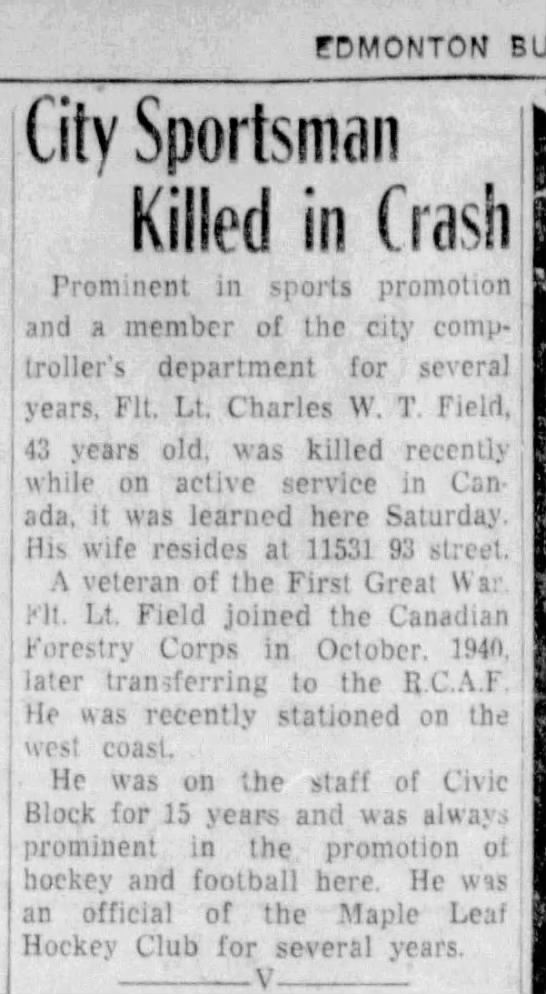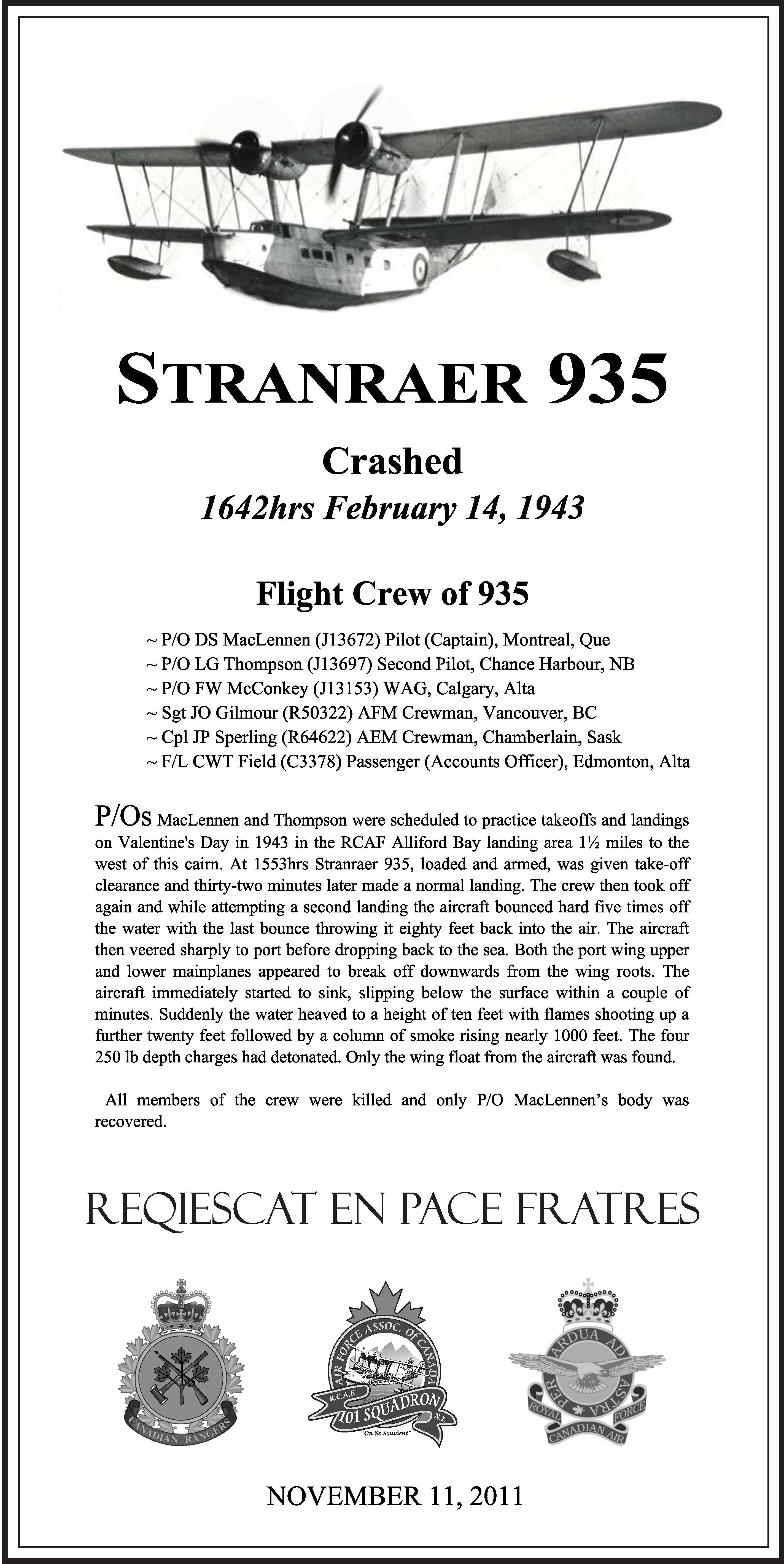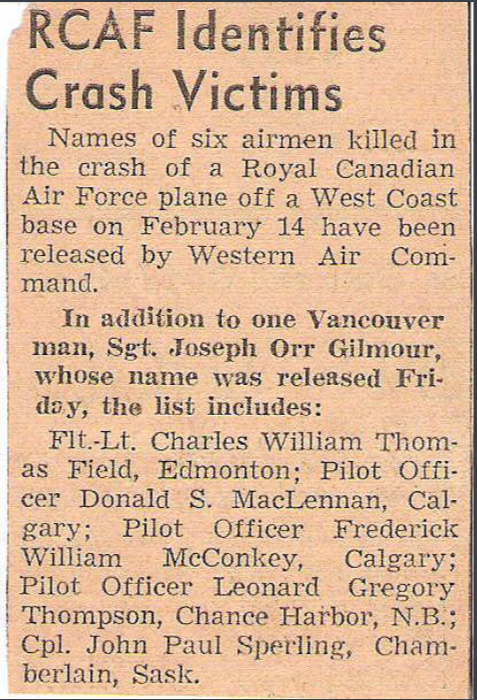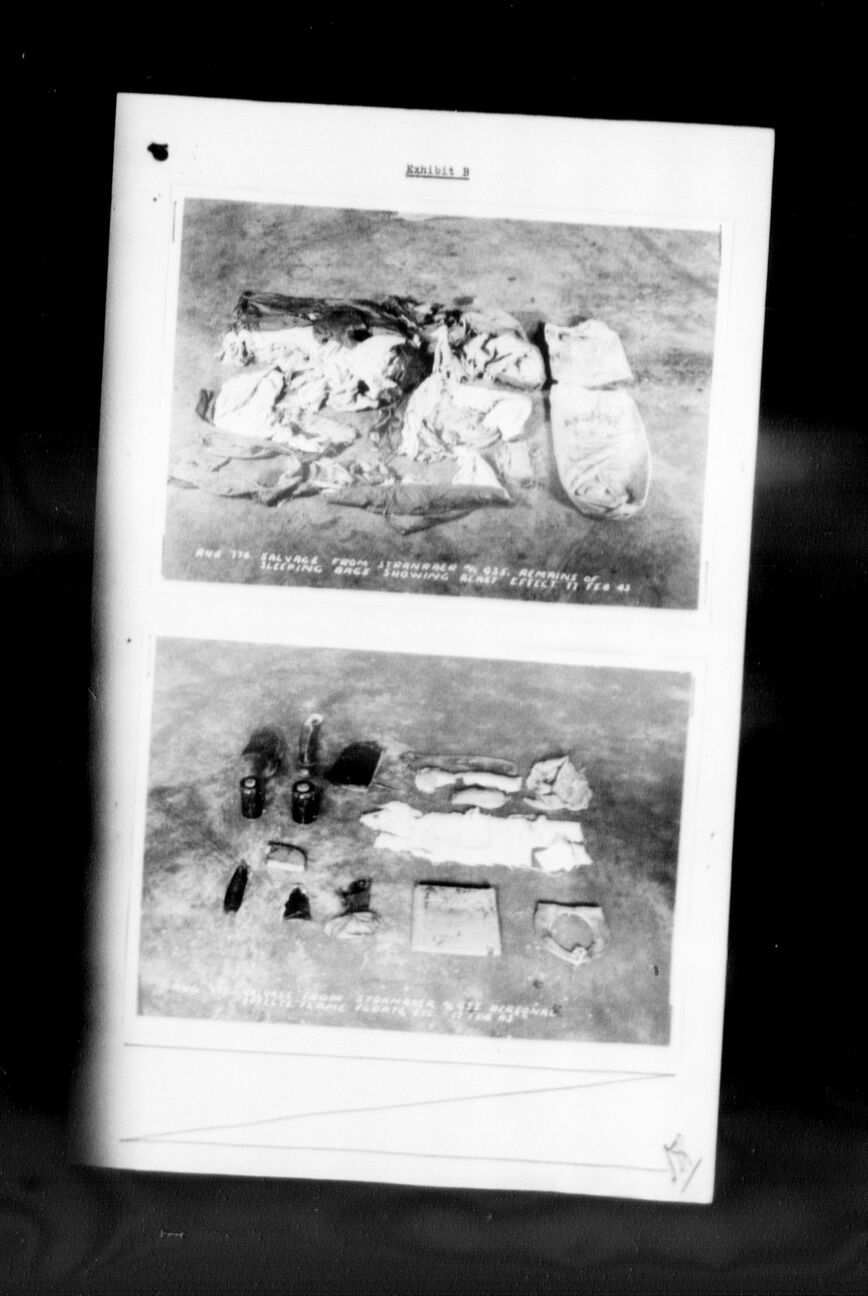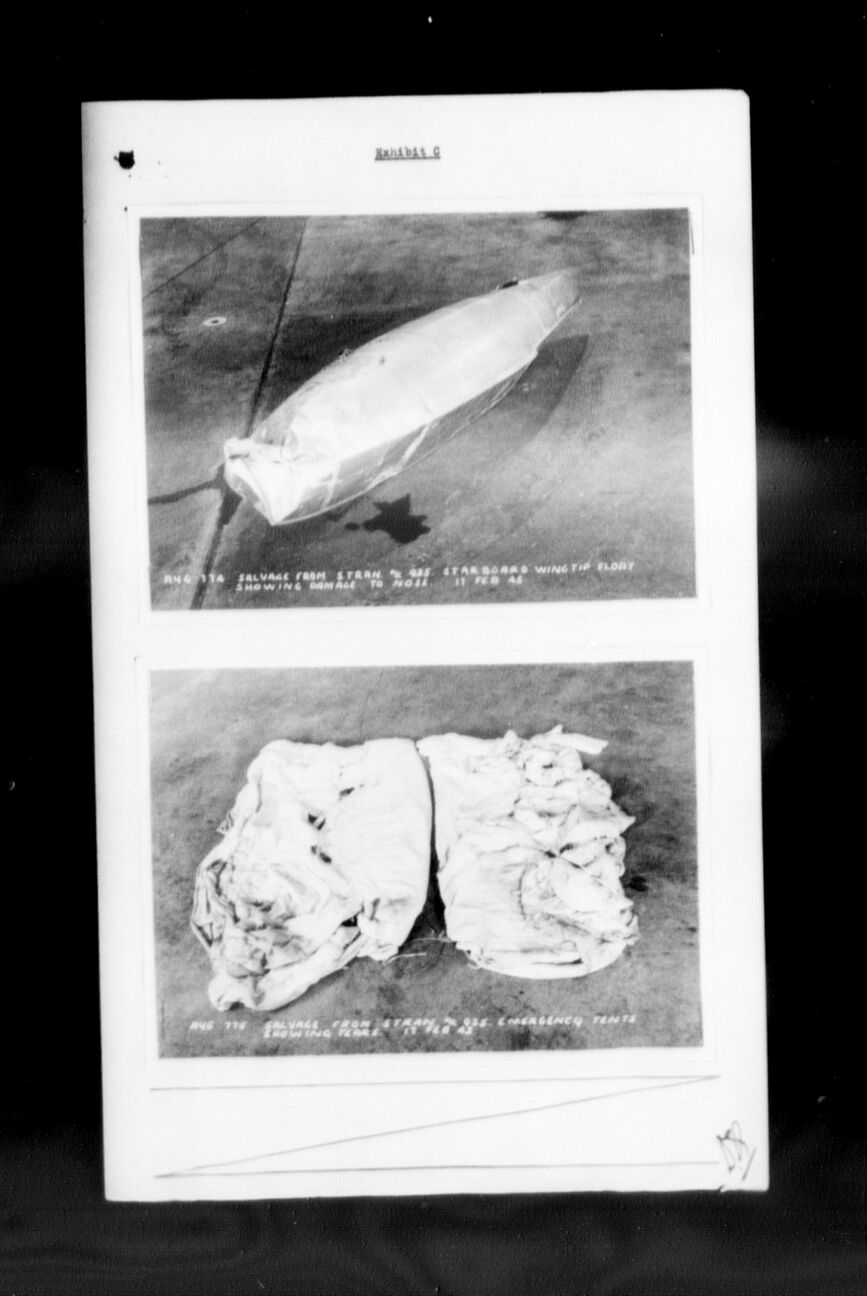 Chief Accountant for City of Edmonton was a station accounts officer for the RCAF posted to the Queen Charlotte Islands (Haida Gwaii). On Valentine's Day 1943, he was a passenger aboard Stranraer 935 on a training exercise when it crashed, sunk, and exploded. All six men aboard were killed. One body was recovered.
Charles William Thomas Field, born in Sheffield, York, England, was the son of Charles William Fredrick Field and Lydia (nee Chapel) Field of Hayes, Middlesex, England. He had one sister, Amy Davis, also of England. The family was Anglican.
He married Effie Irene Margaret McPhee (1900-1993) on October 18, 1922 at Christ Church, Grande Prairie, Alberta, Diocese of Athabasca. They had two daughters: Amy 'Marie' (1930-2022), Eileen Margaret, born about 1934.
He had lived in England until 1919 immigrating to Canada. Charles was a dispatch rider during WWI as well as an orderly room sergeant. One form indicated that he was with MTASC and RCA 393 Bty from December 12, 1915 until November 1919 (Imperial Army). He took a gas course in 1917 and Mechanical Transport Course the same year.
From 1920-1922, he worked as a teller for the Royal Ban, then was self-employed as a bookkeeper 1923-1925. Charles worked for the City of Edmonton for fifteen years as of July 1940. He held the position of Chief Accountant. His letter of reference from the mayor, John W. Fry, indicated that Charles displayed integrity, efficiency, and initiative to a very satisfactory degree. "Mr. Field has always taken an active part in various sports and athletics and now devotes a great deal of his spare time to the advancement of games and athletics amongst the boys of the City. His success in this work speaks well for his ability to handle men and boys."
In 1919, he was the Rhine Army Championship 100 yards hurdles. He was on Alberta all-star teams at soccer, cricket, and lacrosse. He also played baseball. Charles was adjutant for "Alberta Provincial Command Legion of Frontiersmen and also Records Officer Canadian Command HQ (1938-1940).
He had been with the Canadian Militia, No. 19 Coy Canadian Forestry Corps, October 16 to December 14, 1940. He transferred to the RCAF. On his Personal History Report, July 31, 1940: "Worth: $2,000. Annual income: $18-1900. A little slow in paying his bills. Some financial difficulties. Charles William Thomas Field at one time worked for the Royal Bank of Canada as a clerk. He has been employed by the City of Edmonton since 1925. This man is chief accountant in the City Comptroller's office and his work is of an accounting office nature. He is regarded as being competent in those duties assigned to him. Mr. Field is an able accountant and office worker. He is a man of fair appearance, rather of the inside bookkeeper type. He lives in modest middle class surroundings and his social activities are not great. This man is rather inclined to live up to his income and is quite often short of money and has to borrow small amounts from fellow employees who in turn have to press him to get repayment. It is believed this has been caused in some measure by family illness."
Charles stood 5'7 ½" tall and weighed 162 pounds. He had blue eyes and light brown hair. He had a condition called torticollis, a sustained pain in the neck due to a muscle spasm that prevents a person from turning their heads in one direction and tilting it in the opposite direction.
He was at No. 2 Manning Depot, Brandon, MB then to No. 2 T. C. Winnipeg by November 29. 1940. He was then at No. 4 SFTS, Saskatoon, SK, January 27, 1941. June 12, 1941: "Carried out his duties as Asst. Accountant Officer and Officer in charge of non-public funds conscientiously and efficiently. He has show that he is well qualified in leadership and organizing ability. This officer is above average as to personality, ability and energy. His physique is below average." Charles was 42 at this time.
In December 1941, he was "on loan to No. 7 ITS installing accounting systems in accordance with regulation etc. Consider this officer to be rather an erratic worker." Another evaluation: "Do not entirely agree with above. This officer has shown professional skill in his work and most reliable in any other duties."
He was then at No. 2 T. P. Winnipeg January 7, 1942.
Charles was then posted to RCAF Station Alliford Bay, BC, taken on strength March 3, 1942. "A very experienced and capable accounts officer, has all station accounts in excellent shape, appearance, and deportment unquestionable." Another evaluation: "This officer is considered entirely eligible for promotion. Since coming to this Unit, he has brought the Accounts Section up to a very efficient standing. His deportment and appearance are excellent and he appears to have the respect and confident of all ranks under him." He was also attached to RCAF Station Prince Rupert, BC.
On February 14, 1943, Stranraer 935 was scheduled for a training mission between Maude and Lina Islands in the Skidegate Channel, Haida Gwaii, BC.
Aboard RCAF Stranraer 935: Pilot P/O D. S. MacLennan, J13673, Montreal, Quebec; Second Pilot, P/O L. G. Thompson, J13697, Chance Harbour, NB; WAG P/O F. W. McConkey, Calgary, AB; AFM Sgt. J. O. Gilmour, R50322, Vancouver, BC; AEM Cpl J. P. Sperling, Chamberlain, SK; and Station Accounts Officer F/L Charles William Thomas Field, Edmonton.
Everyone was killed. P/O MacLennan's body was the only body recovered (April 26, 1943). It is unknown why Charles was aboard; possibly for experience.
Both pilots were scheduled to practice take offs and landing. "At 1553 hours, Stranraer 935, loaded and armed, was given take-off clearance and thirty-two minutes later, made a normal landing. The crew then took off again and while attempting a second landing, the aircraft bounced hard five times off the water with the last bounce throwing it eighty feet back into the air. The aircraft then veered sharply to port before dropping back to the sea. Both the port wing upper and lower mainplanes appeared to break off downwards from the wing roots. The aircraft immediately started to sink, slipping below the surface within a couple of minutes. Suddenly, the water heaved to a height of ten feet with flames shooting up a further twenty feet followed by a column of smoke rising nearly 1000 feet. The four 250-pound depth charges had detonated. Only the wing float from the aircraft was found."
Pilot error was the cause of the accident. "Insufficient experience on part of the pilots in that they failed to correct sufficiently after the initial bounce." The Court of Inquiry commented that dummy depth charges during that type of exercise be used instead of live depth charges. "It is appreciated that with very few operational aircraft available, it is desirable to have as many as possible ready for instant action in the event of enemy activity. However, armed aircraft in the hands of partly trained crews have proved very costly, and whenever operational conditions permit, live depth charges should be removed when practice flights of a local nature are being made by other than qualified captains." Other comments: "Obscure. Probable misuse of controls trying to correct for the bounce. Gustiness in the channel' other pilots up at the same time report that the air was turbulent. Similar accidents might be avoided if pilots were instructed in how to control the bounce once a bad landing has been made."
In early January 1956, Effie had moved to Chicago, Illinois, where her sister had been residing. She received a letter informing her that since Charles had no known grave, his name would appear on the Ottawa Memorial. (By 1969, Effie returned to Edmonton.). A list three pages in length of the personal possessions was found in the files, including golf clubs and bag, playing cares, a diary, notebooks, keys to a car, his wedding photo and an envelope containing fish hooks. All were sent to Effie.
A ceremony to remember the crew of Stranraer 935 took place on November 19, 2011 in Alliford Bay. Please see links below for photos and more information.
The full Court of Inquiry can be found on microfiche T12341, starting at image 1364.
LINKS: