Charles Ewart Conroy R151354
February 8, 1913 - November 7, 1943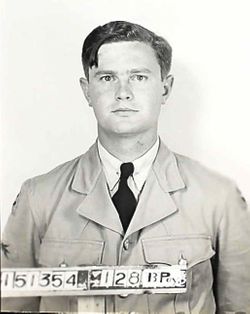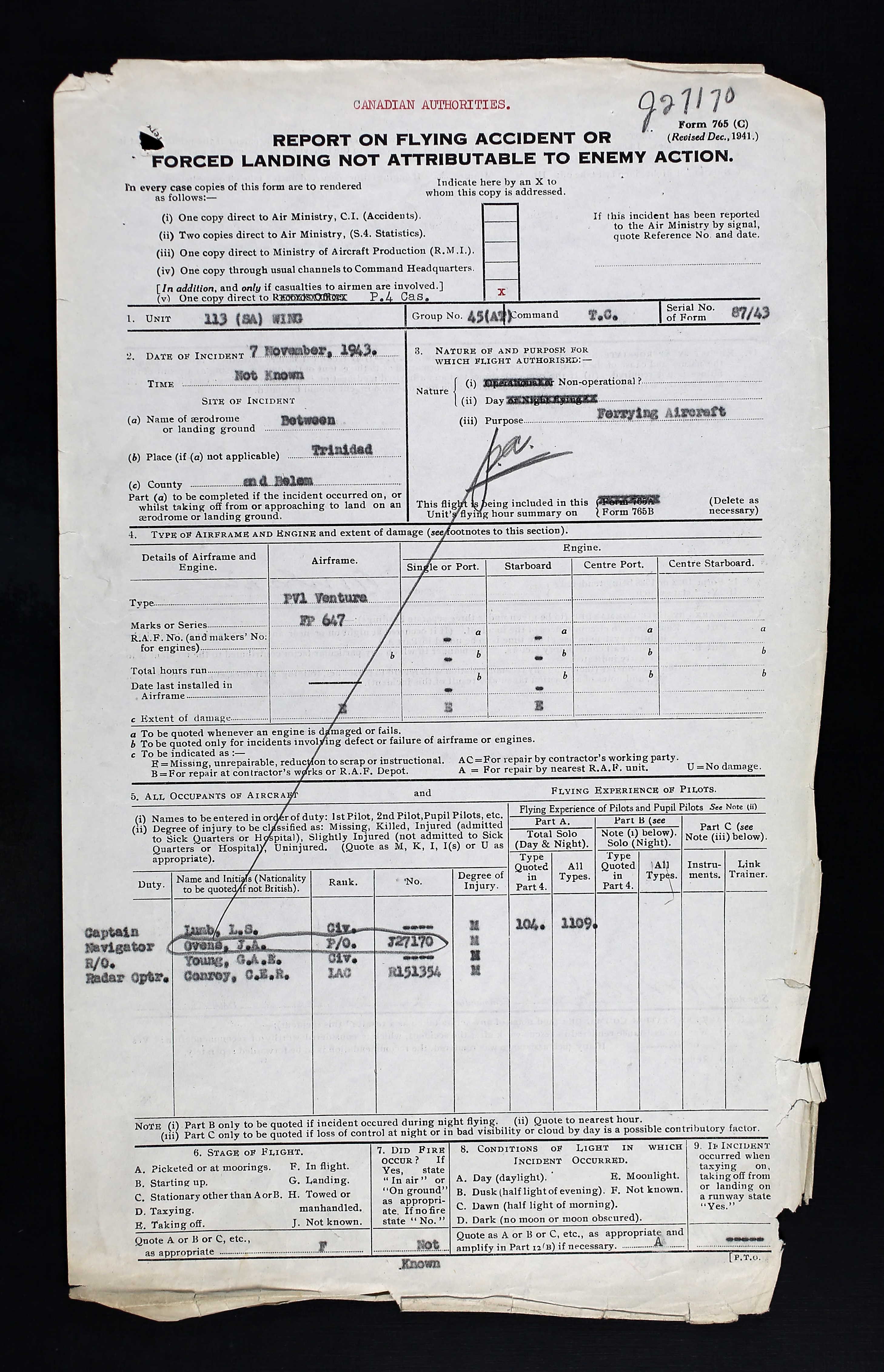 Lineman, baker's helper, box maker, then teacher who became a radar mechanic with RAF Ferry Command. He and three others were lost aboard Ventura V FP647 taking off from Trinidad.
Charles Ewart Conroy was the son of Charles John Conroy (b. 1892), salesman, and Flossie Irene (nee Kinsman) Conroy (1896-1995). He had three brothers: Henry Clayton, Stanley Gordon, and Terrence John. He had four sisters: Kathleen Flossie, Eileen Madaline, Mary Edna, and Dorothy Isobel, a twin of Stanley. Stanley was with the RCAF and Harry was with a field unit, Essex, Scottish. The family was Congregationalist.
He married Audrey Elizabeth Whiteside (1916-2000) of Stratford, Ontario on September 17, 1940. They had a son, Charles Gordon Conroy, born March 3, 1943. She did not remarry.
Charles worked for Bell Telephone Co. as a linesman from 1928-1929, then laid off; he worked for TVB Bread Co. as a baker's helper for five years. In 1934, he worked for Paper Box Co. making boxes for two years, then teaching in 1936-1938. (He had one year Normal School, leaving this position due to poor pay.) He liked to play tennis, swim, and skate.
Between 1939 and 1942, Charles was a clerk in a store (R&A Trussler Ltd.) when he enlisted in North Bay, Ontario on June 24 1942. Audrey indicated that they would like to return to Kirkland Lake after the war. Charles hoped o work as a radio mechanic. They had a joint account in Stratford, but there was no amount on deposit. He had $25 purchased in War Savings Certificates in Kirkland Lake, plus he had a $1000 life insurance policy, plus another one worth $5,000, but only premiums paid would be reimbursed. "I owe six installments on furniture of $13.20 each. I owe approximately $40 to the company for whom I work."
He indicated that he had "spent approximately one year in Signal platoon, can read and send buzzer at 16 words per minute or better." Charles stood 5' 8 ½" tall, weighing 198 pounds. He had hazel eyes and brown hair. "Overweight 50 pounds. Wears glasses from 1935 to present for astigmatism."
Charles found himself at No. 1 Manning Depot, Toronto, Ontario July 28 until November 7, 1942. He was at the station hospital from August 16-18, 1942. He was then sent to Guelph, Ontario until March 13, 1943, returning to Toronto the next day until March 31, 1943. He went next to Clinton, Ontario, and No, 31 RDF April 1 to July 11, 1943 when he was sent to Lachine, Quebec and No. 5 Manning Depot until August 4, 1943. While at Lachine, he was AWL for one day, nine hours, and fifteen minutes and was confined to barracks for four days, forfeiting two days' pay. Charles traveled to Washington DC until September 20, 1943, then back to Clinton. He was again at No. 5 Manning Depot, then in Washington. On October 26, 1943, he was posted to Ferry Command, No. 111 O.T.U. in Nassau, Bahamas.
Crew of Ventura V FP 647, 45 Group, lost November 7, 1943: • RCAF, LAC Charles Ewart Conroy, R151354, passenger, radar mechanic • RAF, Captain Leonard Sylvester Lumb --Canadian civilian pilot with RAF Ferry Command, from Toronto, ON • RCAF, Pilot Officer, John 'Allen' Ovens, J27170, navigator, Toronto, ON • RAF, Radio Officer, Eugene Gilbert Young -- Canadian civilian, radio operator, Moncton, NB
Destined for South Africa, according to "British Purchasing Commission," the plane was lost out of Trinidad. In RAF Commands Forum, "the direct line between Waller Army Airfield, Trinidad and their next stop in Belem was two-thirds over land, including Suriname, French Guiana, and Brazil…could the plane have crashed in a jungle?"