Charles Bernard Everett Clow R72674
May 21, 1915 - May 20, 1944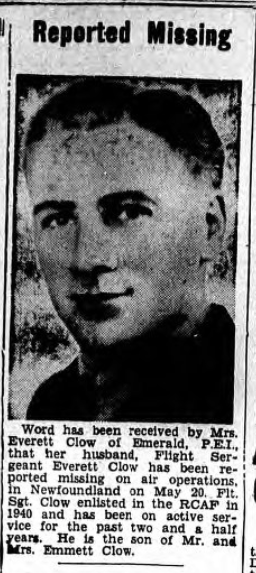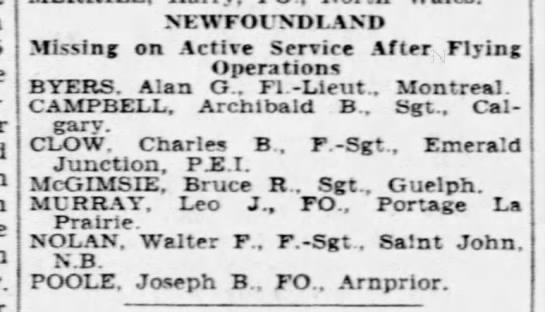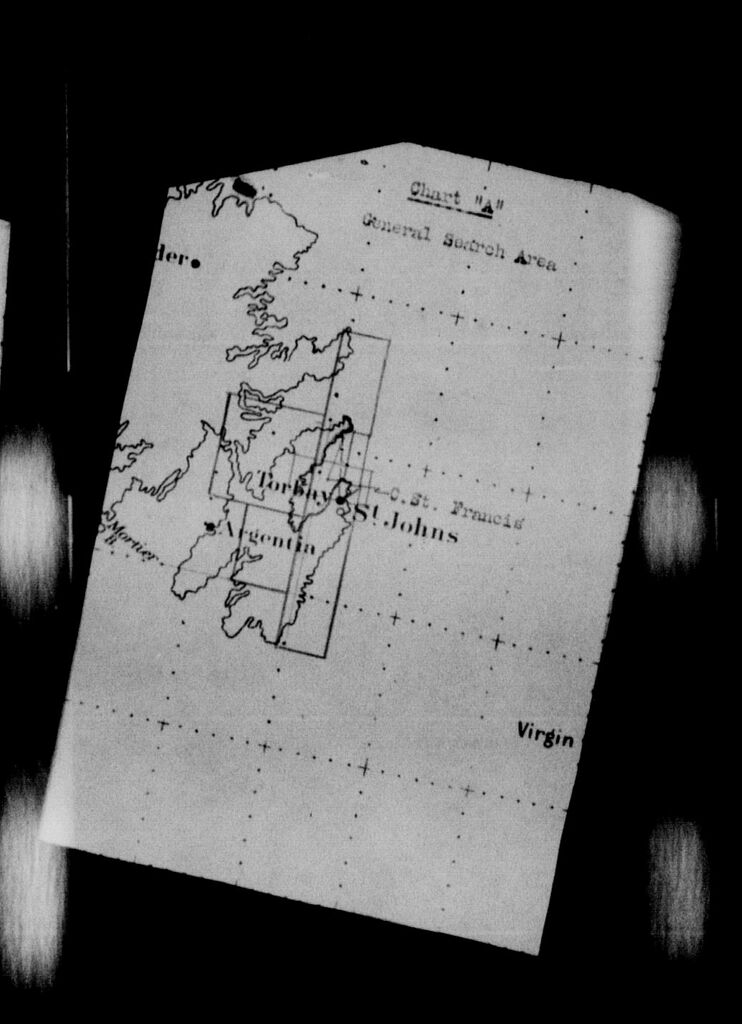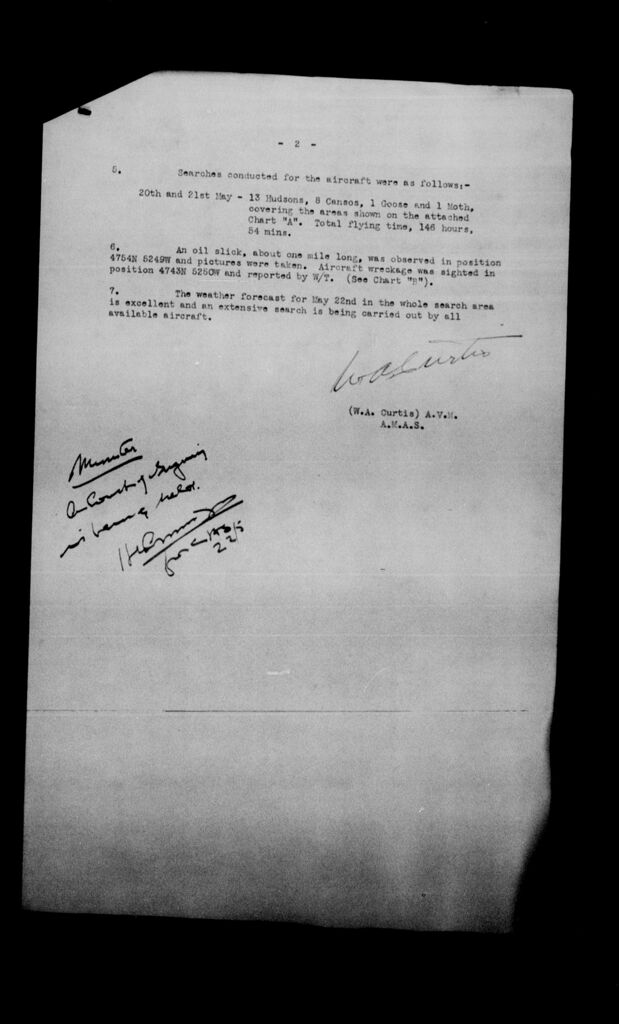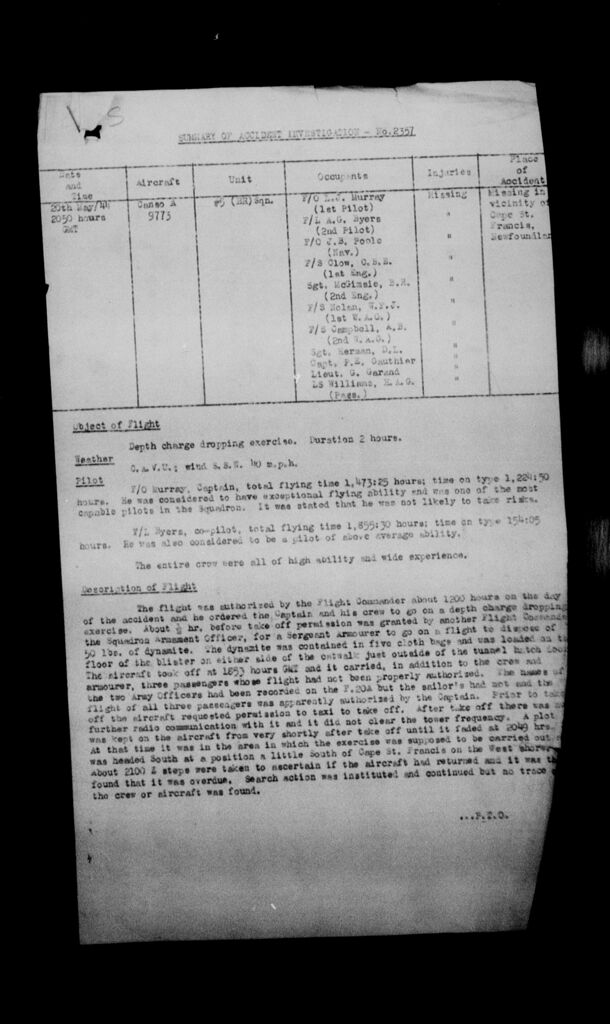 Mechanic from PEI joined RCAF as aero-engine mechanic and became a flight engineer, posted to No. 5 BR Squadron. He died the day before his 29th birthday aboard Canso 9773 during a depth charge dropping exercise, with an extra duty of disposing 50 pounds of old dynamite off the coast of Newfoundland. He left a widow and four children.
Charles Bernard Everett Clow was the son of Thomas Emmett Clow (1893-1978), section man, and Priscilla (nee McCourt) Clow (1891-1983) of Emerald Junction, PEI. His siblings were Claude Emmett Clow (1923-2009), also in the RCAF, Louis Clow, Earl Clow, J. Ivan Clow (1931-2007), and Margaret Reeves. The family was Roman Catholic.
Everett, as he was known, married Madeline White on July 4, 1938. They had two daughters, Catherine Winnifred Marilyn Clow, born May 13, 1940, and Mary Priscilla Barbara Clow, born May 23, 1941. They also had two sons, David Everett Clow (October 10, 1942 - July 10, 2017) and Everett Clow, born October 8, 1944. Their first son, Allan Clow, born November 4, 1938, died January 23, 1939.
He finished his Grade VIII education and had partial Grade IX. He liked to play hockey. Charles stood 5'8 ½" tall and weighed 145 pounds. he had brown eyes and brown hair, with a medium complexion. Several of his teeth were missing.
Everett, working for Maurice Martin as a garage mechanic, applied to the RCAF at Moncton, NB, in January 1940, wanting to be a mechanic. He reapplied again in September of that year. He was tested for Aero Engine Mechanic and accepted by November 4, 1940. "Seems good type. Type: average. General appearance: Conservative." Everette hoped to stay in the aviation industry as an aero engine mechanic after the war.
Everett had twenty-three $5 War Savings Certificates in Madeline's keep.
Everett's journey through the BCATP started at No. 4 Manning Depot, Quebec City November 6, 1940. He then was sent to St. Thomas, Ontario to TTS January 3, 1941 for until June 4, 1941. He was taken on strength with No. 8 BR Squadron, Sydney, Nova Scotia June 5, 1941.
He traveled to Norfolk, Virginia on June 29, 1942, for a week. Everett was then posted on temporary duty at Moncton and Dartmouth before taken on strength with No. 5 Squadron, Gander, Newfoundland November 16, 1942. August 17, 1942, No. 5 Squadron, Dartmouth, Nova Scotia: "A steady, reliable, tradesman and a good crewman on Canso A aircraft." January 1, 1943 at No. 5 Squadron, Gander, Newfoundland: "A superior type of NCO has a thorough knowledge of his trade. A qualified Flight Engineer on Catalina aircract with 802 hours flying."
The squadron was transferred to Torbay, Newfoundland May 14, 1943.
Everett was aboard Canso 9773 on May 20, 1944, which took off for a depth charge dropping practice. It had a crew of seven personnel; two Army officers, one man from the RCN, and another RCAF member, were aboard as passengers. Canso had an extra duty that day: disposing of old dynamite.
CREW: • 1st Pilot, F/O Leo James Murray, J10106 • 2nd Pilot, F/L Alan Gordon Byers, C1612 • Navigator, F/O Joseph Basil Poole, J22439 • 1st Engineer, F/S Charles Bernard Everett Clow, R72674 • 2nd Engineer, Sgt. Bruce Reginald McGimsie, R78943 • 1st WAG, F/S W. F. J. Nolan, R174786 • 2nd WAG, F/S Archibald Burton Campbell, R181104
PASSENGERS: • Sgt. Donald Lawrence Herman, R71231, Armourer, from Winnipeg, Manitoba • Captain Joseph Alphonse Paul Eugene Gauthier, Army Padre, from Rock Island, Quebec • Lt. Gerard Garand, Army, from Verdun, Quebec • L.S. Petty Officer Harvey Alyer Garnons Williams, 21917, RCN, from Medicine Hat, Alberta
A detailed Court of Inquiry was held with S/L G. A. P. Brickenden presiding over the four-day sitting. [Brickenden, a WWI Air Corps veteran, was a lawyer before and a judge after the war.] (Microfiche T12354, image 1874.). Seventeen witnesses were called. It was noted that F/L Byers had 1855:30 hours flying experience, with 174:50 on the Canso. F/O Murray had 1473:25 hours flying experience with 1224:50 hours on the Canso.
The first witness, F/L J Smith, J14429 authorized the flight to commence at 1730 hours for the duration of two hours for Murray and Byers to take their crew on a depth charge dropping practice. He did not authorize for any passengers to fly in Canso 9773. "F/O Murray, the captain, was one of the most capable pilots we have in the squadron and would class his ability as exceptional. The results of the last trade test show F/O Murray has the highest average of pilots in the squadron. F/L Byers was an above average pilot. F/O Poole was No. 2 in charge of navigators and an exceptional navigator. I believe he came 2nd in the trade test. F/S Nolan and Sgt Campbell were very good WAGs. F/S Clow was one of our senior flight engineers who has approximately 1580 hours operational flying. He was an above average engineer. Sgt. McGinnis was a fully qualified flight engineer." Canso 9773 had been flown prior to the crash for 1 hours 45 minutes on May 20, 1944. F/L Smith said he did not know why passengers were carried on a depth charge dropping practice, "as all captains have previously been warned…that passengers were not to be carried on such a flight." He could not account for why the names of the passengers were not entered into the flight authorization sheet. His opinion of the cause of the accident: "F/O Murray may have flown over an iceberg and got caught in a down draft caused by the air temperature around an iceberg, or the depth charge may have exploded on impact. As I know F/O Murray very well, I can truthfully state that he would not endanger the aircraft and crew by low flying or other unauthorized flying. F/O Murray was the steadiest pilot in the squadron and I have never seen him smoke or take a drink of any sort." F/O Smith had flown Canso 9773 himself and felt it handled very well in the air, having flown Canso aircraft about 800 hours.
The second witness, F/L M. Stober, J3719: "On May 20, 1944, at approximately one half hour before F/O Murray departed in Canso 9773 to carry out his assigned depth charge and gunnery practice, Squadron headquarters phone and said that they are sending up Sgt. Herman to dispose of some unserviceable pyrotechnics during flight in Canso 9773. They asked permission for Sgt. Herman to go along on the flight which I granted." On May 7, 1944, F/L Stober took 50 or 60 pounds of dynamite to dispose of during flight. "When we took off, F/L Chisholm did not have the dynamite with him and we carried out our normal exercise of dropping depth charges. The connection between these two flights after the search had commenced led me to believe that the aircraft, cancel 9773 might have had aboard the dynamite. The following day I phoned Flight Lieutenant Chisholm and asked him how many pounds of pyros were disposed in said aircraft. He told me that there was approximately 50 to 60 pounds of dynamite. I then asked him whether he thought that there was any danger connected with the unused dynamite such as condition or crystallization of the unused dynamite which might cause it to go off unexpectedly. His answer was no, it was quite safe and there was aboard the aircraft. at that time. a qualified armament N. C. O. to dispose of it." F/L Stober said that the authority required would be a letter from some Naval authority or authorization from Operations. He did not see any such letter, nor did he know if such a letter had been received by the squadron.
The third witness, F/L W. F. Chisholm, C5166: "I detailed Sgt. Herman to take a quantity of dynamite to 5 BR Squadron where… had arranged for Sgt Herman to go along on Canso A9773 to dispose of the said dynamite by dropping it into the sea. The precautions that are taken to see that the dynamite in this form does not explode includes keeping it away from heat, not transporting it in close proximity to detonators, and ensure that it receives no undo rough handling. The dynamite would be dropped through the camera hatch. I do not consider that it is possible to detonate dynamite under any conditions of air. I do not consider that an iceberg downdraft be a possibility to explode the dynamite. We disposed of the dynamite because this is a store of which we use very little and for which security reasons must be rather closely locked up at all times. due to the arrival of other explosive stores recently, this dynamite presented a storage problem period when no further storage could be found for it, it was considered wise to dispose of it and at the time I could not think of a quicker or better means of getting rid of it then by dumping it into the sea from an aircraft. I examined this dynamite in approximately 3 days prior to the accident and found it in good condition. My experience with dynamite is that I have been a mining engineer for 10 years prior to joining the Air Force which I did in May 1941, and have used, seen, an handled large quantities of dynamite. I did not dispose of this dynamite by exploding it myself because there is no approved demolition area on the camp or in the vicinity. I have not suggested to the commanding officer that a demolition area be established." F/L Chisholm stated that he never had a conversation with F/O Murray about carrying of dynamite. No instructions were given by Sgt Herman as the stowage usually is decided by the captain of the aircraft. "If I was shipping this dynamite in an aircraft to a point at sea where it was to be dropped it would be contained in some sort of bag. No sort of packing was placed inside the bags. I have never requested any other disposition of dynamite by aircraft before."
The fourth witness, LAC R. E. Robinson, R63617: "I am the driver of the squadron car which transports crew and equipment. I picked up this crew's equipment and the six crew members and Petty Officer Williams rode on the car out to the aircraft. I did see the above-mentioned personnel enter the aircraft. I did not see Sergeant Herman, the armourer, enter the aircraft, as he no doubt was assisting with the bombing up. The bomb truck and trailer were sitting directly beside the aircraft and I did not pay any attention to them. My job was finished and I went away."
The eighth witness, F.L T. A. Knowling, C8527, medical officer commented on the physical condition of various members of the crew. F/O Murray was in good physical condition, not suffering from fatigue and was a non-smoker and non-drinker. F/L Byers consulted the medical officer on April 18, 1944 to have an electrocardiograph done. The findings were within normal limits. He was considered stable, temperate, and physically fit. F/O Poole was of steady make-up, temperate and was considered fit for all flying duties. F/L Nolan was hospitalized at Lancaster Hospital, Saint John, NB on the 17th of February 1944 until the 8th of March 1944 with a diagnosis of acute appendicitis. He made a full recovery. He was of normal habits and considered fit for full flying duty. F/L Clow was of normal habits and considered fit for full flying duties. Sgt. Campbell was of moderate habits and considered fit for full flying duties. Sgt McGinnis was of temperate habits and considered fit for full flying duties. Sgt Herman was considered fit for any flying duty as a passenger.
The ninth witness, F/O A. P. Wiedmann, C14987, administrative officer wondered who authorized the flight. "It was the responsibility of the captain to state correct numbers, names, and initials of any passengers carried on a practice or transportation flight in the Flight Authorization book." There were some deletions and changes concerning the flight of Canso A 9773. "I cannot give any explanation as to who crossed the names off. the first time I noticed it was in the morning of May 26, whereupon I questioned F/L Smith." He added, "There have been occasions when names and numbers of passengers were not listed in the authorization book, however the captain had a list made up showing correct numbers and names of the passengers but this list also contained more names than there were actually carried in the aircraft," on May 15th on another aircraft. Wiedmann could not offer an explanation as to why Petty Officer Williams was on Canso 9773. He discovered the discrepancies later on May 20th, after the aircraft did not return. "It came to my attention that WO2 McLeod had been seen with Williams…the answer was to contact Sgt. Odney who told me that he spoke to Williams on the station and that Williams was from Medicine Hat and 21 years of age…he was not on duty on May 21, and I concluded that he was 4th Class Engine Room Artificer H. A. G. Williams, RCN21917." Wiedmann then confirmed the same with the Army, as the station's padre, F/L Davignon assured him that only Capt. Gauthier and Lt Garand were missing.
The weather was noted as "ideal with unlimited ceiling and visibility…with thin scattered cloud present."
The eleventh witness, P/O L. H. Anderson, J20843 stated that he had flown Canso 9773 prior to F/O Murray's flight. "During my bombing exercise, the starboard motor sputtered slightly on one occasion. I tested the mags in the air and found them OK. To ensure that the engine was serviceable, I again tested mags on the ground and found them normal." Asked if he would take dynamite aboard a Canso, "I would refuse to unless ordered and then would be most reluctant and then would make thorough enquiries before doing so. I found the air turbulent. Flying conditions were extremely bumpy."
The twelfth witness, Cpl A. W. Dunbar, R138163 stated that he did not see dynamite placed on Canso 9773 and that there was no particular stowage for dynamite.
The thirteenth witness, LAC J. G. V. Leblanc, R174898 said "Sgt Herman and I were great friends and he asked me to give him a hand with loading the dynamite which was to be taken on this aircraft to be dumped at sea. I helped him placed it on board in the blister on the floor beside the catwalk divided in equal bundles just outside the tunnel hatch door. There were five packages weighing about 50 pounds all in sticks in cloth bags. Sergeant Herman wanted me to go with him but the captain flying officer Murray said he had a full load and could not take me. I saw Williams of the Navy go aboard I had met him previously. I was talking to Captain Gauthier, the Padre and an army officer named Garand, just as they were getting on the aircraft." he also spoke to other people after they got into the aircraft. He could not state if the pilot knew about the dynamite on board or not or how it was to be disposed of.
The fifteenth witness, Officer Commanding S/L J. J. M. Viau, DFC, C1160, stated that he would have liked more information to have been gathered regarding the condition of the dynamite that was carried in the aircraft. He felt that the dynamite should never have been carried in the airplane in the first place. "I have always believed that flying officer Murray never knew there was dynamite in the aircraft. I have known flying officer Marie ever since he came to the squadron in early September 1942. He was one of the steadiest captains in the squadron and do not believe he would have carried the dynamite unless he had been expressly ordered to do so. He was a very careful and methodical pilot who would never make any unnecessary change. I would never have allowed dynamite to be carried in any aircraft of which I had command unless ordered by higher authority to do so and then I would see that very adequate precaution was taken. This dynamite was probably old as they wanted to dispose of it and I am told that old dynamite may crystallize and when it does it becomes very dangerous to handle. I think that this dynamite should have been destroyed on an appropriate range." He could not explain why certain passengers were carried in Canso 9773. Officers of Mont Magny Regiment has permission from their CO to go up on local flights upon introduction by our RC Padre, F/L Devingon. As for the Naval rating Williams, no permission seems to have been granted. His name was not in the authorization book and should not have been taken. "the names were put on by the captain of the aircraft and appan checking up after the accident names of persons shown who were not on board or deleted. My opinion of what caused the accident was the possibility of pilot area error being very remote. The captain and co-pilot were both experienced and very reliable. Other members of the crew were also very well qualified. Flying officer Murray had flown for over a year around this vicinity Ann was familiar with flying hazards when flying close to icebergs. The only cause I can see for this accident is something that happened very suddenly like explosion of the depth charge on impact or accidental explosion of the dynamite. The fact that nothing was found of the aircraft after extensive searches seems to indicate that the aircraft was blown to bits. The extensive search carried out under orders from flying control has now ceased but I have asked pilots engaged on local flying to keep a sharp lookout over the area we think the aircraft disappeared in and to report anything that might be seen."
The sixteen witness, lighthouse keeper Gordon Vater at Cape St. Francis, Newfoundland stated: "I saw a twin engine flying boat Saturday afternoon May 20th, 1944 at 4:45 flying southeast from conception Bay past Cape Saint Francis about 1/2 mile offshore to Black Head where I lost sight of the aircraft. It was flying lower than the lighthouse which is about 200 feet high. The aircraft did not appear to be in any trouble when I saw it. The wind was about 40 to 50 mph and the visibility very clear."
The seventeenth witness, WO2 N. E McLeod, WAG was supposed to be on the flight with P/O Murray, but he had obtained permission from F/O Murray to remain on the station that afternoon instead of going with him as I had received notice of the arrival of a baby daughter. I wish to send a telegram and arrange flowers so F/O Murray gave me permission to miss the flight as it was only a local depth charge dropping exercise. I was talking to D/Officer Murray and he mentioned having Sergeant Herman on board who was to dispose of some dynamite. In approximately one year and a half flying with 5BR squadron I have never flown with any pilot who had dynamite aboard."
Searches on the 20th and 21st of May included twenty-three aircraft, total flying time: 146 hours, 54 minutes. "An oil slick, about one mile long, was observed…and photos were taken. Aircraft wreckage was sighted."
REMARKS: The cause of this accident is obscure. Disobedience of orders and instructions however is apparent in respect of unauthorized carrying of passengers on a practice bombing flight, unauthorized carrying of a naval rating, failure to properly note passengers in the flight authorization book, and failure to file an adequate flight plan particularly in respect to estimated time of arrival. Gross carelessness and lack of judgment were exhibited in respect of carrying passengers and dynamite, loose stowage of bags of dynamite possibly in a deteriorated state in the aircraft. The flight was not only poorly organized but was inadequately controlled by flying control and the squadron in that the aircraft was long overdue prior to anyone appearing to know anything about it. The station armaments officer appears to have been negligent in organizing the disposal of this dangerous explosive as done in this instance.
G/C F. S. Wilkins, Chief Investigator for accidents in June 9, 1944 stated that "the remarks of the acting officer commanding are very pertinent in this accident and I consider that proper disciplinary action should be taken against the personnel concerned. The whole accident is a reflection on the condition of the squadron. It might be mentioned that a Hudson from the same station, No. 11 BR Squadron was reported missing on the same day but the investigation is not yet to hand. As in so many of the accidents where the aircraft are missing, flying control appears to have failed to do a 100% job."
A letter dated June 28, 1944 to the Air Officer Commanding-in-Chief of EAC in Halifax stated that it was requested that appropriate disciplinary action against the personnel responsible for the disobedience of orders and instructions and that immediate steps be taken to correct the state of general laxity indicated by the remarks including the flying control exercised at this squadron. The HQ wanted to be advised as to what disciplinary action was being taken against any of the personnel involved and also as to what action is being taken to correct the general conditions indicated.
A letter to the Commanding Officer, HMCS Avalon, St. John's Newfoundland from S/L J. M. Viau, Officer Commanding No. 5 Squadron, Newfoundland stated: "Several weeks have passed since the unfortunate accident on May 20, 1944 when one of your Petty Officer, Harvey A .G. Williams, RCN 21917 was passenger of the aircraft which failed to return from their routine flight, Due to the very unfortunate circumstances, much difficulty was experienced to establish the fact that Petty Officer Williams was a passenger of this aircraft, however, I feel sure that Petty Officer Williams was the passenger who was seen boarding the aircraft which left on May 20th 1944 at about 1600 hours and did not return to base. Searches were carried out immediately when it was apparent that the aircraft was overdue, several squadrons participated in searches day and night for about 14 days, however up to date, no trace whatsoever could be found of the crew or the aircraft. I am writing you this letter in order to express my sincere sympathy to the next of kin of your Petty Officer and also to give you the aforementioned information so that you may assure the next of kin that everything possible was done to locate the missing crew. The missing aircraft carried 2 dinghies, emergency rations, water supply, parachutes, and all the necessary equipment to ensure that crew members might be saved in case of emergency landing. Four weeks have passed now since the aircraft disappeared and as all searches have produced no clue whatsoever, very little hope is entertained of ever finding any of the occupants of the ill-fated aircraft. Should I receive any further information I will certainly communicate to you all pertaining information."
Harvey Williams had been granted a short weekend leave commencing May 20, 1944. A letter to Mrs. Williams dated June 28, 1944 written by the Secretary of the Naval Board, stated that Harvey had been granted permission to take passage on the Canso. In a memo, it was recommended that all Naval personnel wishing to fly should be required to get written permission from certain stated authorities and the Air Force is to be instructed to secure this permission before allowing any Naval personnel to make a flight, collecting and returning the stated permissions to a designated Naval authority.
A memo dated February 28, 1945 about Lt. Gerard Garand being aboard Canso 9773: "On May 20, 1944, H/Capt. P. E. Gauthier, Regt, de Montmagny, received a telephone call from F/L Jean Paul d'Avignon, RCAF, inviting him to go on a flight at Torbay, Newfoundland, adding there was place for six passengers. Permission was obtained from the Officer Commanding, Lt. Col. G.N.E. Gremier, Regt, de Montmagny by Lt. Gerard Garand, Regt. de Montmagny, who embarked on a Canso A No, 9773 type plane which was going on a depth charge dropping practice. There was an understanding between S/L Viau, RCAF and Officer Commanding, Regt. de Montmagny with regard to this training flight. This plane did not return to its station and the entire crew including H/Capt. Gauthier and Lt. G. Garand are still missing. An RCAF Court of Inquiry was held on May 25, 1944 at Torbay to inquire into the circumstances of the loss of this plane. The Air Officer Commanding, Air Group RCAF stated that the cause of this accident was obscure and that gross carelessness and lack of judgment had been exhibited in respect to carrying passengers and dynamite and loose stowage of bags of same. A further Court of Inquiry was held on December 20, 1944 at CAPO, No. 1 St. John's, Newfoundland, which found that no further information had been received since the disappearance of Lt. Gerard Garand on May 20, 1944."
The names of Gauthier, Garand, and Williams can be found on the Halifax Memorial for those of the Navy, Army and Merchant Marines who died at sea and have no known grave.
In late October 1955, Madeline received a letter informing her that since Everett had no known grave, his name would appear on the Ottawa Memorial.