Cecil George Heeney P3016
June 3, 1915 - December 29, 1941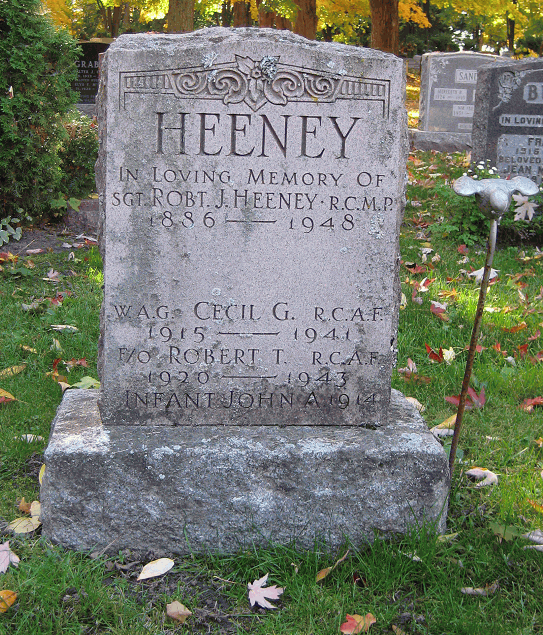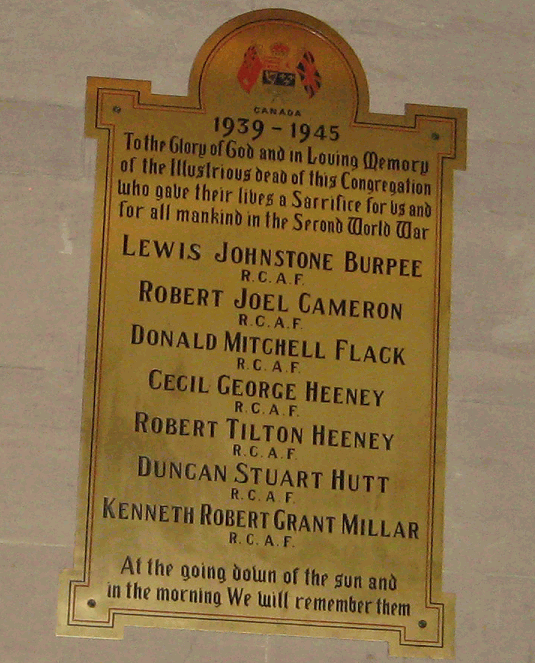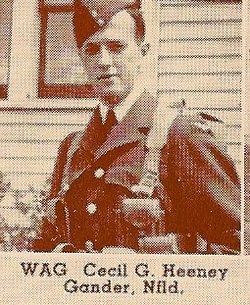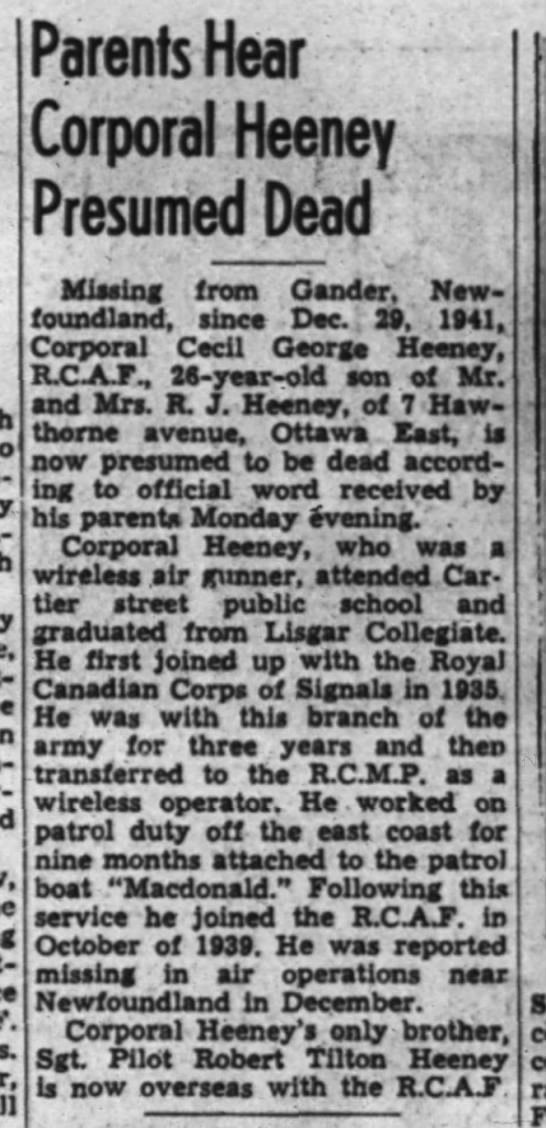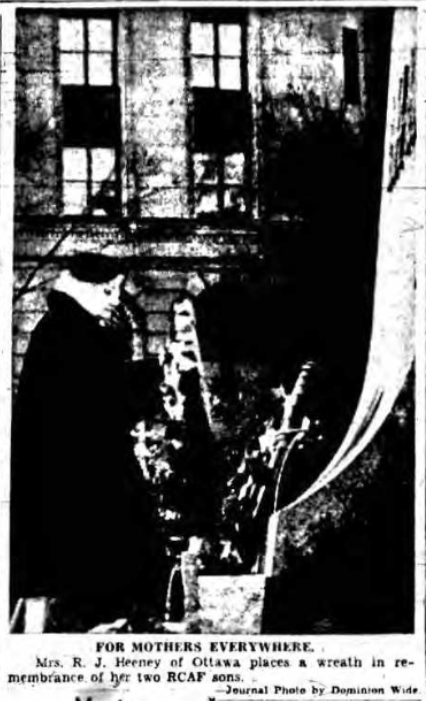 Wireless operator for RCMP joined RCAF in 1938. Aboard Digby 744, he and crew went missing during an anti-submarine patrol. Icing conditions were present.
Cecil George Heeney was the son of Robert John Heeney, sergeant in RCMP, (1886-1948) and Margaret Ann (nee MacFarlane) Heeney of Ottawa. He had a brother, Robert "Bob" Tilton Heeney (1920-1943) who also was with the RCAF, flying Spitfires. He is buried in France. Another brother, John, was an infant when he died in 1914. The family was Presbyterian.
He enlisted in the PF Unit ROYAL CANADIAN SIGNALS when he was a student in August 1935. He stood 5'11 ½" tall, weighing 140 pounds. He had brown eyes and dark brown hair. A birth mark on the base of his right thumb was noted. He was posted to Camp Borden, as a signalman, then was at Barriefield, Ontario by August 1937. He was posted to Halifax, NS on January 20, 1938 until February 8, 1938 Service No. 40077. He was granted 1st Class Army Certificate equivalent and a meteorology certificate (distinguished).
Cecil spoke English, and also French, moderately. He worked as a messenger in 1927, then during Christmas for three years, he worked as a salesman in men's furnishings. Cecil was a camp counsellor in the summers of 1933 and 1934. He then worked as a clerk in the RCMP's Adjutant's Office in 1935 in Ottawa, then became a Wireless Operator (Special Constable) in Halifax.
"This man has performed his duties as a soldier in a very satisfactory manner. He is reliable, industrious, intelligent and sober, and he has a pleasing personality. His physical development and health are good. He obtained his senior matriculation in 1935 and has since been trained as a wireless operator. He has had a few months experience as a telephone mechanist."
When he applied to the RCAF in October 1938, he wrote, "amateur photography, wireless operator, trained soldier, hold meteorological observers' certificate, keen interest in aviation and relation of wireless to efficient flying. Good knowledge of gas engines and shop procedures. Sports: basketball, played for Lisgar Collegiate, RC signals and YMCA. Skiing, very keen interest. Hockey, swimming, paddling, sailing, gulf, tennis, writing, gymnasium apparatus workouts, rifle shooting. Request to enlist as a wireless operator mechanic at earliest opportunity." He had been working in Ottawa (Marine Section) with the RCMP, Coastal Patrol (Preventative) as a wireless operator. After the war, he wanted to continue in service with the RCAF or be engaged by the Civil Service, Department of Transport, Radio Branch.
He was at No. 1 Wireless School, Montreal April 1, 1940. Prior, he was in Trenton. Cecil earned his Air Gunner's Badge on August 25, 1941. He was sent to RCAF Station, Gander, Newfoundland attached to No. 10 BR Squadron.
At 0840, December 29, 1941 Digby 744 took off with the crew PILOT F/O J. W. Skidmore, J5105, SECOND PILOT P/O K. G. Schaefer, J6267, OBSERVER P/O Albert William Runte, J7783, AIR GUNNER AC1 John Sydney Legon, R93484, AIR GUNNER Sgt. Arthur Chapman, R65744, and WIRELESS OPERATOR Cpl. Cecil G. Heeney, P3016, with No. 10 BR Squadron, and flew out of Gander. They failed to return through cause or causes unknown. That no known visual or radio contact was made with aircraft 744 after departure from RCAF Station, Gander, Newfoundland. That at the time of take-off of aircraft, light icing conditions existed between approximately 1500 feet and 5500 feet in the area of his patrol. The cause of the accident: That Digby 744 took off on an outer anti-submarine patrol for convoy did not return, is missing and it is reasonable to suppose that it is lost. That the occupants of Digby 744 were on Active Service on duty…that the said occupants are missing and it is reasonable to suppose that they are dead."
A Court of Inquiry was struck. [Microfiche T-12340, Image 4644] Seven witnesses were called. DESCRIPTION OF FLIGHT: Digby aircraft 744 took off at 0640 hours from Gander, Newfoundland on an authorized operational flight east of Newfoundland. The aircraft failed to return. No visual or radio contact was made with aircraft from the time of take-off. An extensive search was made for the missing aircraft and crew, but no trace of either was found. It is reasonable to suppose that the aircraft is lost or totally damaged and occupants dead. The third witness, S/L Albin Laut, C861, Officer Commanding of 10 BR Squadron stated that he felt the captain and crew of Digby 744 were fully qualified in all respects. [He was killed on October 3, 1943, while on a cross country flight near Sydney, NS flying Ventura PV-1 2148.] The sixth witness, P/O Bertrand Hutchinson, J5063, pilot at No. 19 BR Squadron stated, "I was detailed as Second Pilot in Digby 745 to do a submarine patrol on US Convoy Task Force 19. We took off just after Digby 744 which was proceeding to the same convoy as ourselves. We did not see Digby 744 at all, but at position 50 degrees 00 N, 50 degrees 30 W, when it was still dark, I saw a flame float on the water about 3 or 4 miles to our starboard side. It stopped burning just after we passed it. Other than this, I saw nothing of Digby 744. We proceeded on our patrol, searching for the convoy until our time was up and then returned to base." FINDINGS OF INVESTIGATION: CAUSE: (a) That Digby 744 took off from RCAF Station, Gander, Newfoundland on an outer anti-submarine patrol for convoy at 0640 hours, 29-12-41, did not return, is missing and it is reasonable to suppose that it is lost. (b) That the occupants of Digby 744 were on Active Service, on duty…(c) that the said occupants are missing, and it is reasonable to suppose that they are dead. CONCLUSION: Aircraft failed to return for reasons unknown, probably due to icing conditions. All maintenance regulations were complied with by those responsible. L14 and relevant Log Books were impounded by the Commanding Officer immediately after report that aircraft was missing. RECOMMENDATION: That aircraft on operational flights be allowed to exchange call signs with base on receipt of the hourly weather reports when NOT within 75 miles of convoys or friendly ocean shipping." Aircraft of the unit and of the US Army Air Corps searched for three days with no result. They had later been grounded due to weather.
A letter written by F/Lt N. O. Seagram for Lt/Col L. M. Firth, Administrator of Estates dated September 1942: "Much of the above mentioned deceased's effects were received here in a large wooden box, which from there appearance were not the property of the deceased. They are grey-blue in colour and have "10BR" painted on the sides. They are presumably the property of the RCAF. The effects arrived in a disgraceful condition, no attempt having been made to ensure that the contents of the boxes were packed so as to prevent their movement during transit with the result that in the case of the box containing the effects of Corporal Heeney, various bottles and tins containing toothpaste, shaving lotion, ointments, powders, etc, became damaged and the contents spilt over articles of clothing etc. Practically every item in the box was damaged or soiled to some extent. Corporal Heeny's radio was loose in the large box unwrapped and no effort had been made to make it fast. The effects of Sergeant Chapman and of AC1 Legon, are in a similar condition and it is quite apparent that no care was exercised by the person responsible for packing the same and their dispatch to this Branch. The task of the Estates Branch is a difficult one and rendered more so when personal effects are received here in a condition which requires their repacking in a new container and the removal therefrom of articles soiled or damaged during transit. May this matter being drawn to the attention of the Committee of Adjustment to ensure that, in future cases, the effects are dispatched, securely packed in suitable containers.
Cecil had $200 in his bank accounts, plus had two life insurance policies. Mrs. Heeney wrote a letter to the Estates Branch to let them know that she and her husband were thankful for all the work that they had done to settle Cecil's estate.
Mrs. Heeney placed a wreath in remembrance of her two RCAF sons on Remembrance Day in 1957. Cecil and his brother are remembered on the family headstone as well as on a plaque at the Knox Presbyterian Church in Ottawa.