Cecil Alexander Dickson J10870
December 17, 1920 - December 15, 1944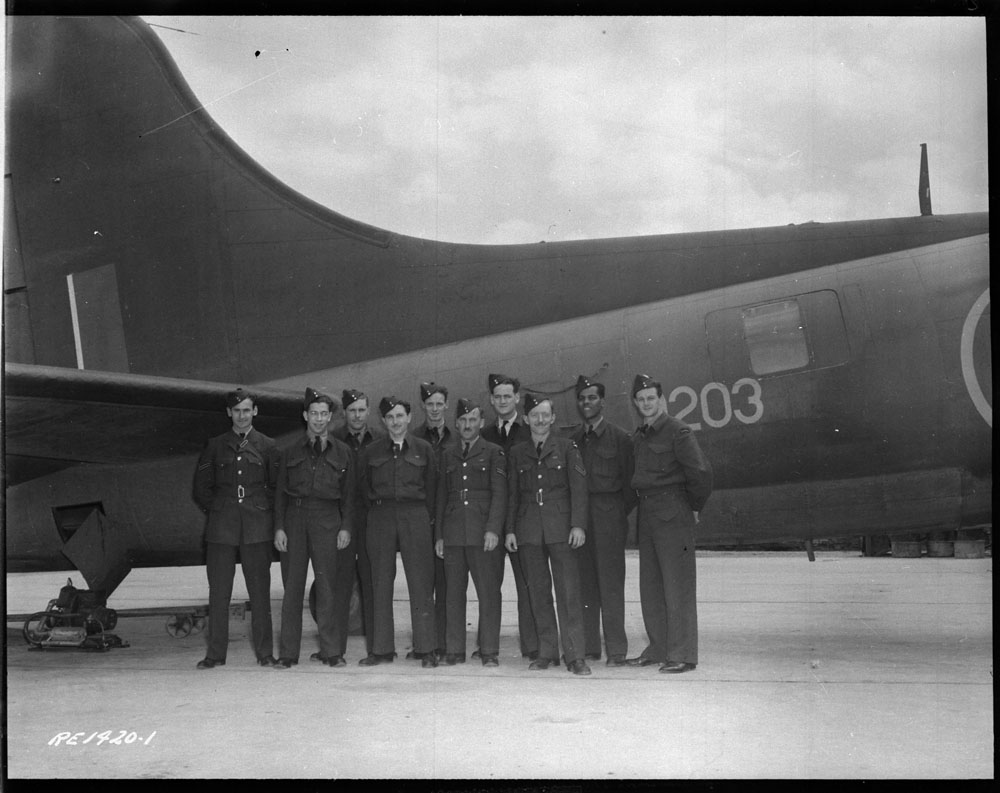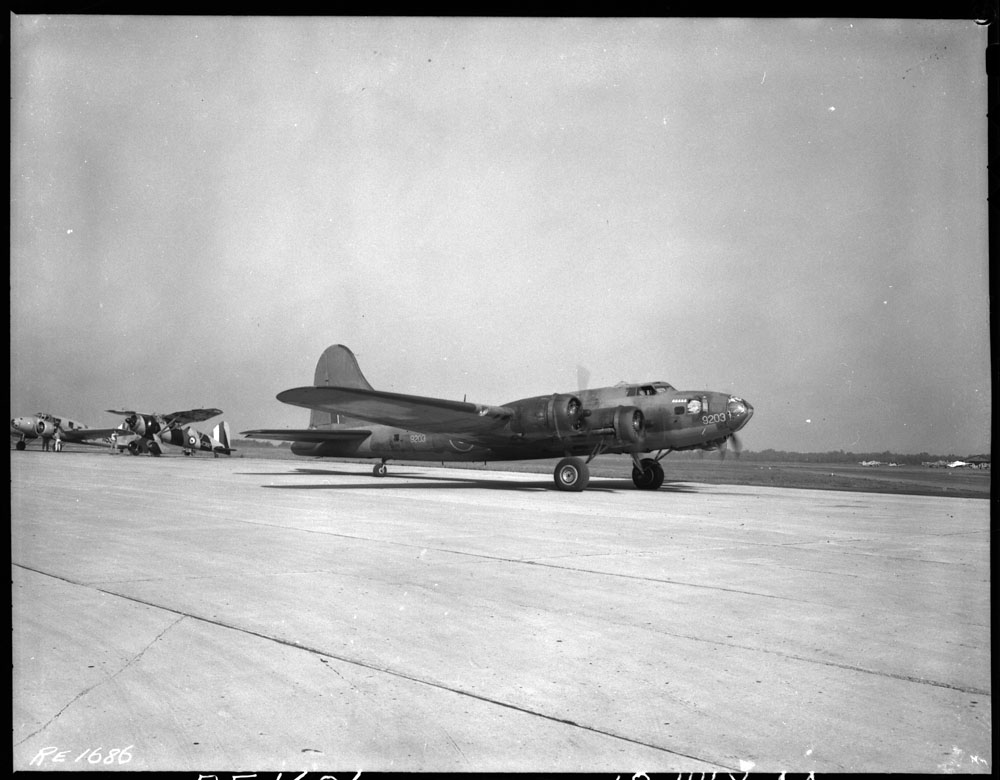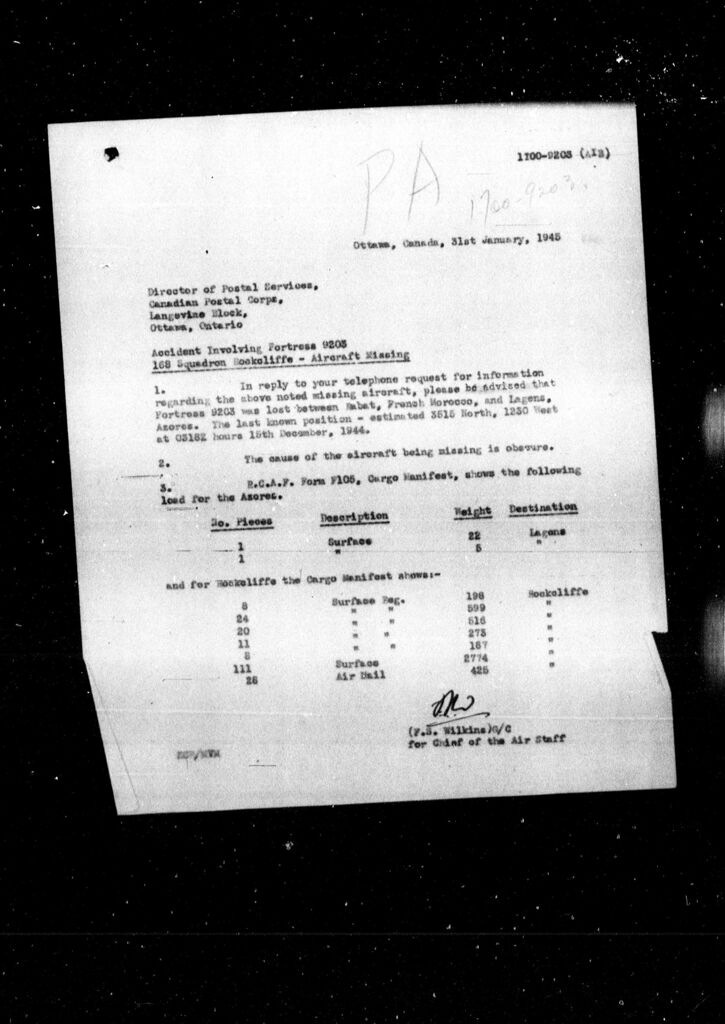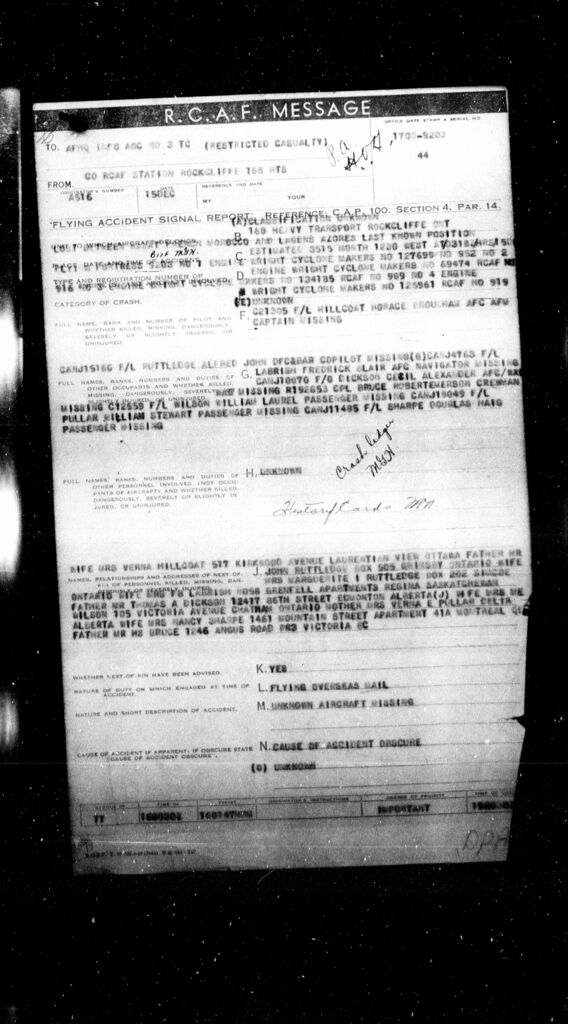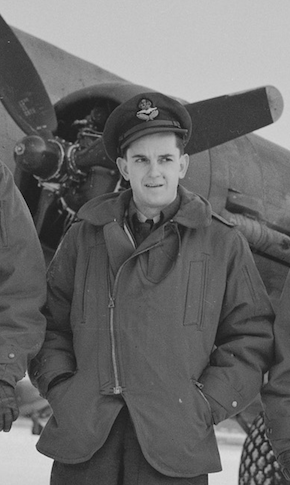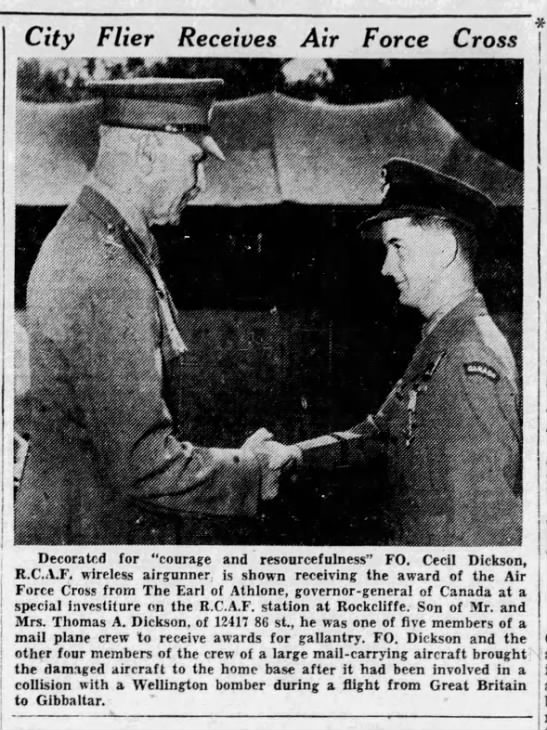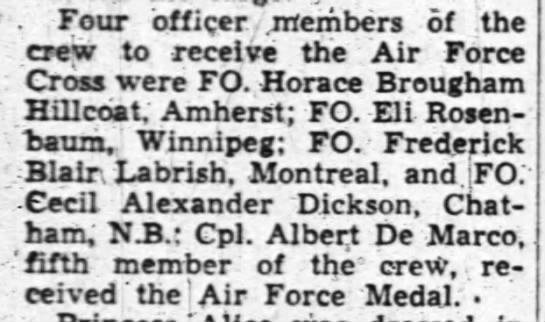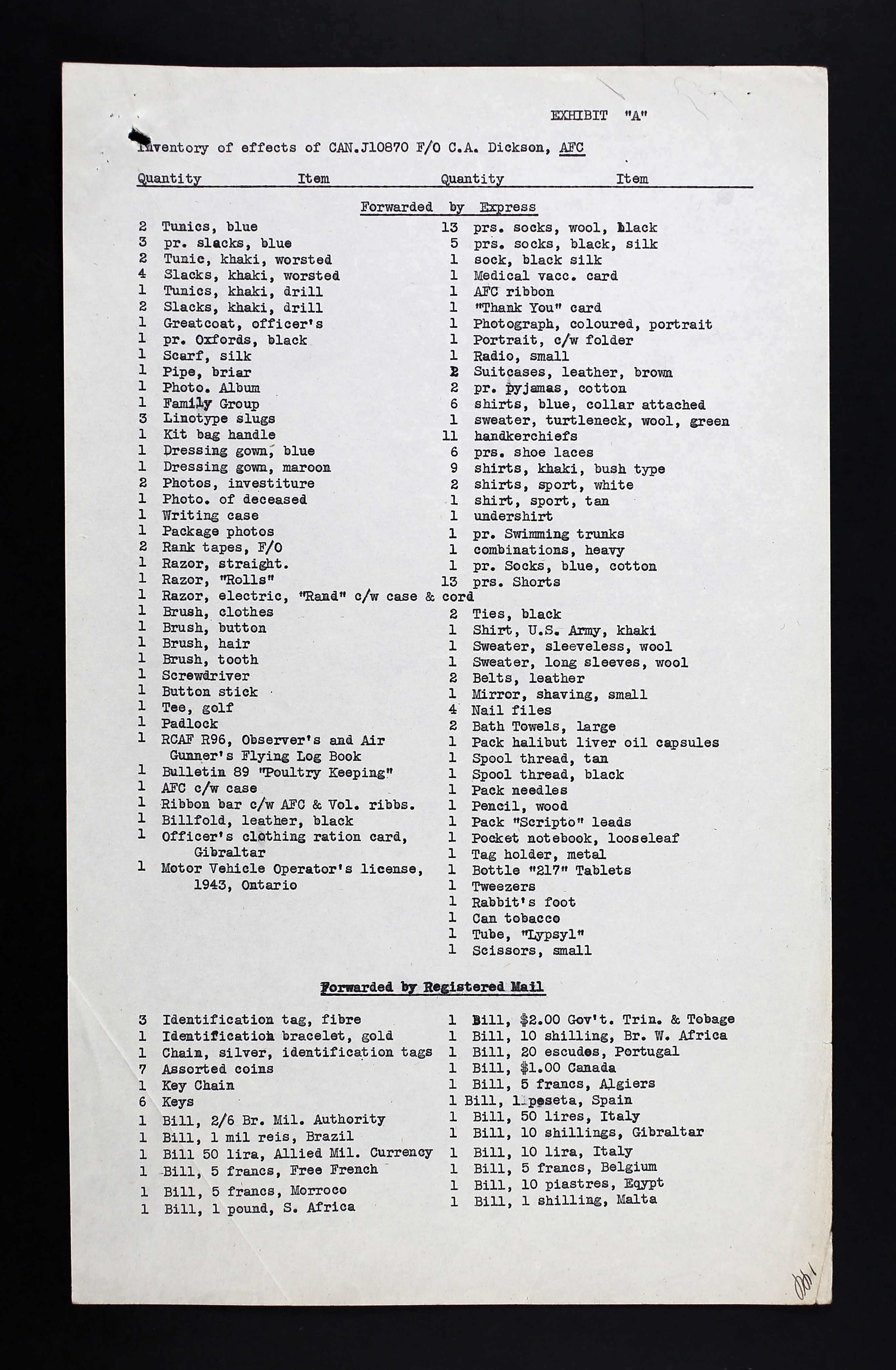 Young man from Edmonton joined RCAF as a Wireless Operator. Part of 168 Squadron, ferrying mail, he and crew, plus passengers were lost over the Atlantic Ocean.
Cecil Alexander Dickson was the son of Thomas Allan Dickson, caretaker, and Ethellena (nee Philp) Dickson of Edmonton, Alberta. He had three brothers James, Allan, Stanley, and three sisters, Gladys, Mrs. Harold McDonald and Mrs. Jack Turner. The family was Methodist.
Cecil was a member of the Loyal Orange Lodge. He liked hockey, football, baseball, and swimming. He enjoyed reading. He had a slight knowledge of engines. He had a Grade XI education. Five cigarettes per day and no alcohol were noted.
From 1938 to 1941, he worked part time for a florist and market gardener in Edmonton and prior, managed a dairy.
Cecil stood 5'4 ½" tall and weighed 119 pounds, with brown hair and brown eyes. He had a small scar just below his left eyebrow.
Cecil started his journey through the BCATP at the recruiting centre in Edmonton, Alberta on May 26, 1941. From there he went to No. 2A Manning Depot, Penhold, Alberta from June 9 to August 2, 1941.
From there, he was sent to No. 3 SFTS, Calgary until he was sent to No. 2 Wireless School in Calgary on September 16, 1941 where he was 8th out of 140 in his class. He was at the station hospital from November 10 -16, 1941.
At No. 8 B&G School, Lethbridge, Alberta, from February 29 to March 30, 1942: "An outstanding student with a thorough grasp of the theory and practice of armament. Keen. Observant." He was first in his class of 30." Other comments: "Alert, confident, maintaining good humour under difficulties, has some background management experience."
Cecil was then sent to Debert and No. 31 O.T.U. April 19, 1942. He was attached to RAF Ferry Command July 1, 1942. He made many trips to North Bay and Mountain View, Ontario in 1942 and 1943.
He was repatriated at Rockcliffe, Ontario October 31, 1943. "A very reliable officer. He has made six transatlantic delivery flights. His work has been of the highest standard at all times."
Throughout 1944, he was in Dayton, Ohio, the UK, at Scoudouc, NB and Dorval, Quebec, returning to the UK, part of ferrying mail. He was a member of 168 Squadron.
The crew and passengers of Fortress 9203 were on a transatlantic flight from French Morocco to Canada via the Azores when they were lost. A few mailbags were spotted floating on the surface during the search.
CREW: • F/L Horace Brougham 'Pat' Hillcoat, Pilot, Ottawa, Ontario • F/L Frederick Blair La Brish, Navigator, Regina, Saskatchewan • F/L Alfred John De Laune Ruttledge, Co-pilot, Simcoe, Ontario • F/O Cecil Alexander Dickson, WO, Edmonton, Alberta • Cpl. Robert Emerson Bruce, crewman, Victoria, BC • F/L William Stewart Pullar, passenger-Pilot, Delia, Alberta • F/L Douglas Haig Sharpe, passenger-Navigator, Montreal, Quebec, • F/L William Laurel Wilson, administrative officer, Chatham, Ontario
(See Dave O'Malley's article. for additional information and photos.)
July 9, 1945: "The situation is that the RAF look upon this as an operational flight, concerning which they usually take no action beyond a circumstantial report. No. 9 Group can produce witnesses' statement showing that the personnel concerned were actually in the aircraft when it left Rabat, that no other call was made enroute and that nothing further is known of the aircraft since its disappearance."
A note on the estates form: "RE: The $600 in bonds. It is the wish of the family of the deceased that these bonds not be cashed but left as and where they are."
Cecil had a long list of personal items sent to his family, including his Air Force Cross ribbon, and a variety of international money.
LINKS: