Bruce Walter McGregor R267192
August 19, 1924 - May 29, 1944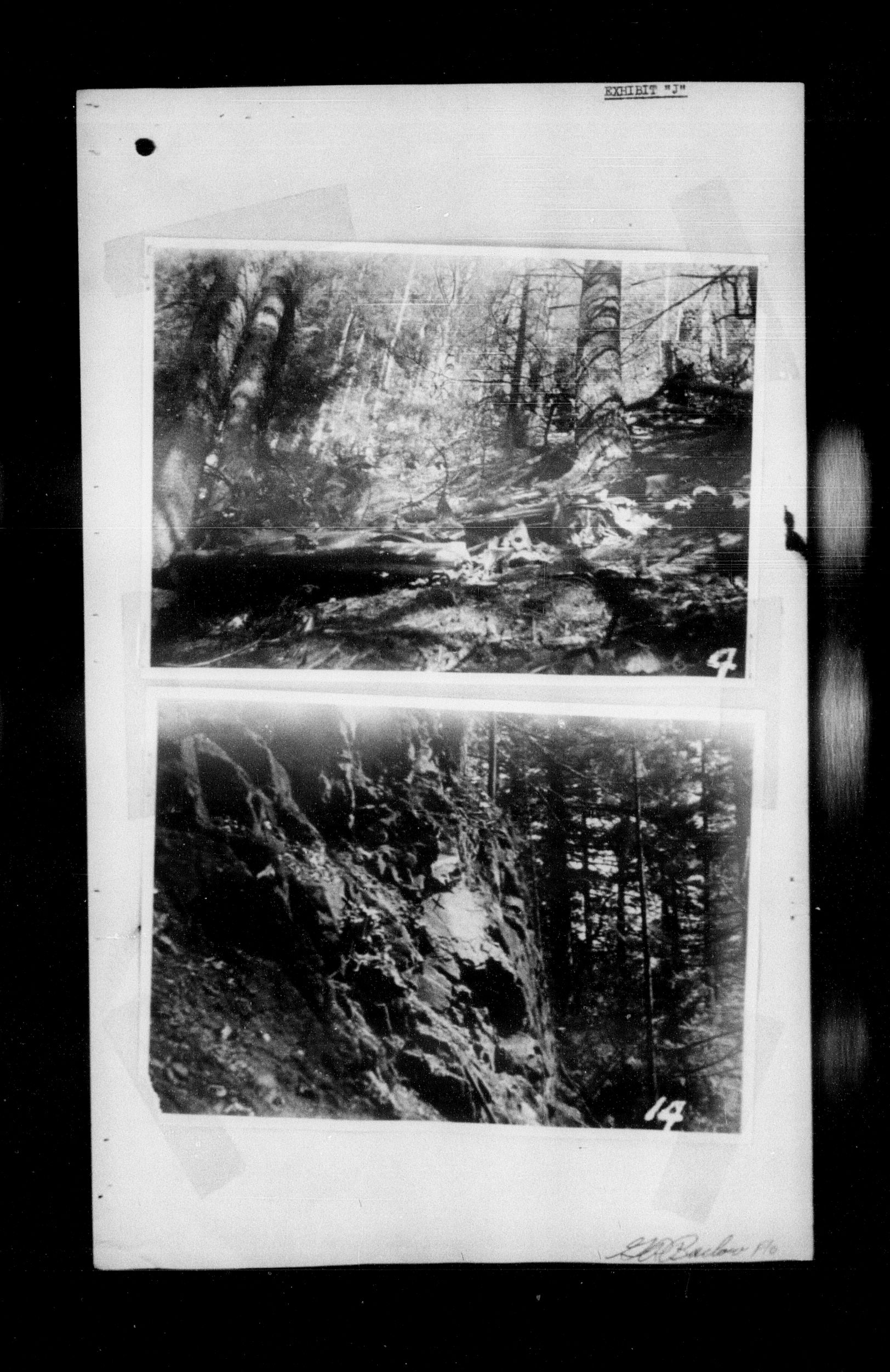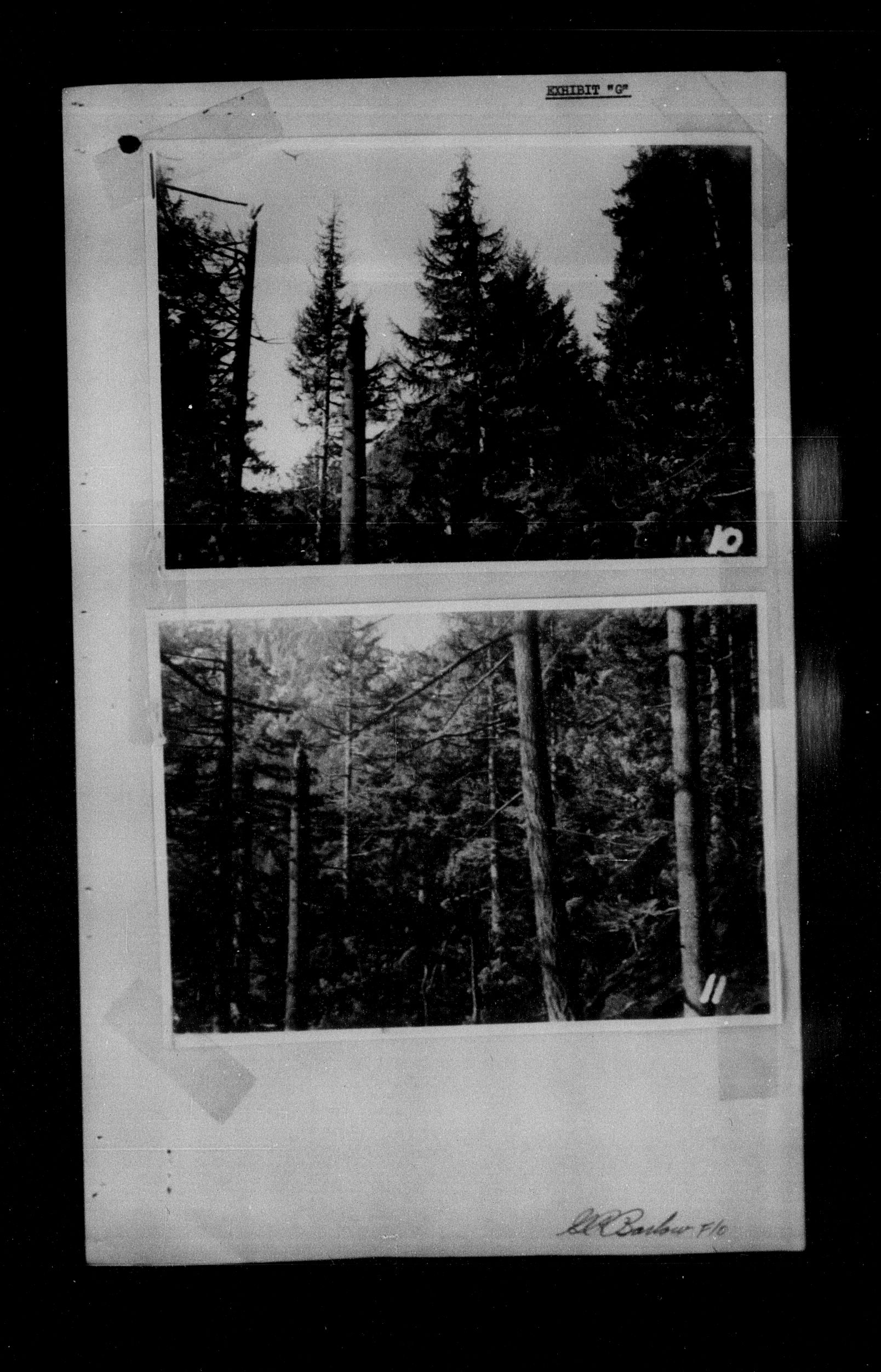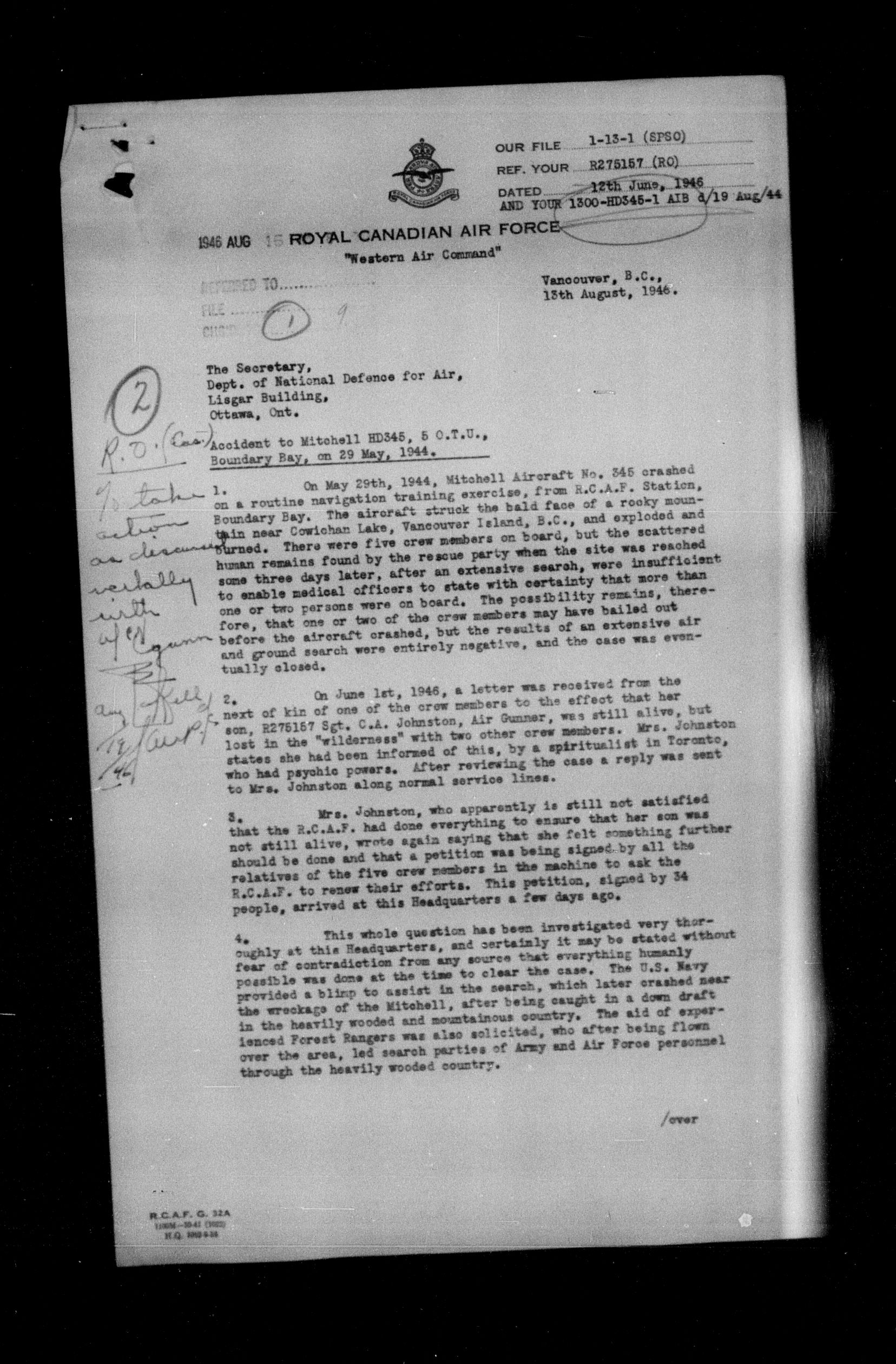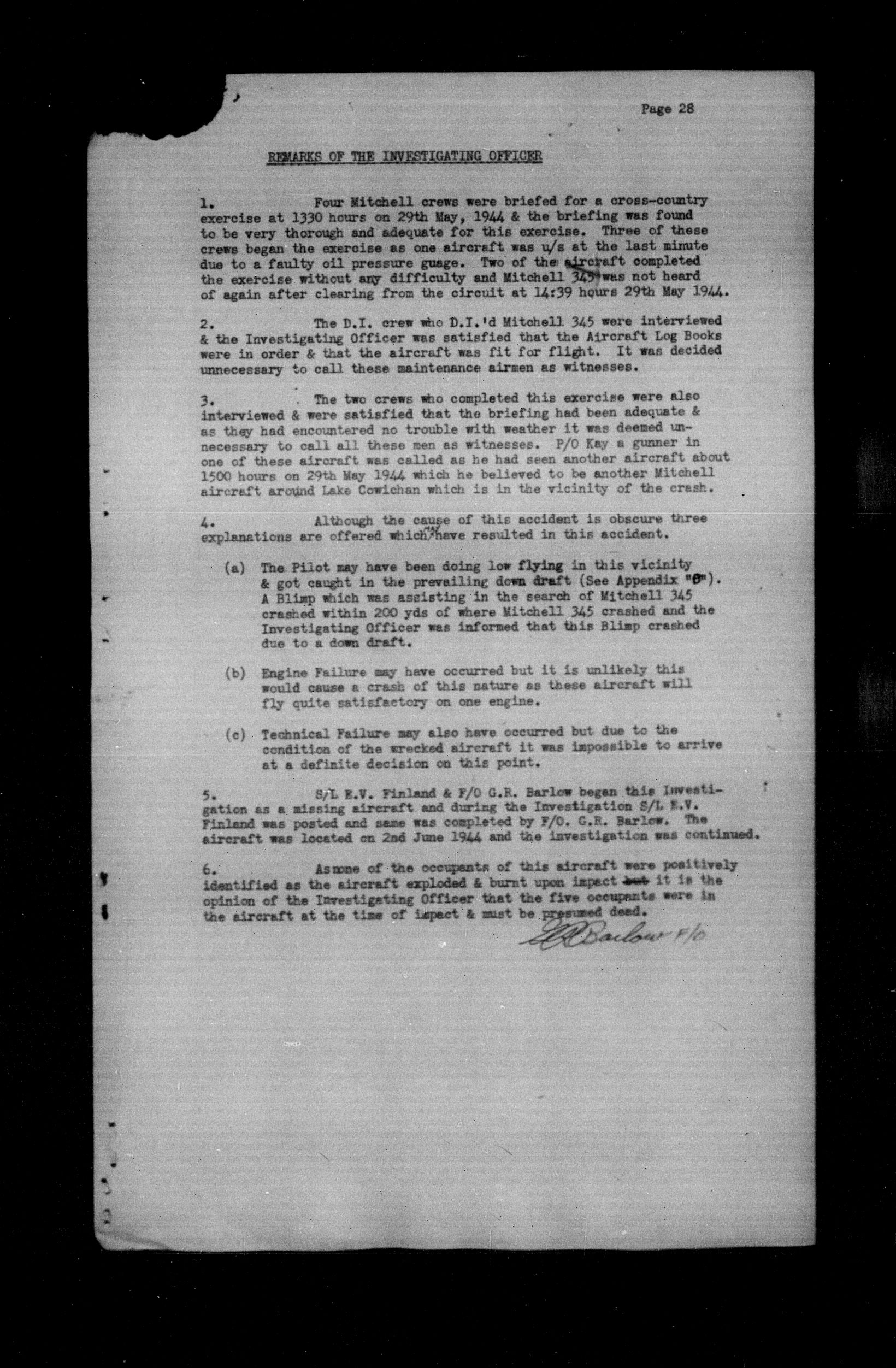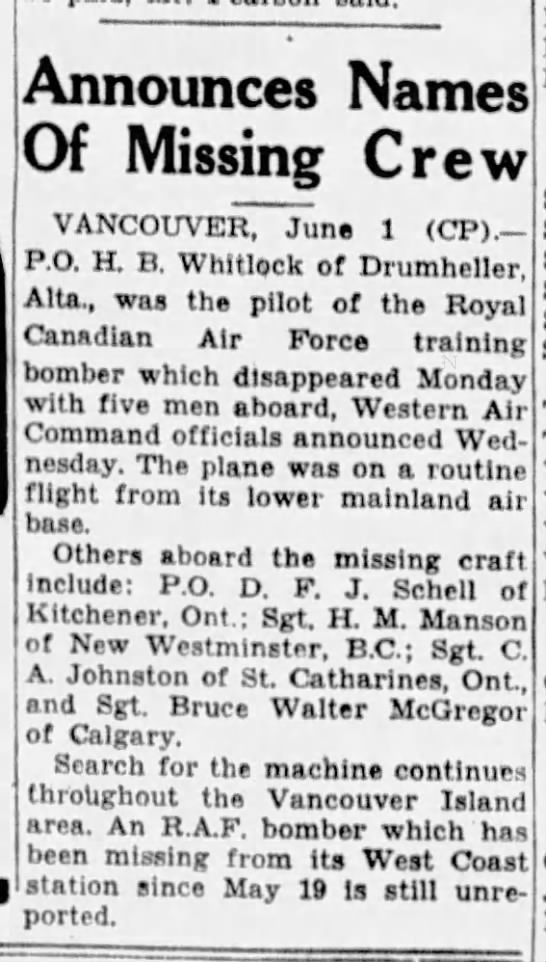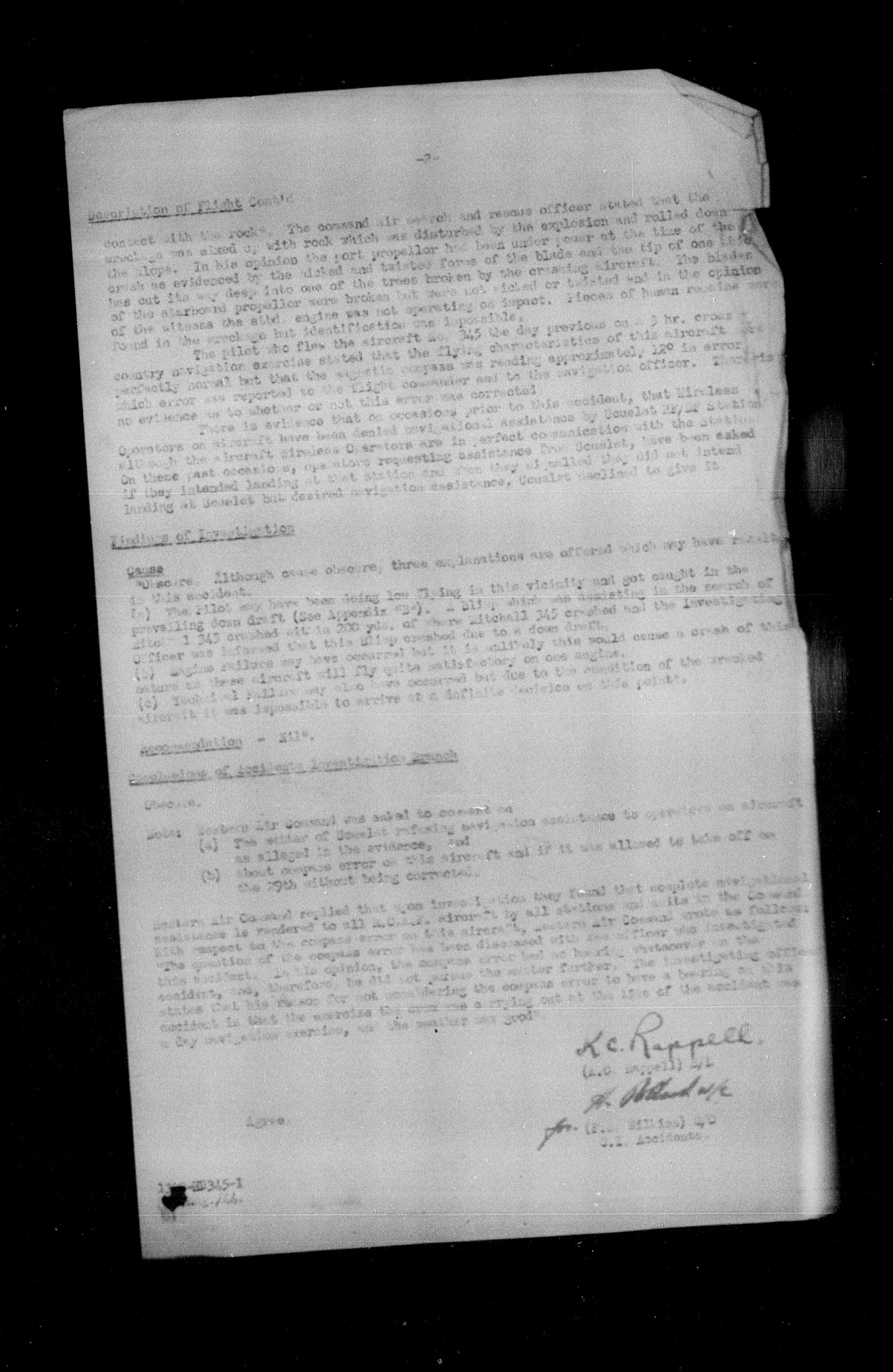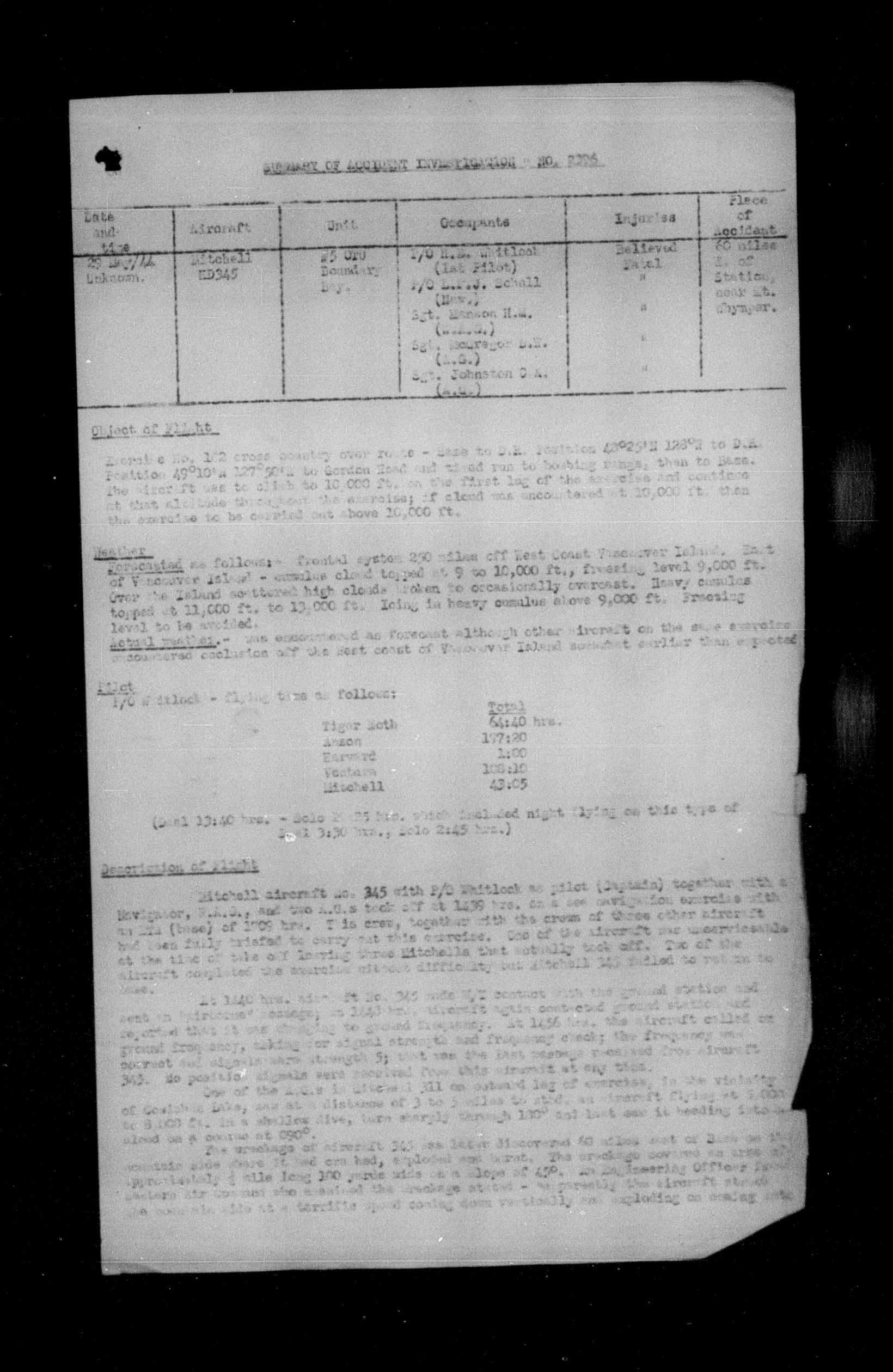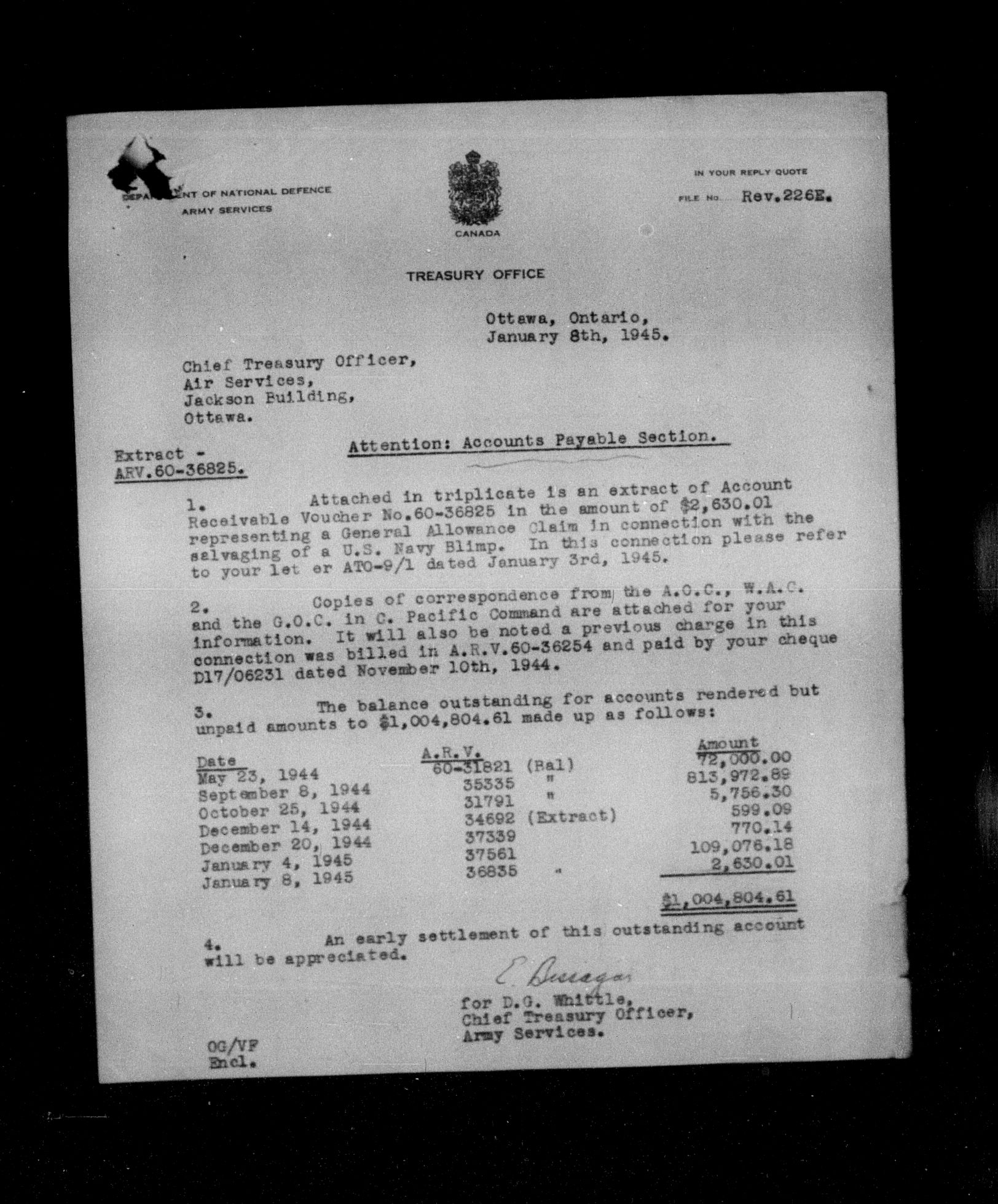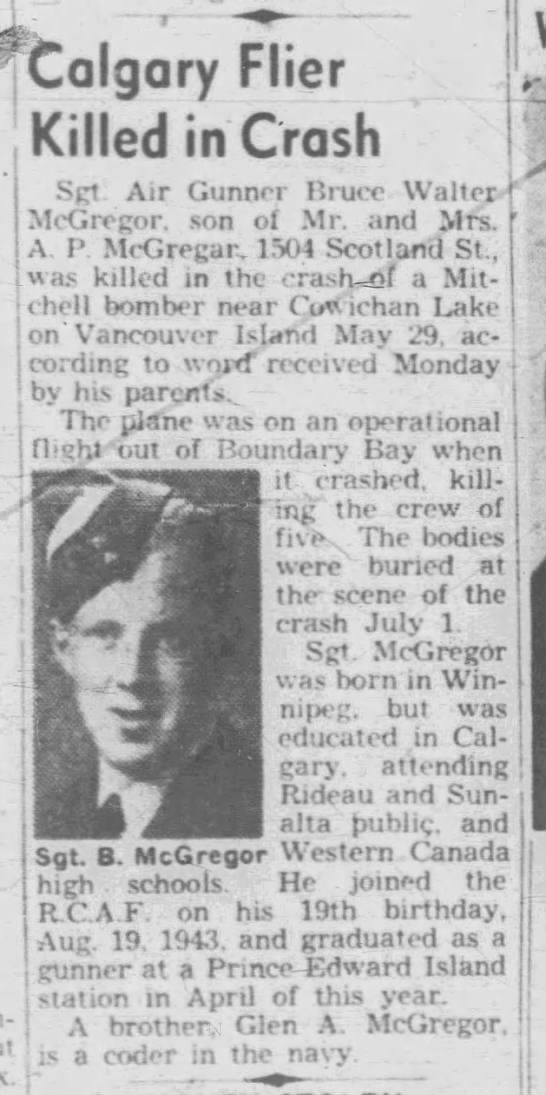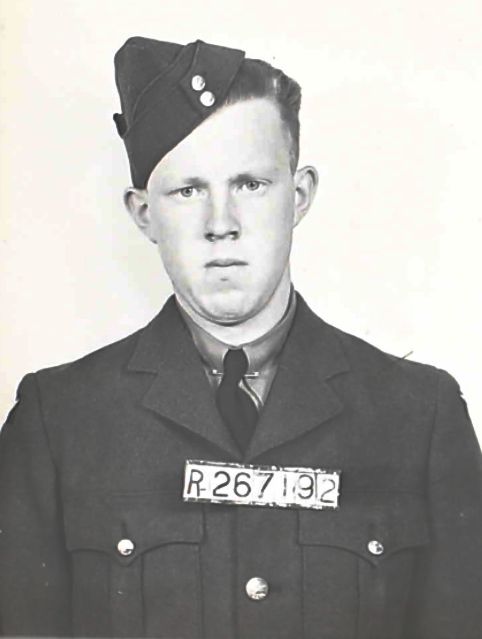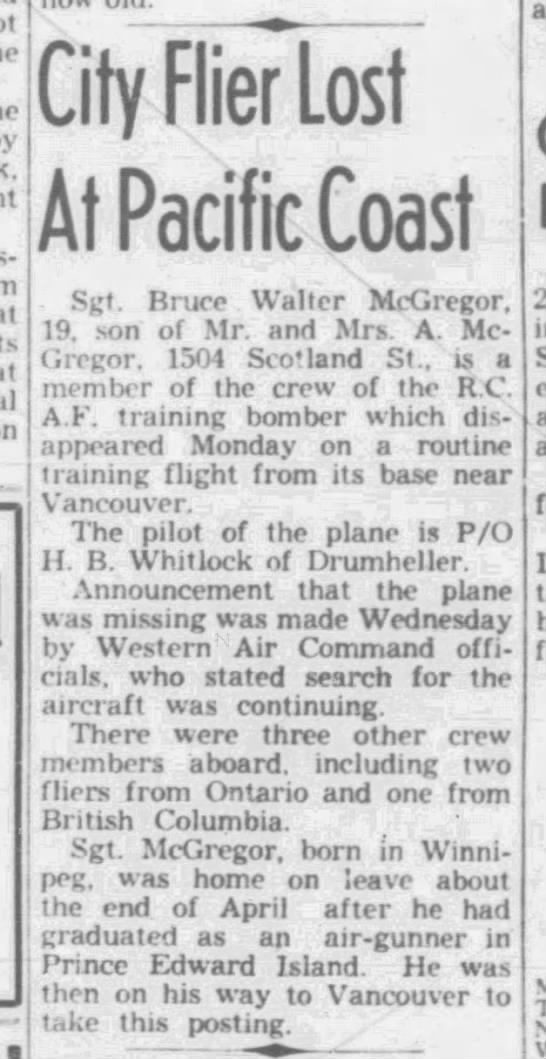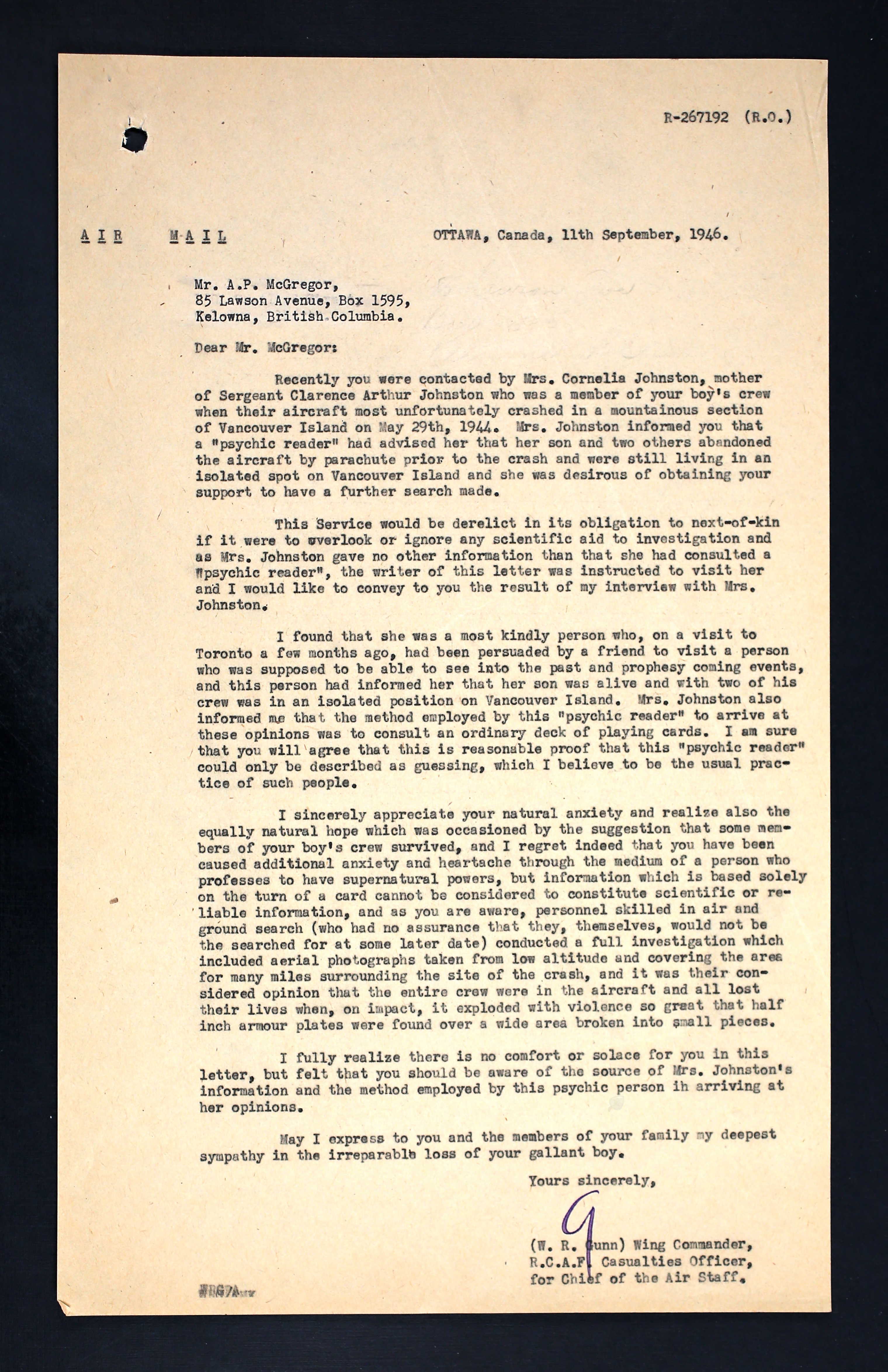 Store clerk joined RCAF as WAG. Aboard Mitchell HD345, he with four other crew, on a navigational exercise, hit a mountain on Vancouver Island, the plane exploding. A US Navy blimp participated in the search, crashing. The remains of the crew of Mitchell HD345 were buried on site. Two years later, a psychic claimed three men survived, dismissed by the RCAF.
Bruce Walter McGregor, born in Winnipeg, Manitoba, was the son of Andrew Patterson McGregor (1895-1957), a WWI veteran, department manager (T. Eaton Co.) and Johanna 'Hanna' (nee Reykdahl) McGregor (1891-1967), of Calgary, Alberta, later of Penticton then Kelowna, BC. He had a brother, Glen Cairn Andrew McGregor, RCNVR, and one younger sister, Mrs. Florence Elizabeth Haworth. The family moved to Calgary when Bruce was five years old. They attended the United Church.
Bruce fractured one of his arms near his elbow when he was about 8 years old. He also had an appendectomy in July 1942.
He was a store clerk with T. Eaton Co. and then with the CNR Telegraph as a groundman prior to enlistment in August 1943. He felt he was underpaid at T. Eaton Co. and worked long hours with the CNR. He liked to play hockey, basketball, and baseball. He smoked ten cigarettes a day and did not drink alcohol. "Sedentary, alert." He stood 5'11 ½' tall and weighed 168 pounds. "Confident. Well adjusted." "Good clean cut lad. Expires [sic] to be an AG or WAG. Very good type for these trades. Alert with sufficient ability."
Bruce had 2x$4.00 War Savings certificates and a $1000 life insurance policy through the T. Eaton Co.
Bruce was sent to No. 3 Manning Depot, Edmonton, Alberta August 31 until October 11, 1943. He was then sent to No. 9 PAED Montreal [McGill University], then to No. 13 SFTS. St. Hubert, Quebec November 27 to December 31, 1943. From there, he was sent to No. 10 B&G School, Mount Pleasant, PEI January to April 21, 1944 where he earned his WAG badge. He was suspended February 11, 1944: "Completed six weeks training with Course 73 and then failed in the total average. Transferred to course 74." Other comments: "Academic record good. This has entailed hard work but the above airman will make a good air gunner." He earned 76.2% in his ground work and 75% in his air work. Character and leadership: 45%. Bruce was in the hospital from April 4 – 6, 1944. He was also at No. 3 AG School, Three Rivers, Quebec.
He was then sent to British Columbia and Boundary Bay.
Mitchell HD345 [Court of Inquiry: C-5938 Image 206]. CREW: F/O Harold Brand Whitlock, J28562, P/O Leonard Francis Schell, J43902, Sgt. Harald Magnus Manson, R192989, Sgt. Bruce Walter McGregor, R267192, and Sgt. Clarence Arthur Johnston, R275157. On May 29, 1944, they had been involved in a cross-country exercise. All five men were buried at the crash site "in a heavily wooded area" on a mountainside near Mount Whymper in the Cowichan Valley, on Vancouver Island.
A US Navy blimp was involved in the search. It crashed. The balance outstanding for accounts rendered but unpaid amounted to $1,004,804.61 according to a letter sent to the Canadian Government from the US Navy.
On June 28, 1944, a letter was written by S/L W. R. Gunn to Mr. McGregor. "I wish to reply to your letter of June 20th, concerning your son, Sergeant Bruce Walter McGregor, missing from a cross country exercise which originated at his station, Boundary Bay, British Columbia. I realize the burden of anxiety that has been yours since he was reported missing and I fully understand your desire to learn as much as possible regarding the circumstances and I wish there were additional information to give you, but I am informed by your son's unit that a letter was dispatched to you under the date of June 19th, conveying in detail all information available at that time. The crash of a United States Navy blimp that was assisting in the search for your son's aircraft further complicated the search which had located wreckage of the aircraft in an almost inaccessible area and it has not been possible to recover sufficient of the wreckage to make identification of any of the personnel. You may be assured that the search will not be closed until every effort has been put forth. Permit me to extend to you and the members of your family my heartfelt sympathy in this trying an uncertain time."
A letter from W/C W. R. Gunn, RCAF Casualties Officer, wrote a letter to Mr. McGregor dated September 11, 1946, in regard to a letter that Mrs. Cornelia Johnston, mother of another crew member aboard Mitchell HD 345, Clarence Arthur Johnston, wrote. "Recently you were contacted by Mrs. Cordelia Johnston, mother of Sergeant Clarence Arthur Johnston who was a member of your boy's crew when their aircraft most unfortunately crashed in a mountainous section of Vancouver Island on May 29th 1944. Mrs. Johnston informed you that a psychic reader had advised her that her son and two others abandon the aircraft by parachute prior to the crash and were still living in an isolated spot on Vancouver Island and she was desirous of obtaining your support to have a further search made. this service would be derelict in its obligation to next of kin if it were to overlook or ignore any scientific aid to investigation and as Mrs. Johnston gave no other information than that she had consulted a psychic reader, the writer of this letter was instructed to visit her and I would like to convey to you the result of my interview with Mrs. Johnston. I found that she was a most kindly person who, on a visit to Toronto a few months ago, had been persuaded by a friend to visit a person who was supposed to be able to see into the past and prophecy coming events, and this person had informed her that her son was alive and with two of his crew and in an isolated position on Vancouver Island. Mrs. Johnston also informed me that the method employed by this psychic reader to arrive at these opinions was to consult an ordinary deck of playing cards. I am sure that you will agree that this is reasonable proof that this psychic reader could only be described as guessing, which I believe to be the usual practice of such people. I sincerely appreciate your natural anxiety an realize also the equally natural hope which was occasioned by the suggestion that some members of your boys crew survived, and I regret indeed that you have been caused additional anxiety and heartache through the medium of a person who professes to have supernatural powers, but information which is based solely on the turn of a card cannot be considered to constitute scientific or reliable information, and as you are aware, personnel skilled in air and ground search who had no assurance that they, themselves, would not be the searched for at some later date) conducted a full investigation which included aerial photographs taken from low altitude and covering the area for many miles surrounding the site of the crash, and it was their considered opinion that the entire crew were in the aircraft in all lost their lives when, on impact, it exploded with violence so great that half inch armor plates were found over a wide area broken into small pieces. I fully realize that there is no comfort or solace for you in this letter, but felt that you should be aware of the source of Mrs. Johnston's information and the method employed by this psychic person in arriving at her opinions. May I express to you and the members of your family my deepest sympathy in their irreparable loss of your gallant son."
Bruce is remembered on the Ottawa Memorial and on his parents' marker in Kelowna, BC, where Bruce's sister resided.
For additional photos, documents, links, please visit the other crew members' pages.