Billy Daschuk R158314
September 15, 1923 - July 13, 1943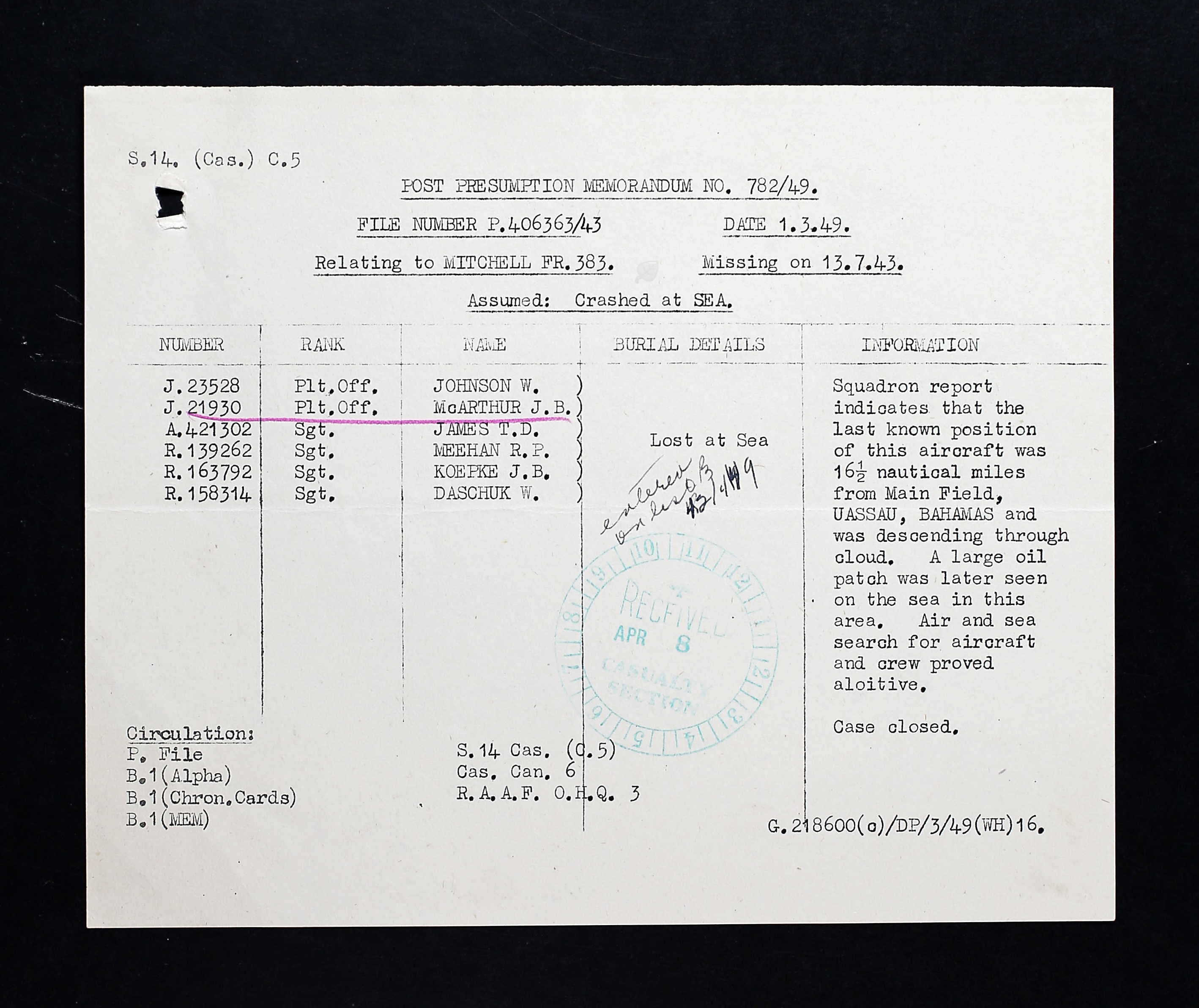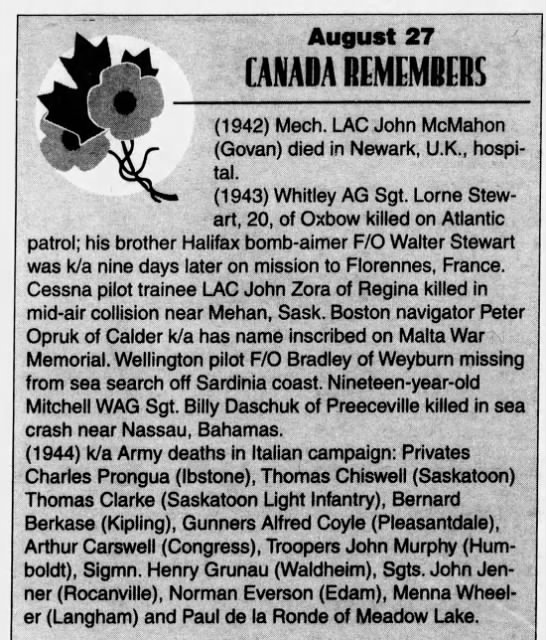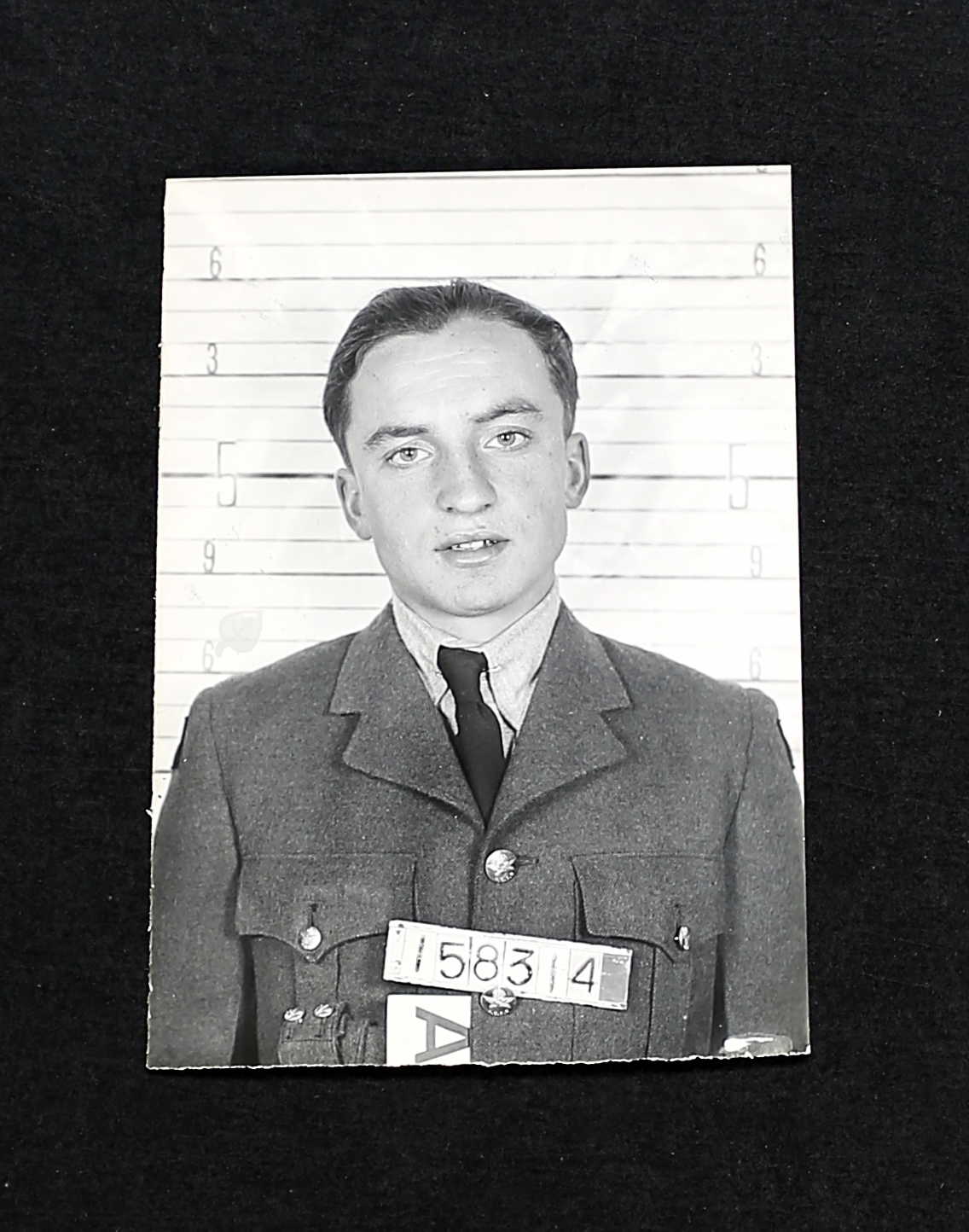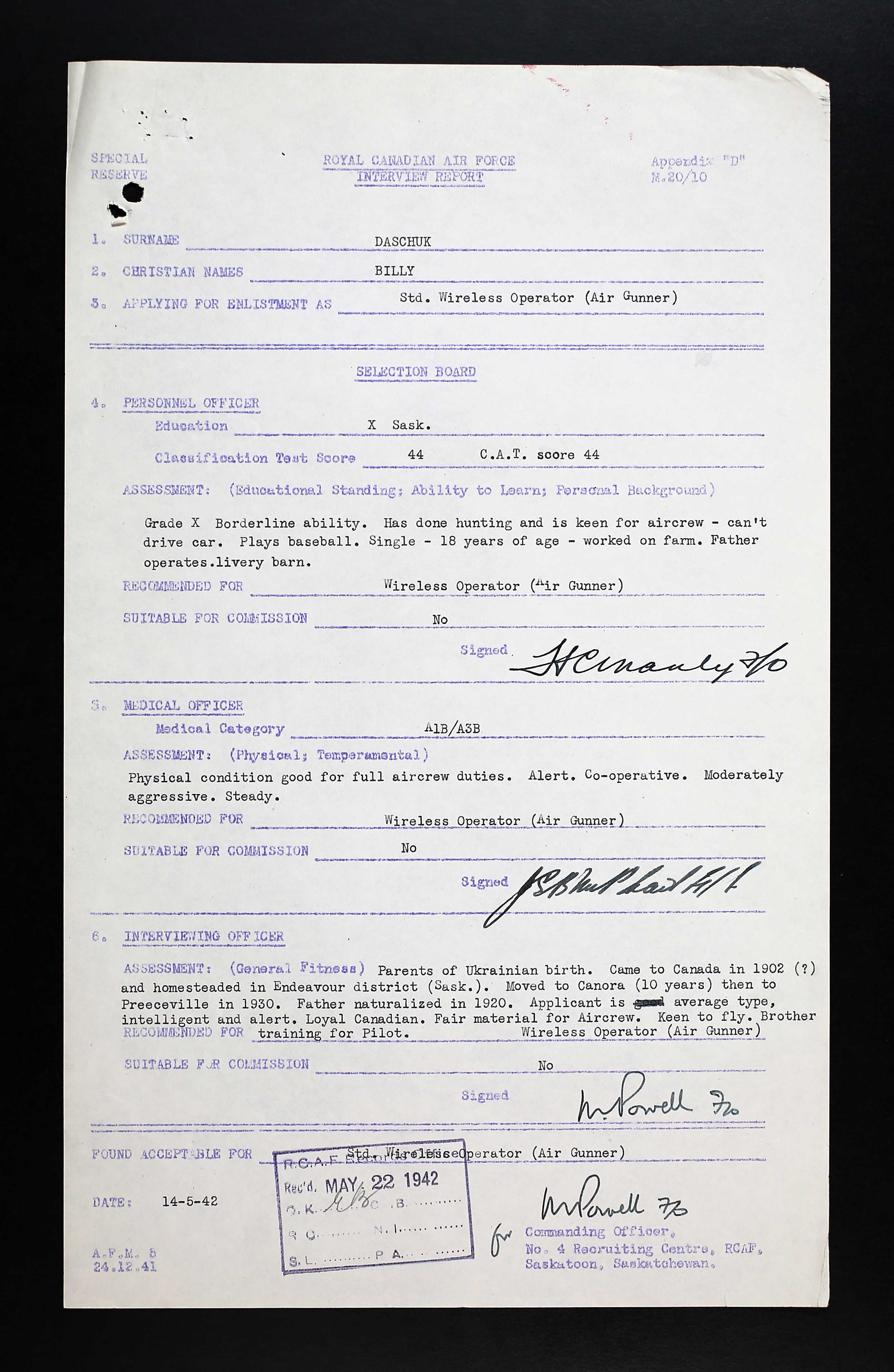 Farm labourer became WOAG. Aboard Mitchell FR383, July 13, 1943, he and five others were lost in the Bahamas during a five-hour navigation/patrol flight. Wreckage and an oil slick were seen, but no survivors.
Billy Daschuk, born in Canora, Saskatchewan, was the son of John Daschuk (1897-1980), livery and feed barn proprietor, and Mary (nee Yaremchuk) Daschuk (1899-1995) of Preeceville, Saskatchewan. He had two brothers, James and Joseph. James was in the RCAF. He had three sisters, Ann (1922-1935), Helen and Nettie (sp?). He indicated that he was attending the United Church, but more likely Ukrainian Catholic.
Billy spoke English and Ukrainian. He was a labourer/drayman for Bill Briggs before enlisting with the RCAF, hoping to be a Wireless Operator (Air Gunner) in late December. He enjoyed hockey, baseball, and swimming. The RCAF accepted Billy in May 1942. He stood 5'6" tall, weighed 136 pounds. He had hazel eyes and dark hair. He had no plans after the war. "Grace X. Borderline ability. Has done hunting and is keen for aircrew. Can't drive car. Plays baseball. Single. 18 years of age. Worked on farm. Father operates livery barn. Physical condition good for full aircrew duties. Alert. Co-operative. Moderately aggressive. Steady. Parents of Ukrainian birth. Came to Canada in 1902 and homesteaded in Endeavour District (Sask). Moved to Canora ten years ago, then to Preeceville in 1930. Father naturalized in 1920. Applicant is average type, intelligent and alert. Loyal Canadian. Fair material for aicrew. Keen to fly. Brother training for pilot."
In February 1942, the RCMP wrote to the CO of No. 4 Recruiting Centre in Saskatoon and informed them that "Adverting to your letter of the 11th, instant in the above regard, please be advised that a check has been made of our criminal and subversive records and the name as quoted does not appear therein."
Billy started his journey with the BCATP at No. 2 Manning Depot, Brandon, Manitoba on May 14, 1942. He was in hospital from July 4 -11, 1942. He was at No. 2 Wireless School, Calgary, from August 17, 1942 to March 5, 1943. He was 141st out of 149 in class with a 70.9%. He was passed to No. 4 BGS, Fingal, Ontario, until April 5, 1943. "Had to work hard to grasp subjects, but should make a good air gunner." In Air Training, he was 13th out of 19 in his class. Final: 17th out of 19 in class with 69%. "Not recommended for commissioned rank." He was authorized to wear an Air Gunner's Badge. He was then sent to No. 111 O.T.U., Nassau, Bahamas May 2, 1943. Billy assigned his mother $20/month from his pay.
On July 13, 1943, as a result of a flying accident about five miles southeast of Clifton Point, Nassau in the Bahamas, Billy and the crew of Mitchell FR383 were lost. They departed at 1200 hours for a five-hour navigation and patrol flight. Wireless communication with the aircraft was last heard at 1545 hours and the aircraft failed to return to base. Small pieces of wreckage (recovered) and an oil slick were spotted five miles west of Clifton Point, Nassau, Bahamas. No survivors were found.
The crew members of FR 383 were: *Sergeant Billy Daschuk (R/158314) (RCAF) *Sergeant Thomas David James (421302) (Observer) (RAAF), son of Walter and Agnes I. James, Cronulla, NSW, Australia *Pilot Officer Wilfred Johnson (J/23528) (RCAF) *Sergeant John Barth Koepke (R/163792) (RCAF) *Pilot Officer James Brewer McArthur (J/21930) (RCAF) *Sergeant Robert Paul Meehan (R/139262) (RCAF)
In late October 1955, Mr. Daschuk received a letter informing him that since Billy did not have a known grave, his name would appear on the Ottawa Memorial. Billy's name is also found on his parents' headstone in Preeceville, Saskatchewan, along with his sister's name.