Benjamin Fife J24792
February 9, 1918 - April 22, 1943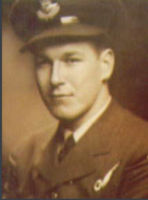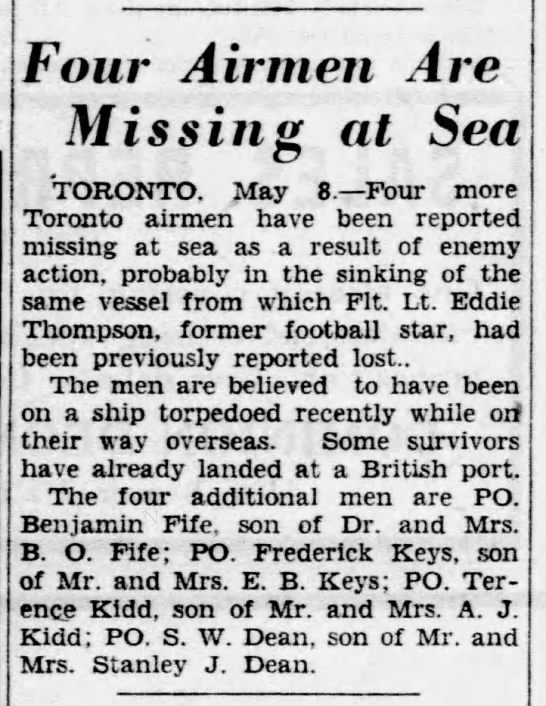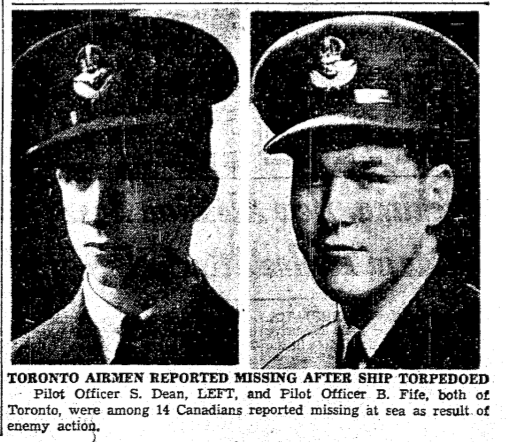 Clerk at aircraft manufacturing company wanted to be a pilot but became a bomb aimer.
Benjamin Gordon Fife, born in Toronto, Ontario, was the son of Dr. Benjamin Otto Fife, 62, dentist, and his first wife, Winifred (nee Pengelly) Fife, who died January 22, 1937. Mr Fife remarried, and Gordon's stepmother was Margaret Fife. Gordon had one half brother, two years old, David John Ashton Fife and one full sister, Ruth Winifred Hicks, 33. The family attended the United Church.
Known as Gordon, he attended Runnymede from 1924-1932, then Humberside, where he matriculated in 1938. He went to Shaw's Business College and took general business training.
Prior, he was working as a time and cost clerk at National Steel Car Corporation in Milton, Ontario, where aircraft were being manufactured. He hoped to get into sales with a well-known firm or manufacturing agency.
His previous military experience was with the Toronto Scottish Regiment (2nd Bttn) as a private from August 19, 1940 to July 1941. "War work made it impossible to attend drills."
In August 1941, Gordon started his application to join the RCAF. He enjoyed music, rugby, baseball, hockey, and swimming. He smoked ten cigarettes per day and drank beer occasionally. He stood 5' 9 ½" tall, weighing 145 pounds. He had brown eyes and brown hair, with a medium complexion. He had a ¼" scar in the centre of his forehead.
On his medical form, he informed the doctor that he had a tonsillectomy when he was ten, plus had the usual childhood diseases. He was right handed. "Right cryptorchidism testis in right inguinal canal. To be operated upon and return. Unfit. Persistent tachycardia." D. Strebig. He was also to return to have his pulse rechecked as his cardiac rhythm was too fast. He was declared to be temporarily unfit. "Hypertension, tachycardia."
Gordon's right testis was removed and he had a hernia repaired November 13, 1941. On February 6, 1942, the doctor commented: "I believe this is a true psychic tachycardia, a mental hazard, and will improve in service. Pulse improved somewhat. His private physician says he is normal at other times. He had an archidectomy and hernia operation done so he would be fit. I believe he is acceptable and will succeed in his course." Captain Don Strebig, RCAMC.
He signed his attestation papers February 13, 1942. He was sent to No. 1 Manning Depot, Toronto March 23, 1942 until May 23, 1942, then sent to RCAF Station, Mountain View May 24, 1942 until July 4, 1942. He then went to No. 6 ITS, Toronto. In August 1942, he received another physical. "Good physique. Only fair educational background. Probably average mental ability, surely no better. Steady type but is slightly taut. Wants Pilot."
Gordon was sent to No. 12 EFTS, Goderich, Ontario to learn to fly September 27, 1942, but was not succeeding. "Since I have started flying with this man, his air work has been poor, circuits fair and landings very irregular. His circuits and landings have showed improvement but I have not had him off the circuit in the three hours I have flown with him. Student is very tense on the controls. Apparently cannot relax. Coordination of rudder and ailerons is very bad. Good type but not considered good pilot material. Tested after 13:10 hours dual. No solo. This student tenses up on controls so badly. He feels quite at ease in the air as long as he does not have control. His judgment on landings and in the circuit is particularly bad. Co-ordination poor, is very frank and pleasant type and would like to be an observer." GROUND SCHOOL: "Quiet type. Conscientious student, but a little slow. Recommend training for Air Bomber."
Gordon was then sent to KTS, Trenton, October 31, 1942, then sent to No. 5 B&G School, Dafoe, Saskatchewan November 21, 1942. "Above average in all gunnery work. Intelligent and enthusiastic. Has confidence and is not afraid of responsibility. Has done well on this course. 84.1%" He was then sent to No. 1 CNS, Rivers, Manitoba February 6, 1943 for about a month. He trained as an Air Bomber, earning his badge on March 18, 1943. "Neat worker and a good crew type. Armament: Average. A conscientious worker. 78.3%" Gordon was recommended for commission.
On April 4, 1943, he was in Halifax, Nova Scotia at Y Depot, then associated with RAF Trainees' Pool by April 13, 1943, awaiting a ship to take him and others overseas.
On April 22, 1943, Gordon B. Fife was aboard the Amerika, British Motor merchant ship. It was on its way from Halifax, Nova Scotia to Liverpool. It was torpedoed as the ship was heading to Britain. It was a straggler in convoy HX-234. Thirty-seven men, all officers in the RCAF, were presumed missing as a result of enemy action at sea; sixteen were landed at a British port after their ship was sunk by U-306, south of Cape Farewell, off Greenland. Forty-two crew members and seven gunners were also amongst those who were lost. The master, Christian Nielsen, 29 crewmembers, eight gunners, and sixteen passengers were picked up by the HMS Asphodel, and landed at Greenock. General cargo, including metal, flour, meat and 200 bags of mail were also lost.
Dr. Fife received a letter dated June 26, 1943 from F/L W. R. Gunn, RCAF Casualties Officer for Chief of the Air Staff. "Since my letter of May 6th, no additional news has been received. Attached is a list of the names and next-of-kin of sixteen Royal Canadian Air Force officers who embarked on the same ship as your son and following enemy action at sea were safely landed in the United Kingdom. The following official statement was made in the House of Commons....'I have been in receipt of communications from a number of members of this house and from people outside with reference to rumours regarding the recent loss of a number of members of the RCAF by the sinking of a ship in the north Atlantic and I desire to make the following statement on the facts. The vessel in question was a ship of British registry of 8,862 tons, designed for peace-time carriage of both passengers and freight, and having a speed of fifteen knots. She carried a crew of 86 and the passenger accommodation consisted of 12 two-berth rooms with bath and 29 other berths, providing cabin accommodations for 53 passengers. She was fitted with lifeboat capacity for 231 and travelled in naval convoy. Under the recently revised regulations agreed to by the United States authorities, the joint United Kingdom and United States shipping board, the Admiralty, the Air Ministry and the Canadian authorities, a vessel of this description travelling in convoy is permitted to embark as crew and passengers a maximum of 75% of the lifeboat capacity. The lifeboat capacity as stated above was 231, 75% of which is 173. Personnel on board consisted of the crew of 86, and RCAF personnel numbering 53, a total of 139, well within the prescribed limits. Because of the superior type of available passenger accommodation, the speed of the ship and the provision of naval convoy, the offer of the entire available space to the RCAF was immediately accepted. Rumours to the effect that this was a slow freighter not suitable for passenger accommodation are, of course, not in accord with the facts. Every precaution was taken to safeguard the lives of these gallant young men. It should be pointed out that on account of the serious shipping shortage every available berth on such ships must be sued, and had the space not been taken up by the RCAF officers of the other arms of the services would have been placed on Board. It should also be stated again that the submarine is still the enemy's most powerful weapon and that the Battle of the Atlantic is not yet won. Any ocean trip today in any part of the world is fraught with danger and I think I may safely say that our record in transporting our soldiers and airmen to the United Kingdom is one of while we may all be proud. No one deplores more than I do the loss of 37 of the finest of our young men who gave their lives for their country as surely as if they had done so in actual combat with the enemy, and I extend my deepest sympathy to their loved ones in their bereavement.' If further information becomes available, you are to be reassured it will be communicated to you at once. May I again extend to you my sincere sympathy in this time of great anxiety."
Gordon borrowed $125 from his sister to pay the balance on his Service clothing and equipment. He had taken out a $1000 life insurance policy, his father as beneficiary. Dr. Fife was receiving partial support of either $25 or $48/month (depending on the source) from Gordon, as he felt his father was still capable of supporting himself.
After the sinking of the Amerika, the Canadian Pension Commission was concerned that there might be liability against the British Ministry under the Air Training Agreement and it was considered advisable to have British application forms completed should an application be filed by the parents of those who were lost aboard the Amerika.
On January 12, 1944, Air Marshall Robert Leckie wrote to Dr. Fife to inform him that Gordon was, for official purposes, presumed to have died on Active Service on April 22, 1943.
By April 2, 1946, Dr. Fife had passed away.
Nine and a half years later, Mrs. Margaret Fife received a letter from W/C Gunn informing her that her stepson's name would appear on the Ottawa Memorial.