Benjamin Cook 19826
May 17, 1919 - October 18, 1947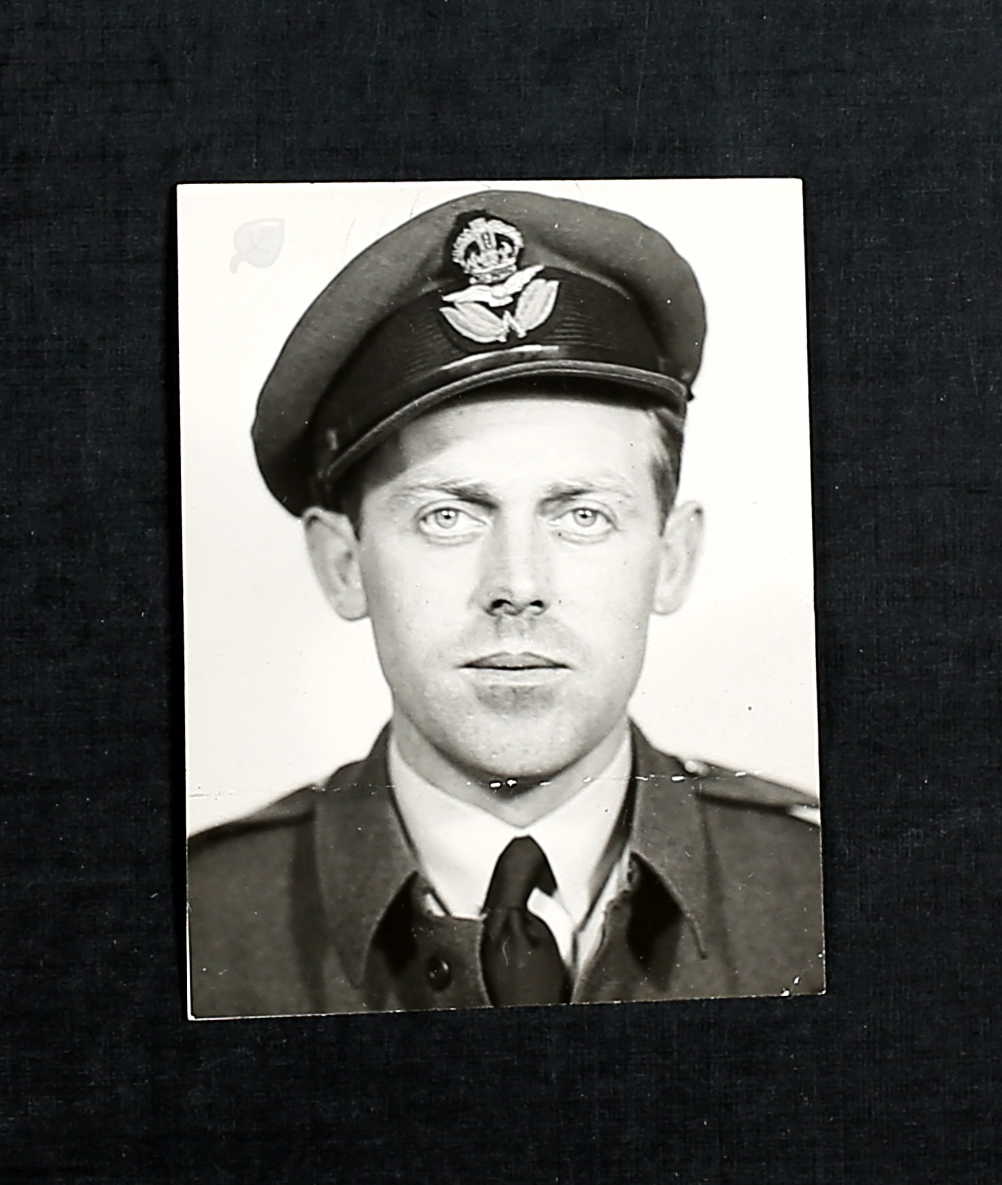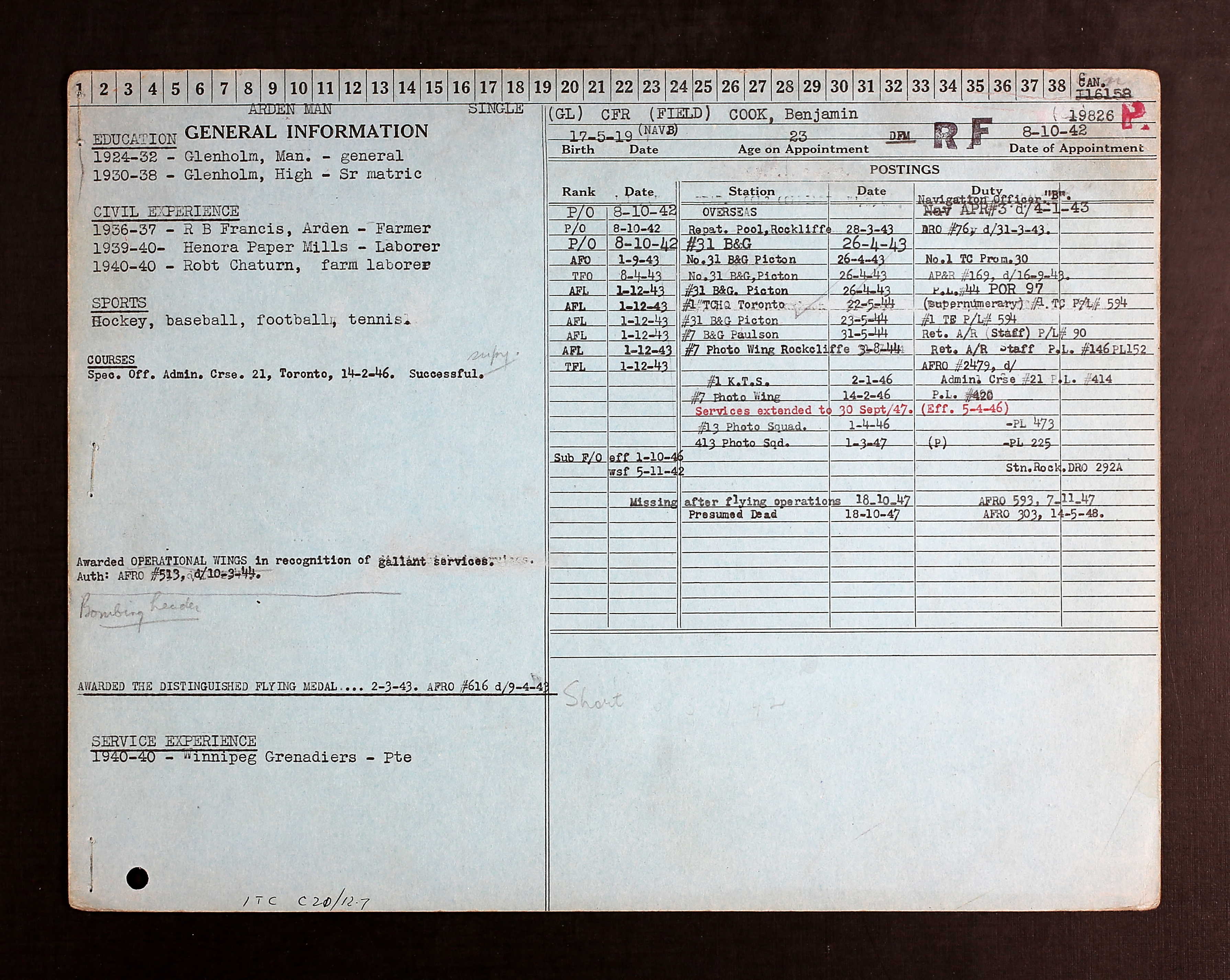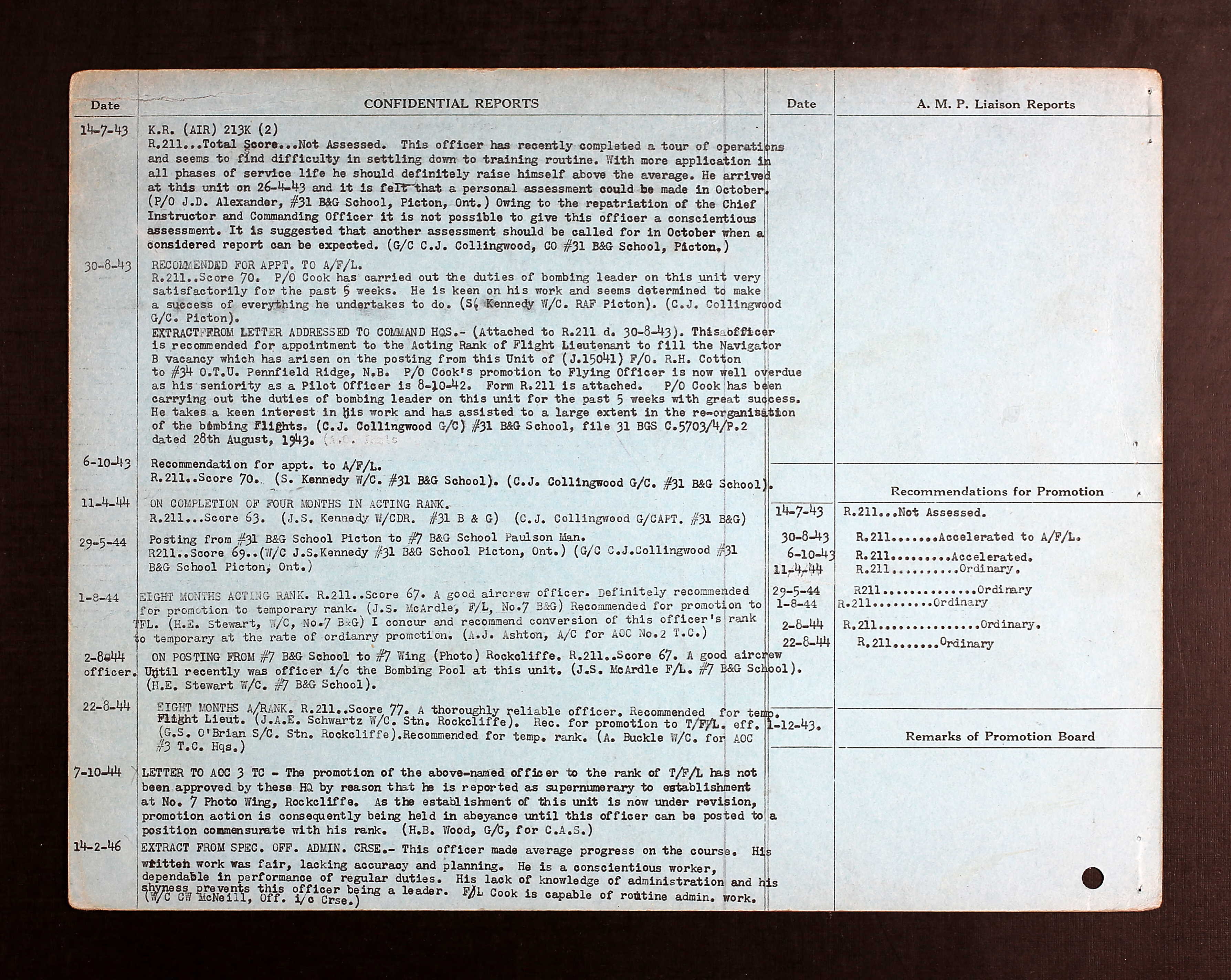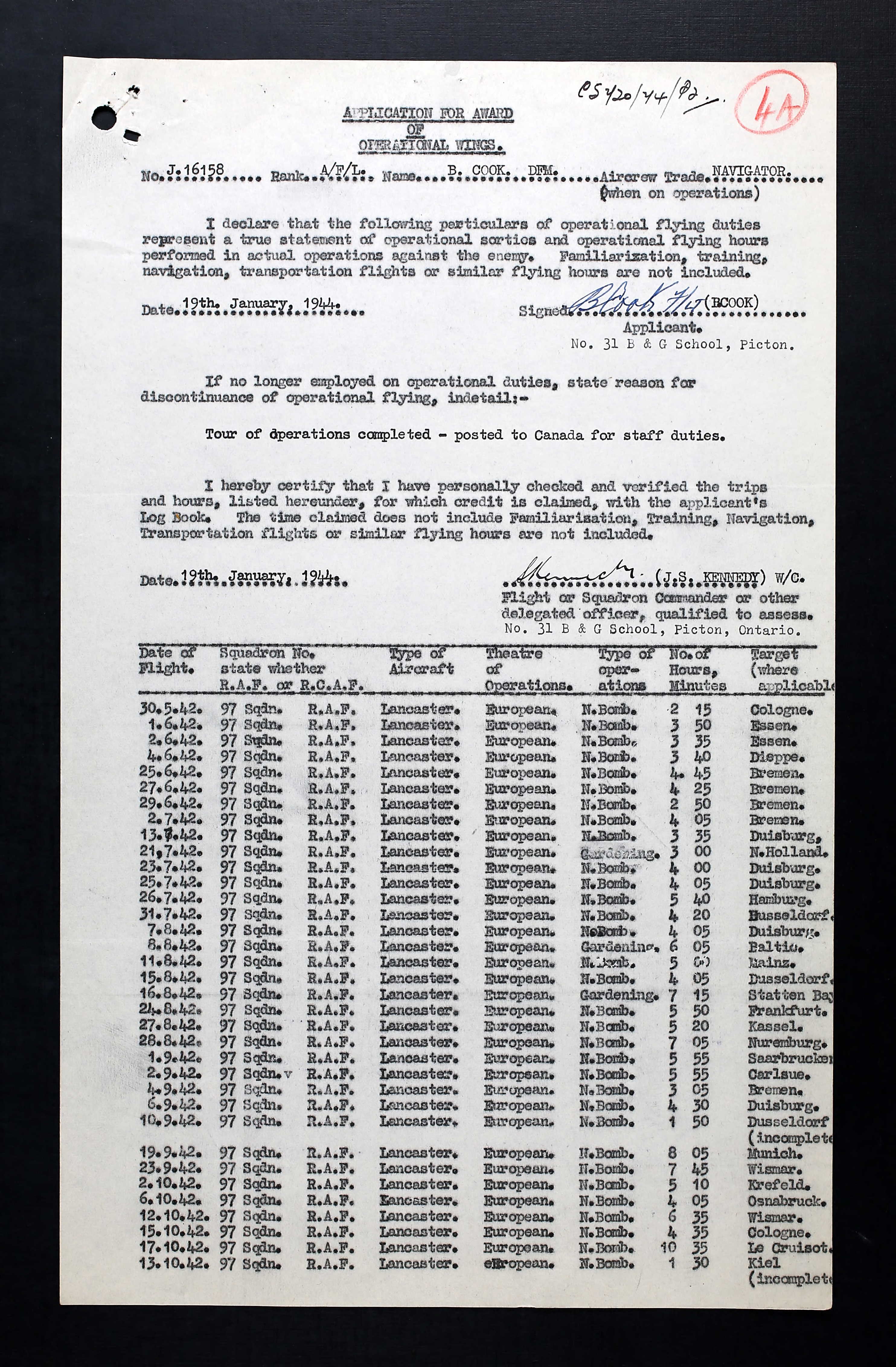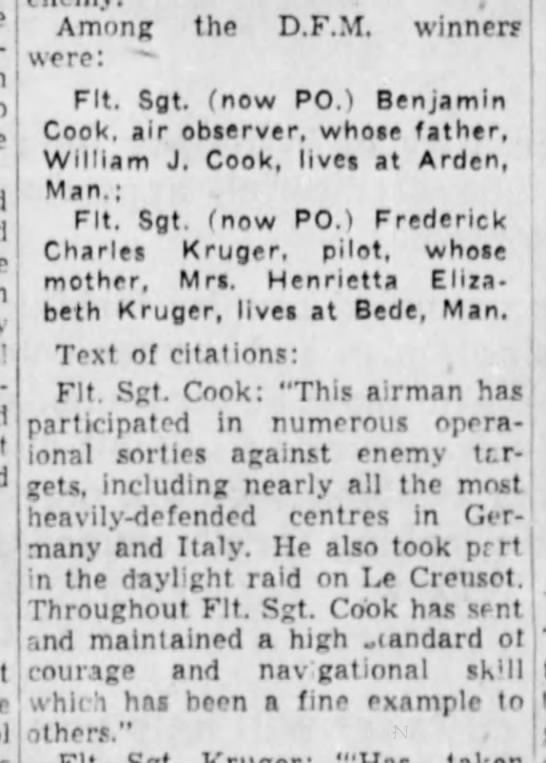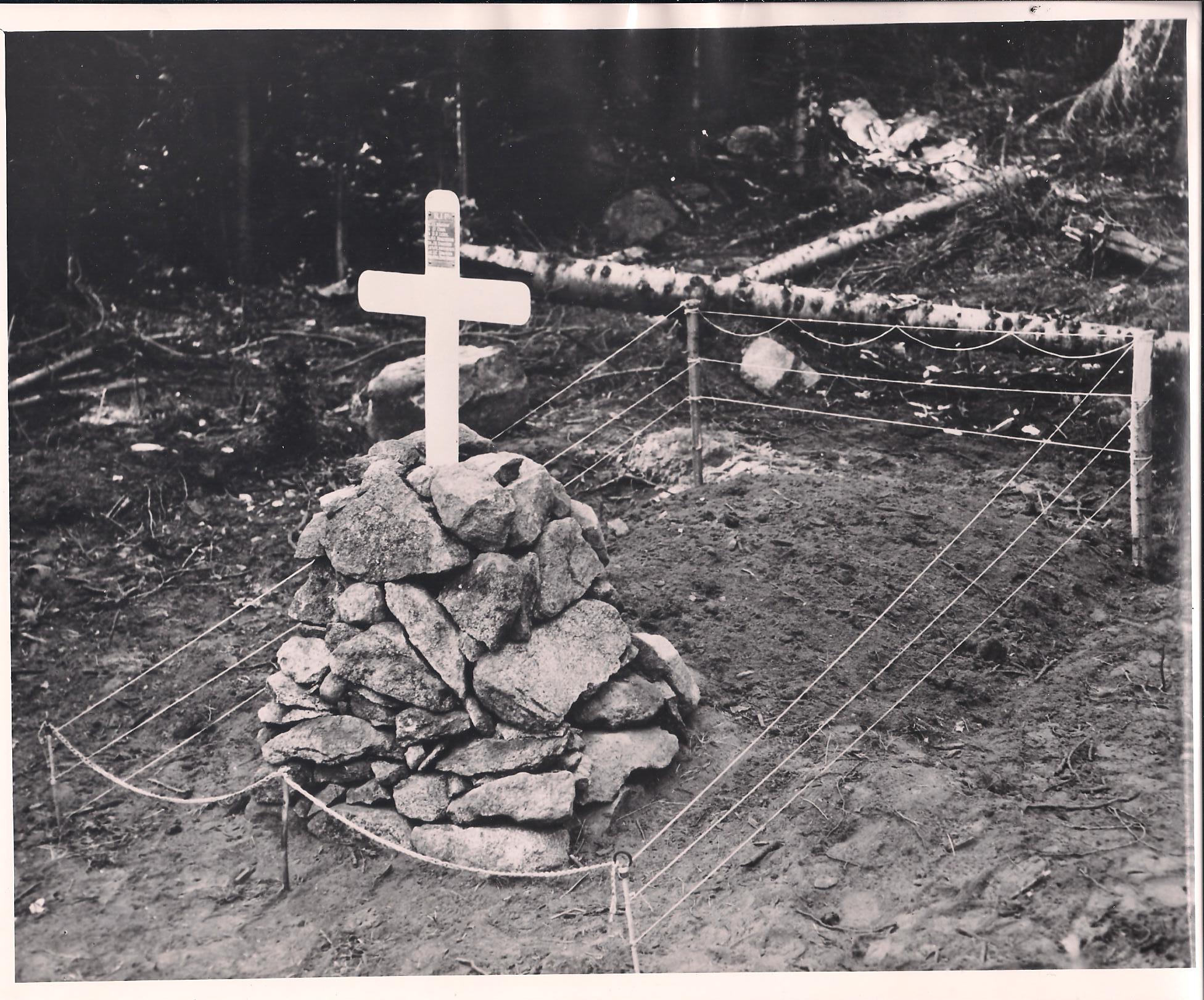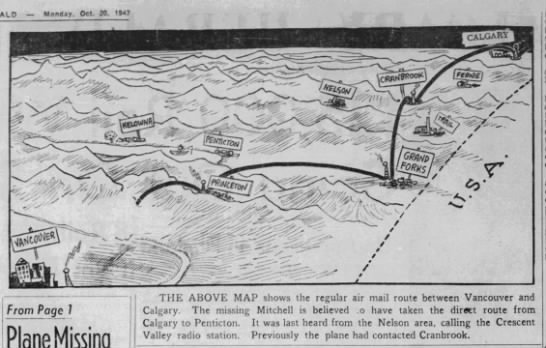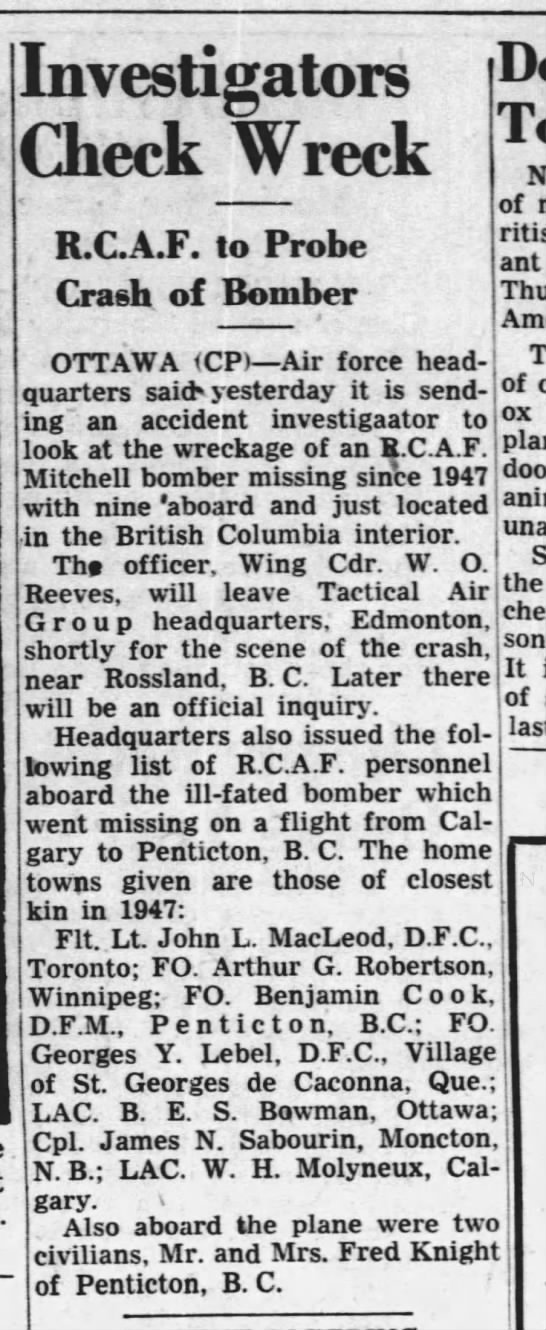 Decorated Observer (DFM) remained in RCAF after the war, joining a photographic squadron. Aboard Mitchell 894, he and eight others, including two civilians, crash near Rossland, BC, wreckage discovered in 1952. Widow's two husbands' names on the Ottawa Memorial.
Benjamin Cook, born in Glenella, Manitoba, was the son of William Jefferson Cook, farmer, and Edith (nee Adams) Cook of Arden, Manitoba, later Neepawa. He had three brothers, William Jefferson, Stanley Lawrence, and Harold Lloyd, plus two sisters, Edith Audrey and Dorothy Mary. The family attended the United Church.
He married Gladys Mather (nee Duncan) McIntosh, a widow, in Penticton, BC December 11, 1945. He adopted Barry John McIntosh, born September 21, 1942, and they had a daughter, Charlene Ann, born November 19, 1946. [Gladys married John McIntosh on December 6, 1941 in Vancouver. John McIntosh's name is also on the Ottawa Memorial. He survived the crash of Goose 917 and drowned in an attempt to find help on July 21, 1942.]. Gladys remarried a third time to a Mr. Dean. Gladys died in 2006 and is buried in Penticton in the Duncan family plot.
Ben was a labourer/farmer when he enlisted with the RCAF in November 1940. He indicated he took four years of study in French and had a Grade XII education. He played hockey, baseball, football, and tennis. Benjamin stood 5' 6 ½" tall, had blue eyes and brown hair.
He had enrolled with the 2nd Battalion Winnipeg Grenadiers (MG) for one month prior to enlisting with the RCAF.
"Good appearance. Good English diction. Has not had a chance to develop in his civil occupation. Good pilot material."
Ben's journey through the BCATP started at No. 2 Manning Depot, Brandon, Manitoba on November 7, 1940. He remained there until being sent to Calgary and No. 35 SFTS until he was sent to No 4 TC, Regina on January 27, 1941. The next day, he was at No. 2 ITS, Regina. "Good material. Father, farmer, Boer War veteran. Civilian employment: farm and paper mills. Maybe slow, reliable. School sports." He was 63rd out of 214 with 80.7% in Observers Class.
Then he was sent to No. 5 AOS, Winnipeg on March 3, 1941. He earned his Air Observer's Badge on July 8, 1941. "Average work in the air. Hard worker and attentive, keen in ground training." Ben earned 71.3% and was 27th out of 37 in his class. "Good worker, somewhat slow. Will improve with experience. Would make a good NCO. Respectful at all times."
From there, he was sent to No. 3 B&G School, Macdonald. "Satisfactory. 30th out of 38 in class. 67%."
Then he went to No. 1 ANS, Rivers, Manitoba. "Average air worker. Did not do well in ground school work." Ben was 88th out of 114 in his class.
Ben was sent overseas in September 1941 attached to 97 Squadron. Ben earned the DFM effective March 2, 1943. "This airman has participated in numerous operational sorties against enemy targets, including nearly all the most heavily-defended centres in Germany and Italy. he also took part in the daylight raid on Le Creusot. Throughout, Flt/Sgt Cook has sent and maintained a high standard of courage and navigational skill which has been a fine example to others." [For more information, see blue confidential reports above.]
No. 16 O.T.U. From September 23, 1941 to April 25, 1942: "This Observer was screened from 27 Course for Observer duties. Has completed the bombing syllabus satisfactory. he is keen and interested and should do very well." D.R.: above average. Map Reading: fair. A keen observer who has done good work while at the O.T.U. With a little practice, should do well in a squadron."
Ben was in the station hospital January 5-8, 1941, then again July 14-18, 1943 and January 24-29, 1945.
He was repatriated to Canada March 1943. He was at No 7 B&G School, Paulson, Manitoba June 1, 1944, then was at Rockcliffe, Ontario August 4, 1944. From there, he was at Bagotville, Quebec, returning to Rockcliffe and No. 7 Photo Wing by January 2, 1946.
"As senior navigator with the Mitchell detachment, this officer did an excellent job. An outstanding personality and above average in all respects as an officer -- dress, deportment, and personal habits. As a detachment commander, it has been noted by the OC, #14 Squadron, that he considers this officer the most outstanding being employed in the field during this season's operations, both as a detachment commander and as an officer generally. The detachment under his command consisting of one Mitchell aircraft has covered more photographic mileage accurately than any other aircraft employed on vertical photography." G/C R. F. Gibl, CO, RCAF Rockcliffe, Ontario.
He went to No, 1 KTS, Toronto January 3, 1946 for five weeks taking a special officers administration course, returning to No. 7 Photo Wing, Rockcliffe. "Neat. Meets all ordinary requirements. Fairly alert, no particular difficulty in understanding. States what he means clearly. Sufficient self-assurance, does not back down too easily. Shows some initiative. This officer made average progress on the course. His written work was fair, lacking accuracy and planning. He is a conscientious worker, dependable in performance of retular duties. His lack of knowledge of administration and his shyness prevents this officer being a leader."
On April 1, 1946, he was posted to No. 13 Photo Squadron. On March 1, 1947, he was posted permanently to 413 Photo Squadron, Rockcliffe.
In a memo dated October 9, 1947: "This memo is to certify that the following officers of No. 413 and 414 Photo Squadrons were detailed and employed in the preparation of flight line maps for 1947 photo operations. This work was valuable training for officers of Photographic Squadrons. The work was carried out during the winter of 1946-47 and instructed by the No 9 (T) Group."
He was reported missing after flying operations on October 18, 1947.
CREW: • Bliss Eugene Strader Bowman, R195797, LAC -- Aero Engine Mechanic o SON OF JAMES AND OLIVE BOWMAN; HUSBAND OF JOYCE BOWMAN, OF INKERMAN, ONTARIO. • Georges Yvon Lebel 26356, F/O, DFC -- Wireless Operator o SON OF JEAN BAPTISTE LEBEL AND CORDELIA LEBEL, OF RIVIERE-DU-LOUP, PROVINCE OF QUEBEC • Benjamin Cook, 19826, F/O. He earned the DFM. -- Navigator o SON OF WILLIAM JEFFERSON COOK AND EDITH COOK; HUSBAND OF GLADYS MATHER COOK, OF PENTICTON, BRITISH COLUMBIA • William Hugh Molyneux 24798, LAC -- Camera Operator o SON OF WILLIAM HUGH AND EDITH MOLYNEUX • John Leslie MacLeod, 20052, F/L, DFC -- Pilot o SON OF DONALD ALEXANDER AND BLANCHE LOUISA MACLEOD, OF CORNWALL, ONTARIO; HUSBAND OF DOROTHY ALICE MACLEOD • Arthur Gold Robertson, J28663, F/O - Pilot o SON OF JAMES PAUL AND JANET GEORGINA ROBERTSON OF STONEY MOUNTAIN, MANITOBA, AND HUSBAND OF MURIEL IRENE ROBERTSON. • James Noah Sabourin, 22103, Cpl - Airframe Mechanic o SON OF JOSEPH NOAH AND EDITH SABOURIN; HUSBAND OF RUTH C. M. SABOURIN, OF MONCTON, NEW BRUNSWICK
Two civilians: Frederick M. Knight and Beulah Jane (nee Braid) Knight, formerly of Calgary, were also aboard. Mr. Knight was the manager of the Incola Hotel, Penticton, BC, having been in the hotel business for 18 years, posted to Calgary and Lethbridge prior. They had three children: Cecile, 9, Joan, 5, and Billy, 6. They were taken in by a paternal uncle in Winnipeg.
Mitchell 894 left Calgary, Alberta at 1032 hours, October 18, 1947 on a flight to Penticton, BC, estimated time en route, one hour forty-five minutes. Approximately one hour later, 1132 hours, the aircraft requested Crescent Valley Radio range for Penticton weather, by wireless, but did not give their position. This was given, but not acknowledged by the aircraft. Continuing in a letter by W/C W. R. Gunn, the families were told that the route of the aircraft was over a practically inaccessible area. Air and ground searches were conducted for many weeks, but due to severe winter weather, they were terminated. Several searches continued during better weather without success.
The Calgary Albertan reported on October 20, 1947 that Mrs. Robertson and Mrs Cook arrived on the missing aircraft from Penticton on the Friday. "They understood that the survey work was now completed in the Penticton area and they would be stationed in Calgary for a time. When the plane left Calgary on the return trip, it was expected to pick up equipment and return to Calgary."
"Five aircraft from Edmonton and two from Vancouver scoured some 30,000 square miles of BC territory…paratroopers flown from Edmonton were standing by in Penticton, ready to jump to the help of the missing plane's passengers and crew. In addition, 10 planes from the US combed the area of the international border for the missing aircraft, taking off from Seattle. Northwest Air Command revealed that the Mitchell plan was a photographic survey aircraft. It had been carrying out aerial mapping of the Penticton area and was based at the BC town. The craft flew to Calgary Friday and tried to return to its base on the same day. However, icing conditions at 16,000 feet forced it to return to Calgary for the night. It took off from the municipal airport at 1032 am Saturday. It was last heard from one hour and 20 minutes later when it signalled the radio range station at Crescent Valley, BC. The pilot asked for a report on the weather at his point of destination: Penticton. He said he had sufficient gas for a further four hours flying. When the plane left Calgary, it was expected to arrive at Penticton in about two hours but had fuels for a flight of six hours aboard. At the Calgary municipal airport, officials said, to the best of their knowledge, the RCAF transport was to have flown across country along a practically straight line between Calgary and its BC base." [See articles above.]
In October 1952, the Windsor Star reported that a wreckage was found in the BC interior. The Vancouver Sun had a full report. The reporter from the Trail Times, Bob Porteous, went to the crash site by pack horse and on foot. [See article.]. "A junkyard of death high in the mountains."
Wilf Gibbard spotted the wreck while out hunting near Rossland, BC. "It was only by sheer luck that I stumbled on the crash.I had been out chopping wood at the halfway cabin. On my way back to my camp, I decided to leave the trail on the chance of seeing some grouse. The first thing I saw was a shiny piece of metal glinting in the sunlight. I followed the path of aircraft pieces 200 yards down the slope before coming on the main wreck."
When Gladys filled out the estates form, she indicated that she/they used their Victory Loan Bonds as a payment on their house in Ottawa, 5 Huron Avenue. He had a $5000 life insurance policy, and the premiums would only be returned. He had about $50 in a joint bank account in Ottawa, plus 1000 shares at $1.00 share in Denison Nickel Mines and 1000 shares in Found Lake Gold Mines.
On May 3, 1948, Ben was officially presumed to have died October 18, 1947.
In Ben's file, there is a card that indicates his medals were undelivered and returned to stock. Gladys had been living in Ottawa. Possibly, his father received the medals in December 1949. November 7, 1949, Mr. Cook wrote a letter: "I am making application for my son's medals. His wire requested me to do this and take care of them until such time that their daughter gets old enough to appreciate the service our boy gave to his country. His plane was lost on a flight in BC October 14, 1947. It has never been found…his wife is truly a daughter to us. I had four boys in the service, myself a British SA [Boer War] vet."
On October 9, 1952, Mr. Cook received a telegram: "Wreckage of Mitchell aircraft in which your son Flying Officer Benjamin Cook DFM was flying October 18, 1947 has been located and identified nine miles north of Rossland, BC. Further particulars will be wired to you immediately they are received from search party."
October 11, 1952, Gladys received a letter via Air Mail from G/C W. R. Gunn. (She had moved back to Penticton with her children.) "It is my painful duty to confirm the information that was conveyed in the telegram I recently dispatched to you, advising of the locating of the wreckage of Mitchell aircraft in which your husband was proceeding from Calgary to Penticton October 18th 1947. The first indication received here that this aircraft had been found was a telegram from the RCAF Group Headquarters in Vancouver the night of October 8 which stated that they had received information from the RCMP that the aircraft wreckage had been found nine miles north of Rossland BC. A search party set out early the next morning October 9 for the scene of the crash. I deeply regret having to advise that the only human remains found was some hair. A CPR long service pass with a number K 15939 issued in favor of Mr. Fred Knight and ration kits marked with the names of your husband, Flying Officer Benjamin Cook, DFM, Flying Officer LaBel, and Leading Aircraftman Molyneux were also discovered. The report states that it seems evident that the aircraft exploded scattering parts over a considerable area. I quite realized the anxiety you have suffered during this long period of waiting. I am also well aware that what I have said cannot in any way lessen your heart aches, but it is my sincere hope that you may derive some measure of comfort from the knowledge that death must have been instantaneous. May I extend to you and the members of your family my deepest sympathy."
"THE AIRCRAFT STRUCK AT 62OO FOOT LEVEL IN A HOURSEHOE ENCLOSURE ON THE EAST SLOPE OFF MOUNT GLORY. AIRCRAFT IMPACT DIRECTION IS WEST TO EAST DOWN SLOPE, BUT DISTANCE DOWN FROM THE TOP (3/4 MILE) AND STEEPNESS PRECLUDES POSSIBLITY OF AIRCRAFT APPROACH FROM WEST. DESCENT IS CONSIDRED TO HAVE BEEN IN OUT OF CONTROL, SPIN, OR SPIRAL CONDITION. ALL COMPONENTS FOUND NEAR BY. ALTHOUGH WATCHES VARY, THERE IS AN INDICATION THAT CRASH OCCURRED A FEW MINUTES AFTER THE RADIO CONTACT WITH THE CRESCENT VALLEY. WEATHER AT TIME WAS CLOUD BELOW MOUNTAIN TOP AT ICING TEMPERATIVE. 894 DID NOT HAVE WING DE ICERS. THERE WAS FIRE ON IMPACT BUT NOT SURVIVORS CAMP FIRE AS STATED IN NEWSPAPERS. ALL RADIO MASTS AND AERIAL WIRES HAVE BEEN RETURNED FOR CHECKING AT 418 SQDN. NONE APPEAR TO BE MISSING. A SMALL QUANTITY OF HUMAN BONES WERE FOUND BUT NO SKULLS. IT COMPRISED THREE HIP SOCKETS, TWO PIECES OF ARM BONE, ANDO NE OF LEG. THREE PIECES FROM A SKULL CROWN, A FEW RIBS AND A PIECE OF JAW CARRYING TWO MOLAR TEETH. THE CORONER AT ROSSLAND BE SUMMONED AND WAS SATISFIED THAT THE VICTIMS WERE THE NINE PERSONS LISTED IN THE AIR FORCE RELEASE. IN MY POSSESSION ARE A NUMBER OF SMALL PERSONAL ARTICLES FROM WHICH SOME OF THE PERSONNEL MAY BE IDENTIFIED. YOUR AUTHORITY TO HAND THESE OVER TO THE B OF I IS REQUESTED." W/C W. O. REEVES
On October 24, 1952, Gladys received another letter from S/C Gunn. He described how the aircraft crashed at 6,200 feet in a horseshoe enclosure on the east slope of Mount Glory. "As you are no doubt aware, aircraft crashes occur with great violence. A search over a wide area, however, resulted in the recovery of sufficient remains to satisfy the corner that all occupants of the aircraft had perished in the crash. Due to the difficult nature of the terrain and seasonal weather conditions, the remains were buried at the site of the crash. In view of the improbability of Padres reaching the scene this season, a non-denominational burial service was conducted by Wing Commander Reeves, the officer in charge of the party. A stone cairn four feet high with a metal cross two feet by four feet was built. Attached to the cross is a silver plate inscribed with the nine names. Photographs were taken an will be forwarded on to you as they are received. I deeply regret the necessity of having to distress you further, but I am sure you would wish to be informed of all known details concerning your husband. May I again at this time extend to you and the members of your family my deepest sympathy."
Gladys received a letter dated October 26, 1955 informing her that since Ben had no known grave, his name would appear on the Ottawa Memorial. She would have received a letter informing her that the name of her first husband, John McIntosh, would also be on the Ottawa Memorial.
There is a metal cross atop a cairn at the site of the crash in memorial to those nine who died aboard Mitchell 894.
LINKS: