Arthur Scarth R106002
May 14, 1921 - May 29, 1942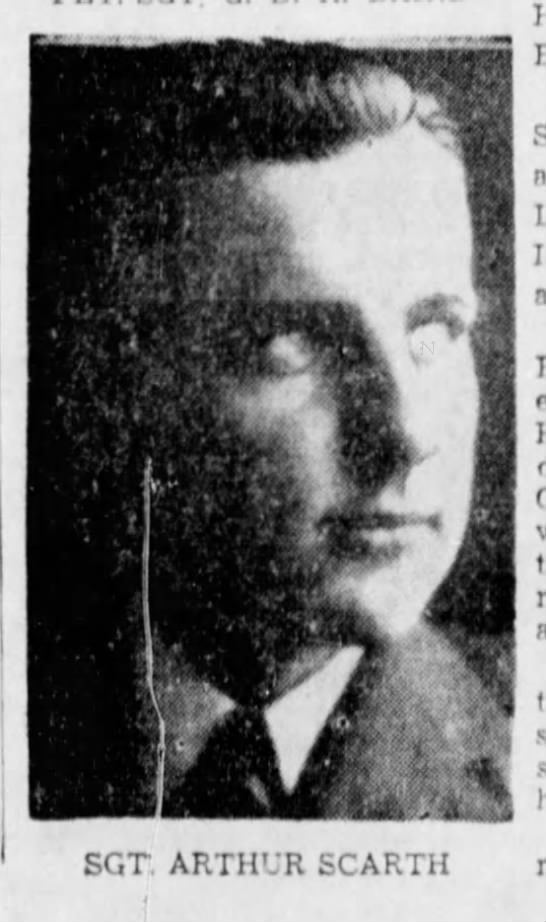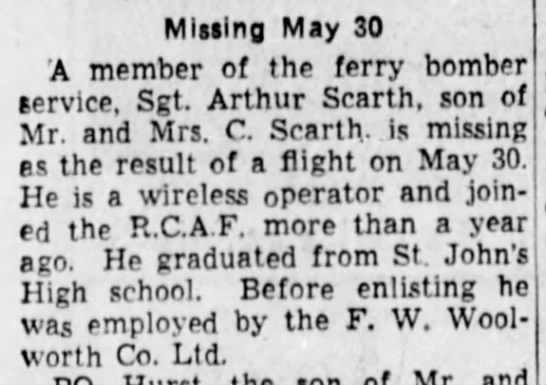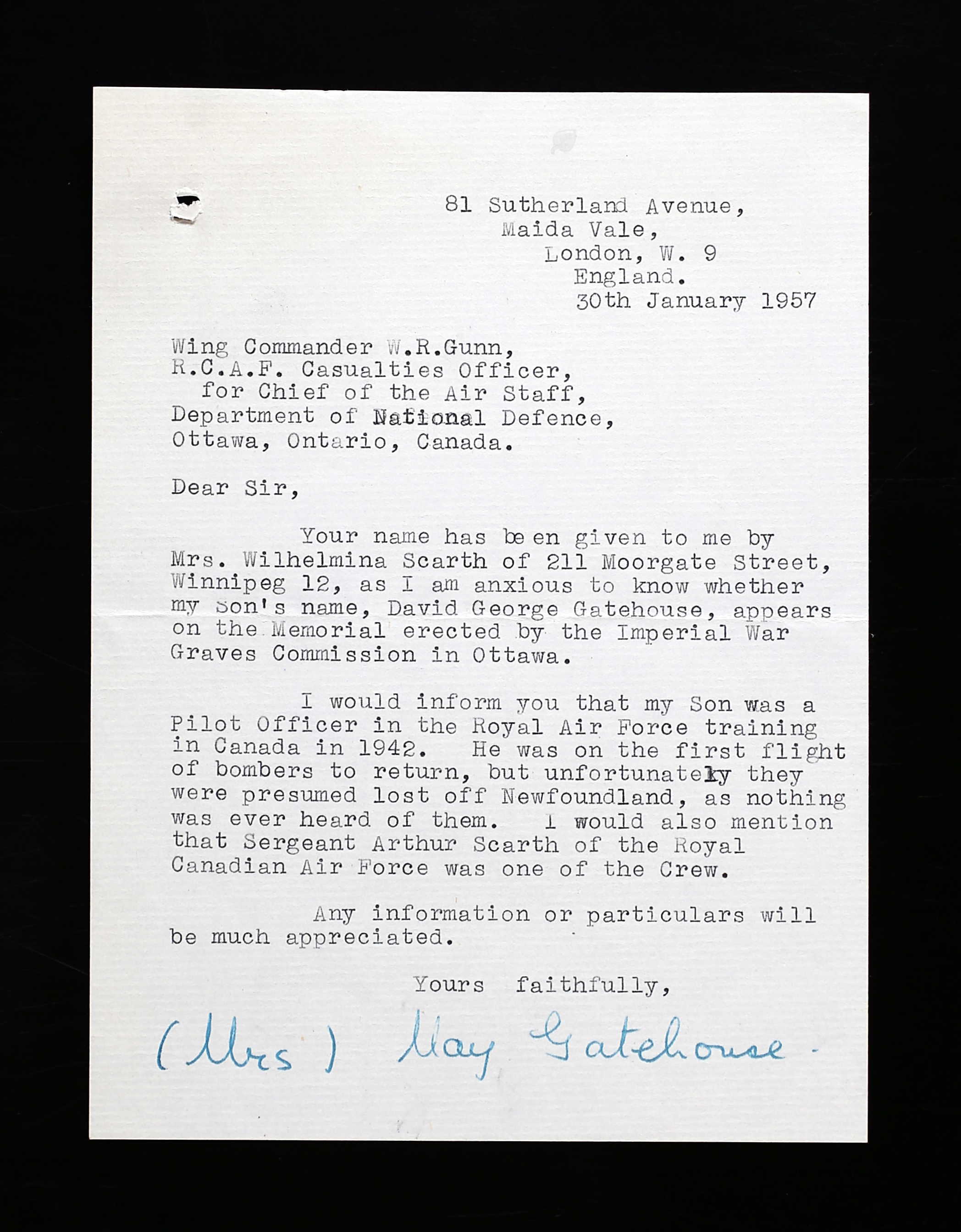 Store clerk enlisted with RCAF and became WOAG. Posted to RAF Ferry Command, he and two others aboard Hudson FH463 were lost at sea.
Arthur Scarth was the son of Cuthbert Marson Fenwick Scarth (d. 1955), truck driver, and Wilhelmina (nee Gabel) Scarth (d. 1959) of Winnipeg, Manitoba. [Mr. Scarth raced pigeons.]. Arthur had five brothers and three sisters: Donald, John (1895-1948), Richard (1918-1988), Herbert, Edward, Wilhelmina (d. 2002), Dorothy, and Beatrice. John, Richard, and Herbert were in the RCAF. The family was Protestant.
Arthur, known as 'Art,' was working as a stock clerk in a retail store prior to enlistment with the RCAF for about eight months. After the war, he hoped to become a mechanic. Art received Honours in Practical Arts at St. John's High School, June 30, 1939. He liked hockey, football, baseball, and rugby. He was interested in model airplane building. Art stood 5' 10 ½" tall and had blue eyes and brown hair with a fair complexion. A birth mark in the upper right-hand quadrant was noted as well as a scar on the palm of his right hand.
Art started his journey through the BCATP at No. 2 Manning Dept, Brandon, Manitoba on May 12, 1941 until he was sent to No. 3 SFTS, Calgary for guard duty. He was then taken on strength at No. 3 Wireless School, Winnipeg August 3, 1941.
From there, he was sent to Dafoe, Saskatchewan and No 4 B&G School from December 20, 1941 until February 12, 1942. He was then sent to Debert, Nova Scotia and 31 O.T.U. February 13, 1942. Arthur was then sent to RAF Ferry Command May 8, 1942.
A letter found in Art's military files: "Hi Art, According to your letter, we should be seeing you soon again. Rolly went down to the air force tonight and said that he would be at home for a while yet. Things are going along first as usual around here. Everybody around here is arguing about rationing of tires and gas. Sometimes it sure is miserable. I can't think of anything else to tell you now, so I guess I will close." This appears to have been written by Art's youngest brother, Ted, who was about seventeen or eighteen. Rolly might have referred to their brother John Rowland, aged 28, who enlisted with the RCAF.
Arthur's youngest sister, Beatrice, twelve or thirteen at the time, wrote a letter to her brother dated May 27, 1942. "Dear Arthur, We have had two letters from Rolly already and he says he hasn't got his uniform yet. We had a letter from Dick and he said if he'll likely be home on Monday and then go straight on to England. We are also fine here and hope you are find out there. The weather here isn't so hot. I've only had two of my final exams: composition and spelling. The veranda is painted once and the curtains are up. I think they have finished painting the inside of the veranda. How is the weather out there? I wish Tuby wouldn't follow me to school all the time. He always fights with dogs or else gets some of the kids' balls. But we still like him. I think I had better go to bed now. It is a quarter after nine now. Will write you again soon."
P/O Raymond Purdy Dezall J8945 (RCAF) and P/O David George Gatehouse 126964 (RAF), 21 years old, son of Rupert and May Gatehouse, husband of Yvonne Alberta Gatehouse, Dorking, Surrey, England, were also lost at sea.
In late December 1942, Mr. Scarth wrote a letter: "We have had no word of our son. Four months ago, we had a letter from Air Marshall Bowhill of RAF Ferry Command advising us that all boats had been accounted for that were able to be in the vicinity and I am sorry to say he said there were no further chances for him. I wrote the Red Cross at Geneva thinking there might be a slight chance he was picked up by a submarine but they had no word of him as a prisoner in Germany. I have three other sons in RCAF and we would like to know if possible the names of the other members of the crew besides the pilot. They are always writing to see if I know. I understand the pilot was the only other Canadian. Thanking you in advance." Gatehouse's name also appears on the Ottawa Memorial.
In late October, 1955, Mrs. Scarth received a letter from W/C Gunn. He informed her that since Arthur had no known grave, his name would appear on the Ottawa Memorial.
A letter dated January 30, 1957 from Mrs. May Gatehouse, was found in Art's military files, addressed to W/C Gunn. She wrote that Mrs. Scarth gave her his name. "I am anxious to know whether my son's name, David George Gatehouse, appears on the memorial erected by the Imperial War Graves Commission in Ottawa. I would inform you that my son was a Pilot Officer in the Royal Air Force training in Canada in 1942. He was on the first flight of bombers to return, but unfortunately, they were presumed lost off Newfoundland as nothing was ever heard of them. I would also mention that Sergeant Arthur Scarth of the Royal Canadian Air Force was one of the crew. Any information or particulars will be much appreciated."