Arthur Henry Pearson J24715
January 13, 1913 - April 22, 1943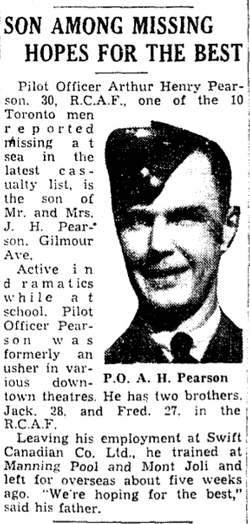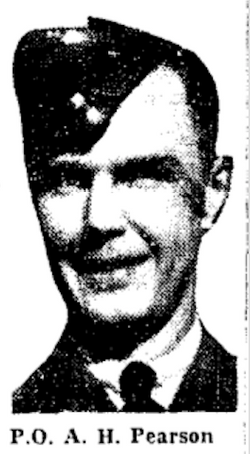 Honours student employed as meat packer becomes navigator.
Arthur Henry (aka Harry) Pearson, born in Toronto, Ontario, was the son of John Henry Pearson (1879-1949) and his wife, Mary Elizabeth (nee) Cronan Pearson (1878-1952). He had two brothers, John Joseph and Frederick Charles, both overseas with the RCAF by 1944. He also had two sisters: Margaret Mary and Muriel Elizabeth. The family was Roman Catholic.
He attended school from 1920 until June 1930. He was a candidate at the Upper School (De La Salle) with honours in senior matriculation in 1930. After school, he worked in the office, then beef grader and shipper for four years with Swift Canada Co. (meat packers). In a newspaper article, he worked as an usher in many Toronto theatres, plus was active in the dramatic arts.
When Harry enlisted in the RCAF in May 1942, he was 29 years old. He stood 6'1 ½" tall and weighed 155 pounds. He had grey-green eyes, brown hair and had a medium complexion. He was bothered with some rheumatism at the age of 24 for about 2 months. He had a splinter of a bone on his right fibula that resulted him being in a cast for two weeks, but a good recovery was noted. Two round scars 1 ½" in diameter, compared to vaccination marks on the inner side of his lower right thigh. He had a mild degree of varicose veins. He liked to swim, play tennis and some handball.
"Tall, slender, neat, clean, good appearance, pleasant personality. Confident, sincere, keen, employed by one firm continuously in office and shipping department. Active member of YMCA. Has been driving car four years. Average family background. Stable, organized, quiet, determined, average aircrew material."
Harry indicated he was assured of a job after the war but wanted to pursue teaching.
Harry spent from May 7, 1942 until July 10, 1942 at No. 1 Manning Depot in Toronto. For the next month, he was at No. 9 B&G School, Mont Joli until space opened up to start his training.
He attended ITS at Victoriaville from September 13 to November 21, 1942, passing with a 90%. He was 33rd out of 130 in his class. "Pleasant personality. Very intelligent. Good Service spirit. Excellent aircrew material. Alternate recommendation: Air Bomber."
He took an Air Navigator's Course at No. 4 AOS, London, Ontario from November 22, 1942 until March 19, 1943, 4th in his class with a 70%. was awarded his Air Observer's Badge and his commission on March 19. 1943.
Harry gave partial support to his mother as his father was unemployed. Harry took out life insurance with his mother as beneficiary.
By April 4, 1943, Harry was at Y Depot, Halifax, and awaiting transport overseas. Some time later, he, with 36 other RCAF airmen, boarded the Amerika. On April 22, while on its way from Halifax, Nova Scotia to Liverpool, it was torpedoed as the ship was heading to Britain. It was a straggler in convoy HX-234. Thirty-seven men, all officers in the RCAF, were presumed missing as a result of enemy action at sea including Arthur. Their ship was sunk by U-306, south of Cape Farewell, off Greenland.
Forty-two crew members and seven gunners were also amongst those who were lost. The master, Christian Nielsen, 29 crewmembers, eight gunners, and sixteen passengers (RCAF airmen) were picked up by the HMS Asphodel, and landed at Greenock. General cargo, including metal, flour, meat and 200 bags of mail were also lost.
Mr. and Mrs. Pearson received a letter in June 1943 from F/L W. R. Gunn, RCAF Casualties Officer for Chief of the Air Staff. "Since my letter of May 6th, no additional news has been received. Attached is a list of the names and next-of-kin of sixteen Royal Canadian Air Force officers who embarked on the same ship as your son and following enemy action at sea were safely landed in the United Kingdom. The following official statement was made in the House of Commons....'I have been in receipt of communications from a number of members of this house and from people outside with reference to rumours regarding the recent loss of a number of members of the RCAF by the sinking of a ship in the north Atlantic and I desire to make the following statement on the facts. The vessel in question was a ship of British registry of 8,862 tons, designed for peace-time carriage of both passengers and freight, and having a speed of fifteen knots. She carried a crew of 86 and the passenger accommodation consisted of 12 two-berth rooms with bath and 29 other berths, providing cabin accommodations for 53 passengers. She was fitted with lifeboat capacity for 231 and travelled in naval convoy. Under the recently revised regulations agreed to by the United States authorities, the joint United Kingdom and United States shipping board, the Admiralty, the Air Ministry and the Canadian authorities, a vessel of this description travelling in convoy is permitted to embark as crew and passengers a maximum of 75% of the lifeboat capacity. The lifeboat capacity as stated above was 231, 75% of which is 173. Personnel on board consisted of the crew of 86, and RCAF personnel numbering 53, a total of 139, well within the prescribed limits. Because of the superior type of available passenger accommodation, the speed of the ship and the provision of naval convoy, the offer of the entire available space to the RCAF was immediately accepted. Rumours to the effect that this was a slow freighter not suitable for passenger accommodation are, of course, not in accord with the facts. Every precaution was taken to safeguard the lives of these gallant young men. It should be pointed out that on account of the serious shipping shortage every available berth on such ships must be used, and had the space not been taken up by the RCAF officers of the other arms of the services would have been placed on Board. It should also be stated again that the submarine is still the enemy's most powerful weapon and that the Battle of the Atlantic is not yet won. Any ocean trip today in any part of the world is fraught with danger and I think I may safely say that our record in transporting our soldiers and airmen to the United Kingdom is one of while we may all be proud. No one deplores more than I do the loss of 37 of the finest of our young men who gave their lives for their country as surely as if they had done so in actual combat with the enemy, and I extend my deepest sympathy to their loved ones in their bereavement.' If further information becomes available, you are to be reassured it will be communicated to you at once. May I again extend to you my sincere sympathy in this time of great anxiety."
In early January 1944, Harry's mother received another letter from S/L W. R. Gunn that Arthur would now be presumed dead for official purposes.
Mr. Pearson filled out the estates form indicating that Harry had signet rings and a wrist watch.
In October 1955, a letter from W/C W. R. Gunn was written to all the families of the men lost aboard the Amerika telling them that their sons' names, including Harry's would appear on the Ottawa Memorial, as they had no known grave, expressing sympathy on the loss of their gallant sons.
Mrs. Pearson died in 1949 and Mr. Pearson died in 1952. It is unknown if a member of the Pearson family received the letter and if any of the family visited the memorial.