Archibald Clipsham J22372
December 20, 1918 - April 22, 1943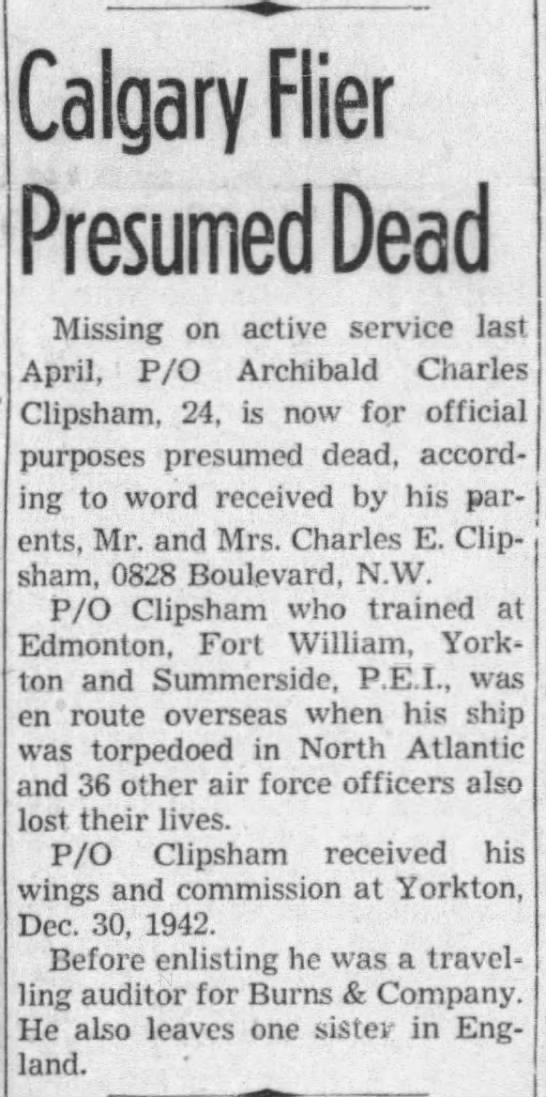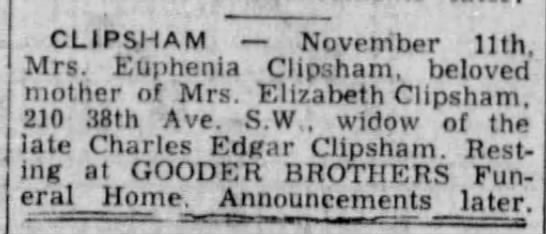 Accountant becomes above average pilot.
Archibald 'Arch' Charles Clipsham was born in Calgary, Alberta, to Charles Edgar Clipsham, carpenter, and his wife, Euphemia Jane (nee McEachern) Clipsham. Arch had one sister, Elizabeth Margaret (1912-1993). The family attended the United Church.
Arch was single, and had been an accountant/internal auditor with Burns & Co. in Calgary since 1936 - 1941. He had his senior matriculation, plus had four years at Garbutt Business College. He had prior military experience with the Calgary Highlanders, listing tennis, badminton, and skating as sports he engaged in. He smoked five cigarettes a day, consumed alcohol occasionally, and wore glasses for six years.
He stood 5'9" tall, weighed 175 pounds and was considered fit in July 15, 1940 but had to wait until December 1941 before being accepted by the RCAF. He was 23. He had blue eyes, fair hair and a fair complexion. A long right lower rectus operation scar was noted (appendectomy). "Overweight, but otherwise negative," weighing 191 pounds in December 1941.
He noted that he had five hours in an airplane as a passenger. He hoped for flying duties, with pilot listed. "Seems a very good type. Quiet manner, but well-spoken and intelligent. Excellent school record. Should prove first class material." Best fitted for Pilot. "Borderline ocular balance. Otherwise excellent material."
Arch was sent to No. 3 Manning Depot, Edmonton, Alberta, December 29, 1941 until February 26, 1942. He was then sent to RCAF Station, East Calgary January 3, 1942 until April 11, 1942. Then he was sent to No. 1 ITS, Regina April 12, 1942 until July 18, 1942. Here he received 94.7% and was second in his class. "This airman is one of the best influences in the flight. He is steady, reliable, and despite his ability in Mathematics and Navigation, he is most keen to be a pilot. He spent a great deal of time coaching other members of the flight in mathematics. He is sincere and hard-working, a good leader and very cooperative. He is recommended for a commission."
"Quiet well reserved. Emotionally stable, alert. Was auditor before enlistment. More than average education. Motivation good. Ambitious and industrious. Did not like Signals in Calgary Highlanders a year ago. Saw no opportunity to advance. Wants to fly. Did well on 40 mm G after being told it was a test of 'ego' and endurance. Smoking less than formerly. Self-confident. Overweight. Choice: Pilot, Observer. If visual acuity could meet observer standards, believe this chap would make good observer." May 4, 1942.
From there, he was sent to No. 2 EFTS, Fort William, Ontario until September 12, 1942. He received a 92.9% and was first in his class. "A very good, reliable, hard-working student. Could be classed AA. Link mark: 71%."
The next day, he was at No. 11 SFTS Yorkton, Saskatchewan until January 22, 1943. Here he received 78.9% and was third in class. He received his wings on December 30, 1942 as well as a commission. "A very high average pilot who is inclined to react slowly, but who should be very dependable in an emergency." Arch started to be known as Archie.
Archie was sent for a Navigation reconnaissance course at No. 1 GR School, Summerside, PEI January 25, 1943 until March 27, 1943, Course 75B. His marks: 79.5% and he came second in his class of 21 students.
He was in hospital three times during his training: December 15, 1941, May 4, 1942, and February 17, 1943. "Above average. A very conscientious and hard-working student. He did more work than was required of him. His attitude throughout the course was exemplary." RECOMMENDATION FOR FUTURE EMPLOYMENT: 1. Boats, 2. Land Based GR. 3. Fighter Recco. "An excellent hard working pupil. Should do well in a GR squadron."
Archie took out three life insurance policies, valued at $1,544, $2,500, and $700, his mother as sole beneficiary. In 2021 dollars, the equivalent would be almost $71,000. How many payments he made and the end value of the policy is unknown.
April 11, 1943, he was sent to Halifax, Y Depot, then to RAF Trainees' Pool awaiting transport to the United Kingdom. He boarded the Amerika ready to head overseas.
On April 22, 1943, a German U-boat torpedoed the Amerika. He was not one of the survivors.
Mr. and Mrs. Clipsham received a letter dated June 25, 1943 from F/L W. R. Gunn, RCAF Casualties Officer for Chief of the Air Staff. "Since my letter of May 6th, no additional news has been received. Attached is a list of the names and next-of-kin of sixteen Royal Canadian Air Force officers who embarked on the same ship as your son and following enemy action at sea were safely landed in the United Kingdom. The following official statement was made in the House of Commons....'I have been in receipt of communications from a number of members of this house and from people outside with reference to rumours regarding the recent loss of a number of members of the RCAF by the sinking of a ship in the north Atlantic and I desire to make the following statement on the facts. The vessel in question was a ship of British registry of 8,862 tons, designed for peace-time carriage of both passengers and freight, and having a speed of fifteen knots. She carried a crew of 86 and the passenger accommodation consisted of 12 two-berth rooms with bath and 29 other berths, providing cabin accommodations for 53 passengers. She was fitted with lifeboat capacity for 231 and travelled in naval convoy. Under the recently revised regulations agreed to by the United States authorities, the joint United Kingdom and United States shipping board, the Admiralty, the Air Ministry and the Canadian authorities, a vessel of this description travelling in convoy is permitted to embark as crew and passengers a maximum of 75% of the lifeboat capacity. The lifeboat capacity as stated above was 231, 75% of which is 173. Personnel on board consisted of the crew of 86, and RCAF personnel numbering 53, a total of 139, well within the prescribed limits. Because of the superior type of available passenger accommodation, the speed of the ship and the provision of naval convoy, the offer of the entire available space to the RCAF was immediately accepted. Rumours to the effect that this was a slow freighter not suitable for passenger accommodation are, of course, not in accord with the facts. Every precaution was taken to safeguard the lives of these gallant young men. It should be pointed out that on account of the serious shipping shortage every available berth on such ships must be used, and had the space not been taken up by the RCAF officers of the other arms of the services would have been placed on Board. It should also be stated again that the submarine is still the enemy's most powerful weapon and that the Battle of the Atlantic is not yet won. Any ocean trip today in any part of the world is fraught with danger and I think I may safely say that our record in transporting our soldiers and airmen to the United Kingdom is one of while we may all be proud. No one deplores more than I do the loss of 37 of the finest of our young men who gave their lives for their country as surely as if they had done so in actual combat with the enemy, and I extend my deepest sympathy to their loved ones in their bereavement.' If further information becomes available, you are to be reassured it will be communicated to you at once. May I again extend to you my sincere sympathy in this time of great anxiety."
In mid-January 1944, Mr. and Mrs. Clipsham received another letter from Air Marshall Robert Leckie, informing them that their son's death would be considered official and he was presumed to have died on Active Service.
In late October 1955, Archie's mother received a letter from W/C Gunn informing her that his name would appear on the Ottawa Memorial. Mrs. Clipsham, widowed, died in 1960.