Andrew Mosser J24718
July 25, 1924 - April 22, 1943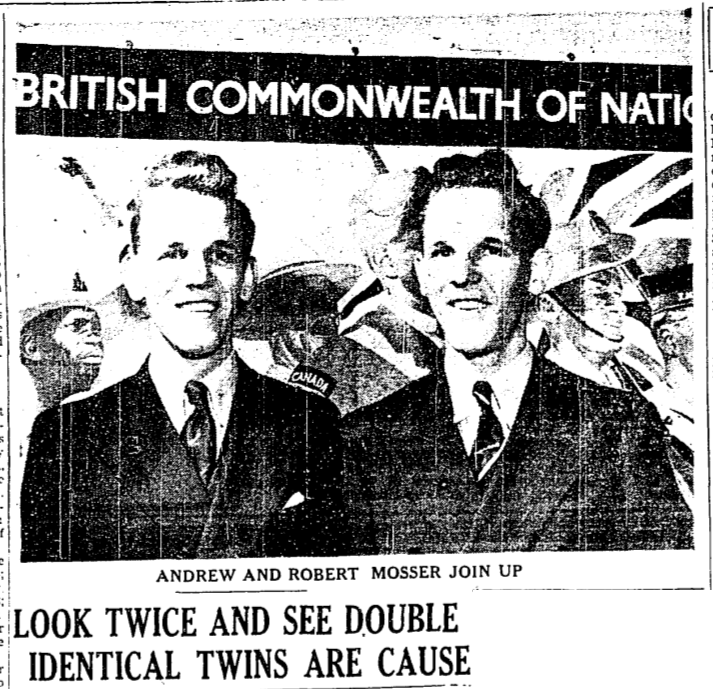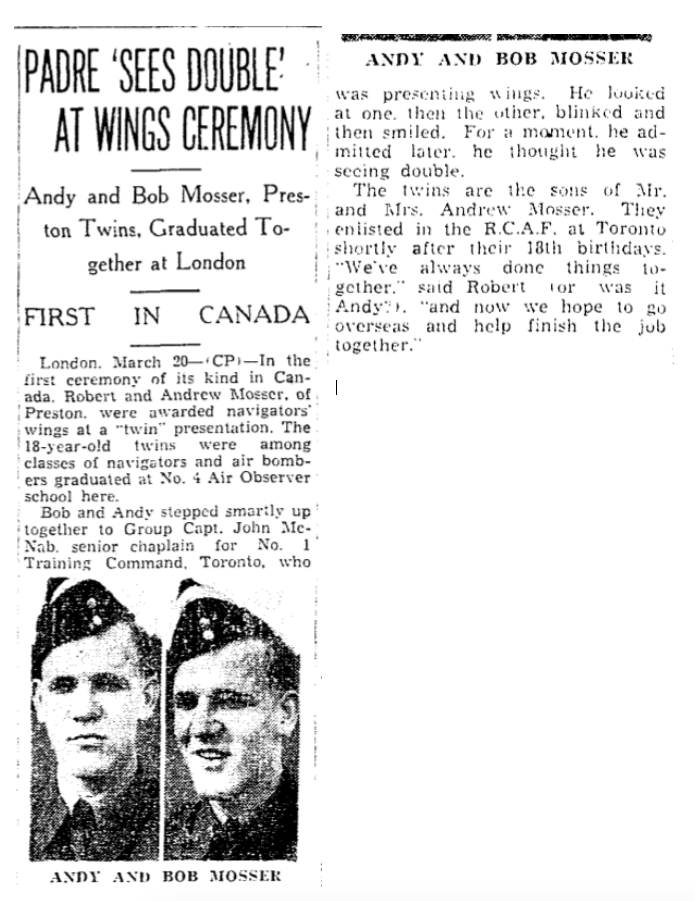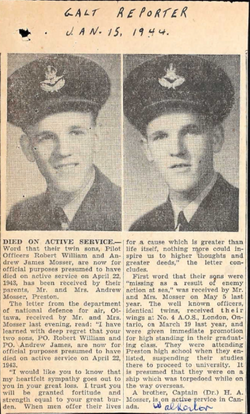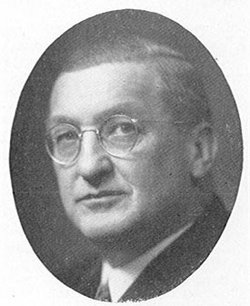 Twin brothers enlist, become navigators, and perish together. W/C Gunn visits mother in 1955.
Andrew 'Andy' James Mosser was the son of Andrew Mosser and his wife, Lillian Amelia (nee Menger) Mosser of Preston, Ontario. Robert 'Bob' William Mosser was his twin brother. They were born on July 25, 1923 in Galt, Ontario. They had one sister, Mildred Creighton, whose health Andy noted as 'fair,' plus two older brothers, Herbert and Arthur. The family attended the United Church.
Andy had been a Boy Scout and enjoyed hiking, camping, music, and hunting. Sports included rugby, track and field, basketball and soccer. He did not smoke and said he did not drink alcohol. He had a 1 ½" scar on the back of his left index finger, stood 5'9 ¼" tall, had blue eyes, fair hair and a fair complexion. He had a tonsillectomy when he was five, had the measles, chicken pox, and mumps, plus whooping cough.
At the time of his enlistment in April 1942, he and his brother Bob were students. Andy indicated that after the war he planned to attend university and become a science teacher or a doctor.
"Education: senior matriculation; was going into pre-medical. Average intelligence. Wanted to serve and would like to go overseas if war is still going when he gets through with training. Emotional stability: fair. General adjustment: good. Comments: A slim, pale young man who seems to be either hard of hearing or a bit confused. Signs of nervous instability. Talks in sleep. Has frequent nightmares, sweats much, has coarse tremor of fingers. Well-motivated and came to service rather than undertaking medical course. Wants to be a pilot. Not very impressive." F/Lt. L. F. Belanger
Andy started his training with the BCATP on April 16, 1942, when he was at No. 11 Recruiting Centre, Toronto, Ontario. On May 13, 1942, he was at No. 1 Manning Depot until July 10, 1942. During this time, he was in the hospital.
He was then sent to No. 9 Bomb and Gunnery School, Mont Joli, Quebec from July 11 until September 12, 1942. From there, he was sent to No. 3 ITS, Victoriaville, Quebec until November 21, 1942 with 91%, where he found himself in the hospital again.
He was sent to No. 4 Air Observers School, London, Ontario until March 19, 1943 where he received his Air Observer's Badge (Navigator) with a 72% mark; he was 12th out of 23 in his class. Bob was 11th. "Neat charts, occasional errors. Air work has improved greatly and later results indicate sound judgment has been used. Young and eager to do a first class job." He was recommended for commission.
The Mosser brothers' wish to be sent overseas was granted. They were in Halifax, Nova Scotia by April 13, 1943 awaiting transport to England.
On April 22, 1943, Andy and his brother, Bob, were aboard the Amerika, British Motor merchant ship. It was on its way from Halifax, Nova Scotia to Liverpool. It was torpedoed as the ship was heading to Britain. It was a straggler in convoy HX-234. Thirty-seven men, all officers in the RCAF, were presumed missing as a result of enemy action at sea; sixteen were landed at a British port after their ship was sunk by U-306, south of Cape Farewell, off Greenland. Forty-two crew members and seven gunners were also amongst those who were lost. The master, Christian Nielsen, 29 crewmembers, eight gunners, and sixteen passengers were picked up by the HMS Asphodel, and landed at Greenock. General cargo, including metal, flour, meat and 200 bags of mail were also lost.
In late June 1943, Mr. and Mrs. Mosser received a letter from F/L Gunn, RCAF Casualties Officer, for Chief of the Air Staff: "Since my letter of May 6th, no additional news has been received. Attached is a list of the names and next-of-kin of sixteen Royal Canadian Air Force officers who embarked on the same ship as your son and following enemy action at sea were safely landed in the United Kingdom. The following official statement was made in the House of Commons....'I have been in receipt of communications from a number of members of this house and from people outside with reference to rumours regarding the recent loss of a number of members of the RCAF by the sinking of a ship in the north Atlantic and I desire to make the following statement on the facts. The vessel in question was a ship of British registry of 8,862 tons, designed for peace-time carriage of both passengers and freight, and having a speed of fifteen knots. She carried a crew of 86 and the passenger accommodation consisted of 12 two-berth rooms with bath and 29 other berths, providing cabin accommodations for 53 passengers. She was fitted with lifeboat capacity for 231 and travelled in naval convoy. Under the recently revised regulations agreed to by the United States authorities, the joint United Kingdom and United States shipping board, the Admiralty, the Air Ministry and the Canadian authorities, a vessel of this description travelling in convoy is permitted to embark as crew and passengers a maximum of 75% of the lifeboat capacity. The lifeboat capacity as stated above was 231, 75% of which is 173. Personnel on board consisted of the crew of 86, and RCAF personnel numbering 53, a total of 139, well within the prescribed limits. Because of the superior type of available passenger accommodation, the speed of the ship and the provision of naval convoy, the offer of the entire available space to the RCAF was immediately accepted. Rumours to the effect that this was a slow freighter not suitable for passenger accommodation are, of course, not in accord with the facts. Every precaution was taken to safeguard the lives of these gallant young men. It should be pointed out that on account of the serious shipping shortage every available berth on such ships must be used, and had the space not been taken up by the RCAF officers of the other arms of the services would have been placed on Board. It should also be stated again that the submarine is still the enemy's most powerful weapon and that the Battle of the Atlantic is not yet won. Any ocean trip today in any part of the world is fraught with danger and I think I ay safely say that our record in transporting our soldiers and airmen to the United Kingdom is one of while we may all be proud. No one deplores more than I do the loss of 37 of the finest of our young men who gave their lives for their country as surely as if they had done so in actual combat with the enemy, and I extend my deepest sympathy to their loved ones in their bereavement.' If further information becomes available, you are to be reassured it will be communicated to you at once. May I again extend to you my sincere sympathy in this time of great anxiety.
In January 1944, Mr. and Mrs. Mosser received a letter from Air Marshall Robert Leckie informing them that their sons were for official purposes presumed to have died on Active Service on April 22, 1943.
The insurance company wrote a letter to the RCAF March 16, 1944 asking what reason Andy and Bob were traveling on the ship and whether they were acting under orders at the time, as the Director of Postings & Records for the RCAF in Ottawa wrote them a letter indicating that Andy and Bob were passengers.
The RCAF responded by saying they did not understand why the additional information was required. "As you are aware it is contrary to security regulations to provide information respecting casualties…You are advised that the above mentioned officers were at the time they were reported missing, travelling on duty and under orders, their ship being the victim of enemy action."
Andy had a $1000 policy through Mutual Life Assurance, but because of the war and aeronautics clauses, the family received only the refund of one premium of $24.79. He also had an insurance policy through Prudential Life for $818.00.
In May 1944, a Royal Message of Condolence from Buckingham Palace was sent to Mr. and Mrs. Mosser about Andy, with the Chief of Air Staff, G/C T.K. McDougall requesting a second message be sent for Bob.
Karl Homuth, a well-known businessman and politician from Preston, Ontario wrote to the RCAF Casualties Officer in Ottawa, the letter dated April 3, 1945, almost two years since the Amerika was torpedoed. The letter stated: "Dear Sir, The above-named airmen (P/O Andrew James Mosser and P/O Robert William Mosser) were lost enroute overseas. It was a terrible blow to the parents and they have not yet recovered. They are anxious to know what boat these boys were on. I think the only reason is that they continually think of the boys and naturally any details of their death is of interest to them. Is it possible for you to give me the name of this boat?"
In October 1955, Mr. and Mrs. Mosser received a letter from W/C Gunn informing them that their sons' names would appear on the Ottawa Memorial because they had no known grave. He offered them his deepest sympathy.
In November of 1955, Mrs. Mosser received a letter from W/C Gunn, who had visited with them earlier. "I have ascertained that the Book of Remembrance World War II is not yet complete but the book will be finished approximately July 1, 1956. There is a very active committee presently engaged in securing a suitable depository for the Book. While this cannot be considered as official information, I am led to believe that the Book which will contain the names of all who lost their lives in World War II will be located in the Parliament Buildings not far from the Memorial Chamber where the Book of Remembrance World War I is on display and which you visited last summer. It may be a little while before an official announcement will be made and I will advise you of any reports which may come my way. I will also keep you in touch with developments concerning the Memorial on which your boys' names will appear. May I take this opportunity to express to you and your husband my deep appreciation of the kindly consideration you extended to me, when I visited you recently."