Andrew Joseph Hurley P9797
November 8, 1918 - August 16, 1940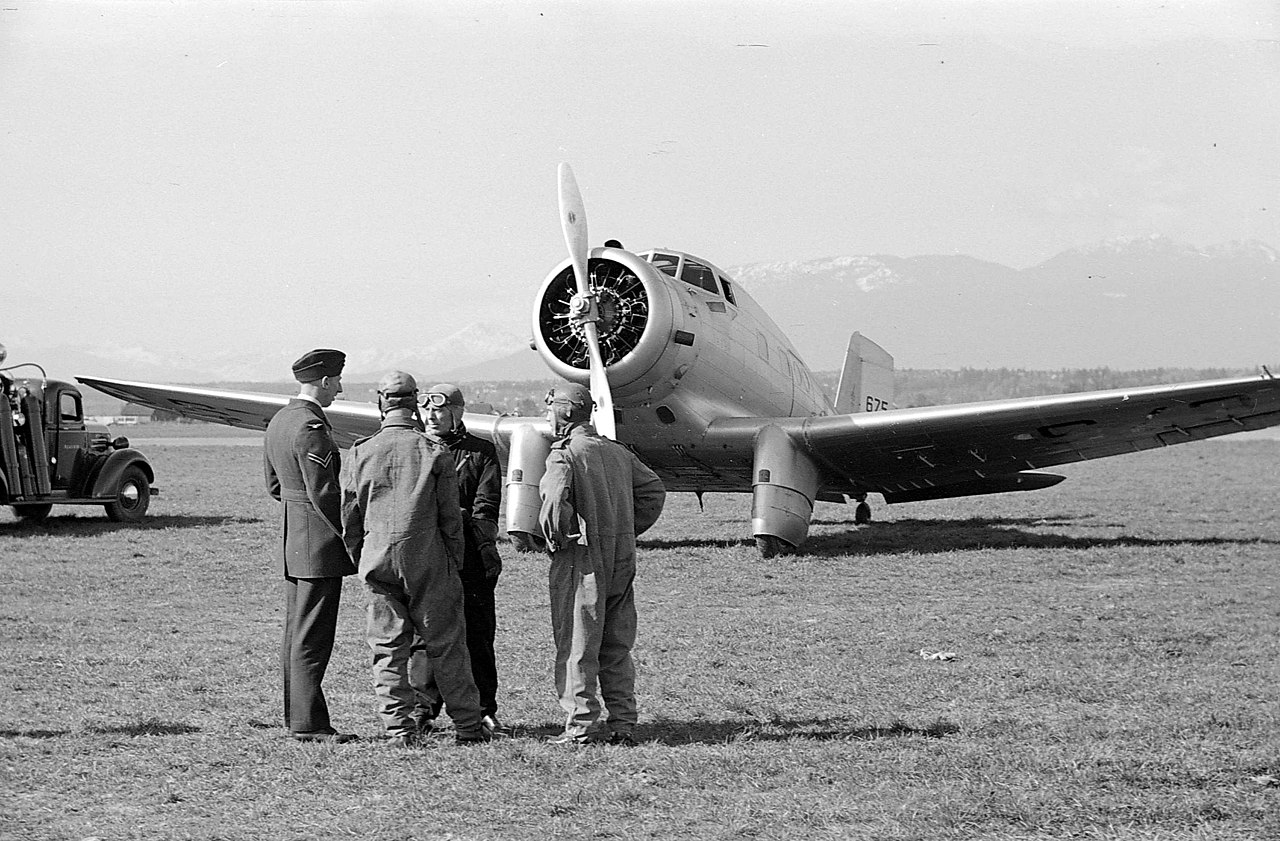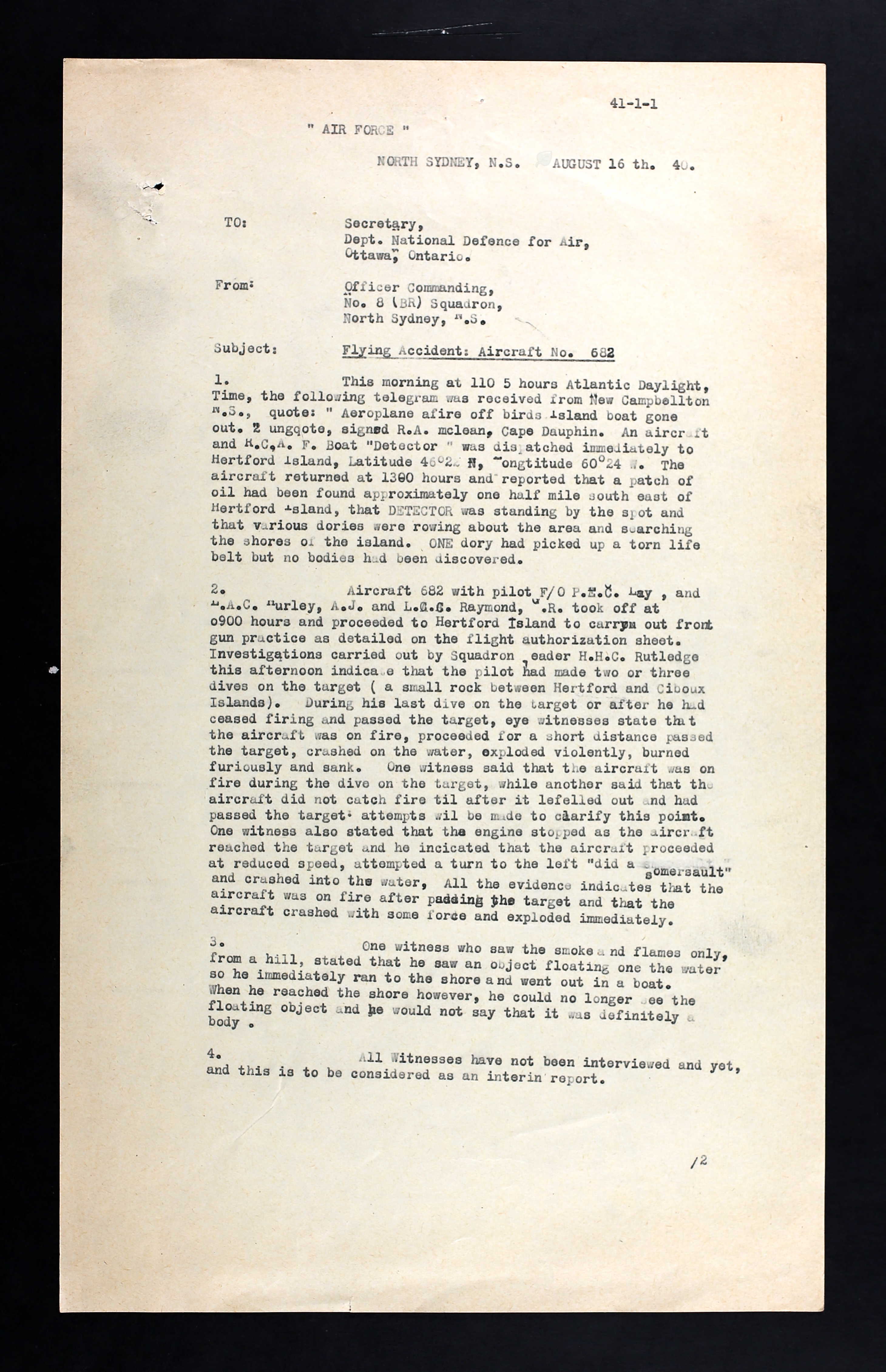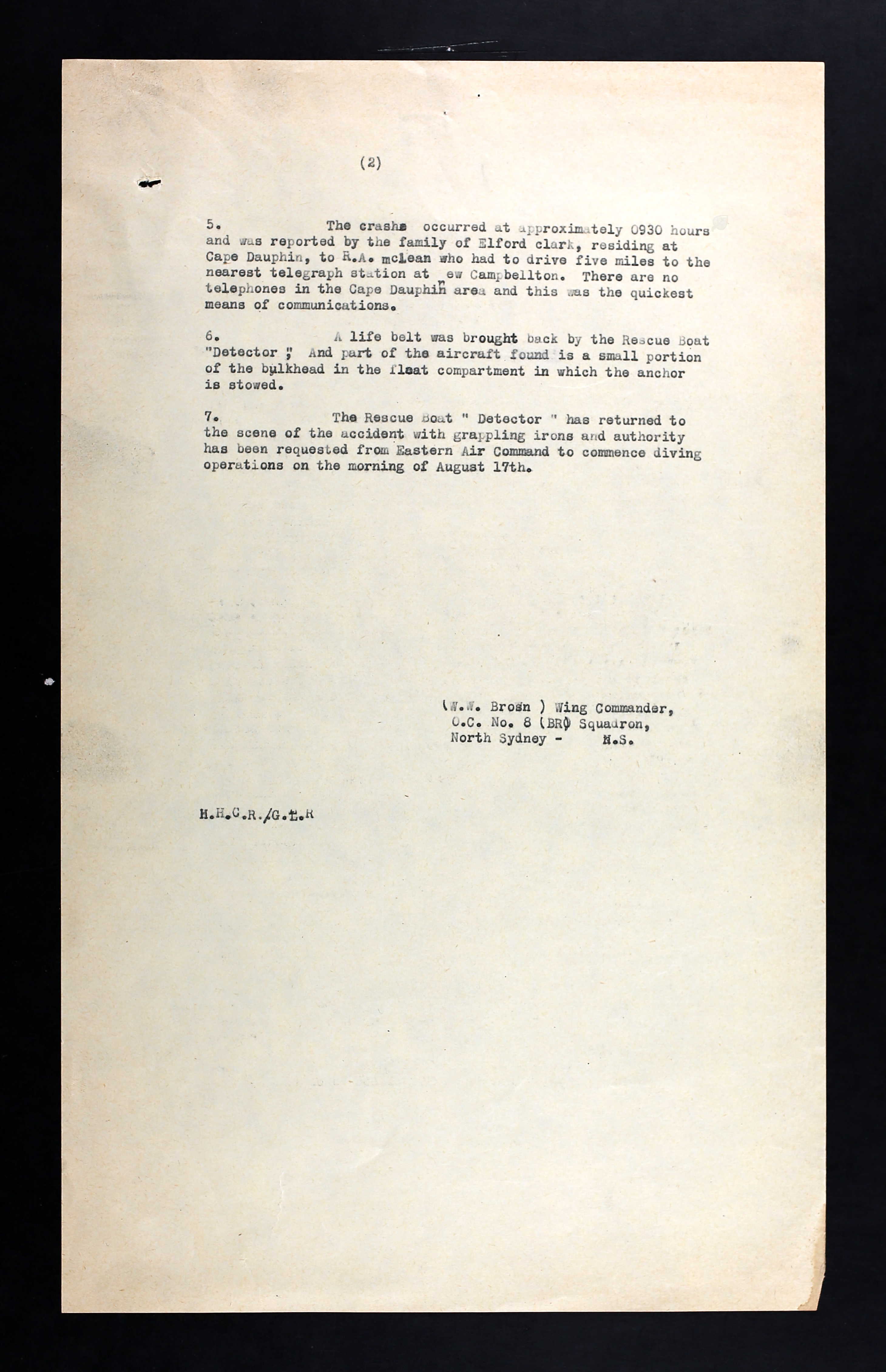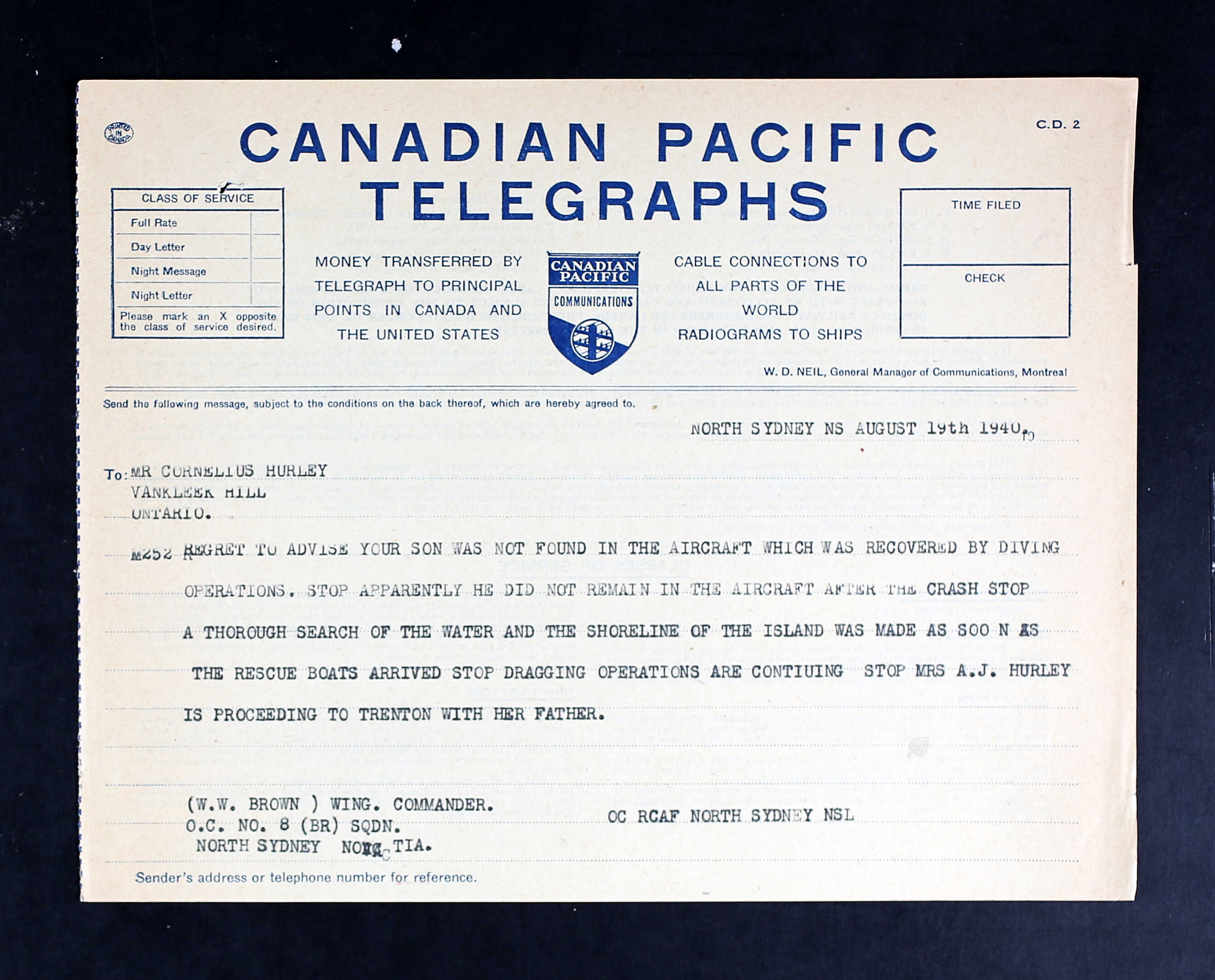 Student joined RCAF in November 1937 and became a wireless and electrical mechanic. Aboard Delta 682, he and crew were killed during an authorized flight when the aircraft caught fire and crashed near Hertford Island, Nova Scotia
Andrew Joseph Hurley was the son of Cornelius M. Hurley (1875-1945) and Anna Mary (Allison) Hurley (1888-1961), Vankleek Hill, Ontario. The family was Roman Catholic.
He was a student when he enlisted with the RCAF in November 1937 in Ottawa, Ontario, hoping to be a wireless operator, mechanic. He stood 5' 7 ½" tall and weighed 128 pounds. He had blue eyes and light brown hair with a fair complexion. A mole left side clavicle, and a scar over his 9th rib, right axillary line and a scar over his right tibia were all noted. Andrew indicated that he spoke English and had a fair knowledge of French. He liked to play baseball, basketball, softball, and hockey, playing on school teams. He played hockey for Vankleek Hill Town Team occasionally and was on the Vankleek Hill Collegiate track team. Andrew indicated that he had lost some weight since July 1 since "I have been working hard, "as a farm assistant during the summer holidays.
He was sent to Trenton and then was in Sydney, Nova Scotia by August 29, 1938. He married Dorothy Beatrice Mason of Trenton, Ontario, on September 20, 1939, in Sydney, Nova Scotia.
In December 1939: "A…good operator, willing worker and highly conscientious. Clean and neat." In March 1940, at No. 8 BR Squadron, he was rated as ordinary. "Is conscientious and hard working, showing continual improvement. This airman is recommended for ordinary promotion." Andrew was a Wireless and Electrical Mechanic.
On August 16, 1940, he was involved in an operational flying accident, North Sydney, No. 8 BR Squadron. Mr. Hurley received a CN Telegraph: "Regret to advise your son Leading Aircraftsman [sic] Andrew Joseph Hurley became missing this norning [sic] when an aircraft in which he was crewman was reported to have disappeared into the sea off this base STOP search ships now in progress STOP will wire further details later." W/C W. W. Brown, OC No. 8 Squadron, North Sydney, Nova Scotia.
FOLLOWING ADDITIONAL INFORMATION RECEIVED CONCERNING CRASH DELTA NO. 682 AT SYDNEY. ACCIDENT OCCURRED ABOUT HALF MILE SOUTHEAST OF HERTFORD ISLAND. EYE-WITNESSES STATE THE AIRCRAFT APPARENTLY CAUGHT FIRE AFTER PULLING OUT OF A DIVE. DID A TURN AT LOW ALTITUDE AND POSSIBLY TURNED OVER ON ITS BACK AND CRASHED INTO THE WATER. THE AIRCRAFT APPEARED TO HAVE EXPLODED ON HITTING THE WATER AND CONSIDERABLE FLAME AND SMOKE WAS SEEN AFTER THE CRASH. BOATS THAT WENT TO THE SCENE FOUND A TORN LIFE BELT THAT SHOWED SIGNS OF FIRE AND HAD HURLEY'S NAME ON IT. A SMALL PIECE OF FLOAT WAS ALSO FOUND. THE WATER IS ABOUT TWELVE FATHOMS DEEP WHERE THE ACCIDENT OCCURRED. THE DETECTOR HAS GONE OUT WITH GRAPPLING IRONS. IF NOT SUCCESSFUL, INTEND HIRE DIVER WITH BOAT FROM NORTH SYDNEY MARINE COMPANY AT $125 PER DAY. APPROVAL REQUESTED. SUGGEST YOU RELEASE TO PRESS ANY FURTHER INFORMATION CONSIDERED ADVISABLE."
A memo to the Secretary, Dept. National Defence for Air in Ottawa from Office Commanding, No. 8 BR Squadron, North Sydney, Nova Scotia: "this morning at 11:05 hours Atlantic daylight time, the following telegram was received from New Campbelltown Nova Scotia, quote, 'aeroplane a fire off birds island boat gone out.' Signed R. A. McLean, Cape Dauphin. an aircraft and RCAF boat DETECTOR, was dispatched immediately to Hertford island... the aircraft returned at 1300 hours and reported that a patch of oil had been found approximately 1/2 mile South East of Hartford island, that detector was standing by the spot and that various dories were rowing about the area and searching the shores of the island. One dory had picked up a torn lifebelt but no bodies had been discovered. Aircraft 682 with pilot F/O P.E.C Lay and LAC Hurley, A.J., and LAC Raymond, G. R. took off at 09 hundred hours and proceeded to Hertford Island to carry out front gun practice as detailed on the flight authorization sheet. Investigations carried out by Squadron Leader Rutledge this afternoon indicate that the pilot had made two or three dives on the target (a small rock between Hertford and Ciboux islands). During his last dive on the target or after he had ceased firing and passed the target, eyewitnesses state that the aircraft was on fire, proceeded for a short distance past the target, crashed on the water, exploded violently, burned furiously, and sank. One witness said that the aircraft was on fire during the dive on the target, while another said that the aircraft did not catch fire till after it had levelled out and had passed the target. Attempts will be made to clarify this point. One witness also stated that the engine stopped as the aircraft reached the target and he indicated that the aircraft proceeded at reduced speed, attempted to turn to the left, 'did a somersault' and crashed into the water. All the evidence indicates that the aircraft was on fire after passing the target and that the aircraft crashed with some force and exploded immediately. One witness who saw the smoke and flames only, from a hill, stated that he saw an object floating on the water so he immediately ran to the shore and went out in a boat. When he reached the shore however, he could no longer see the floating object and he would not say that it was definitely a body. All witnesses have not been interviewed as yet; this is to be considered as an interim report. The crash occured at approximately oh 930 hours and was reported by the family of Elford Clark, residing at Cape Dauphin, to R. A. McLean who had to drive 5 miles to the nearest telegraph station at New Campbelltown. There are no telephones in the Cape Dauphin area and this was the quickest means of communications. A lifebelt was brought back to buy the rescue boat detector and part of the aircraft found is a small portion of the bulkhead in the float compartment in which the anchor is stowed. The rescue boat detector has returned to the scene of the accident with grappling irons and authority has been requested from eastern air command to commence diving operations on the morning of August 17th.
"Diver has located D682 on bottom of sea in small pieces stop unable to locate remains of pilot and crew stop diving operations continuing tomorrow."
"Remains of Flying Officer Lay, C1071, and LAC Raymond recovered from Delta aircraft 682 stop remains of LAC Hurley not located stop fathers of Lay and Raymond have been advised that $50 maximum amount authorized for all funeral expenses and asked to advise wishes regarding burial."
Mr. Hurley received another CP Telegraph, this time dated August 19, 1940: "regret to advise your son was not found in the aircraft which was recovered by diving operations. Apparently he did not remain in the aircraft after the crash. A thorough search of the water and the shoreline of the island was made as soon as the rescue boats arrived. Dragging operations are continuing. Mrs A.J. Hurley is proceeding to Trenton with her father."
Dorothy received a letter dated August 21, 1940 from AVM L. S. Breadner. "…Your husband was an extremely popular and efficient air man and his loss is greatly deplored and keenly felt by both his fellow air men and the officers under whom he served…."
The Hurley's in Vankleek, Ontario received a letter from S/L Rutledge in late September 1940. "Since the date of the sad accident in which your son was involved, we have continued to make regular searches and have carried out dragging operations in the area where the aircraft crashed anticipating that we might find the remains of your son. All efforts have been to of no avail and I regret to advise you that it is considered that further operations of this nature are not warranted and that they therefore are being discontinued period rest assured comma however comma that if any information should come to light, I will communicate with you immediately."
Dorothy, from Trenton, Ontario, wrote to S/L Rutledge on October 4, 1940: "My father received your letter of the 24th stating that dragging operations for my husband's body had been discontinued. I regret hearing this very much, although I know that you have done all that is within your power to find him. However if you should receive further information, I will be very grateful to you if you will communicate with me immediately. I would like to secure my husband's will and his death certificate as soon as possible as the insurance company has been asking for them. I would also like to put my application in for the pension and to get my allowance for the month of August. I have written to Ottawa trying to gain information in these matters but haven't had been able to get any word from them. It is nearly two months since the accident and I would certainly like to get these things straightened out. Mr. Brown at the time of the accident told my father that he would advise me pertaining to all these things at the proper time but we have not as yet received any information about them. I would consider it a great favor if you would advise me about these things and who are the proper authorities to write to." On October 9, 1940, S/L Rutledge wrote back to her and outlined what she needed to do and who to contact.
Dorothy was remarried by the time a letter arrived in Ottawa at her home informing her that since Andrew had no known grave, his name would appear on the Ottawa Memorial. She was living at 79 Grande Avenue and was Mrs. Swanson. The letter was returned, possibly undeliverable, and Mr. and Mrs. Hurley were contacted for verification.
CREW: LAC Andrew Joseph Hurley, P9797, F/O Peter Charles Everett Lay, C1071, and LAC Gerald Robert Raymond, 22015A. Hurley's name is on the Ottawa Memorial as well as in the family plot at St. Gregory Catholic Cemetery, Vankleek Hill, Ontario. Lay's remains are buried in the Regina Cemetery and Raymond's remains are buried at Bloomfield Station, Christ Church Cemetery, New Brunswick.
LINKS: