Alvin Bernard Waton P20590
September 25, 1918 - April 9, 1943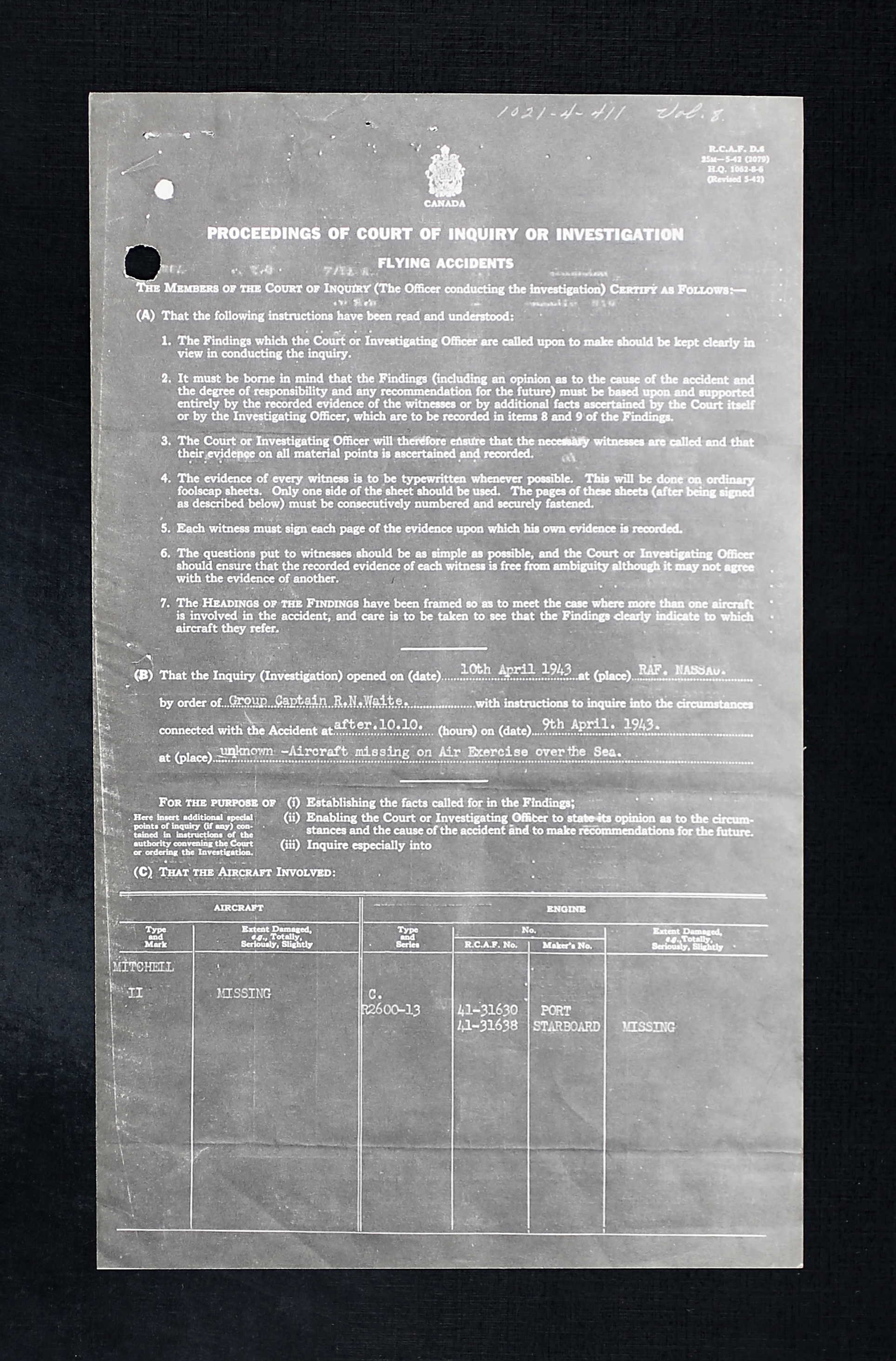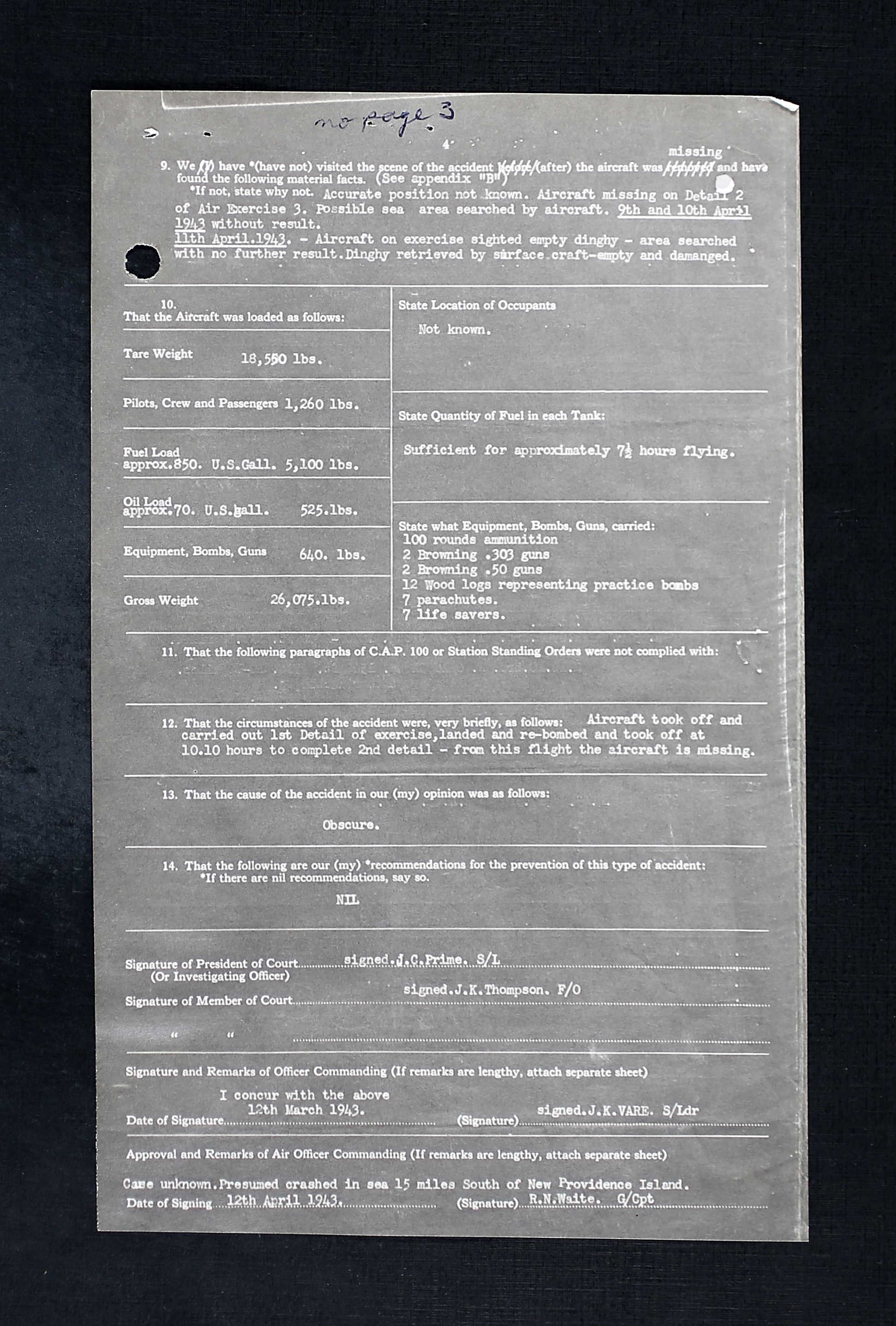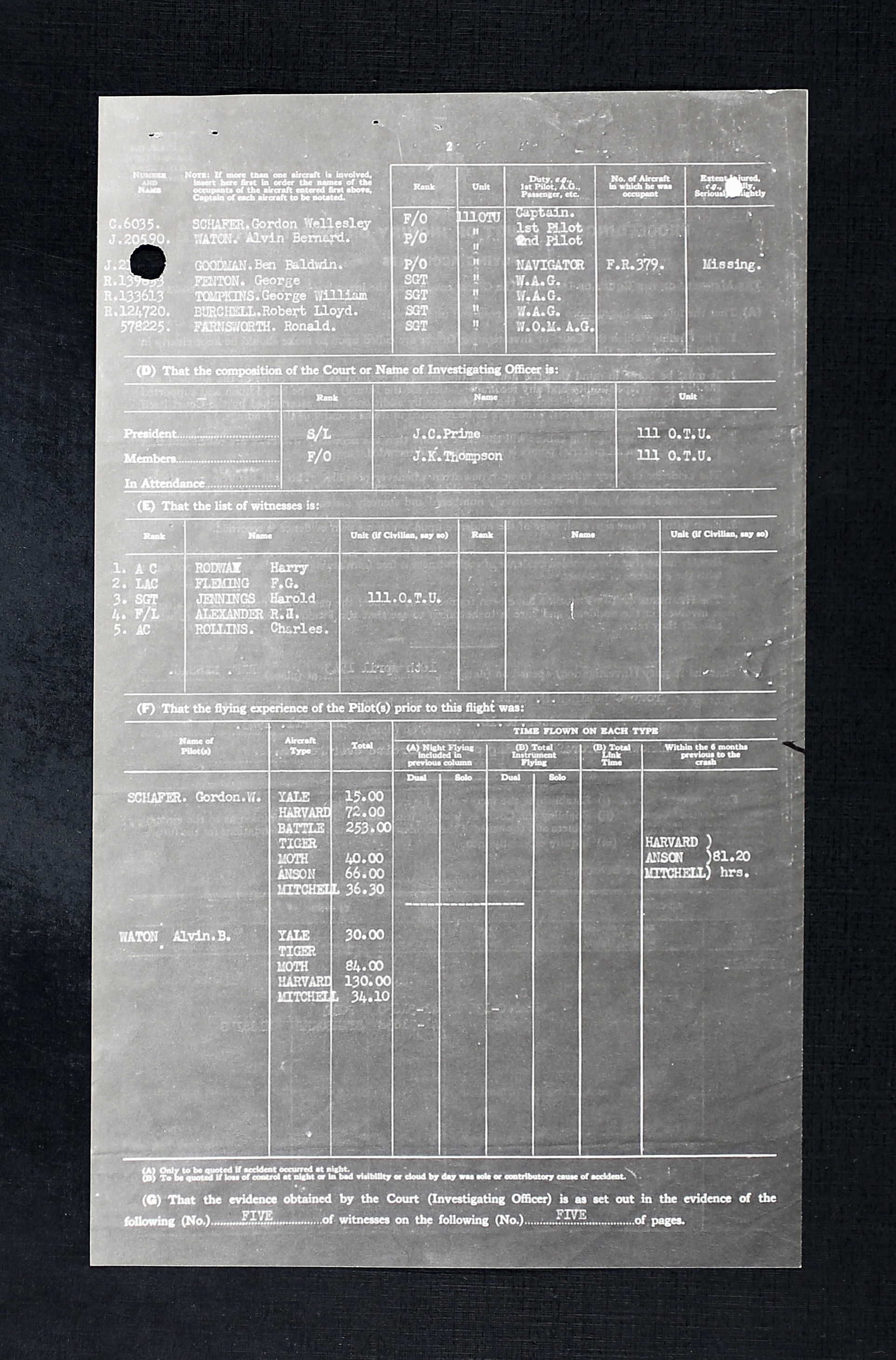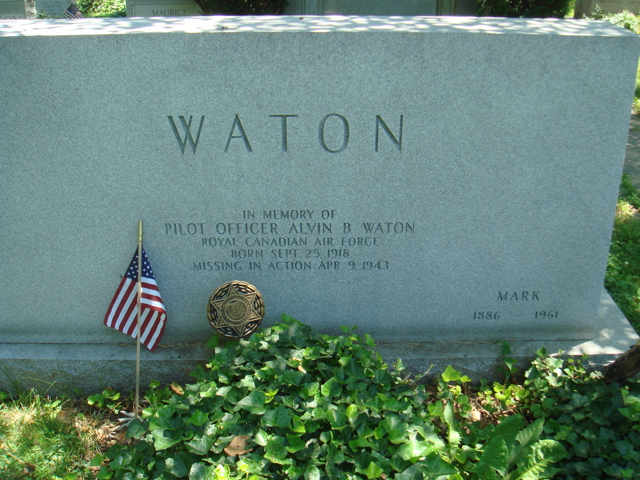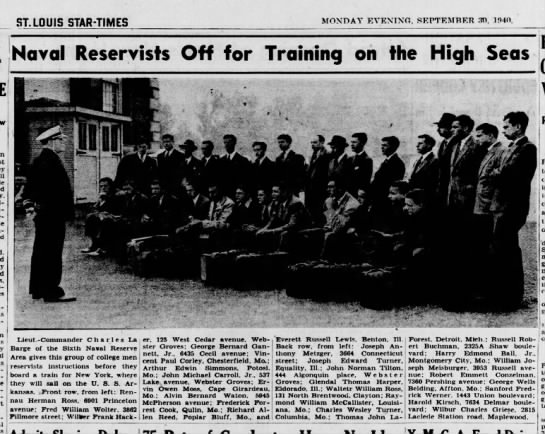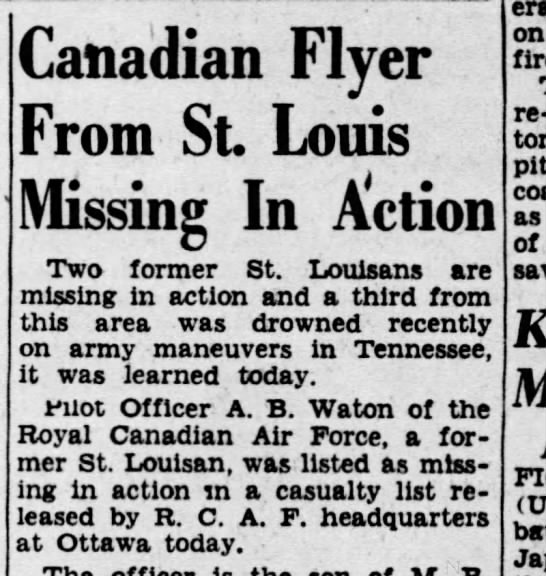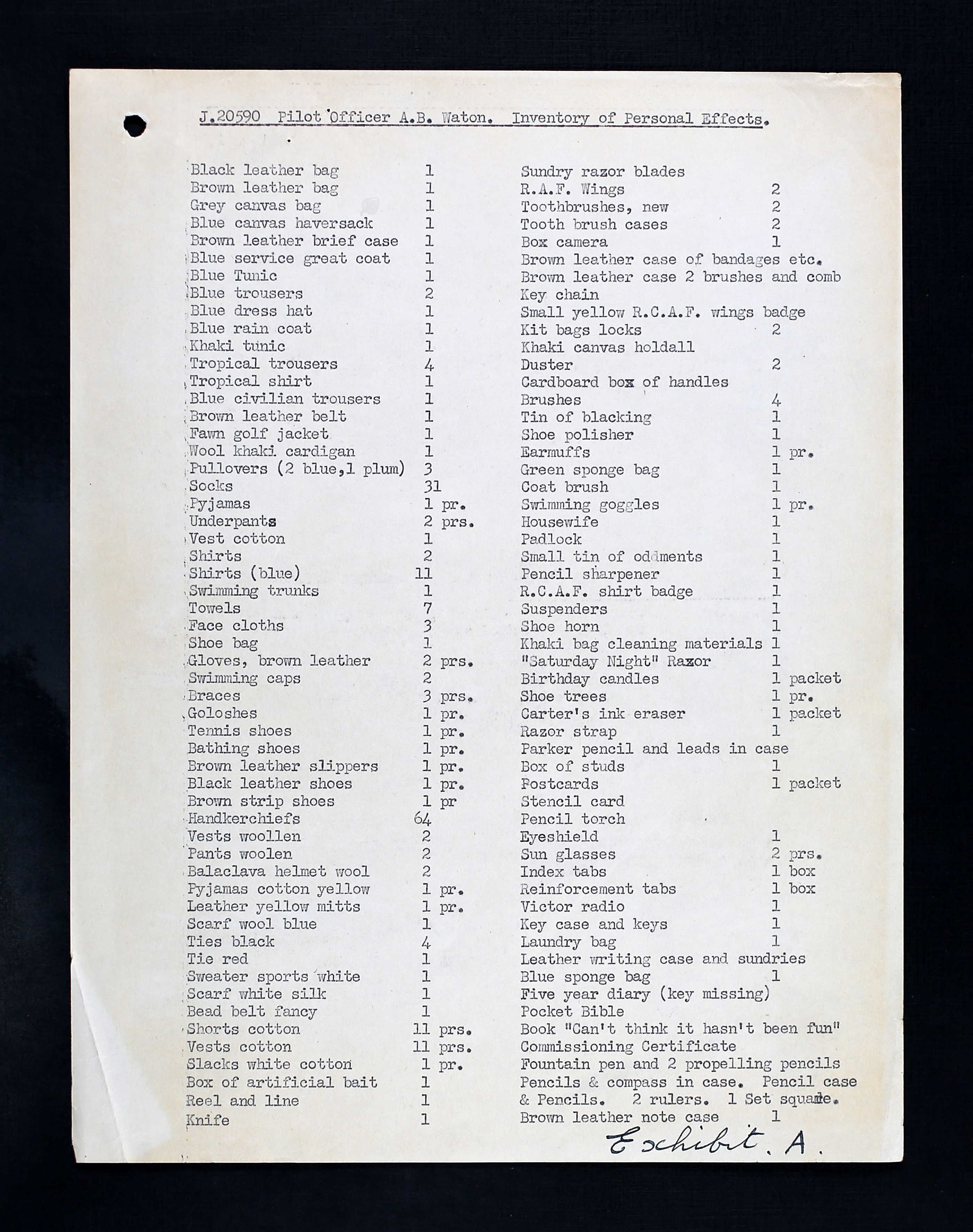 University graduate and dance teacher from St. Louis, Missouri joined RCAF and became pilot. Aboard Mitchell FR 379, he and crew were lost during second air/sea exercise. His mother wrote many letters about his estate.
Alvin 'Al' Bernard Waton was the son of Mark Borus Waton (1886-1961), dress designer, and Etta (nee Friedman) Waton (1895-1989) of St. Louis, Missouri. He had one brother, Raymond Philip Waton (1915-2011). They were Jewish. (He indicated that he was Methodist on his attestation papers.)
Al attended Washington University in St. Louis, receiving B.Sc and B.A. degrees. He worked as a lifeguard, dancing teacher, and a stenographer. Al enjoyed swimming, skating, and weightlifting. His hobbies included Indian bead work, photography and reading. He did not smoke, nor did he drink alcohol. He stood 5' 11 ½" tall and weighed 159 pounds, had brown eyes and brown hair. He had an athletic physique and an alert mentality.
Al traveled to Canada and resided at the YMCA in Windsor, awaiting news if he would be accepted into the RCAF in October 1941. Prior he was with the USA Naval Air Corps in Jacksonville, Florida from February to October 1941. On his interview sheet: "Excellent education. Intelligent; co-operative, quiet, not reserved, fair personality; good carriage." Al wanted to be a pilot.
He declared as to having a willingness to serve in the RCAF anywhere in Canada or beyond Canada and Overseas but did not take an oath of allegiance. He did not indicate that he was providing support to his mother. He had some life insurance, his mother beneficiary.
Al's journey through the BCATP started at Manning Depot, where he was in the station hospital on February 12, 1942. He always was awarded detention effective January 27, 1942 for seven days. He was then at No. 6 ITS, Toronto from February 16 to April 10, 1942. "15th out of 135 in class. 86%. Well educated. Good military background. Very intelligent. Pleasant personality. Co-operative and conscientious. Second aircrew recommendation: Air Observer." He was then sent to No. 1 EFTS, Malton, Ontario from April 27 to July 3, 1942. "1st out of 30 in class with 78.7%. Methodical but careless of small points with practice and strict flying supervision should make high average service pilot." He found himself at No. 1 SFTS, Camp Borden, July 20 to November 6, 1942. "5th out of 48 in class. 80.7%. This student's previous record is not very good, but his training here has been satisfactory." He was rated above average in many areas, average in others.
At No. 1 GRS, Summerside, PEI November 23, 1942 to January 29, 1943: "Work satisfactory. Inclined to be temperamental. Average. Very good results in ground training apart from careless plotting. 6th out of 23 in class. 73%. Very keen on Coastal Command work. Does however, require some supervision." He was then sent to No. 31 P.D., Moncton, NB on Febuary 14, 1943, then to 111 O.T.U. Nassau a few days later.
On April 9, 1943, Mitchell FR379 took off from Nassau, Bahamas on a training flight that had two exercises, the aircraft and crew completed the first exercise and returned to base for refuel and re-arm. Aircraft took off for the second exercise and went missing, search was conducted, but nothing was found. Cause of crash and location is not known, aircraft and crew missing without a trace. A court of inquiry was called with five witnesses. Cause of accident: Obscure. The aircraft had enough fuel for 7 ½ hours of flying. Two days later, aircraft on training mission spotted a dinghy; surface craft recovered it, empty, and damaged.
Crew: *Pilot: F/O G.W. Schafer, C/6035, RCAF, Spokane, Washington *Pilot: P/O A.B. Waton, J/20590, RCAF, St. Louis, Missouri, U.S.A. *Nav: P/O B.B. Goodman, J/21746, RCAF, Carman, Manitoba *Wop/Gnr: Sgt G. Fenton, R/139833, RCAF, Ridgedale, Saskatchewan, Canada *Wop/Gnr: Sgt G.W. Tomkins, R/133613, RCAF, Frankford, Ontario, Canada *Wop/Gnr: Sgt L.R. Burchell, R/124720, RCAF, Glace Bay, Nova Scotia *Wop/Gnr: Sgt Ronald Farnsworth, 578225, RAFVR, son of Ephraim and Ellen Farnworth, Witton Gilbert, Co. Durham, United Kingdom, 19 years old.
Miss Dorothy Menzies wrote on June 15, 1943 about Al. "I have a friend missing on air operations from the Coastal Command at Nassau, Bahamas and I would like to know if you could give me any information about him and his home address in St. Louis, Missouri, USA." Later in June 1942, she received a letter providing Mr. and Mrs. Waton's mailing address.
Al had a huge number of personal effects listed, including a tropical shirt and pair of tropical trousers, a radio, and a box camera. A letter Mrs. Waton wrote to the Administrator of Estates was received on January 24, 1945. "Enclosed, please find the completed form. Please send all my son's personal belongings and money prepaid to us. You have tried to send this collect, but I cannot afford it. All governments send personal things home prepaid. The Canadian Government has prepaid things to other families, so why not to me? I am also returning the shipping and packing lists, so please take care of this for me. My son gave his life and service to Canada and the least respect the country can show for gratitude is to return his close prepaid. I have written a number of times on the allotment my son signed over to use but have received no answer. Hoping you will take care of this matter for me."
In March 1945, there were issues regarding Alvin's personal belongings. In different handwriting that the earlier letter, Mrs. Waton wrote a letter. "He had a blue large duff bag and box we didn't receive. Thanks very much as I was checking over the inventory of personal effects you sent me from Nassau. There is quite a number of articles missing, 'specially his dress hat and …pin that is so valuable to me. Also to Al. He wouldn't that to be missing. He was so proud of it. We received Mr. Schaefer's hat, instead. I don't know if he received Al's or not. I am enclosing a list of missing articles. All his things meant so much to Al. He wouldn't want any of these articles being missing especially his dress hat and pin. As it meant so much to him. I would appreciate very much you could locate all these missing items. Now I ask a favor also appreciated if you take care about this allotment my son Al had signed over to me. [$100 a month] I received February, March was to be received April 1st. Also April 9th, he was missing. Never received a penny since. Will be two years April and my son was sending money home every month to help support. I do need that money badly. I am entitled to allotment. He gave his life for your country, Ottawa, Canada. Your governor should see and take care of me without me having so much trouble trying to get what belongs to me. Your governor had allotment over to his mother. Now that he is lost, what do they care about his mother but her son. Your governor don't [sic] send me any money. Is that fair? I don't think so. Your governor should see I am taking care more so now. I lost that dear boy you don't think? These letters are very easy for me to write? I assure they are not. I have been sick. Nervous since I had that sad telegram so please Mr. Flight Lieutenant A.W. DeRoche, take care see I get my allotment. I am a poor woman. I will appreciate very much also my son would be very happy knowing you take care of his matter. I was getting my allotment as I was depending on him for this support. Many thanks."
On November 26, 1945, Mrs. Waton wrote another letter, in similar handwriting as to the second noted above. "No doubt you must be wondering why I do answer these letters they first reach my hands. I have been very ill unable to write you any sooner. This one letter you stated a check for $456.99 cash found in my son's effects. Balance of pay account. Where is the money for the clothes that were sold in Nassau? Also many for that ____ he bought. Can you send me a copy of my son's will? I haven't cashed this check till I hear from you again. I would also like to have a bill from Robert Simpson & Co. What he bought. I have never got my allotment. Also about my pension, you call perhaps you can take care for me this matter. I have been waiting long enough to get a few cents from your government. I was my son's dependent. I am sick. I need money. If my son would be alive, he would be supporting me. He gave his life for your country. He did what they told him. Now why don't they take care of me? About time they would do something about it. Having me suffer so long. I would appreciate if you see I am taking care of. Early settlement with your government. Hope to hear from you at an early date."
In late October 1955, Mrs. Waton received a letter informing her and her husband that their son's name would appear on the Ottawa Memorial as he had no known grave. Alvin also has a burial marker in Bnai Amoona Cemetery (aka Sherrith Israel Cemetery), University City, St. Louis County, Missouri.