Alfred John D. Ruttledge J15160
June 22, 1914 - December 15, 1944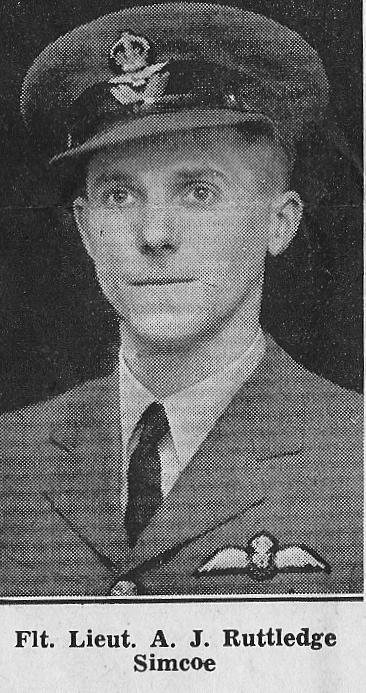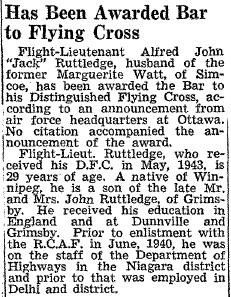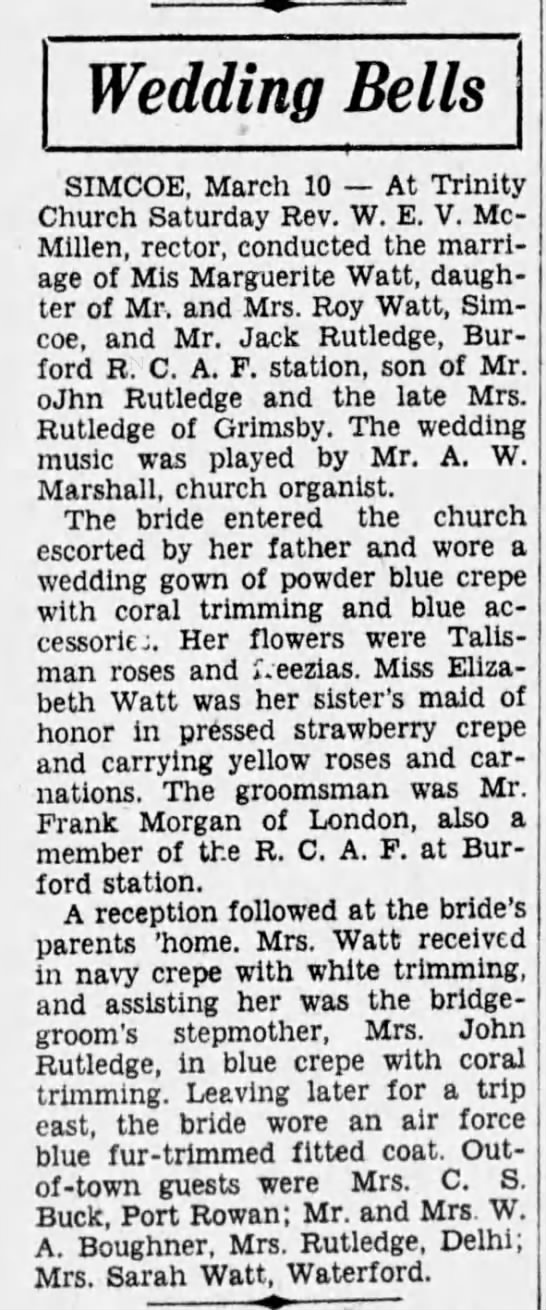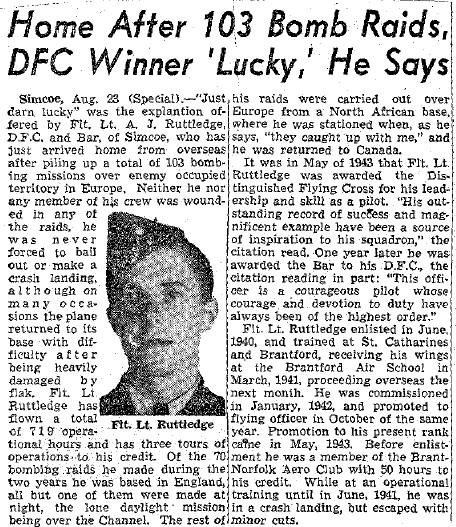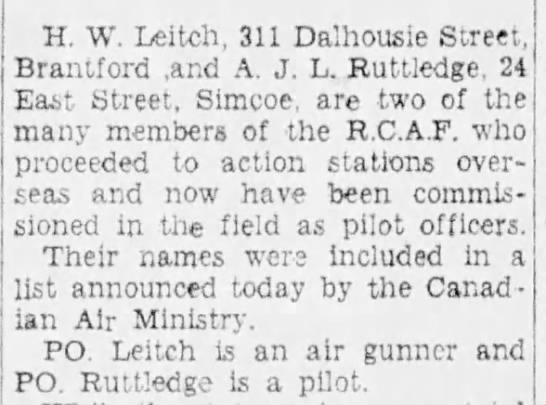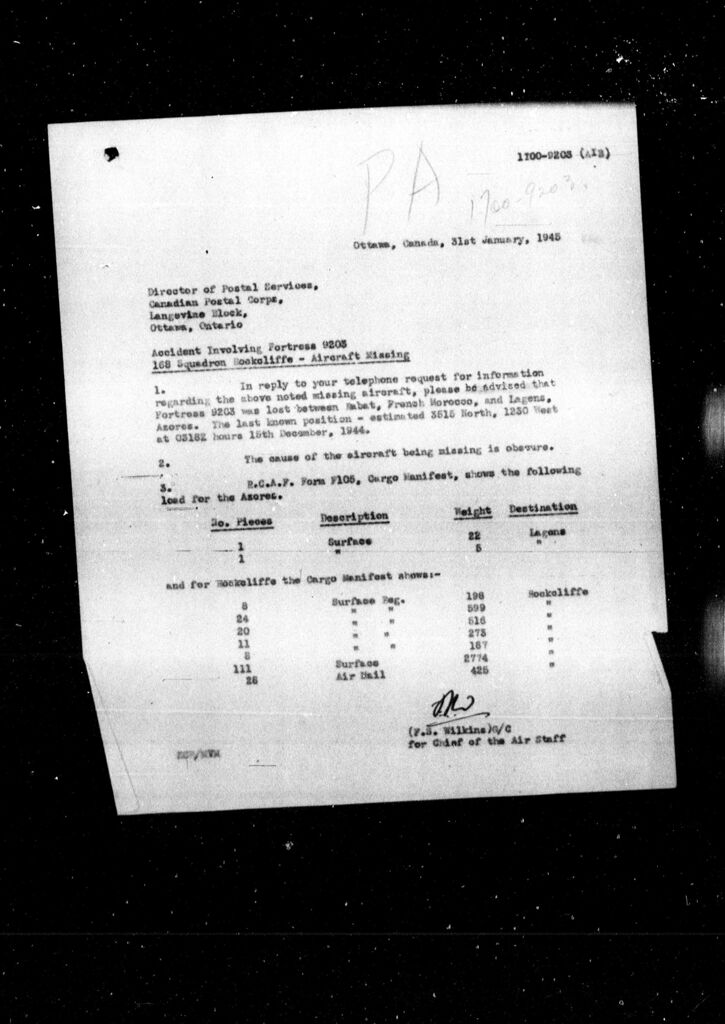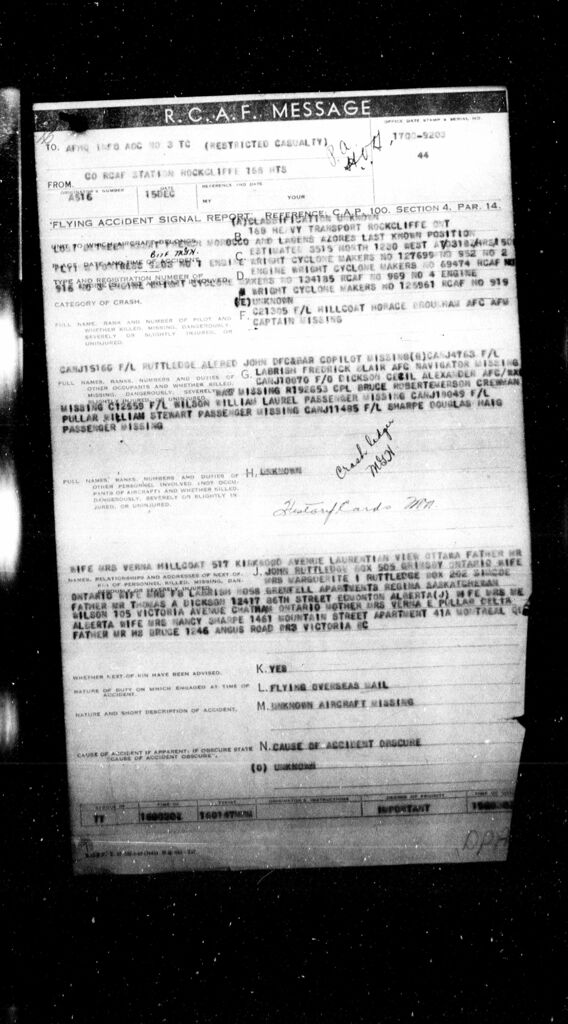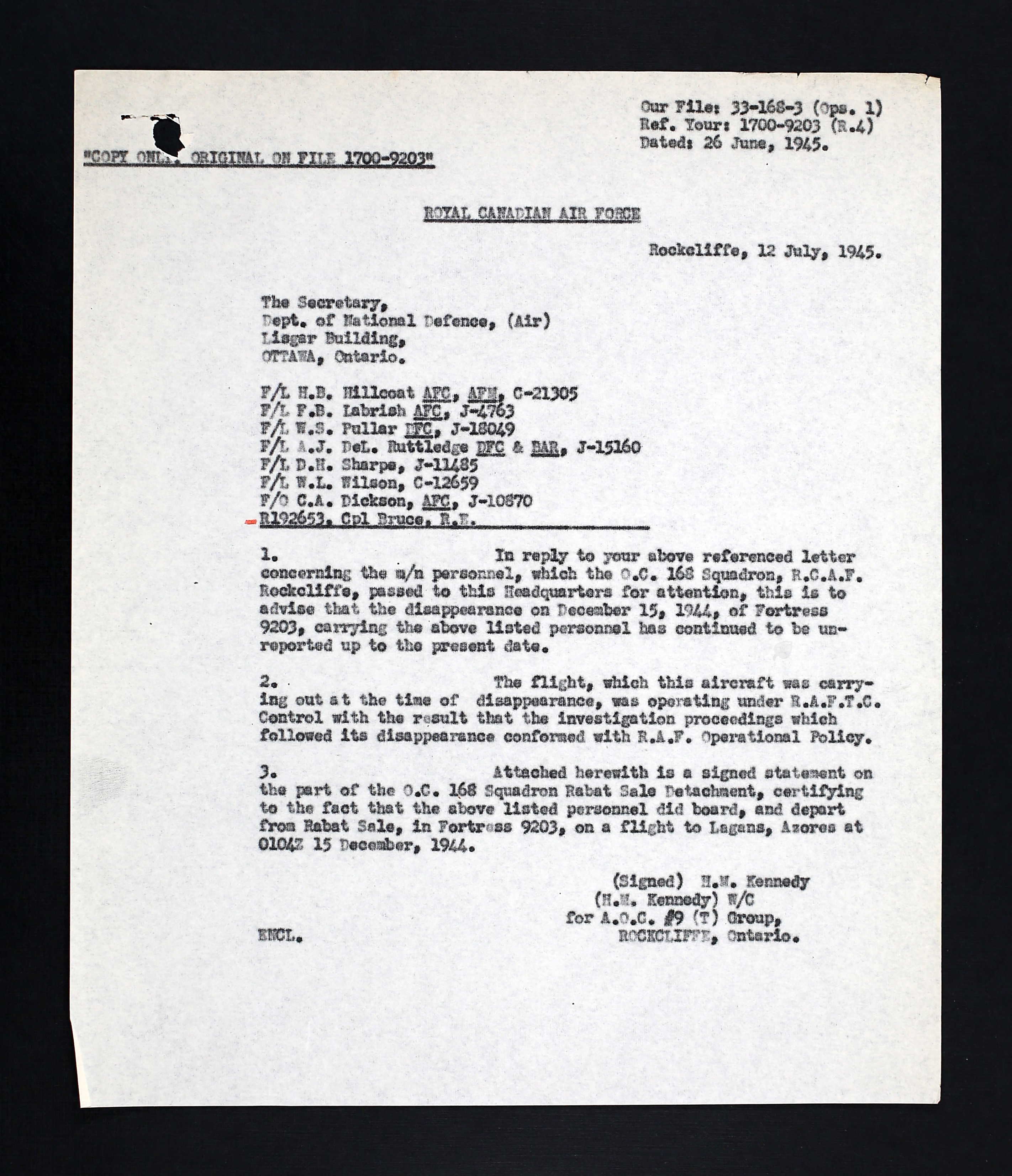 Survey crewman with private pilot's licence joined RCAF as pilot. He served three tours, earning the DFC and Bar, and returned to Canada, posted to Rockcliffe. Aboard Fortress 9203, he and crew and passengers were lost over the Atlantic Ocean.
Alfred John De Laune Ruttledge, known as Jack, born in Winnipeg, Manitoba, was the only child of John H. de Laune Ruttledge (1873-1942), employee at the Department of Highways, and Daisy (nee Bagley) Ruttledge (d. 1917) of Grimsby, Ontario. The family was Anglican.
He stood 6'2" tall and weighed 168 pounds. An abscess scar on his left forearm, plus another two scars were noted on his right ankle and instep; he fractured his right hand in 1934, but healed well. He had brown eyes and dark hair.
"Three years high school. No certificates. 42 hours solo (Brantford Norfolk Aero Club). Two winters ground instruction with above named club. Sports: Cricket, football, tennis, etc. Hobbies: Flying and philately. Personality: Very good manner and approach. Quiet. Assured. Good looking (English type). Dependable, well-mannered, a good type. Looks like English lad from fairly good private school. Seems intelligent and is extremely keen. Believe he is worth our consideration." April 9, 1940, London, Ontario. Jack was recommended for pilot.
Jack had attended public school in England from 1922-1929, then Bishop's Stratford College, then went to Grimsby High School 1930-1933. (He lived in England for nine years.)
He had a variety of jobs: foreman, farm hand, factory hand, plus worked on a tobacco farm and worked for the Department of Highways one summer on a survey crew. He could drive a car, had his private pilot's licence, plus understood the motor.
He married Marguerite Isabel Watt on March 8, 1941 at Trinity Church, Simcoe, Ontario. She continued to reside in Simcoe.
Jack was at No. 1 ITS from July 22 to September 14, 1940: "Very good pilot material. Splendid type. Commission material, Active in games."
Then he was at No. 9 EFTS October 14 to December 11, 1940: "This airman had a little previous flying experience before entering the RCAF. He has good hands, is fair on aerobatics and good on instruments. He is a steady type of pilot." Ground Training: "17th out of 29 in class. Conduct: excellent. Ability: average. This airman tries very hard and will perform any duties given him to the best of his ability. He lacks initiative and smartness. With six months training as an NCO, he should become officer material. Attitude towards the service: very good."
Jack was then sent to No. 5 SFTS. He was at Debert March 22, 1941 for service overseas. (In June 1941, he was at Bassingbourn Hospital for three days: minor cuts on scalp, cuts on face, abrasions on left thigh and right leg. His injuries happened while on duty.)
Jack completed two operational tours and one non-operational tour. He served with 57 Squadron, then with 161 Squadron, then with 138 Squadron, then with No. 1575 Flight, then with 624 Squadron, taking him from England to North Africa. Jack earned the DFC with No. 138 Squadron. While with 624 Squadron, he was awarded a Bar to the DFC. [See documents above for his service information.]
He was also awarded the Dutch Flying Cross, July 3, 1945.
August 1, 1944: "He is to be employed at a Test and Development Establishment." He was at Rockcliffe by September 4, 1944.
Jack was aboard Fortress 9203 as a co-pilot in December 1944 returning to Canada. The crew and passengers were on a transatlantic flight from French Morocco to Canada via the Azores. A few mailbags were spotted floating on the surface during the search.
CREW: • F/L Horace Brougham 'Pat' Hillcoat, Pilot, Ottawa, Ontario • F/L Frederick Blair La Brish, Navigator, Regina, Saskatchewan • F/L Alfred John De Laune Ruttledge, Co-pilot, Simcoe, Ontario • F/O Cecil Alexander Dickson, WO, Edmonton, Alberta • Cpl. Robert Emerson Bruce, crewman, Victoria, BC PASSENGERS: • F/L William Stewart Pullar, passenger-Pilot, Delia, Alberta • F/L Douglas Haig Sharpe, passenger-Navigator, Montreal, Quebec, • F/L William Laurel Wilson, administrative officer, Chatham, Ontario
(See Dave O'Malley's article. for additional information and photos.)
July 9, 1945: "The situation is that the RAF look upon this as an operational flight, concerning which they usually take no action beyond a circumstantial report. No. 9 Group can produce witnesses' statement showing that the personnel concerned were actually in the aircraft when it left Rabat, that no other call was made enroute and that nothing further is known of the aircraft since its disappearance."
Marguerite received a letter in late October 1955 informing her that since Jack had no known grave, his name would appear on the Ottawa Memorial.
LINKS: