Alexander McDonald Morgan R102709
March 26, 1915 - January 8, 1942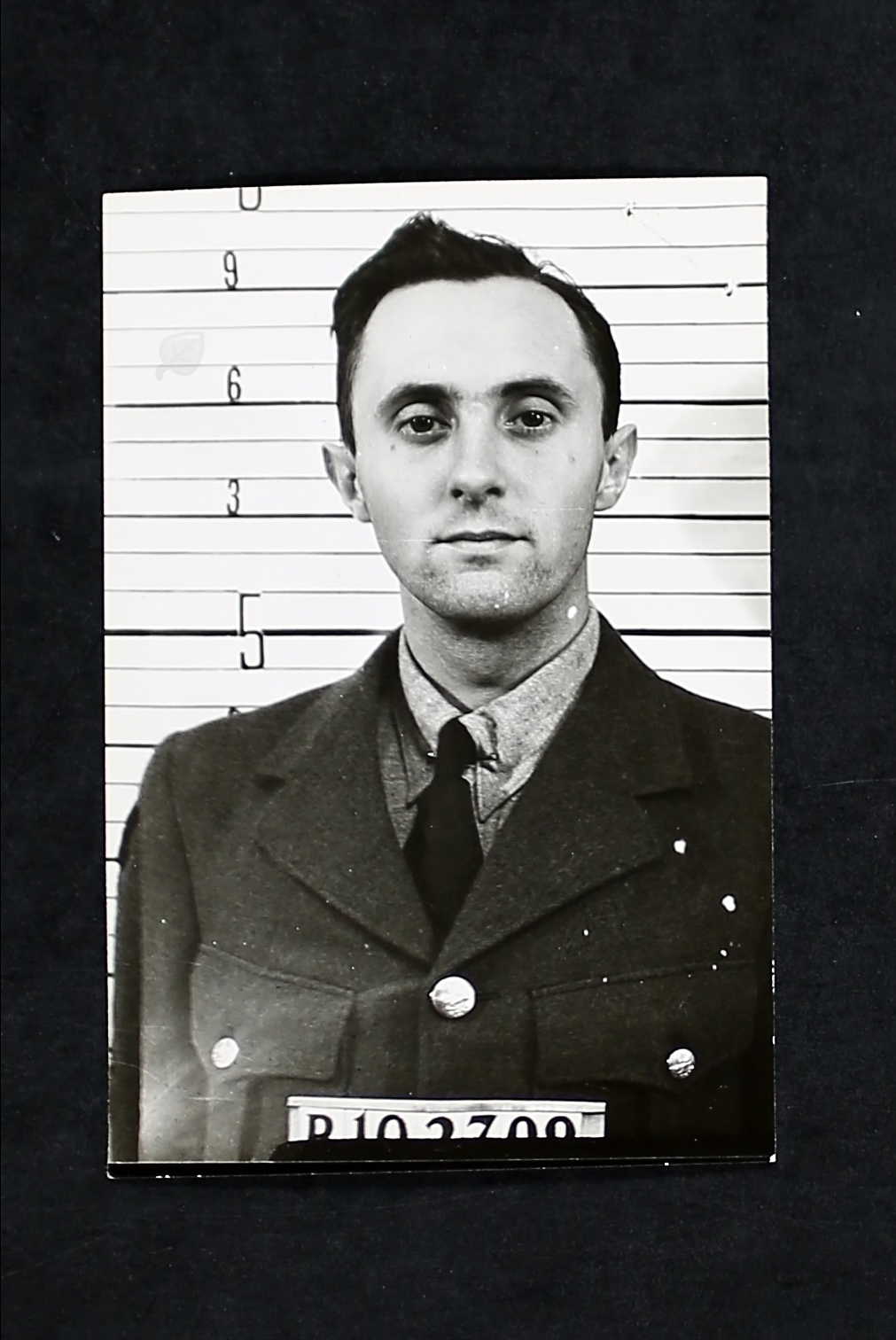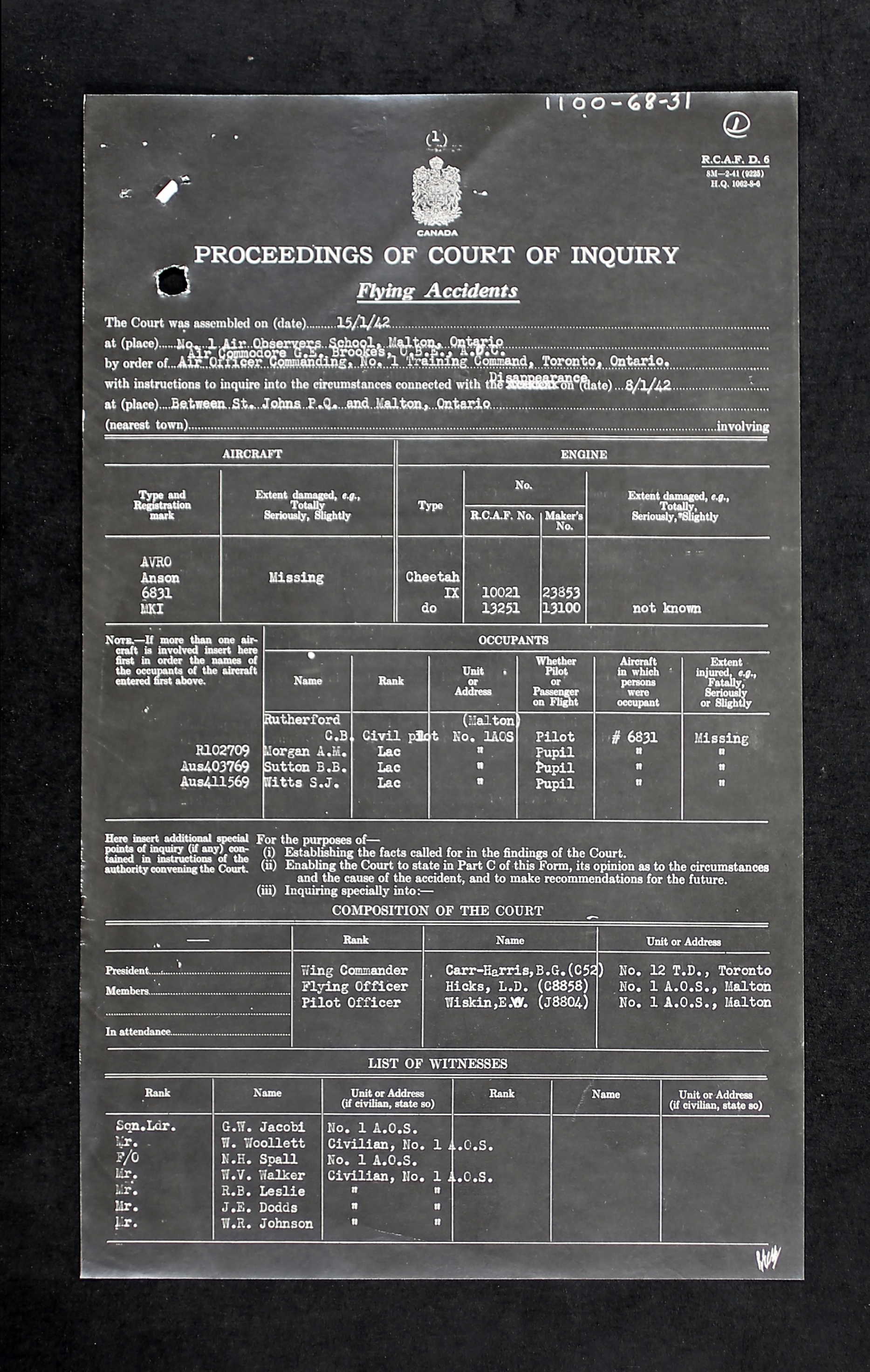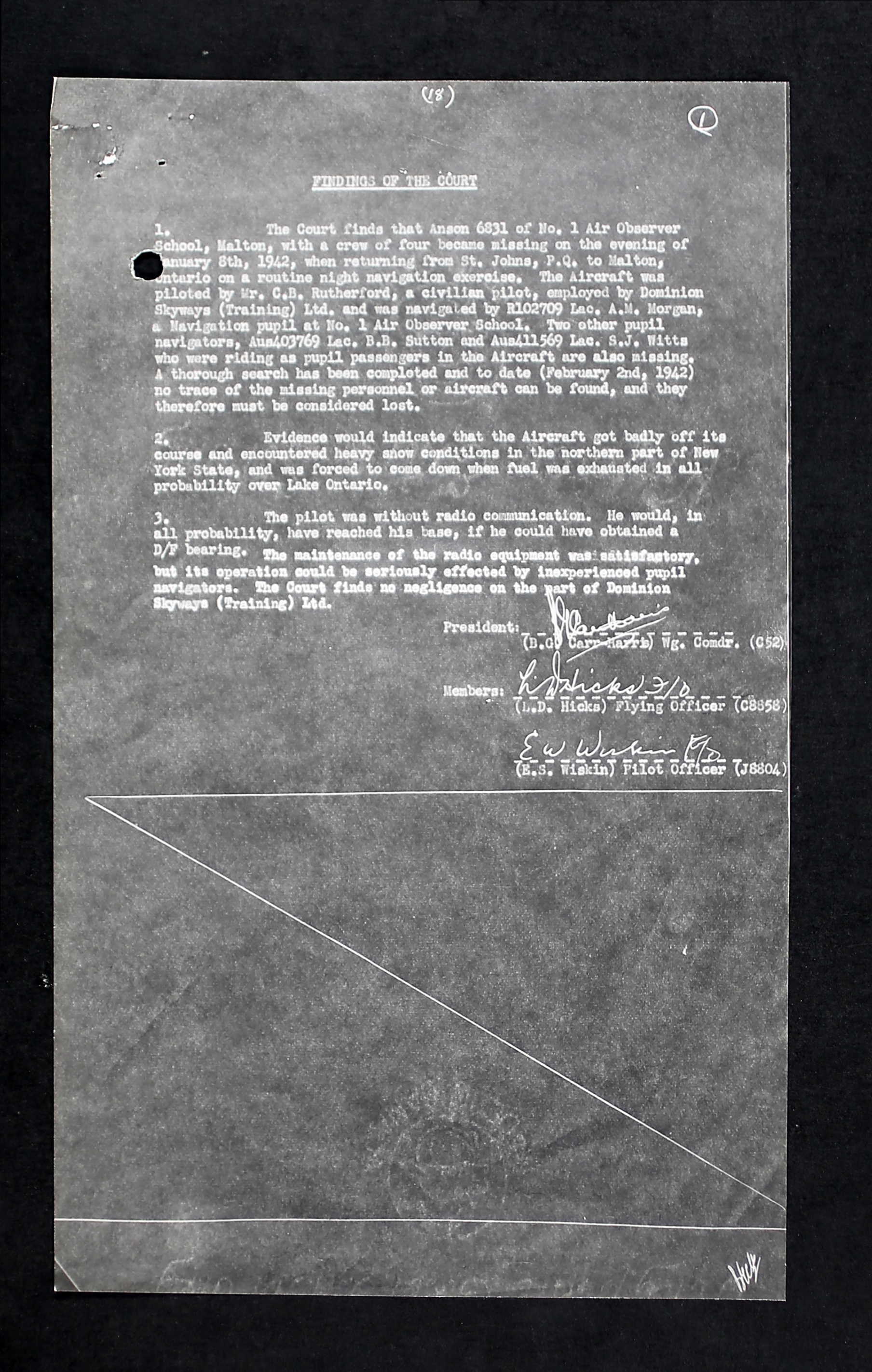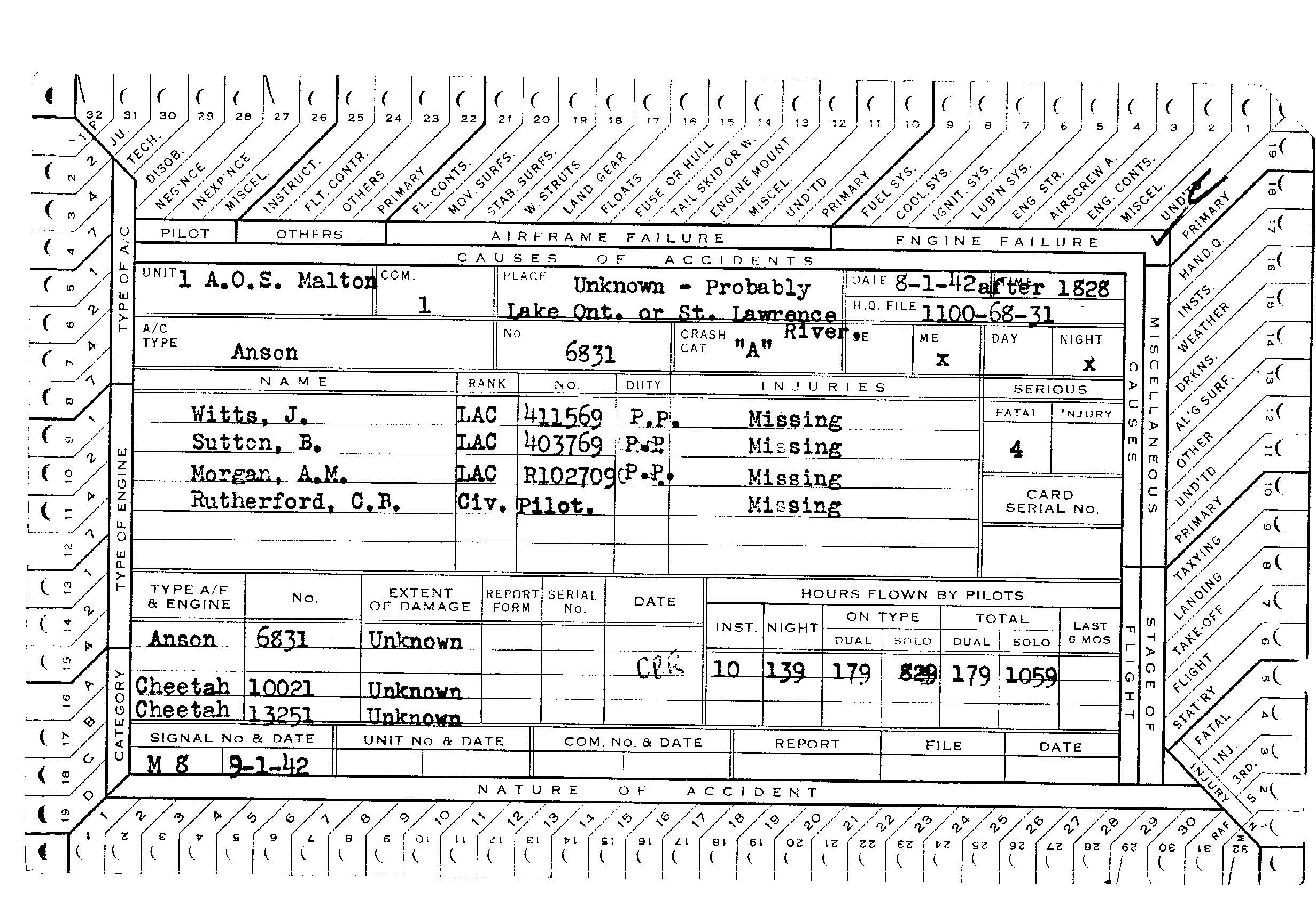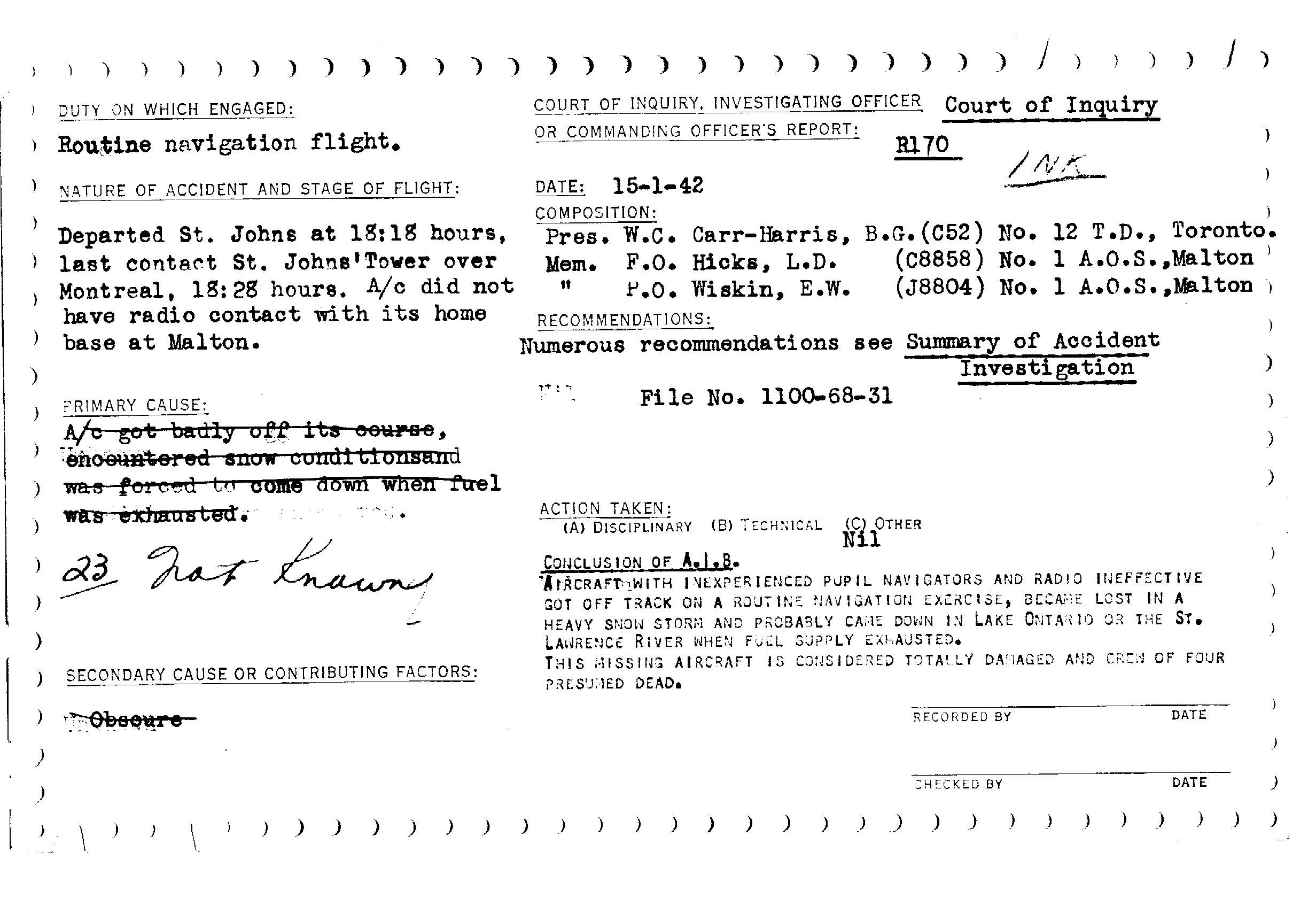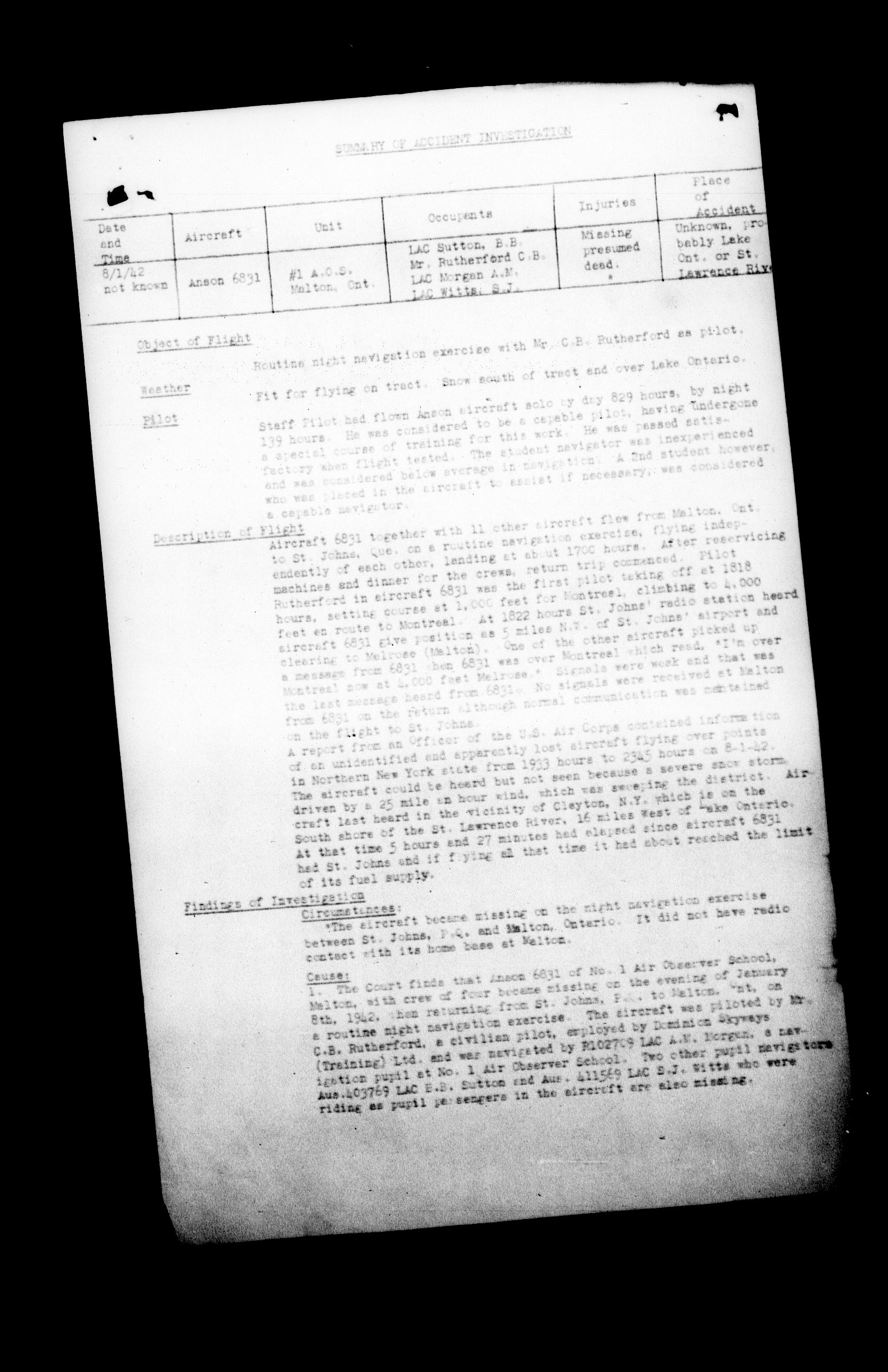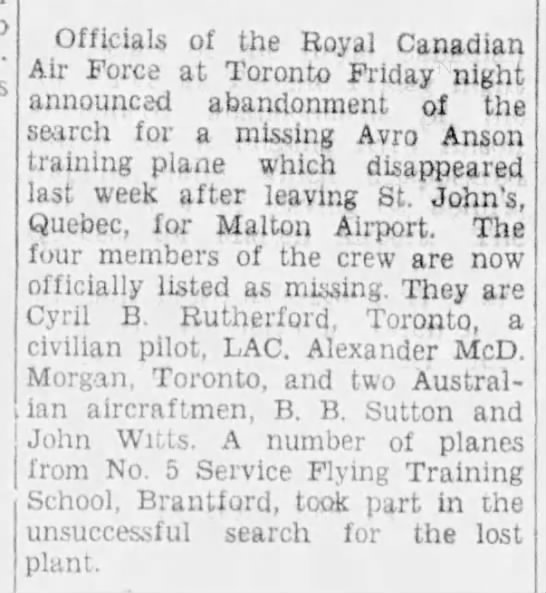 Radio singer joined RCAF and trained as navigator, wanting pilot. He, along with pilot and two other navigation students, became lost over Lake Ontario encountering heavy snow, January 1942.
Alexander McDonald Morgan was the oldest child of Fred Morgan (1882-1976), lumber dealer, and Frances Adora (nee McDonald) Morgan (1886-1952) of Toronto, Ontario. He had one brother and one sister. They attended the United Church.
Alex had a submucous resection in 1938, his tonsils removed in 1925. He had been a singer in a night club from 1935-36, in San Diego, California, but his contract was terminated. He sung at the Santa Anita Club in 1936 before returning to Toronto where he worked as a singer with CBC from 1937-1940, moving to Winnipeg in 1939-1940, then worked as a clerk in 1940 and then as an inspector of some sort in 1941. "Organized a male quartette that toured the country with Roly Young's show 'Chin Up' [musical wartime revue] and would be glad to devote some time towards entertainment." Roly Young, a reporter and film reviewer for the Globe and Mail, was one of Alex's references.
Alex first applied to the RCAF on September 26, 1939, but "heard nothing after applying; applied as a clerk." He applied again to the RCAF in July 1940 to be a clerk or typist. He indicated he was on the school swimming team and enjoyed speed skating. Alex smoked ten cigarettes a day and drank alcohol occasionally. 'Wiry, slightly poorly developed. Fit, underweight. Small frame with firm muscles. Active." Alex stood 5'9" tall and weighed 121 pounds. He had brown eyes and black hair. "This man has better than average education. A little shooting, moderate sport, might make a good Observer." In April 1941: "Choice No. 1 Pilot. 2. Observer. 3. Remuster. Pleasant chap. Poor physique. Should think of endurance. Stamina good. Good intelligence. Better on the ground." His 40 mm test was "not very good." By April 4, 1941, he was considered satisfactory. "Wants pilot; intelligent, alert. Just average aircrew material." He was accepted on April 29, 1941. By this time, he stood 5' 10 ½" tall and weighed 135 pounds.
In July 1941, Alex filled out additional forms. "Since 1934, I have been engaged as a singer in radio, dance bands etc. and have worked in various cities in the United States and Canada. My contracts were not extended over the six-month limit, although for the past four years, I have worked for the CBC in Toronto and Winnipeg. My earnings since 1934 have varied from $25 to $90 per week. Although the work was not heavy, the hours, especially traveling with the bands were unusually irregular and quite often long. In 1939, while working at the CBC Toronto, I took the Shaw course in junior accounting and typing because I thought it might prove useful sometime; I was average in my progress of the study. I probably should have continued in my line of work until such time that I could have established myself through saving and investing my earnings, into a small business. Nothing definite in mind for the future years." He added, "I worked every summer in my father's machine shop and lumberyard. I saved my earnings and took a few vocal lessons, and also spent a little on amateur radio." About his aviation interest: "I took no steps to follow up my application except frequent visitations to the recruiting office. In 1939, I was not up to the requisite for pilots so applied as observer. However, I would appreciate the opportunity to try for pilot. What led me to join the Air Force is that it is one branch of the service for which I have an interest and I believe in its future." Alex noted he could drive a car. "My leisure time is spent at the movies, dancing, listening to the radio, reading, and following various sports events like hockey. I read the newspaper about 30 minutes for more a day; my favorite actor is Lionel Barrymore. Besides music at which I spent considerable time, I had a small sport car that I really enjoyed..." He had been in a car accident three years prior and damage was approximately $150. He spent a few months' vacation with a mining outfit in the Sierras. He thought he was well qualified as a member of aircrew because "I think I'm of average intelligence, possess considerable nerve, and have not suffered from unusual ills. I think I should be most useful as a fighter pilot." He underlined the words active, adventurous, calm under pressure, cheerful, good natured, impatient, impulsive, nervous, and self-confident.
Alex married Audrey May Higgin on April 25, 1941, in Toronto.
He started his journey at No. 1 Manning Dept, Toronto, May 16, 1941. He was then sent to Port Albert and No. 31 ANS June 10, 1941. In mid-May 1941, Alex was written up. "Certified no entry." He was at No. 1 ITS, August 8 to September 12, 1941. He was 31st out of 33 in his class with 81%. "Reserved, cool airman. Capable of a fine showing." Alex then returned to No. 1 Manning Depot until being sent to No. 1 AOS, Malton, Ontario September 29, 1941.
Lost board Anson 6831 while on a night navigation flight on January 8, 1942, from St. John's, Quebec to No. 1 AOS, Malton, Ontario: LAC Alexander McDonald Morgan, RCAF, R102709, LAC Bede Bernard Sutton (1910-1942) RAAF, 403769, and LAC John Witts (1918-1942), RAAF, 411569. The pilot (instructor) was a civilian: Cyril B. Rutherford, pilot instructor from Dominion Airways. He was a veteran of the First World War, according to a newspaper article.
The Court of Inquiry called eight witnesses over January 15 to January 28, 1942. "PLACE OF ACCIDENT: Unknown. Probably Lake Ontario or St. Lawrence River. WEATHER: Fit for flying on tract. Snow south of tract and over Lake Ontario. PILOT: staff pilot had flown Anson aircraft solo by day 829 hours, by night 139 hours. He was considered to be a capable pilot, having undergone a special course of training for this work for a period of 12 weeks attending lectures on navigation given by the supervisory staff. He obtained above average on written examinations. He was passed satisfactory when flight tested. The student navigator was inexperienced and was considered below average in navigation. A second student however who was placed in the aircraft to assist if necessary was considered to be a capable navigator. DESCRIPTION OF FLIGHT: aircraft 6831 together with eleven other aircraft flew from Malton, Ontario to St. John's, Quebec on a routine navigation exercise, flying independently of each other, landing at about 1700 hours. After re-servicing machines and dinner for the crews, return trip commenced. Pilot Rutherford in Aircraft 6831 was the first pilot taking off at 1818 hours, setting course at 1000 feet for Montreal, climbing to 4000 feet on route to Montreal. At 1822 hours, St. John's radio station heard Aircraft 6831 give position as five miles northwest of St. John's airport and clearing to Melrose/Malton. One of the other aircraft picked up a message from 6831. When 6831 was over Montreal which read, "I'm over Montreal now at 4000 feet Melrose;" signals were weak and that was the last message heard from 6831. No signals were received at Malton from 6831 on the return although normal communication was maintained on the flight to St. John's. A report from an officer of US Air Corps contained information of an unidentified and apparently lost aircraft flying over points in northern New York State from 1933 hours to 2345 hours on January 8th, 1942. The aircraft could be heard but not seen because of a severe snowstorm, driven by a 25 mile an hour wind, which was sweeping the district. Aircraft last heard in the vicinity of Clayton, NY which is on the South Shore of the Saint Lawrence River, 16 miles west of Lake Ontario. At that time five hours and 27 minutes had elapsed since Aircraft 6831 left St. Johns and if flying all that time, it had about reached the limit of its fuel supply." Pilot Rutherford and his pupils had done two hours night flying on January 7th and 2 ½ hours on the trip to St. John's.
The third witness, F/O N. H. Spall, Navigation Instructor at No. 1 AOS stated that he was content that the weather conditions were satisfactory to complete the exercise. LAC Alexander Morgan was detailed to navigate Anson 6831 from St. John's to Malton. "I considered him below average. He was unable to keep up with the previous class and was put back for further training in class #35; on his final exams with the class, he obtained a 64.7%, placing him 23rd out of a class of 25. He was purposely put in this plane with LAC Witts who was considered by me as a capable navigator and could assist him if necessary. In my opinion he was temperamentally unsuited for this type of work. LAC Sutton was not detailed to do any of the navigating."
The fifth witness, Senior Pilot with Dominion Skyways (Training) Ltd, R. B. Leslie stated, "Evidently C. B. Rutherford in 6831 misunderstood instruction and took off first at 181 hours, followed by Mr. Walker in 6531 at 1819 hours. I had detailed Mr. Walker to take off first and the rest to follow at intervals when ready. All aircraft were off the ground by 1928 hours. If a pilot becomes lost, he will try and establish his position either by D/F or radio range, this he will set an approximate course for home base or in the case of flight St. John's to Malton, whichever he thinks is closest, try and recognize some marks on the way – if unable to locate himself within the time limit of the aircraft, he would attempt a forced landing. In my opinion, Rutherford would have carried out this procedure. All pilots here are instructed to act accordingly and have done so when conditions warranted it. We are authorized to go fifteen minutes or up to 50 miles if safety of aircraft is not endangered. But in practice, 10-15 miles is usually the limit before correction."
The eighth witness, Radio Superintendent, J. F. Hooper stated that "Rutherford made more extensive use of radio in the air than other pilots as our records show, and he was very particular about the least thing out of order or not as it should be. He had normal and satisfactory communication with Malton on the trip to St. John's. Pilots have instructions in case they cannot receive Malton to report their position, course and altitude anyway. Record show that Rutherford checked his radio equipment before leaving St. John's. Efforts were made every ten minutes from 1400 to 1700 hours on January 9, 1942. We broadcasted and the following signal 'search held up owing to weather.'"
"The aircraft became missing on a night navigation exercise between St. John's, PQ and Malton, Ontario. It did not have radio contact with its home base at Malton." FINDINGS OF THE COURT: "The court finds that Anson 6831 of No. 1 Air Observer School, Malton, with a crew of four became missing on the evening of January 8th, 1942, and returning from St. John's, Quebec to Malton, Ontario on a routine night navigation exercise. The aircraft was piloted by Mr. C. B. Rutherford, a civilian pilot, employed by dominion skyways (Training) Ltd. and was navigated by LAC AM Morgan, a navigation pupil at No. 1 Air Observer School. Two other pupil navigators LAC Sutton and LAC Witts, both Australian, who were riding as pupil passengers in the aircraft, are also missing. A thorough search has been completed and to date, February 2nd, 1942, no trace of the missing personnel or aircraft can be found, and they therefore must be considered lost. Evidence would indicate that the aircraft got badly off its course and encountered heavy snow conditions in the northern part of New York State and was forced to come down when fuel was exhausted in all probability over Lake Ontario. The pilot was without radio communication. He would, in all probability, have reached his base, if he could have obtained a D/F bearing. The maintenance of the radio equipment was satisfactory, but its operation could be seriously affected by inexperienced pupil navigators. The court finds no negligence on the part of Dominion Skyways (Training) Ltd."
"RECOMMENDATIONS: that all civilian pilots at air observer schools be warned again not to rely on the accuracy of their pupil navigators; And that in the event of radio trouble, pilots must not attempt to complete the flight but must land at the point of takeoff or at the nearest airdrome, when it is apparent that contact flying is not possible. That the possibility of providing equipment with adequate communication channels, at least four, to air observer schools be investigated. That the possibility of providing W/T operators to air observer schools on the scale of one per aircraft be investigated. The provision of W/T operators at air observers schools will eliminate operational difficulties during changing aerials etc. That the W/T organization, and in particular the D/F organization in each command be given adequate prominence in confidential communication orders."
The Accident Investigation Branch's comment, by G/C F. S. Wilkins: "Aircraft with inexperienced pupil navigators and radio ineffective got off track on a routine navigation exercise, became lost in a heavy snowstorm and probably came down in Lake Ontario or the St. Lawrence River when fuel supply exhausted. This missing aircraft is considered totally damaged and crew of four presumed dead."
Bits of wreckage were found in April 1942 along the shore of Lake Ontario in New York state. All three trainee navigators are commemorated on the Ottawa Memorial. Alexander Morgan is also remembered on his family's headstone in Agincourt, Ontario.
In late October 1955, Audrey had remarried, continuing to live in Toronto with her second husband, Mr. Tissington. She received a letter informing her that since Alex had no known grave, his name would appear on the Ottawa Memorial.
LINKS: