Alexander Rentoul Montgomery J10018
July 2, 1917 - May 9, 1942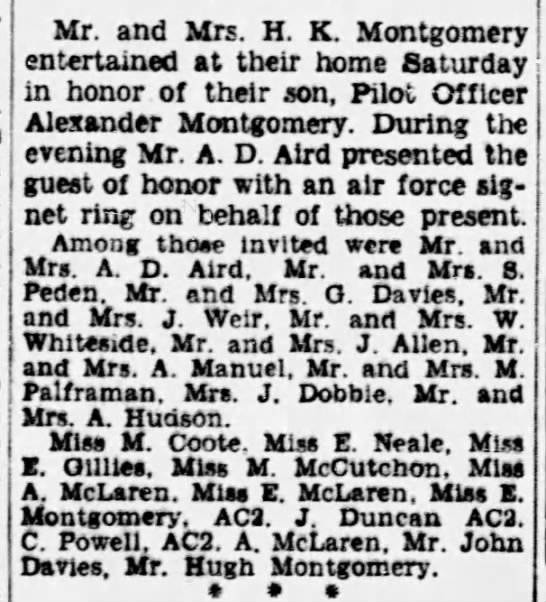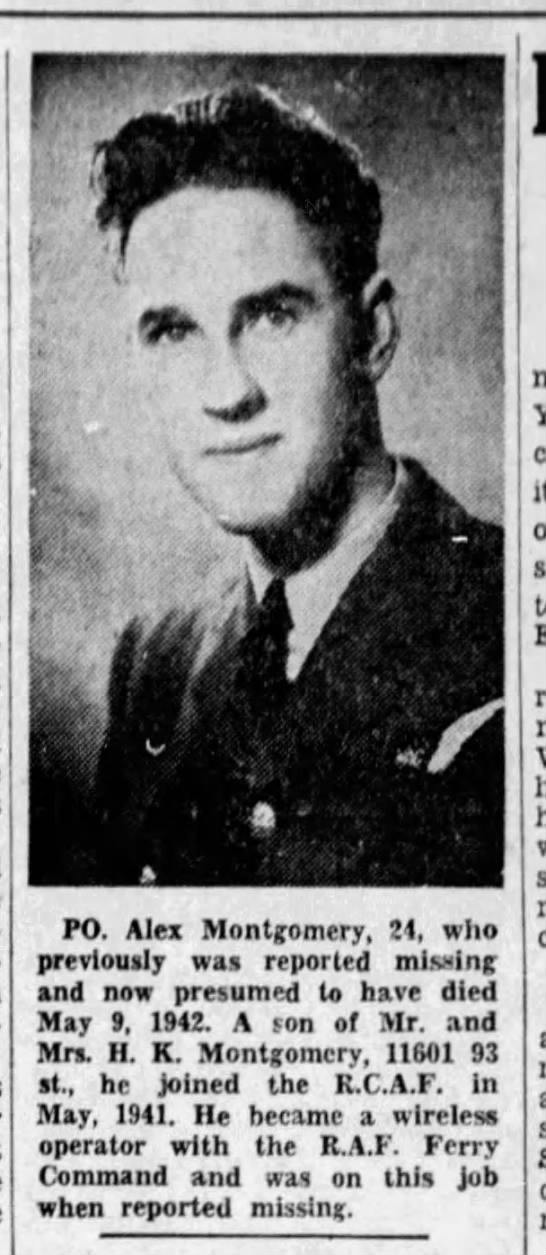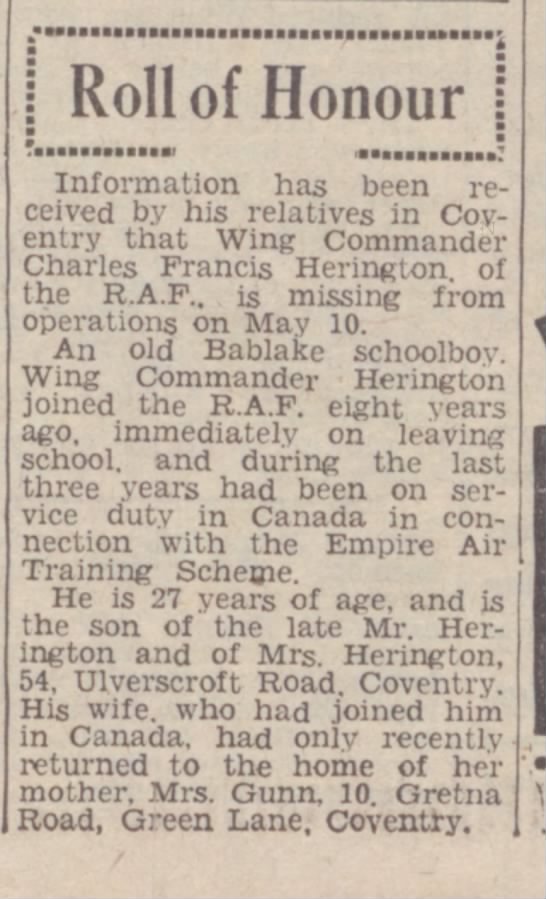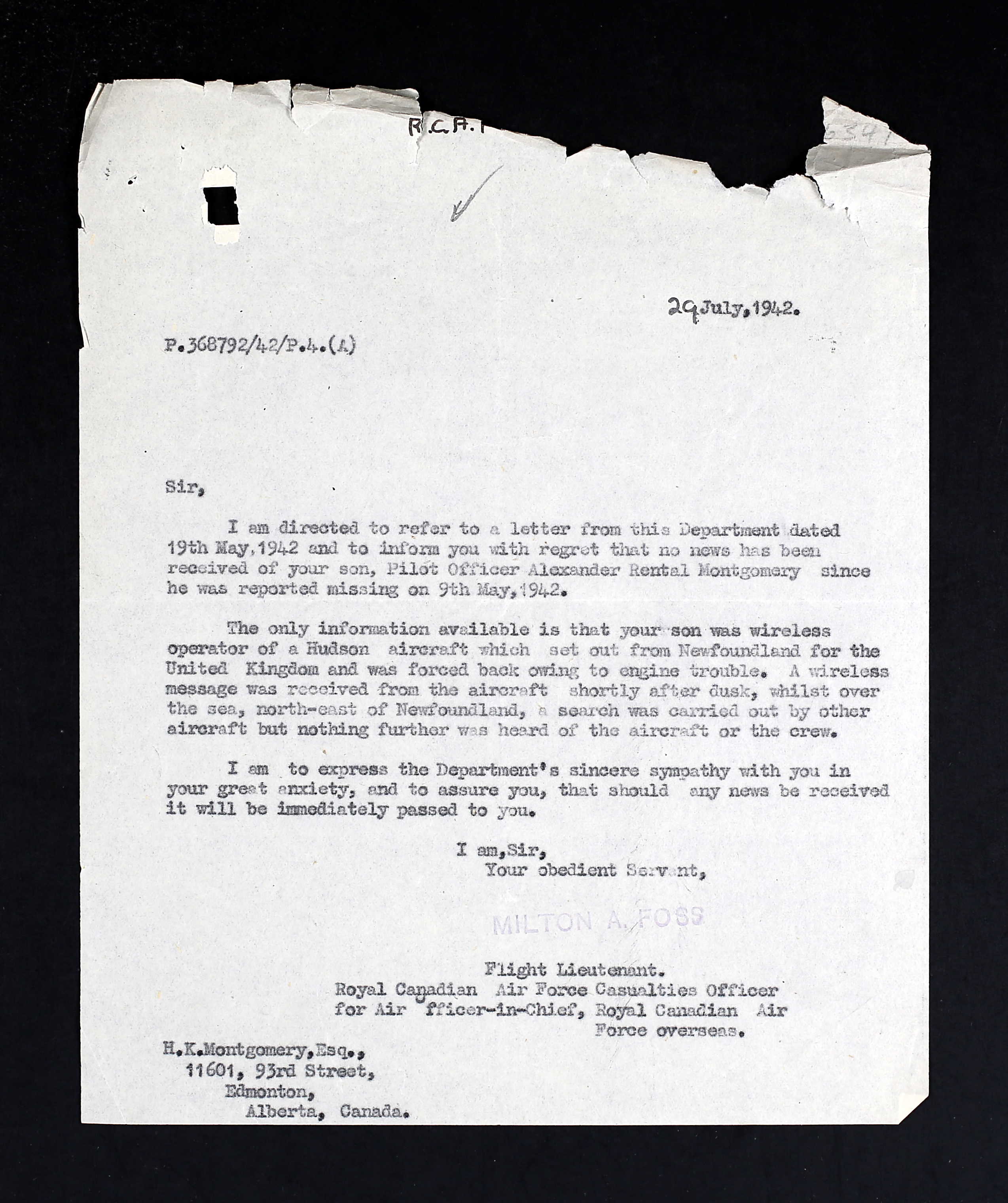 Safeway grocery clerk from Edmonton joined RCAF as wireless operator. Aboard Hudson FH269, he and pilot were lost northeast of Newfoundland after having engine trouble.
Alexander Rentoul Montgomery was the son of Hugh King Montgomery (1885-1970), motorman on the Edmonton Street Railway, and Margaret Tipping (nee Mulbery) Montgomery (1885-1945), of Edmonton, Alberta. He had one brother, Hugh King, Jr. who served with the RCNVR, and one sister, Ethel Pearce. Two infant sisters died at birth. He noted he attended the United Church.
Alex worked as a grocery clerk for Safeway for five years prior to enlisting with the RCAF. "Clean cut young man. Good educational qualifications. Alert type, sincere. Recommended." Prior military experience in the 19th Alberta Dragoons as a trooper in the NPAM for about ten months. He had a successful submucous resection for a deviated septum in 1938. He smoked two to three cigarettes per day and indicated he did not drink alcohol. He enjoyed music (violin) and playing hockey, skiing, and swimming, plus baseball. He stood 5'8" tall and weighed 140 pounds in February 1941. He had hazel eyes and black hair. He was considered wiry and alert. A linear scar on his right forefinger was noted. "Accommodation borderline. Good type of boy." Alex was accepted into the RCAF May 26, 1941, recommended as a Wireless Operator.
He was taken on strength at No. 2A Manning Depot, Penhold, Alberta May 28, 1941 until sent to No. 37 SFTS, RAF, Calgary June 21, 1941. He was then sent to HQ No. 4 TC July 7, 1941 until sent to No. 2 Wireless School, Calgary in August 1941. Alex was in the station hospital from November 5 – 11, 1941. He was then sent to No. 8 B&G School, Lethbridge from January 4 to March 8, 1942. From there, he headed east to No. 31 O.T.U. Debert, Nova Scotia until May 9, 1942. He was assigned to Ferry Command, based out of Dorval, Quebec.
Alex received his commission on February 2, 1942. To celebrate, Alex was home and his parents entertained him with at least two dozen people attending. He received an air force signet ring, according to the Edmonton Journal.
A letter dated July 20, 1942, to Mr. Montgomery from F/L Milton A. Foss, RCAF Casualties Officer: "I am directed to refer to a letter from this department dated May 19th, 1942, and to inform you with regret that no news has been received of your son, Pilot Officer Alexander Montgomery since he was reported missing on May 9th, 1942. The only information available is that your son was wireless operator of a Hudson aircraft which set out from Newfoundland for the United Kingdom and was forced back owing to engine trouble. A wireless message was received from the aircraft shortly after dusk, whilst over the sea, northeast of Newfoundland; a search was carried out by other aircraft but nothing further was heard of the aircraft or the crew. I am to express the department's sincere sympathy with you in your great anxiety, and to assure you, that should any news be received, it will be immediately passed to you." The aircraft was Hudson FH269. The pilot was Wing Commander Charles Francis Herrington, RAF. He was 26, commemorated on the Runnymede Memorial, Surrey, UK.
Alex had a bank account with $102.24 balance, plus $75 in war savings certificates.
In late October 1955, Mr. Montgomery received a letter informing him that since Alex had no known grave, Alex's name would appear on the Ottawa Memorial.
LINKS: