Albert Stanford White J23795
September 20, 1920 - December 6, 1944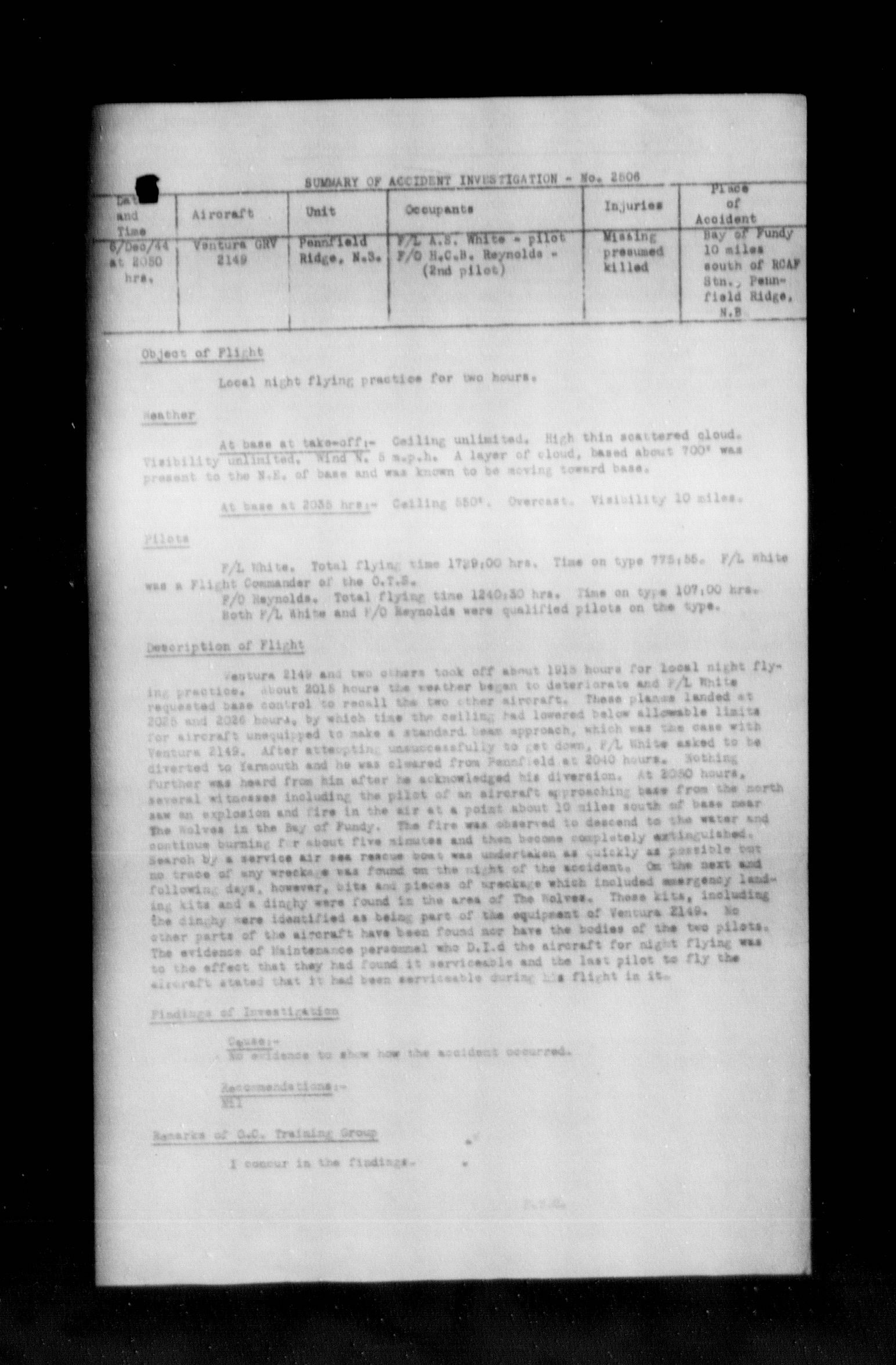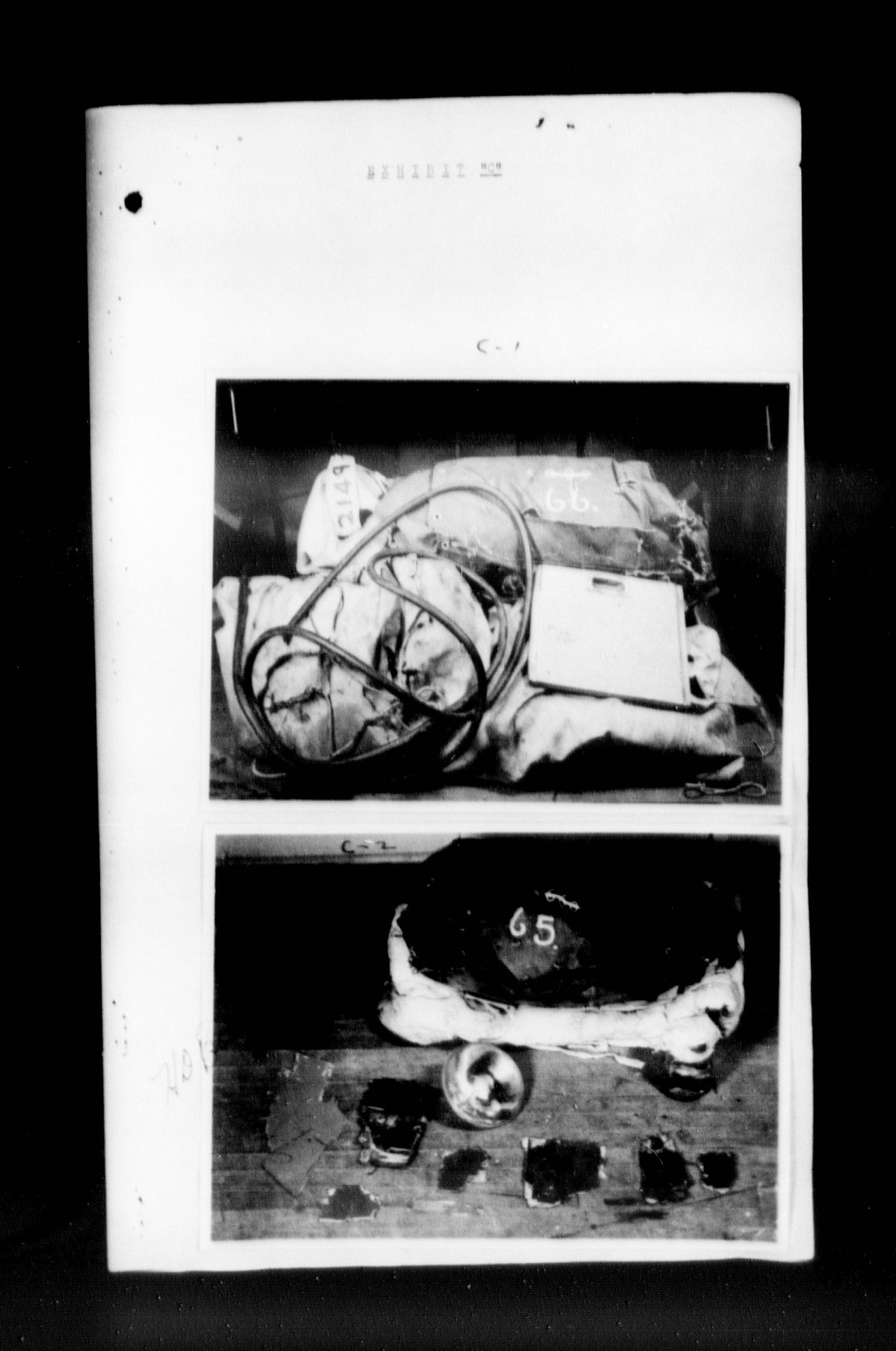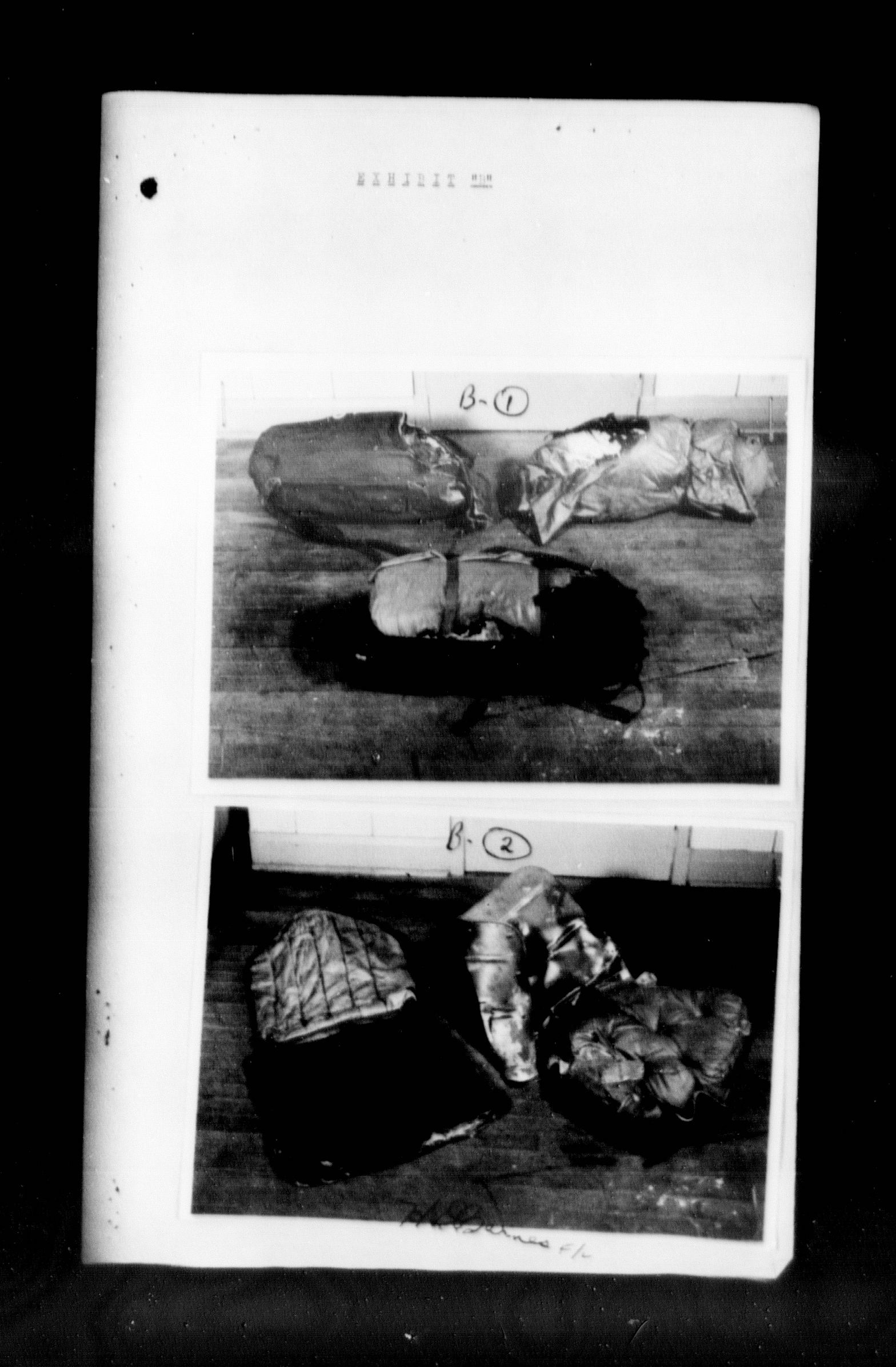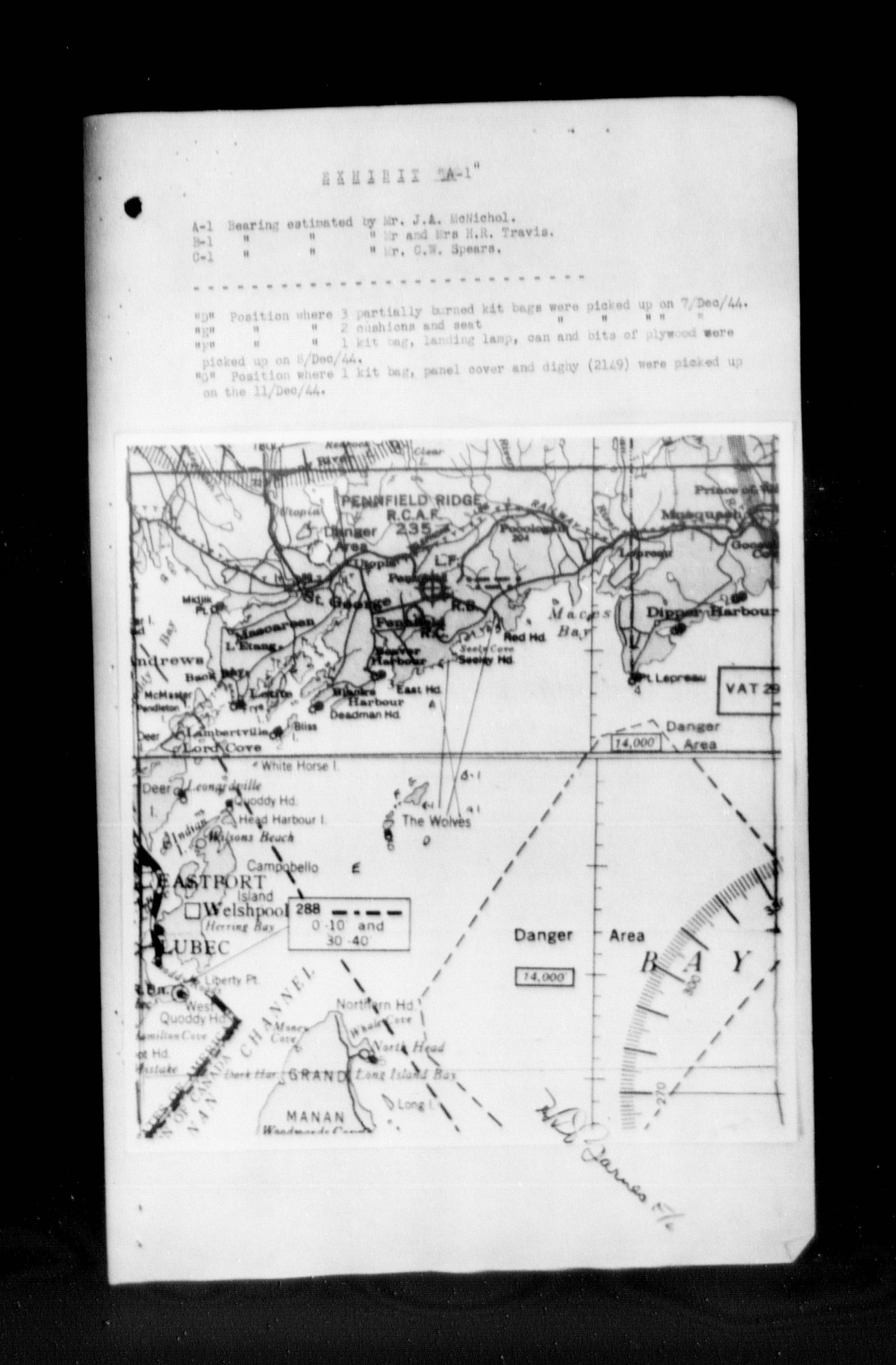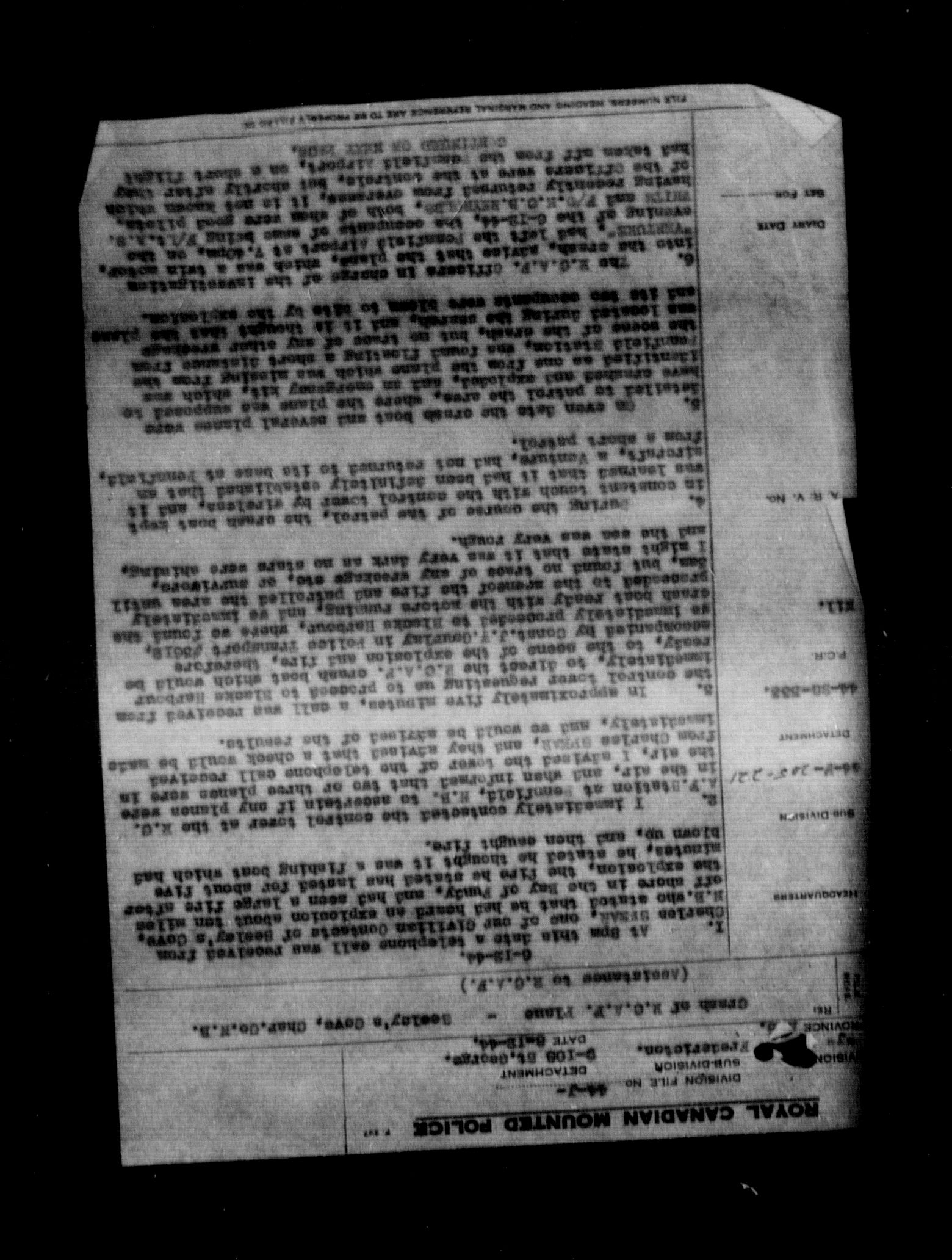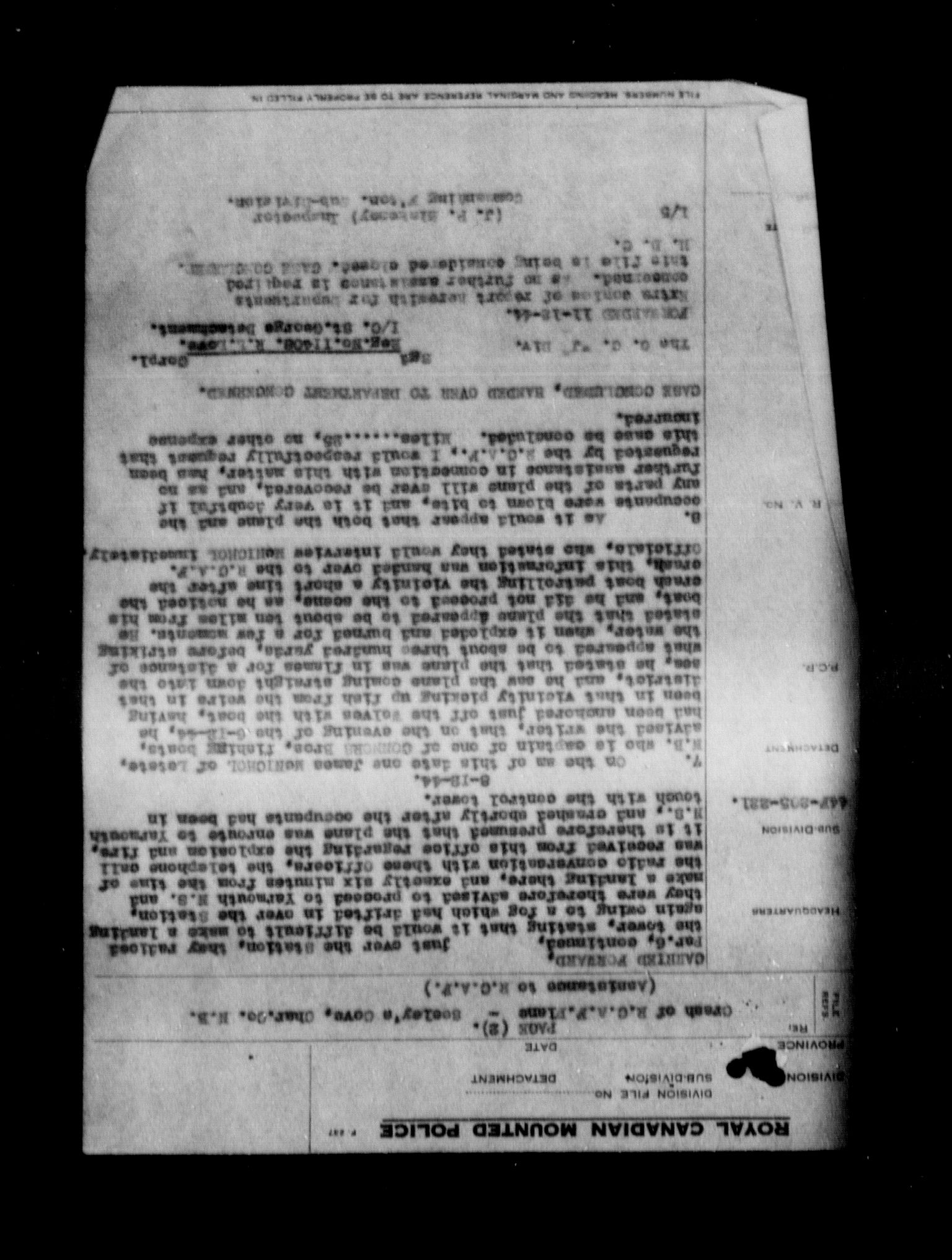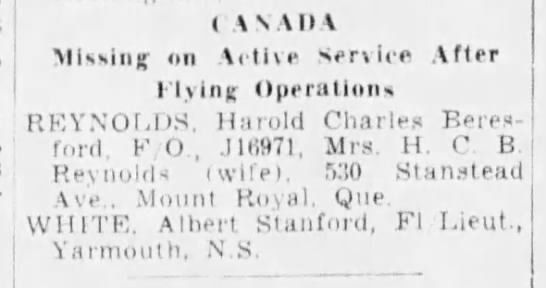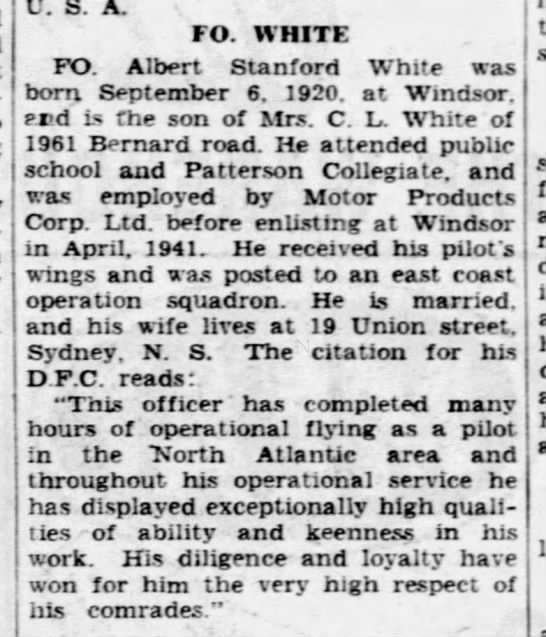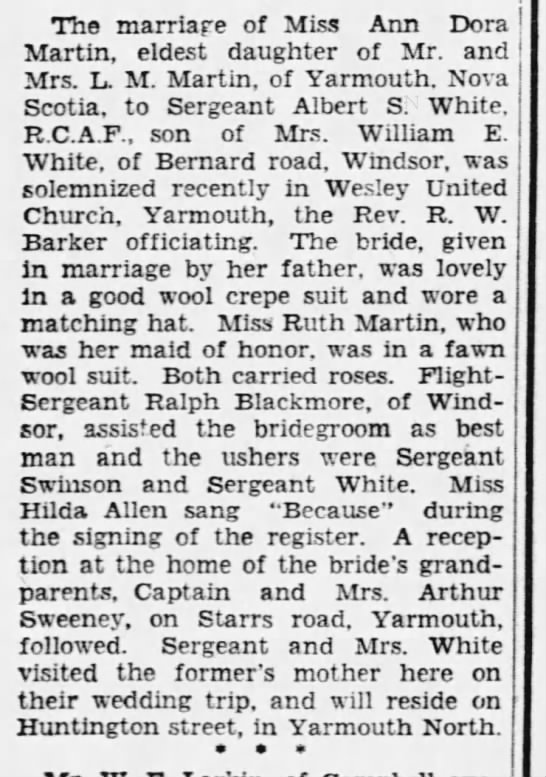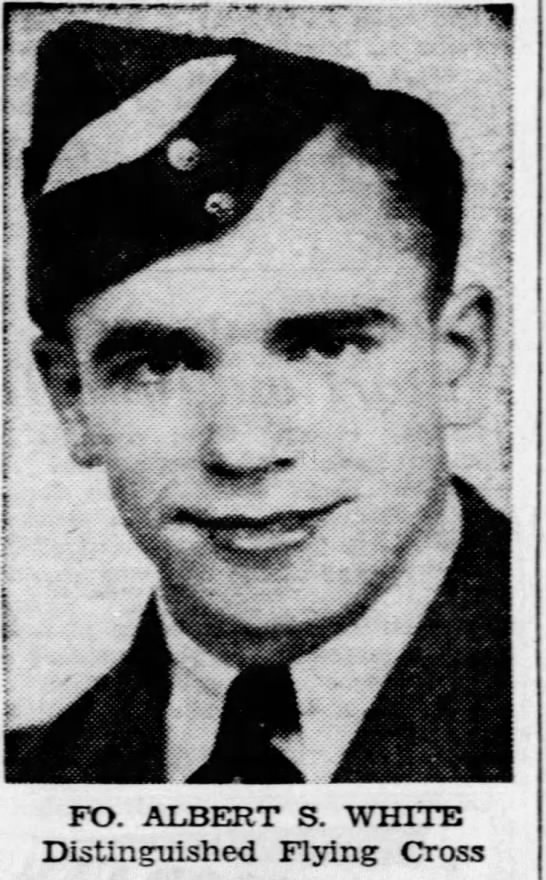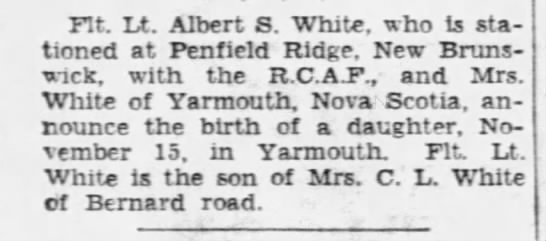 Chrome plater in Windsor became pilot. He flew on both the west and east coasts of Canada, earning the DFC in June 1944 for his work on the North Atlantic. He and another pilot were lost in Ventura 2149 in the Bay of Fundy when the weather began to deteriorate.
Albert Stanford White was the son of Clara Lillian (nee Crowe) White and William Ernest White Sr., painter and decorator, of Windsor, Ontario. He had six brothers and one sister. One brother was killed in a motorcycle accident at the age of 20. The family attended the United Church.
Albert was a chrome plater for Motor Products Corp. Ltd., Windsor, Ontario prior to his application to enlist in the RCAF in the summer of 1940. "Average as to appearance and deportment. Better than average education and athletic ability. Should be able to take Observer's training." He hoped to become a chemical engineer after the war. He could speak French and English, receiving 2nd class honours in senior matriculation. "I have held official positions in Young Men's Club." Sports: football, basketball, track, swimming, softball, baseball, tennis, soccer, badminton, volleyball, and golf. "Examination of June 28, 1940. Diseased tonsils blocked right eustachian tube. Poor airway nose. Good athlete. Medium well developed sturdy type. General physical condition is good. Consider this candidate is mentally and physically fit for all aircrew duties. Not up to average material. Seems like the quiet steady type and with training should do well. Is sincere, determined and not emotional…wants pilot. Average intelligence. Good motives." He was accepted in April 1941. He had hazel eyes and brown hair, stood 5' 9 ½" tall and weighed 160 pounds. A mole on his upper left lip was noted as was a large brown birth mark over sacrum. At the age of 6, he fractured his left clavicle. He indicated he had flat feet, without complaint for seven years, but he would tire after walking.
At No. 1 ITS, Toronto, May 17 to June 20, 1941: "Quiet, earnest type who should do well. Hard worker. Very sincere, with good spirit. Second Aircrew recommendation: Air Observer." He was 51st in his class of 169 with 88%. He was sent to No. 12 EFTS, Goderich, Ontario, until August 8, 1941. "Sincere, prompt, quiet. Rather show at first, but after going solo progressed quite favourably. Aerobatics fair. Instrument flying good, has no glaring faults, however should be given careful instruction." In Ground, he was third out of 36. "A very good pupil In all phases; above average in classroom but needs more flying experience to develop. Flying has progressed favourably. Sincere, quiet type. Conduct very good." Albert was sent to No. 16 SFTS, Hagersville, Ontario, until October 31, 1941. "Slow to grasp instruction at first but showed marked improvement after solo practice sequence. Methodical and interested student. High average pilot." Ground: "An average student. Keen to get ahead but has now shown that he has enough push to follow through. Only fair appearance." Overall: "This student was slow to learn at first, but has worked very hard to a final ability of a high average pilot." He was 13th out of 25 in his class with 69.1%, awarded his Pilot's Flying Badge on November 6, 1941. He was recommended for a bomber squadron.
As Albert did not know the whereabouts of his father, he provided partial support to his mother and younger siblings.
He was taken on strength at No. 13 O.T.U. Patricia Bay, BC November 9, 1941 until February 8, 1942. Travelling to Halifax, he was taken on strength at No. 113 BR, Yarmouth, February 19, 1942. He remained here until May 15, 1943.
Albert married Anne (known as Annie) Dora Martin of Yarmouth, Nova Scotia on November 12, 1942. The mayor of Yarmouth stated in October 28, 1942: "I have much pleasure in recommending Miss Annie Martin as a young lady of splendid moral character, bright, intelligent, and highly regarded in this community." They had a daughter, Linda Diane, born on November 15, 1944.
Albert was in Ottawa (Rockcliffe) for temporary duty in July 1942. He traveled to San Pedro, California, US May 7, 1943. He was at Sydney, Nova Scotia, May 16, 1943, taken on strength at No. 113 Squadron, Torbay, Newfoundland. He was on temporary duty at Dartmouth, NS, October 1943, Mont Joli, Quebec, and Trenton, by April 8, 1944. He was court martialled at Trenton, May 2, 1944. No other information was found about this. By June 18, 1944, he was with 113 Squadron, Sydney, NS to Torbay, Newfoundland.
He was sent to No. 34 O.T.U. Pennfield Ridge, NB June 22, 1944. Albert received the DFC on June 30, 1944. "This officer has completed many hours of operational flying as a pilot in the North Atlantic area and throughout his operational service he has displayed exceptionally high qualities of ability and keenness in his work. His diligence and loyalty have won him the very high respect of his comrades."
On December 6, 1944, aboard Ventura 2149, based out of RCAF Station, Pennfield Ridge, New Brunswick, F/O Harold Charles Beresford Reynolds, J16971 and F/L Albert Stanford White, J23795, DFC, were killed in the Bay of Fundy. "Cause of accident obscure, but apparently due to fire in the air." They were on a local night flying practice (two hours) when the weather started to deteriorate.
Ventura 2149 Investigation
RCMP Report, St. George Detachment, 6-12-44, Fredericton, NB, Inspector J. P. Blakensy [sp?]
"At 8:00 PM this date a telephone call was received from Charles SPEAR, one of our civilian contacts of Seely's Cove, New Brunswick, who stated that he had heard an explosion about 10 miles offshore in the Bay of Fundy, and had seen a large fire after the explosion; the fire he stated has lasted for about five minutes. He stated he thought it was a fishing boat which had blown up, and then caught fire. I immediately contacted the control tower at the RCAF station at Pennfield, New Brunswick to ascertain if any planes were in the air, and when informed that two or three planes were in the air, advised the tower of the telephone call received from Charles Spear and they advised that a check would be made immediately, and we would be advised of the results. In approximately 5 minutes, a call was received from the control tower requesting us to proceed to Black's Harbor immediately, to direct the RCAF crash boat which would be ready, to the scene of the explosion and fire, therefore accompanied by Constable J. W. Geurly [sp?] in police transport vehicle number 3612; we immediately proceeded to Black's Harbor where we found the crash boat ready with the motors running, and we immediately proceeded to the scene of the fire and patrol the area until 3:00 AM, but found no trace of any wreckage etc. or survivors. I might state that it was very dark as no stars were shining, and the sea was very rough. During the course of the patrol, the crash boat kept in constant touch with the control tower by a wireless, and it was learned that it had been definitely established that an aircraft, a Ventura, had not returned to its base at Pennfield from a short patrol. The crash boat and several planes were detailed to patrol the area, where the plane was supposed to have crashed and exploded; an emergency kit, which was identified as one from the plane which was missing from the Pennfield station was found floating a short distance from the scene of the crash, but no trace of any other wreckage was located during the search and it is thought that the plane and its two occupants were blown to bits by the explosion. The RCAF officers in charge of the investigation into the crash, advise that the plane, which was a twin motor Ventura, had left the Pennfield airport at 7:40 PM on the evening of 6-12-44, the occupants of same being Flight Lieutenant White and Flying Officer Reynolds, both of whom were good pilots having recently returned from overseas; it is not known which of the officers were at the controls. But shortly after they had taken off from the Pennfield airport on a short flight just over the station, they radioed the tower, stating that it would be difficult to make a landing again owing to a fog which had drifted in over the station. They were therefore advised to proceed to Yarmouth, NS and make a landing there, and exactly 6 minutes from the time of the radio conversation with these officers, the telephone call was received from this office regarding the explosion and fire. It is therefore presumed that the plane was en route to Yarmouth NS and crashed shortly after the occupants had been in touch with the control tower.
8-12-44. On the AM of this date, one James McNichol who is the captain of one of the Connors Brothers fishing boats [based at Black's Harbour], advised the writer that on the evening of 6-12-44 he had been anchored just off the Wolves with the boat, having been in that vicinity picking up fish from the weirs in that district, and he saw the plane coming straight down into the sea, he stated that the plane was in flames for the distance of what appeared to be about 300 yards before striking the water, when it exploded and burned for a few moments. He stated that the plane appeared to be about 10 miles from his boat, and he did not proceed to the scene as he noticed the crash boat patrolling the vicinity a short time after the crash. This information was handed over to the RCAF officials, who stated they would interview McNicol immediately. As it would appear that both the plane and the occupants were blown to bits, and it is very doubtful any parts of the plane will ever be recovered, and as no further assistance is connected with this matter, has been requested by the RCAF, I would respectively request that this case be concluded. Miles 25, no other expenses incurred. Case concluded handed over to department concerned."
SUMMARY OF Court of Inquiry, where twelve witnesses were called: "Occupants: F/L White: pilot; F/O Reynolds, 2nd pilot. Location of Accident: Bay of Fundy, 10 miles south of RCAF Station, Pennfield Ridge, NB. Date and Time: December 6, 1944, at 2050 hours. OBJECT OF FLIGHT: local night flying practice for two hours. WEATHER: At base at takeoff: ceiling unlimited. High thin scattered cloud. Visibility unlimited. Wind W 5 mph. A layer of cloud. Base at about 700 feet was present to the northeast of base and was known to be moving toward base. At base at 2035 hours: Ceiling 550 feet. Overcast. Visibility 10 miles. DESCRIPTION OF FLIGHT: Ventura 2149 and two others took off at about 1918 hours for local night flying practice. About 2015 hours the weather began to deteriorate, and F/L White requested based control to recall the other two aircraft. These planes landed at 2026 in 2025 hours, by which time the ceiling had lowered below allowable limits for aircraft unequipped to make a standard beam approach, which was the same with Ventura 2149. After attempting unsuccessfully to get down, F/L White asked to be diverted to Yarmouth and he was cleared from Pennfield at 2040 hours. Nothing further was heard from him after he acknowledged his diversion. At 2050 hours, several witnesses including the pilot of an aircraft approaching base from the north saw an explosion and fire in the air at a point about 10 miles south of base near The Wolves in the Bay of Fundy. The fire was observed to descend to the water and continue burning for about 5 minutes and then become completely extinguished. Search by a service air sea rescue boat was undertaken as quickly as possible but no trace of any wreckage was found on the night of the accident. On the next and following days, however, bits and pieces of wreckage which included emergency landing kits and a dinghy were found in the area of The Wolves. These kits, including the dinghy were identified as being part of the equipment to Ventura 2149. No other parts of the aircraft have been found nor have the bodies of the two pilots. The evidence of maintenance personnel who D.I.'d the aircraft for night flying was to the effect that they had found its serviceable and the last pilot to fly the aircraft stated that it had been serviceable during his flight in it. PILOTS: F/L White: Total flying time 1729 hours. Time on type: 775.55 hours. F/L White was a Flight Commander of the O.T.S. F/O Reynolds: Total flying time: 1240.30 hours. Time on type: 107 hours. Both F/L White and F/O Reynolds were qualified pilots on the type. FINDINGS OF THE INVESTIGATION: No evidence to show how the accident occurred." Conclusions of Accident Investigations Branch: "Cause of accident obscure but apparently due to fire in the air."
The full Court of Inquiry can be found on microfiche T-12342, image 4515.
Anne had written a letter to the Casualty Officer in April 1945, signing her name Mrs. A. S. White. "I have had no further news concerning my husband…since December, but even then, they gave me little hope of him turning up alive. And it isn't easy for me to have to write about this for I can't think of him as being dead. If you wish to inform me of anything further, my permanent address is now…Windsor, Ontario." Anne remarried by February 1950, continuing to reside in Yarmouth, Nova Scotia. She was Mrs. Southern by this time.
In late November 1955, Mr. White received a letter informing him that since Albert had no known grave, his name would appear on the Ottawa Memorial.
LINKS: