Albert William Runte J7782
September 12, 1919 - December 29, 1941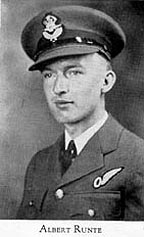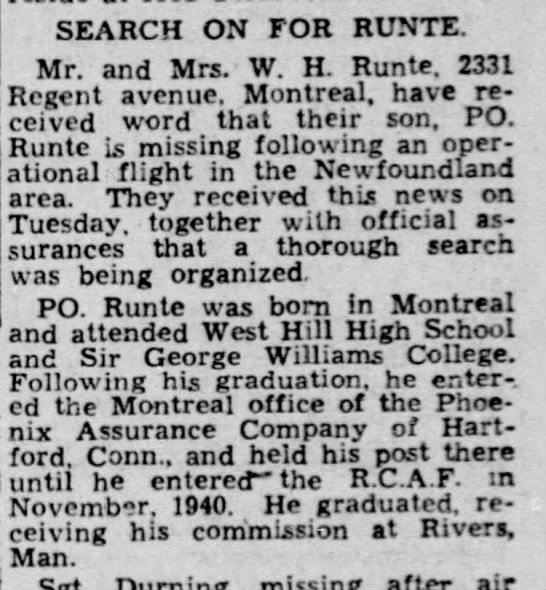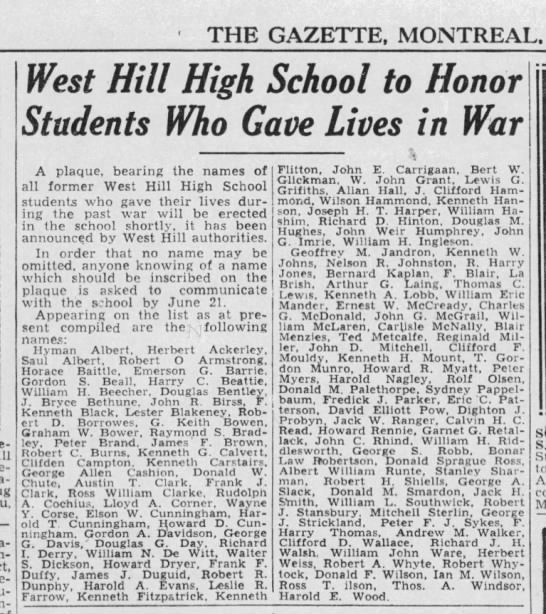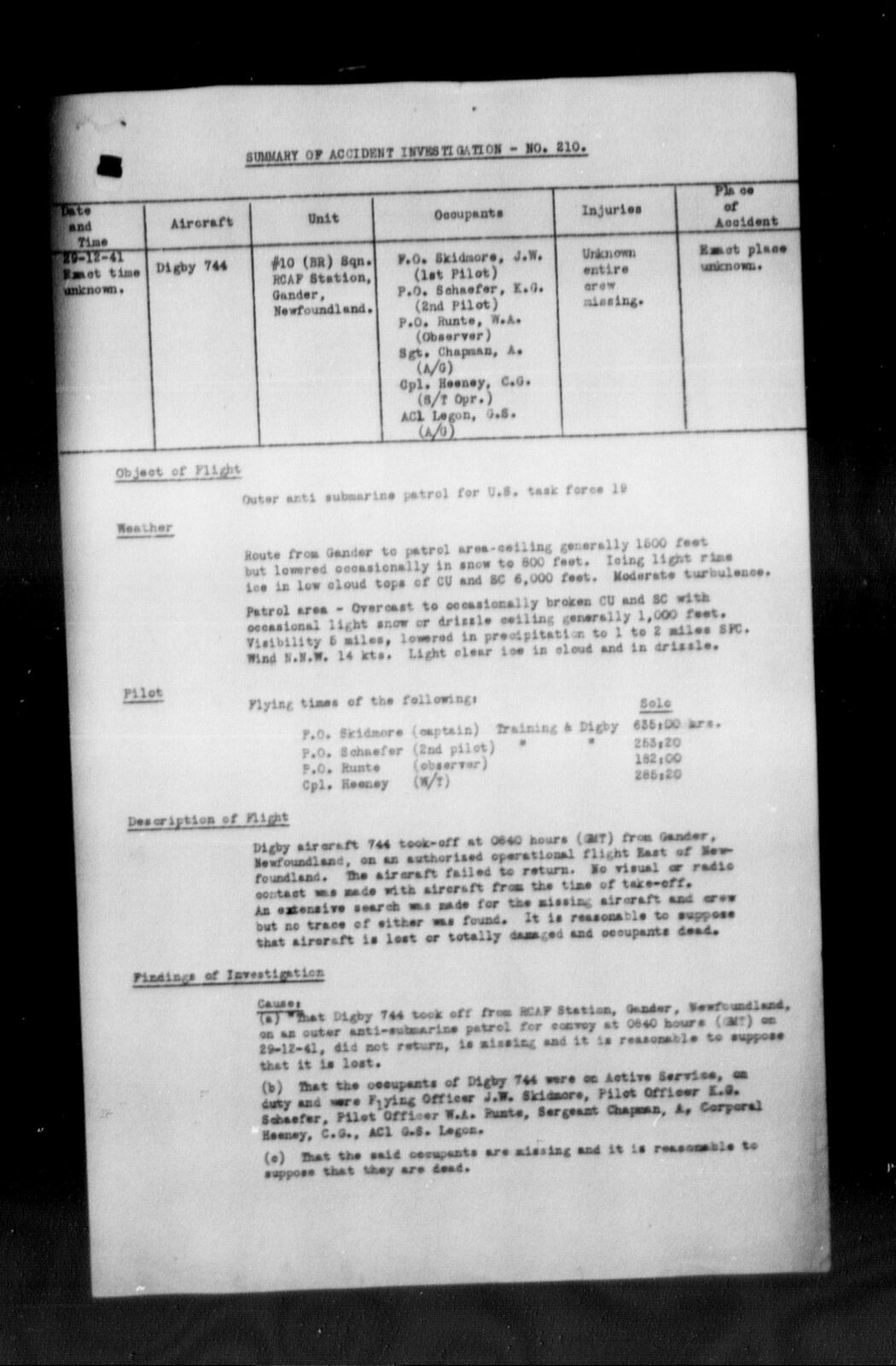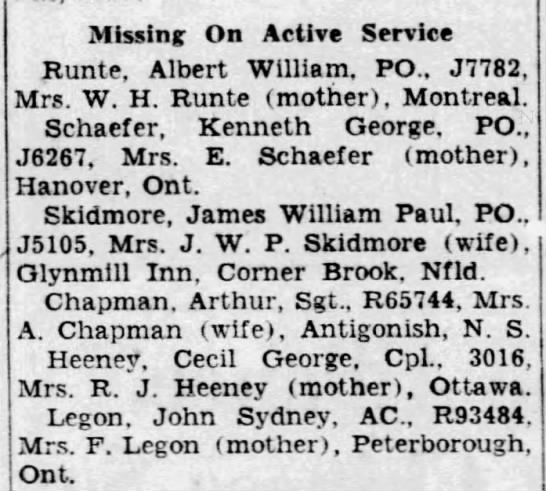 Stenographer clerk wanted pilot and became an observer. He and crew aboard Digby 744 were lost on an anti-submarine patrol.
Albert William Runte was the son of William Henry Runte, machinist with Northern Electric Co., and Ethel Margaret (nee Moore) Runte, of Montreal, Quebec. He had two sisters, Dorothy May Grundie, and Madeleine Margaret LaBrosse. (His father was a Sgt. Major of 2nd Battalion of the Royal Montreal Regiment.)
Known as Bill, he attended West Hill High School and Sir George Williams College. He could speak 'a little' French. After graduating in 1936, he worked for the Montreal office of the Phoenix Assurance Company until he enlisted with the RCAF in November 1940. He indicated that he had an interest in aviation since childhood and he had knowledge of photography. After the war, he hoped to remain in aviation.
Bill enjoyed skiing and tennis extensively, track and baseball moderately, plus golf. He stood 5'10" tall and weighed 135 pounds. He had blue eyes and brown hair, with a fair complexion. He had a partial upper denture. "Polite, intelligent, fair type and would make an excellent pilot; good education and character; well-recommended."
At No. 2 ITS, Regina, Saskatchewan, from January 28 to February 26, 1941: "63rd out of 214 in class. Average material. Former clerk stenographer. Lively. Keen. Moderate sports." He was then sent to No. 6 EFTS, Prince Albert, SK, from March 4 to May 16, 1941. "Below average as a pilot. Failed. Lacks air-sense and judgment. GROUND TRAINING: This airman lacks air-sense; flying ability below average; necessary to assist in several manoeuvres; conduct while at this school very satisfactory. Posted to No. 2 Manning Depot, Brandon, effective March 31, 1941, reporting April 1, 1941." Bill washed out of pilot training.
He then went on to be trained as an observer, starting out at AOS Regina, April 28 to July 21, 1942. He was 1th out of his class with a 74.3%.
From there, he went to Dafoe, Saskatchewan for armament training until September 1, 1941, passing with74.4% and was 9th in his class.
Bill was then sent to Advanced Air Observers Training in Rivers, Manitoba until the end of September 1941, where he passed with a 75.6% and was 8th out of his class. He was sent to No. 31 O.T.U. by October 1941. He was then at No. 10 BR Squadron, Gander Newfoundland.
At 0840, December 29, 1941 Digby 744 took off with the crew PILOT F/O J. W. Skidmore, J5105, SECOND PILOT P/O K. G. Schaefer, J6267, OBSERVER P/O Albert William Runte, J7783, AIR GUNNER AC1 John Sydney Legon, R93484, AIR GUNNER Sgt. Arthur Chapman, R65744, and WIRELESS OPERATOR Cpl. Cecil G. Heeney, P3016, with No. 10 BR Squadron, and flew out of Gander. They failed to return through cause or causes unknown. That no known visual or radio contact was made with aircraft 744 after departure from RCAF Station, Gander, Newfoundland. That at the time of take-off of aircraft, light icing conditions existed between approximately 1500 feet and 5500 feet in the area of his patrol. The cause of the accident: That Digby 744 took off on an outer anti-submarine patrol for convoy did not return, is missing and it is reasonable to suppose that it is lost. That the occupants of Digby 744 were on Active Service on duty…that the said occupants are missing and it is reasonable to suppose that they are dead."
"Digby from Gander unreported and overdue, but fuel should not be exhausted until approximately 2200 tonight. Aircraft on overseas convoy operation and absolutely no wireless contact with aircraft since departure at 0440 29/12 and D/F repeat D/F therefore possible…All available facilities of RCAF, RCN, USN, and USAAC endeavouring to contact and bring in aircraft."
A Court of Inquiry was struck. [Microfiche T-12340, Image 4644] Seven witnesses were called. DESCRIPTION OF FLIGHT: Digby aircraft 744 took off at 0640 hours from Gander, Newfoundland on an authorized operational flight east of Newfoundland. The aircraft failed to return. No visual or radio contact was made with aircraft from the time of take-off. An extensive search was made for the missing aircraft and crew, but no trace of either was found. It is reasonable to suppose that the aircraft is lost or totally damaged and occupants dead. The third witness, S/L Albin Laut, C861, Officer Commanding of 10 BR Squadron stated that he felt the captain and crew of Digby 744 were fully qualified in all respects. [He was killed on October 3, 1943, while on a cross country flight near Sydney, NS flying Ventura PV-1 2148.] The sixth witness, P/O Bertrand Hutchinson, J5063, pilot at No. 19 BR Squadron stated, "I was detailed as Second Pilot in Digby 745 to do a submarine patrol on US Convoy Task Force 19. We took off just after Digby 744 which was proceeding to the same convoy as ourselves. We did not see Digby 744 at all, but at position 50 degrees 00 N, 50 degrees 30 W, when it was still dark, I saw a flame float on the water about 3 or 4 miles to our starboard side. It stopped burning just after we passed it. Other than this, I saw nothing of Digby 744. We proceeded on our patrol, searching for the convoy until our time was up and then returned to base." FINDINGS OF INVESTIGATION: CAUSE: (a) That Digby 744 took off from RCAF Station, Gander, Newfoundland on an outer anti-submarine patrol for convoy at 0640 hours, 29-12-41, did not return, is missing and it is reasonable to suppose that it is lost. (b) That the occupants of Digby 744 were on Active Service, on duty…(c) that the said occupants are missing, and it is reasonable to suppose that they are dead. CONCLUSION: Aircraft failed to return for reasons unknown, probably due to icing conditions. All maintenance regulations were complied with by those responsible. L14 and relevant Log Books were impounded by the Commanding Officer immediately after report that aircraft was missing. RECOMMENDATION: That aircraft on operational flights be allowed to exchange call signs with base on receipt of the hourly weather reports when NOT within 75 miles of convoys or friendly ocean shipping." Aircraft of the unit and of the US Army Air Corps searched for three days with no result. They had later been grounded due to weather.
In January 1942, Miss Edith Simpson of Regina, Saskatchewan read about Bill's airplane having gone missing. She wrote to the RCAF and requested the address of his parents as she wished to write to them.
A plaque at West Hill High School bears his name along with others who gave their lives during WWII, placed in 1946. In late October 1955, Mrs. Runte received a letter informing her that since Bill had no known grave, his name would appear on the Ottawa Memorial.