Albert 'Bert' Moore Carey J10622
October 1, 1912 - November 28, 1942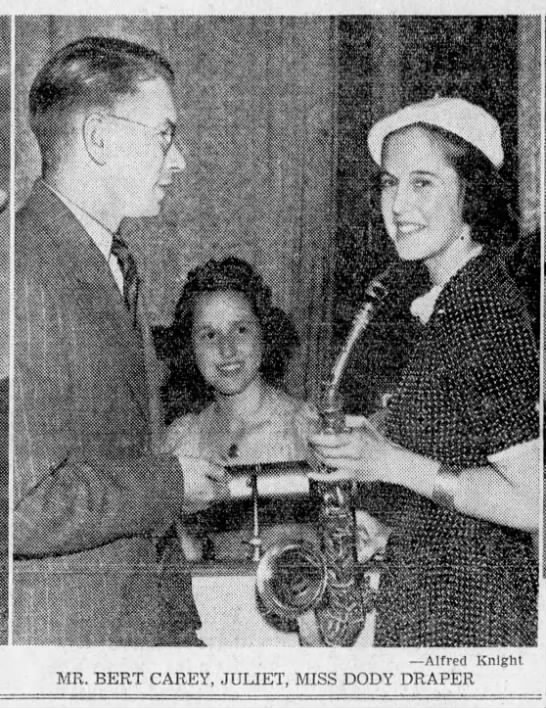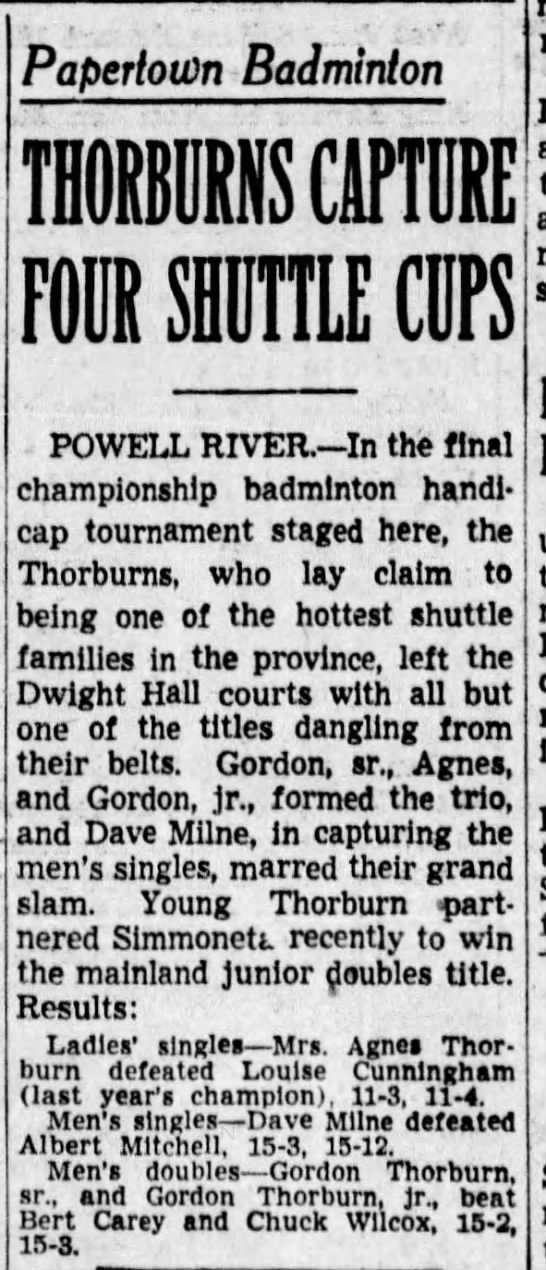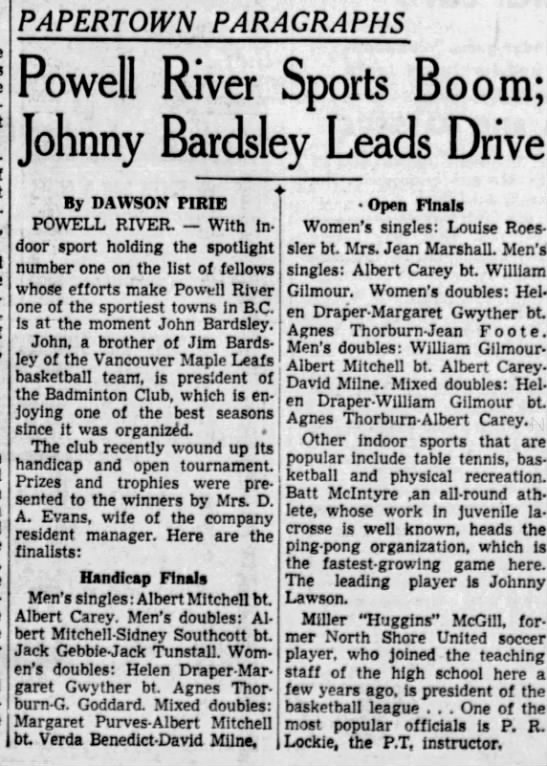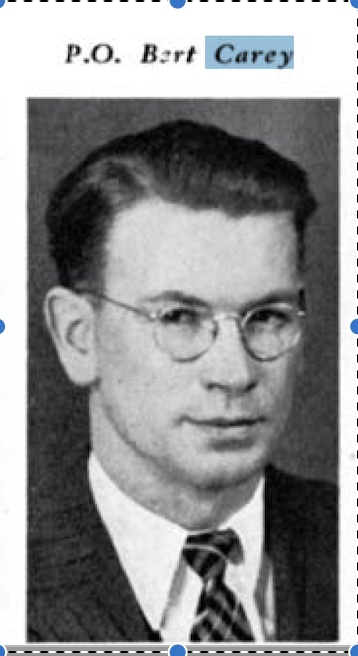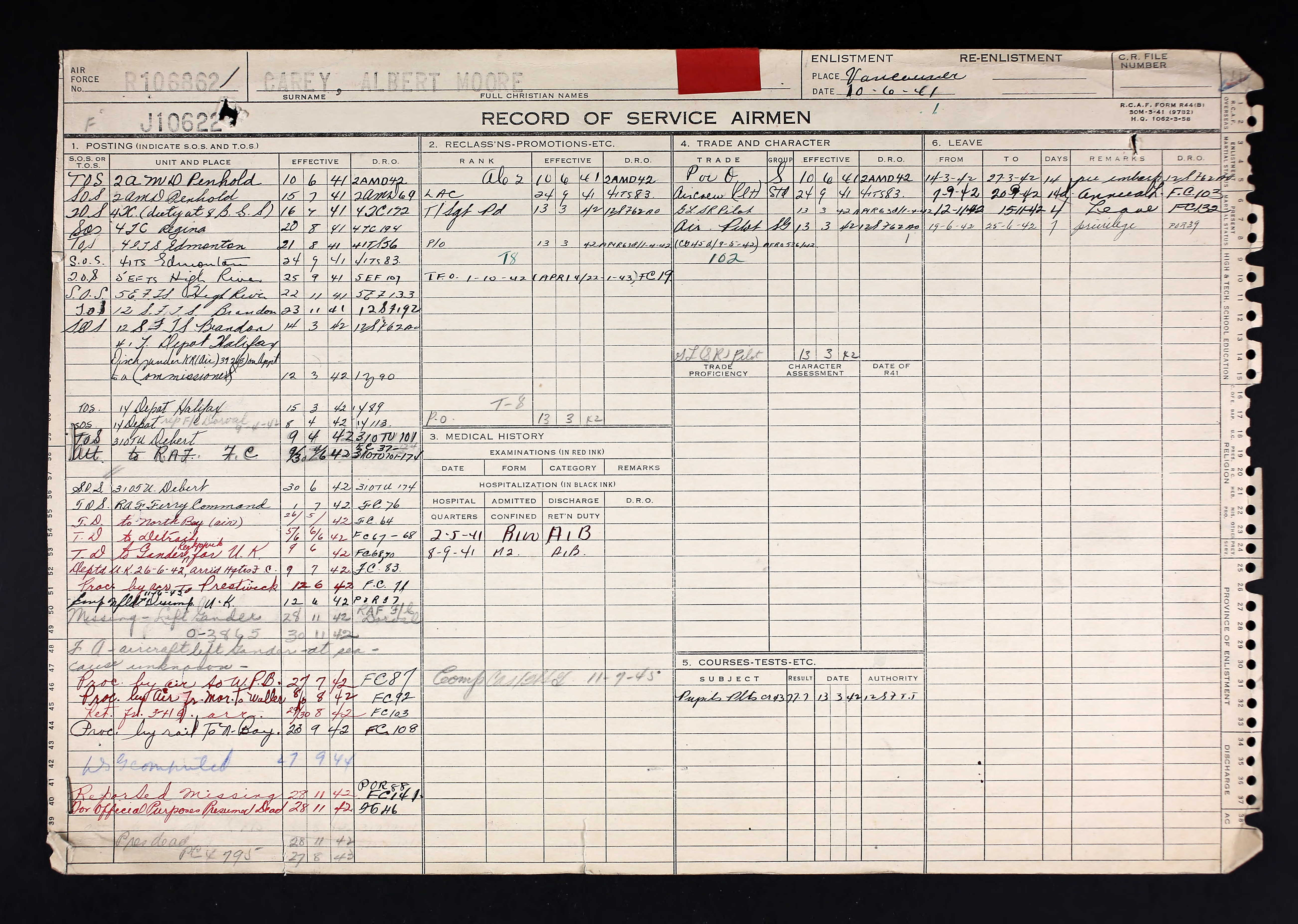 Accountant became pilot with RAF Ferry Command. Hudson FK593 missing over Atlantic Ocean.
Albert Moore Carey, born in Argyle, Manitoba, was the son of Captain John William Moore Carey (1868-1953), retired farmer, and Hilda Mary (nee Esplin) Carey (1876-1950), schoolteacher, of Royston, British Columbia on Vancouver Island. He had one brother, Richard Norton Carey (1908-1983), real estate agent, and one sister, Gwendolen Mable Du Vernet, nurse, married to Frederick Parker Du Vernet. He had one nephew, John, and two nieces, Wendy and Diane. The family was Anglican.
He attended school in Courtney, BC.
Albert, known as Bert, had one year at the American Institute of Banking and three years at LaSalle Academy. He worked as a clerk at a branch of CIBC from 1929-1932, then traveled to (Panama) Canal Zone, South America to work for the Chase National Bank of New York for two years before returning to Canada to work as an accountant/manager with Powell River Co. Ltd. until 1941.
He was very talented at badminton, making the newspapers for his skill, plus he liked tennis and golf. From The Powell River Digester Vol. 16, No. 2, February 1940: Personalities of Indoor Sport (photos)(page 7): "For No. 1 we present Bert Carey of the Shipping Department, main office. For years, Bert has been a leader in the local badminton world … Bert's ability has now been recognized beyond the confines of the townsite. At a meeting held in Nanaimo recently, he was elected president of the newly formed Upper Island Badminton Association, an organization which embraces Powell River on the mainland and all badminton clubs north of Nanaimo on Vancouver Island. Bert has been singles champion of the division for the past two years."
He stood 5'9 ½" (or 5'11") tall and weighed 145 (or 160) pounds. He had grey eyes, brown hair, and a medium complexion. He wore glasses for 8 years. He had a ruptured appendix and had a rib resection in 1931 due to empyema (a collection of fluid in the cavity between the lung and membrane that surrounds it). He smoked a pipe and occasionally drank alcohol.
Bert had applied to the RAF in July 1940, but his vision was below standard. He tried again and was accepted by the RCAF in Vancouver, BC. Bert started his journey through the BCATP at No. 2A Manning Depot, Penhold, Alberta June 10, 1941, remaining there for a month. Then he had guard duty at No. 8 B&G School before heading to Edmonton to begin his training.
"A very find type of young man. Has studied fairly extensively. Is outstanding athlete in sports shown. Claims vision improved. Very keen to serve. If refused on medical ground, will go as Radio Mechanic. Definitely office calibre and a desirable type for training. Good personality, easy manner, confident."
He went to No. 4 ITS, Edmonton, Alberta from August 22 to September 25, 1941, then to No. 5 EFTS High River, Alberta until November 27, 1941. He then was sent to No. 12 SFTS, Brandon, Manitoba November 28, 1941, until March 13, 1942.
At No. 1 ITS, he was 22nd out of 120 in his class and was recommended to be trained as a pilot. "Visual Link 80%. Assistant production manager, Powell River Co. Mature, steady, sincere, very reliable. Active in most sports. Father a Captain, won MC in last war." He earned an 87% overall.
At No. 5 EFTS, he flew the Tiger Moth. "A smooth pilot who should be made to look around more." He earned 67% on his 20-hour flying test, was 8th in ground school out of 77 with 84%. "Well above average ability. Mature, serious type. Responsible, conduct very good."
At No. 12 SFTS, he was flying the Cessna Crane. "Progress good, no faults. Keen and shows initiative. Good type. Average student in navigation. Exceptional, careful, consistent and alert. Steady worker." He was 14th out of 71 in his class, rated average overall. He was recommended for GRL Bomber GRB. "Quick to realize mistakes, will benefit from added training elsewhere." He earned his Pilot's Flying Badge on March 13, 1942.
Bert was at Y Depot, Halifax by March 15 and then at 31 O.T.U. Debert, NS, April 8, 1942. He was at North Bay, Ontario, Detroit, Michigan and then at Gander, Newfoundland between May and June 1942.
He was assigned to RAF Ferry Command July 1, 1942, where he made trips between Canada/Newfoundland and the UK.
Bert had six $5 War Savings Certificates and $5,500 in life insurance. His mother was his beneficiary.
He and his crew went missing November 28, 1942, after leaving Gander, NFLD aboard Hudson VI FK593. "Left Gander. Last contact 28/11/42."
Crew: • Flying Officer Albert Moore Carey, J10622, Captain Pilot • Flying Officer Irwin Edward Stillwell Robinson, J19872, Radio Operator • Sergeant Eric Hanway Swanston, 572926 (RAF) • Pilot Officer Norman Alexander Allen, J11491, Air Observer/Navigator • Joseph P. Kiernan, First Officer Captain – employed by RAFFC – American from NJ (On Runnymede Memorial, Surrey, England)
Aircraft: • Hudson VI FK693 • RAF Ferry Command out of Dorval, Quebec; after departing Gander, missing • Purpose: Delivery trip to UK; aircraft missing at sea; cause of accident unknown • Crash location: Atlantic Ocean
LINKS: