Alan Wilmot Young R159283
April 13, 1916 - October 30, 1943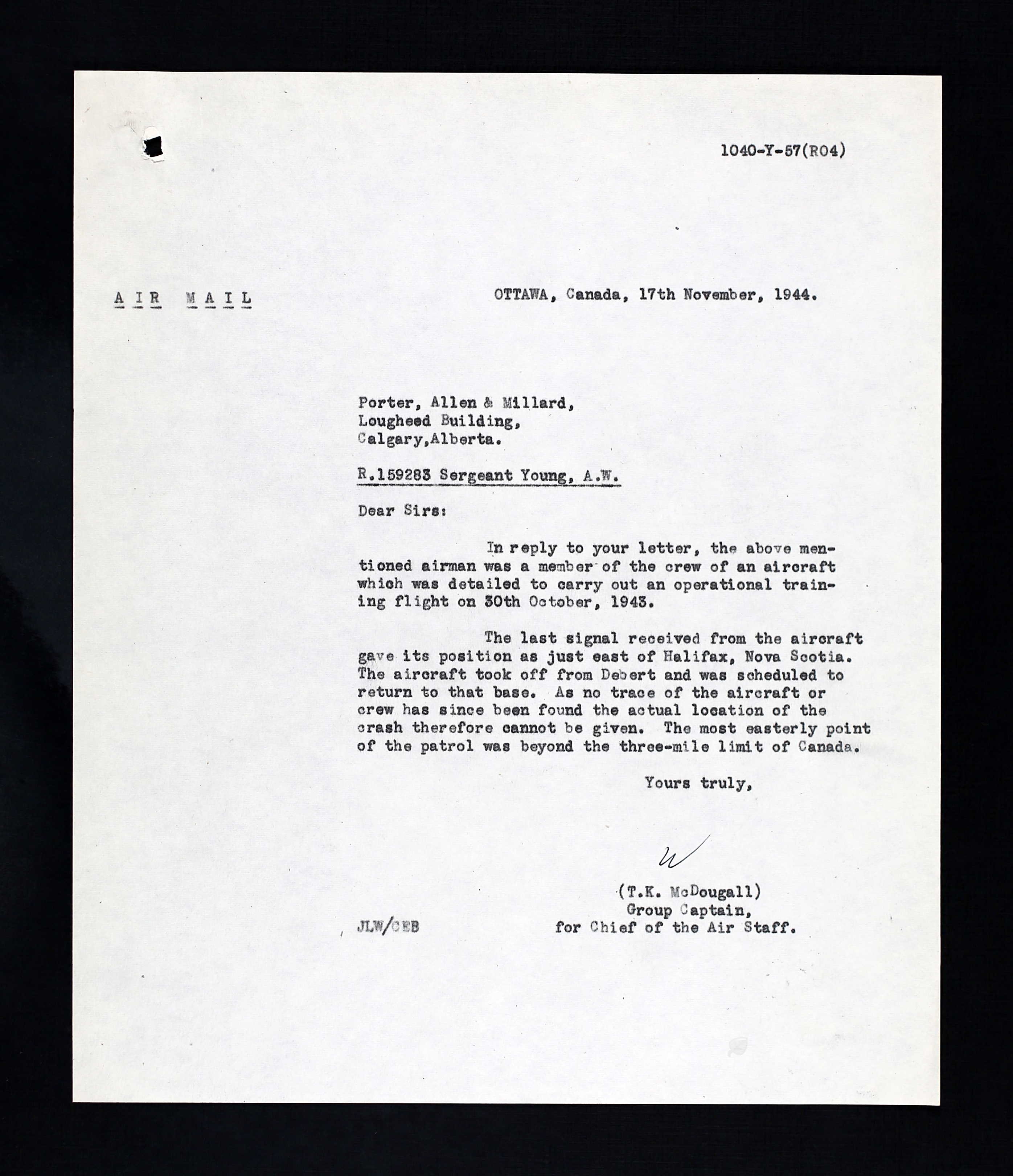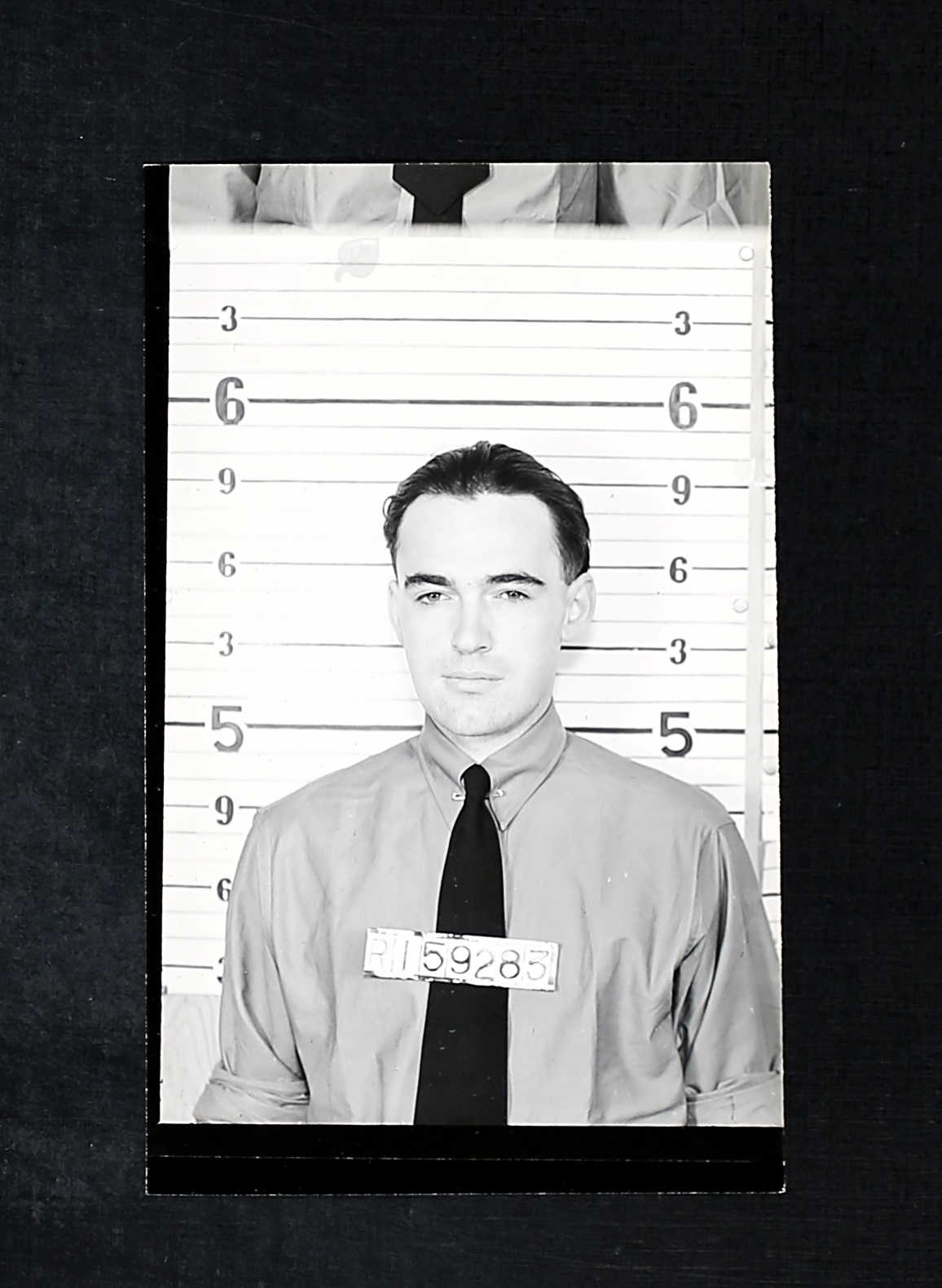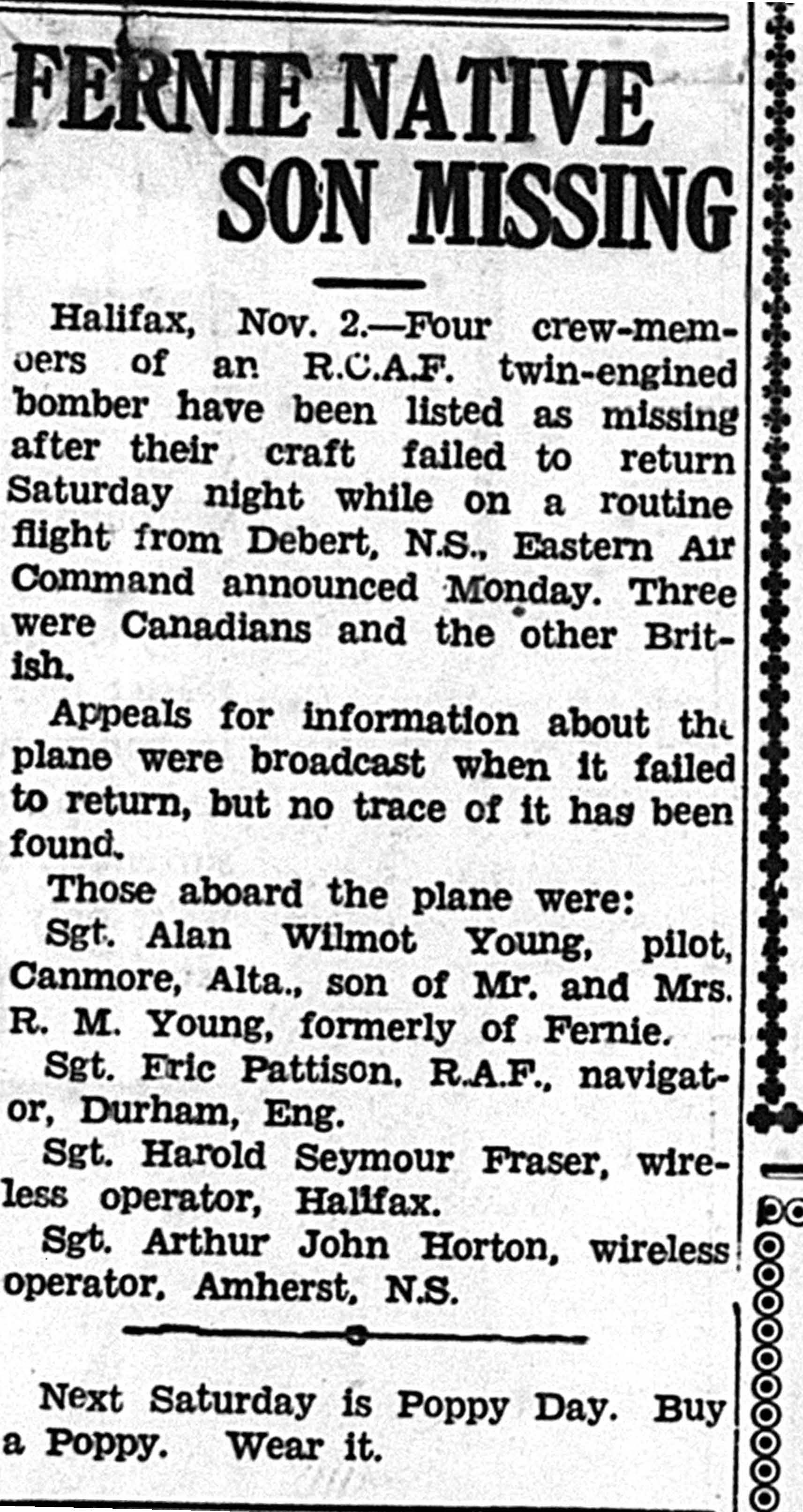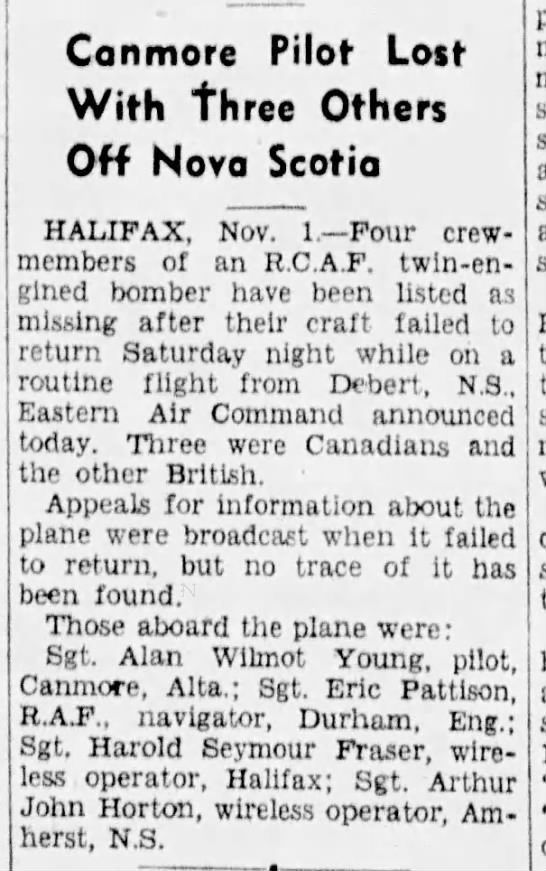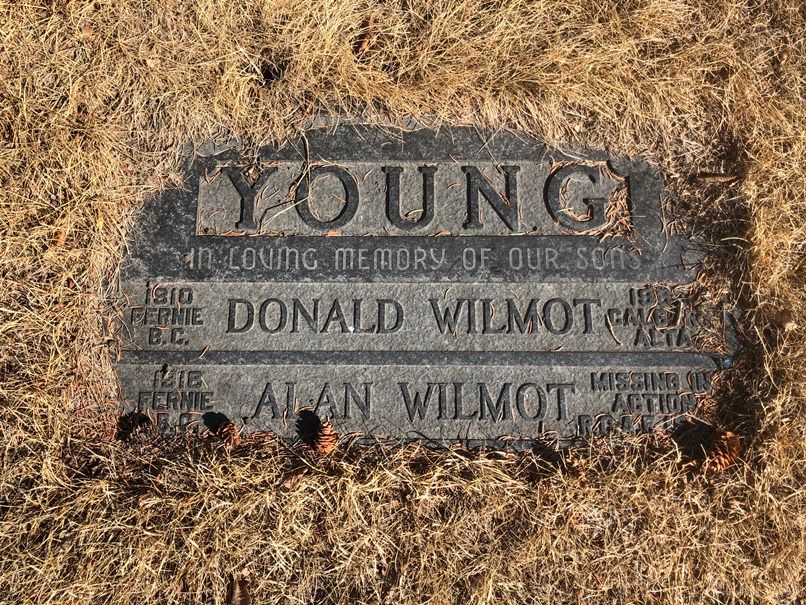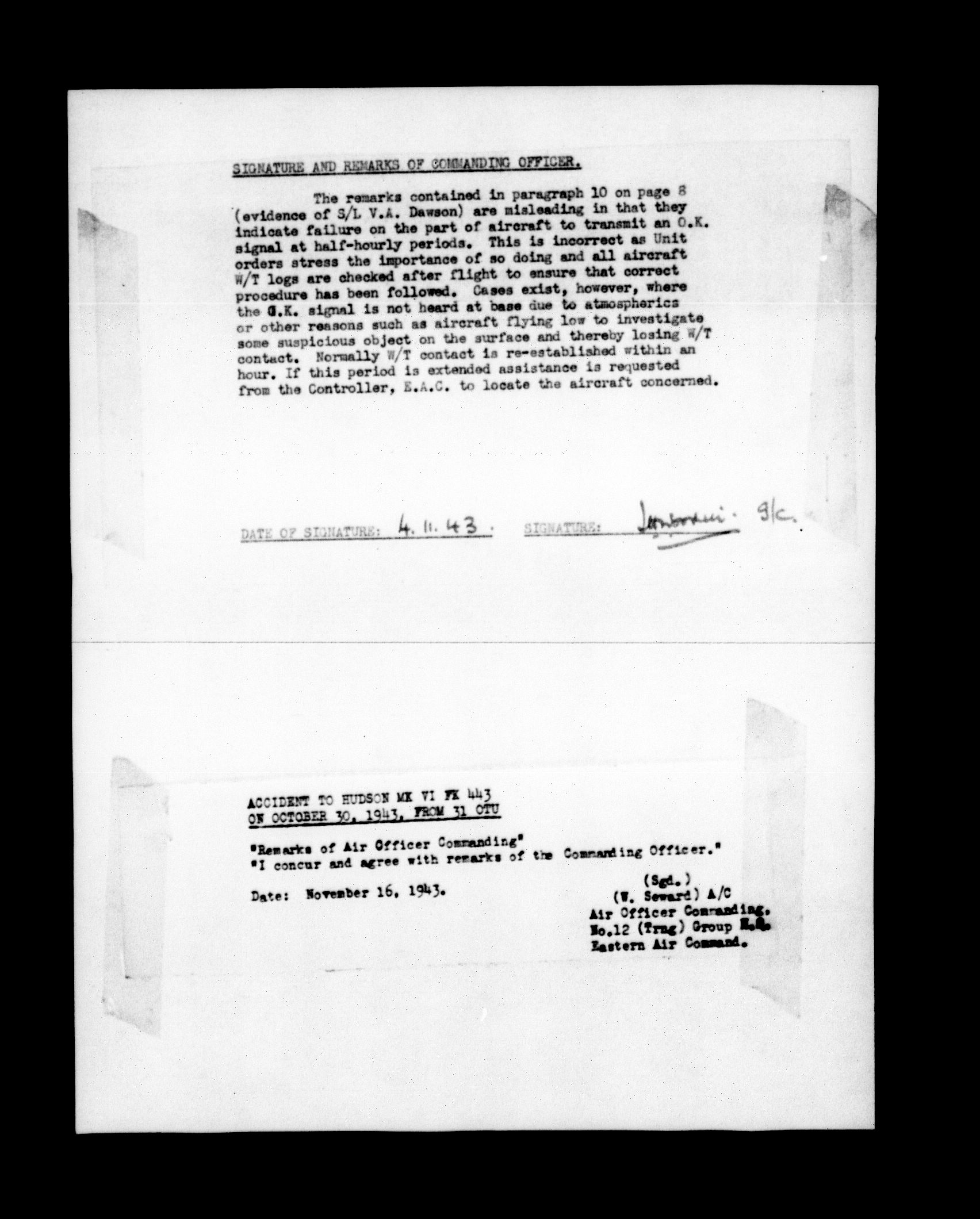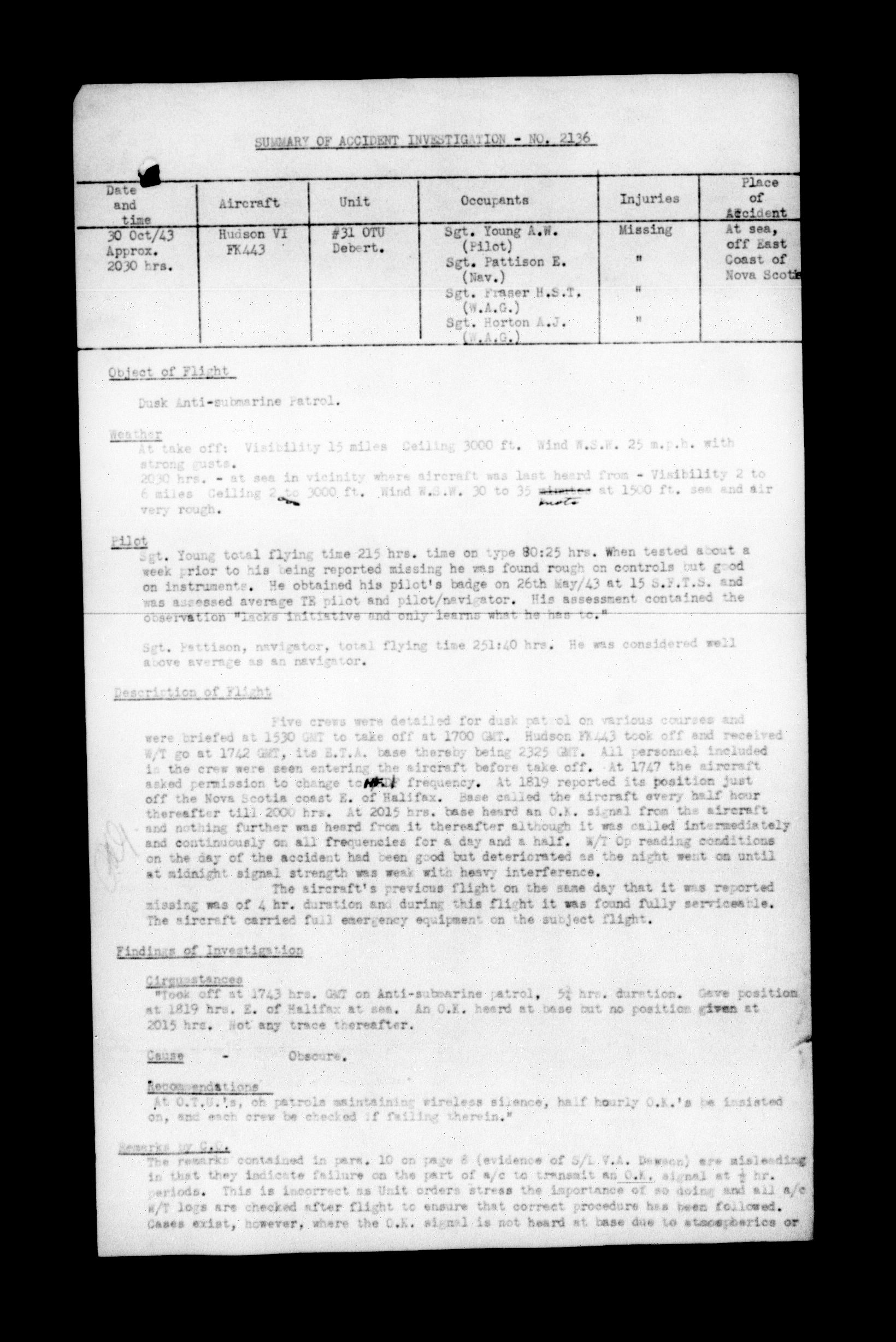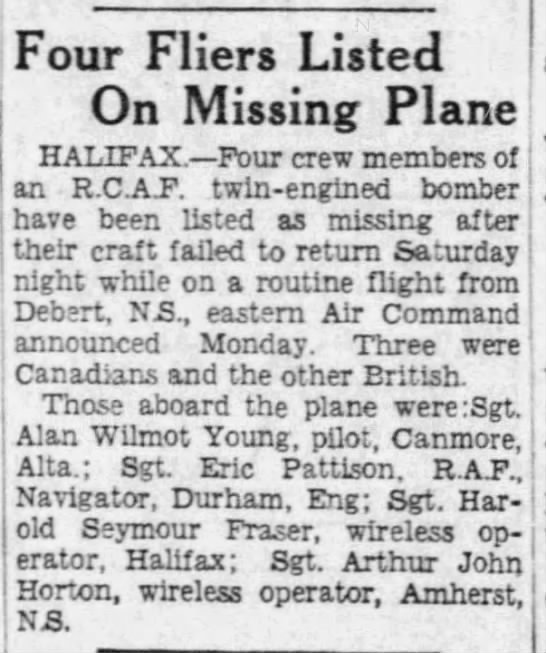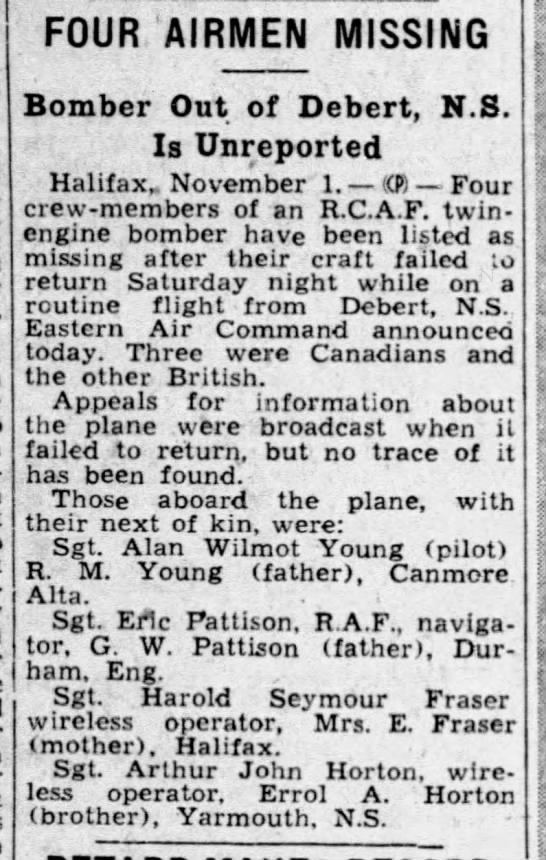 Well educated theatre manager joined RCAF and became average pilot. At No. 31 O.T.U., Debert, NS, he and three others aboard Hudson FK443 were lost during an anti-submarine patrol.
Alan Wilmot Young was born in Fernie, BC, the son of Robert MacBeath Young (1882-1951), manager of Canmore Coal Mines, Ltd., and Frances Ferguson (nee Wilmot) Young (1878-1967) of Canmore, Alberta, later of Calgary. He had one brother, Donald Wilmot Young, enlisted in the Canadian Army, overseas, and two sisters, Olive Young Brown and Frances W. Williamson. The family attended the United Church.
He lived in Fernie until April 1921, then in Canmore until 1938, then Toronto until 1941, moving to Edmonton until his enlistment. His father felt that Alan would have returned to Canmore upon discharge.
Alan was a theatre manager at the Odeon Theatres, Edmonton, and prior: a freelance writer from 1939-1941. He had attended Garbutt's Business College in Calgary in 1935 for one year, studying bookkeeping. he then went to the University of Alberta, earning his B. A. in history, from 1934-1937. He then went to University of Toronto until 1939.
Alan liked skiing, skating, bowling, and tennis. He hoped to become an observer or a pilot when he enlisted in the RCAF. "Education and GCT score above average. Good physique. Good appearance. Should make excellent aircrew material. Possibly best as observer as in older age group and has advanced education…Appears like very good aircrew material. Appearance and features are very good. Well educated. Personality and manners very good."
He was accepted in May 1942. He stood 5'9 ½" tall and weighed 147 pounds. He had brown eyes and dark brown hair. A ½" scar on the first joint of his left thumb. At one point, he had fractured his right wrist. He indicated he smoked heavily and drank occasionally. "Athletic physique. Above average mentality."
"Good appearance, keen and alert adequate cardiovascular respiratory efficiency; good neuromuscular stability; composed. Visual acuity and ocular poise good for Category A1B A3B."
Alan began his journey through the BCATP at No. 3 Manning Depot, Edmonton, Alberta on June 8, 1942. He was then at No. 4 ITS, Edmonton, September 13, 1942. "Doubtful pilot material. Low average Observer material. Intelligent and alert. Is nervous and excitable and tense. Motivation is not too good. Wished to get a commission in the navy. Is a heavy worker." [This might be a typo in the document -- could refer to his smoking.]. Alan was admonished on October 25, 1942 as he "neglected to obey SSO Sec. 13 in that he did smoke in quarters after lights out." He was assessed $6.19 worth of damage. Alan was 34th in this class of 105 with 81%.
From there, he was sent to No. 5 EFTS, High River, Alberta December 6, 1942 until February 6, 1943. He was 24th out of 32 in his class with 73%. He was assessed as an average pilot, but below average in aerobatics. "Average ground school. Not a very studious type. Low average pilot. Rough on controls. Seems to be very slow thinking type. Showed good improvement towards the end of the course. Needs checking frequently on discipline."
He was then at No. 15 SFTS Claresholm, Alberta February 7 until June 11, 1943. He was 42nd out of 47 in his class with 67.2%. Here, Alan was assessed as an average pilot. "Average student who should have done much better with his qualifications. Has not shown much initiative. This pupil has not put much effort into his work. He is inclined to be lazy and always takes the easy way out. Low average in both ground school and flying. Requires supervision."
From there, he was sent to No. 1 GRS, Summerside, PEI. "GR Course was not explained to him prior to arrival on course. Did not apply himself to the best of his ability, showing interest during the last two weeks of course only. Could have done much better with more application. Deportment requires occasional checks. Has ability, but did not apply himself properly." Recommended: Torpedo bombers, land based GR, fighter Recco.
Then Alan was sent to No. 31 O.T.U. Debert, Nova Scotia.
Crew aboard Hudson VI FK443 out of Unit 31 O.T.U.: *Sgt. Harold Seymour Thomas Fraser, R76056, WAG, Halifax, NS* Sergeant Arthur John Horton, R124761, WAG, Amherst, NS, *Sergeant Eric Pattison, 1558917 (RAF), navigator, Durham, UK, and *Sergeant Alan Wilmot Young, R159283, pilot, Canmore, AB.
The summary of the court of inquiry can be found on microfiche C-5937, starting at image 3938. Nine witnesses were called.
OBJECT OF FLIGHT: Dusk anti-submarine patrol. WEATHER: At take off, visibility 15 miles. Ceiling 3000 feet, wind WSE 25 mph with strong gusts. 2030 hours: At sea in vicinity where aircraft was last heard from -- visibility 2 - 6 miles; ceiling 2 to 3000 feet. Wind WSW 30-35 knots at 1500 feet, sea and air very rough. [The eighth witness stated that he was on an anti-submarine patrol that same day. "The weather at 2030 hours was very poor, with visibility about four miles, ceiling round about a 1000 feet and with heavy winds. We were flying at 1500 feet altitude. The sea was very rough. Also, the air was very rough."]
PILOT: Sgt. Young total flying time 215 hours time on type 80.25 hours. When teste about a week prior to his being reported missing, he was found rough on controls but good on instruments. He obtained his pilot's badge on 26 May 1943 at 15 SFTS and was assessed average TE pilot and pilot/navigator. His assessment contained the observation, "lacks initiative and only learns what he has to." [The ninth witness, FO Arnett, stated, "Sgt. Young has been on this station about two months and I went up on a test flight with him (A/S Patrol) about a week prior to the missing. I flew the aircraft out. On turning it over to Sgt. Young, I noticed that he was rough on the controls. Coming back, we ran through showers and Sgt. Young flew through these on his instruments very well. On this trip, I explained to hi how to use his tanks, telling him that there was never any need to let a tank run dry."]
Sgt. Pattison, navigator, total flying time 251.40 hours. He was considered well above average as a navigator. [The seventh witness, WOI Beacham, stated that he had known Pattison for eight weeks and he was "well above average as a navigator. It is very unlikely to get lost on this flight as he was a very reliable navigator."]
DESCRIPTION OF FLIGHT: Five crews were detailed for dusk patrol on various courses and at 1530 GMT to take off at 1700 GMT. Hudson FK433 took off and received W/T go at 1742 GMT, its ETA base thereby being 2325 GMT. All personnel included in the crew were seen entering the aircraft before take-off. At 1747, the aircraft asked permission to change to ____ frequency. At 1819, reported its position just thereafter till 2000 hours. At 2015 hours, base heard an OK signal from the aircraft and nothing further was heard from it thereafter although it was called intermittently and continuously on all frequencies for a day and a half. W/T Op reading conditions on the day of the accident had been good but deteriorated as the night went on at midnight signal strength was weak with heavy interference. The aircraft's previous flight on the same day that it went missing was of a four-hour duration and during this flight, it was found fully serviceable. The aircraft carried full emergency equipment on the subject flight.
FINDINGS OF INVESTIGATION: Took off at 1743 hours GMT on anti-submarine patrol. 5 ¾ hours duration. Gave position at 1819 hours east of Halifax at sea. An OK was heard at base but no position given at 2015 hours. Not any trace thereafter.
CAUSE: Obscure. [The usual overdue action was taken at the appropriate time. No trace of any kind was found of this aircraft.]
RECOMMENDATIONS: At O.T.U.'s on patrols maintaining wireless silence, half hourly OKs be insisted on and each crew be checked if failing herein.
In a letter November 17, 1944: "Sergeant A. W. Young was a member of the crew of an aircraft which was detailed to carry out an operational training flight on October 30, 1943. The last signal received from the aircraft gave its position as just east of Halifax, Nova Scotia. The aircraft took off from Debert and was scheduled to return to that base. As no trace of the aircraft of crew has since been found, the actual location of the crash therefore cannot be given. The most easterly point of the patrol was beyond the three mile limit of Canada."
He is remembered on the Ottawa Memorial as well as in Queen's Park Cemetery, Calgary along with his brother Donald (1910-1963) in the Young family plot. "In loving memory of our sons."