Alan Baldwin George J14692
August 23, 1923 - November 14, 1944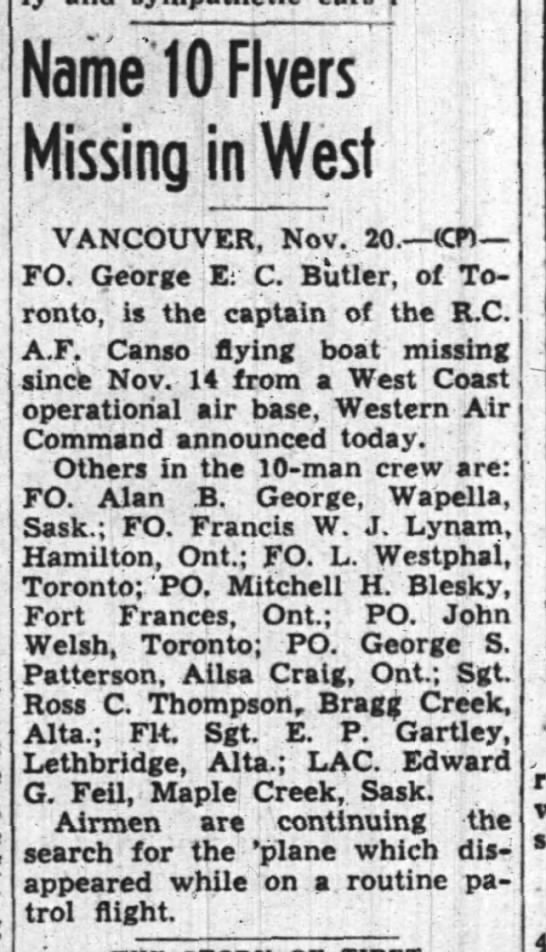 Only child of farmers in Saskatchewan became pilot with RCAF, lost aboard Canso 11017.
Alan Baldwin George, born in Wapella, Saskatchewan, was the only child of Basil George, farmer, and Rosalie Mary (nee Hill) George. The family was Anglican.
He enjoyed hockey, baseball, snowshoeing, football, tennis, running and jumping. He liked to build model airplanes and shooting/target practice with a .22. He weighed 132 pounds and stood 5'10" tall. His physique was athletic. He had a Grade XI matriculation. He indicated he smoked the occasional cigarette and did not consume alcohol. September 2, 1941: "Eager, Intelligent, should make good aircrew."
Alan was a student when he enlisted with the RCAF in September 1941. "Good type of lad. Particularly keen on flying. Sincere, confident, alert. Should be good any position in air crew. Recommended for pilot. Above average." Alan indicated that he would like to be employed in a technical/mechanical job after the war.
He started his journey through the BCATP at No. 2 Manning Depot, Brandon, Manitoba, then was at No, 7 B&G School, Paulson, Manitoba and No. 41 SFTS, Weyburn, Saskatchewan, guard duty, until a space opened up for him.
He was sent to No. 7 ITS, Saskatoon, Saskatchewan in February 1942 for about six weeks. He earned 82.6% and was 37th out of 72 in class. "Quiet, unassuming lad. Doesn't get easily excited but seems to be mentally alert. Should turn in a good job."
At No. 16 EFTS, Edmonton, he was 21st out of 47 in class with a 73.8%. He was assessed as above average in most categories. "Quiet conscientious pilot. Generally above average. Ability capable, conduct good."
In March 1942, a polyp in his nostril was removed. He was in the hospital for three days.
Alan took training at No. 15 SFTS, Claresholm, Alberta. He was 21 out of 59 in class with a 75.2%. Again, in most areas, he was above average. "An average pilot but has allowed his flying to get careless. Shows a keen interest in his work, picks things up quickly. An above average type whose work has been very satisfactory in all respects." He earned his Pilot's Flying Badge on October 9, 1943.
He was then sent to No. 1 FIS, Trenton, to become a flight instructor.
From there, Alan was at No. 9 EFTS, Centralia, Ontario. "A capable instructor improving with experience. Conscientious. Eligible for promotion and filling a vacancy on the establishment."
No. 1 GRS, Summerside, PEI was next. "A capable and efficient instructor who has performed his duties in a very satisfactory manner." Other comments: "An intelligent young officer, enthusiastic and hard-working. Trustworthy and responsible. With experience, should prove to be a capable GR pilot." May 24, 1944.
No. 3 O.T.U., Patricia Bay, BC was his next posting, then to No. 4 Squadron at Tofino, BC. "Considered suitable material for Captain's Course." Other comments: Completed abbreviated Second Pilots' Course. A conscientious worker and satisfactory student. Capable individual. Should make a good captain after some squadron experience." August 11, 1944
October 31, 1944: "He seems to lack initiative and leadership, actual flying ability appears to be good. Instrument flying definitely needs a lot of practice and at the present time, it is doubtful whether it would be safe under trying conditions. Crew drills were average. Knowledge of aircraft and equipment average. He is assessed as average."
In late November 1944, Mr. George received a letter. "Your son was a member of a crew which left the Station on Tuesday morning, November 14, on a regular patrol. A message received from their aircraft indicated that everything appeared to be proceeding normally. After a period of silence, an intensive and widespread search was instituted the same day….both dday and night, but so far without success. Please be assured that everything humanly possible is being done to find your son, and his fellow airmen are working themselves without stint both in time and energy to that end."
By February 1946, Alan's parents moved to Vancouver. On the estate form, Mr. George indicated that Alan had $784.55 in an account with the Royal Bank of Canada in Wapella, plus $650 in War Savings Certificates and $1550 in Victory Loan Bonds, plus two life insurance policies worth $1160.00.
In August 1946, Mr. and Mrs. George received a letter from Wing Commander W. R. Gunn. "Some weeks ago, wreckage consisting of a number of small parts which were thought to be from a RCAF aircraft were recovered by the US Coast Guard at Ketchikan, Alaska, and these parts were forwarded to our Headquarters where it was determined that they were from a Canso aircraft, and on contacting the manufacturers of Canso aircraft, they were identified as parts from Canso A 11017 which was the aircraft that your son was on when it went missing from a sea patrol flight from Tofino, British Columbia, November 14, 1944….there is no indication where the crash may have occurred. Such articles as were recovered could travel far driven by wind and tide."
In late October 1955, Mr. George was told that since Alan had no known grave, his name would appear on the Ottawa Memorial.