Adolf Willard Anderson R84116
May 21, 1914 - August 23, 1942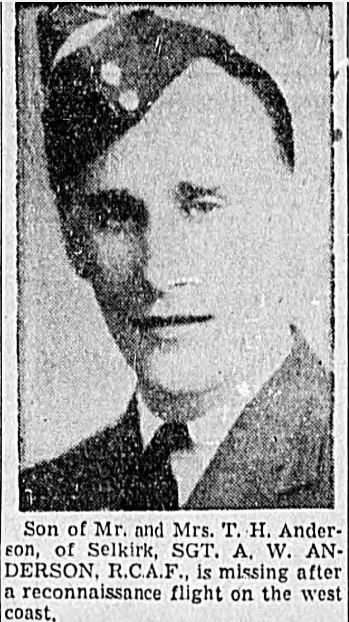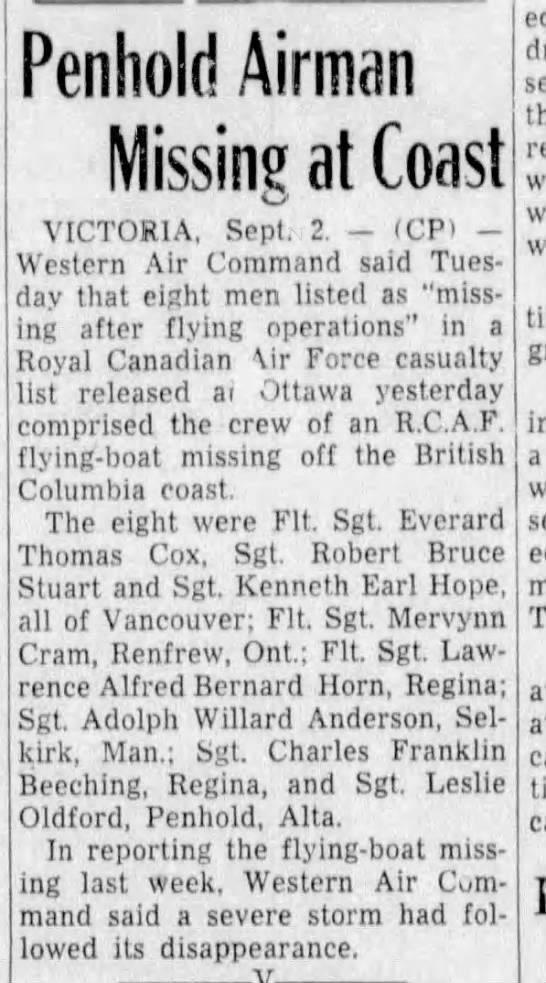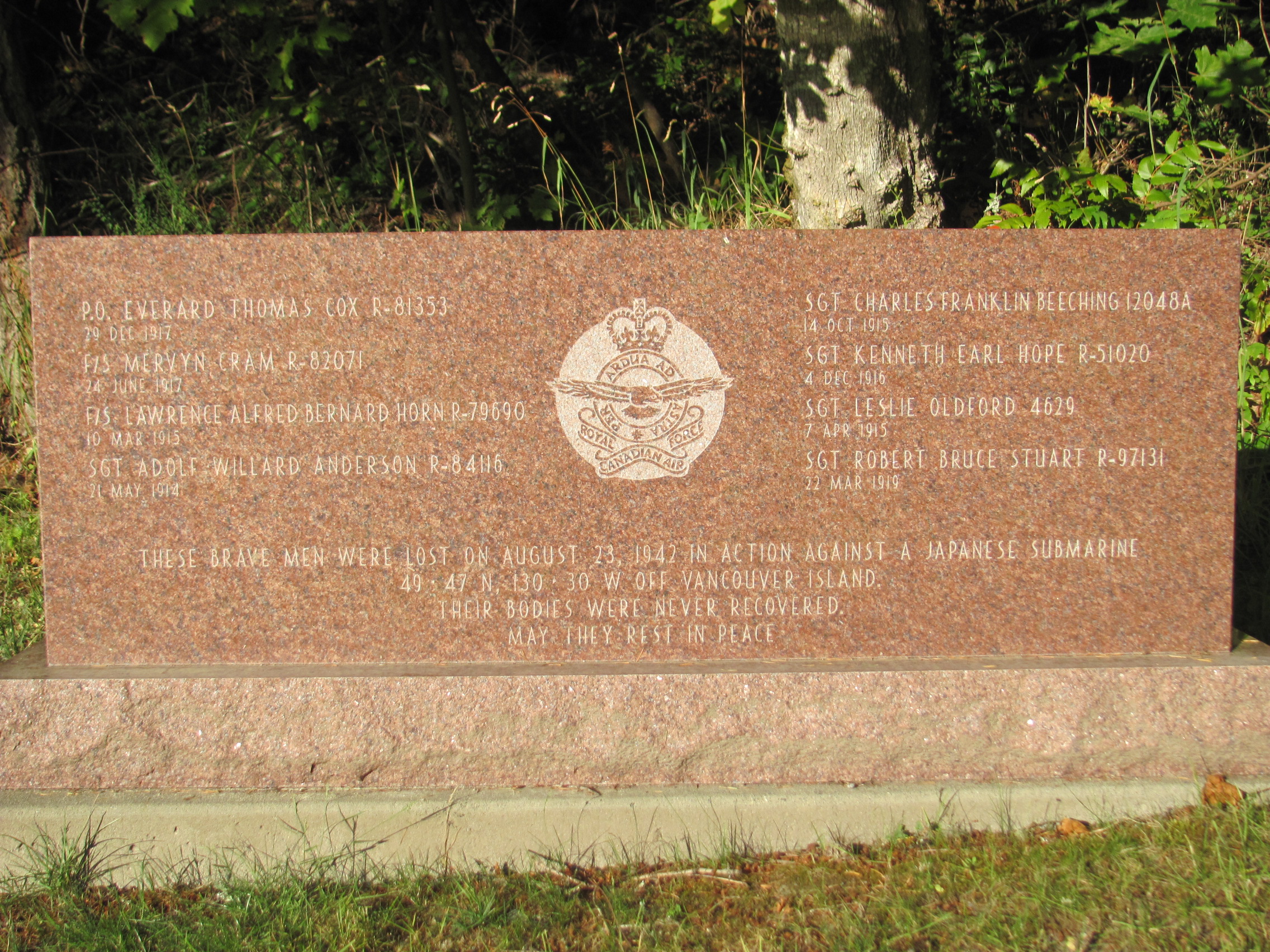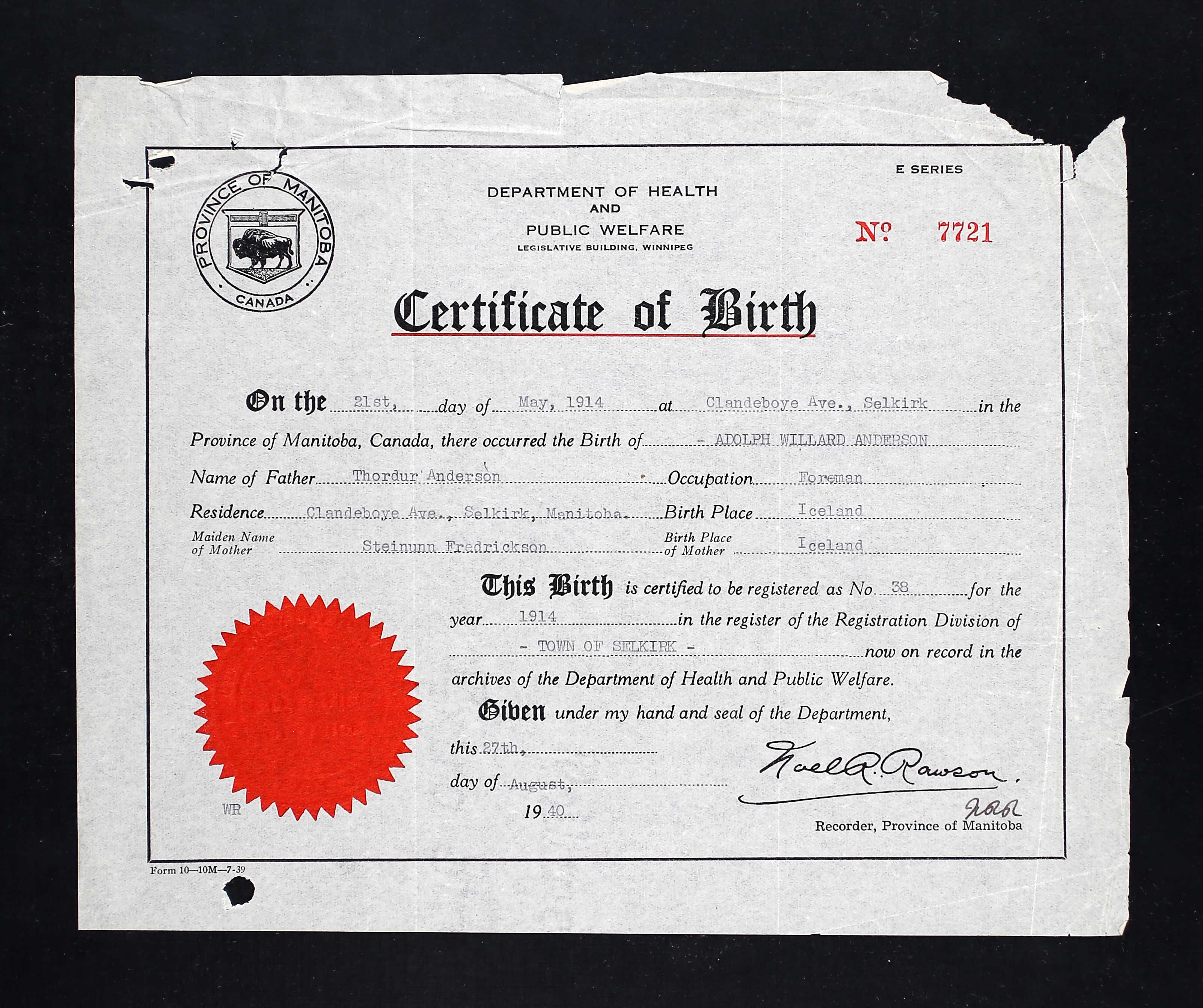 Electrical draftsman wanted to be pilot but washed out, then trained as observer, but failed course. He reluctantly became a wireless air gunner; he was aboard Stranraer 951, training, when it force landed 90 miles west of Vancouver Island.
Adolf Willard Anderson was the son of Icelandic immigrants, Thordur Anderson (1891-1976) and Steinun (nee Frederickson) Anderson of Selkirk, Manitoba. He had one brother, Norton J. Anderson in Winnipeg and two sisters, Mrs. I. C. Ingimundson, Welland, Ontario, and Pearl Margaret Bjornsson (d. 1987), Winnipeg, Manitoba. He attended the United Church. His parents were Lutheran.
Known also as Willard Adolf Anderson and A. Willard Anderson, he had lived in St. Catharines and then Welland, Ontario for six years. He enlisted with the RCAF in August 1940 in Hamilton, Ontario.
Prior, he had been an electrical draftsman, bookkeeper, and labourer. He was bilingual, speaking English and Icelandic.
He enjoyed softball, baseball, curling, plus swimming, bowling, and tennis. He liked to fish and hunt. He was "always healthy" but had a fracture of his right index finger in 1933. He also fractured his nose three times. A ¾" dark brown birthmark over left radial tuberosity (elbow), 1" scar on left index finger, plus an appendectomy scar were noted. He stood 5'8 ½" tall and weighed 150 pounds. He had grey eyes and dark brown hair with a dark complexion. One cavity was noted as well.
He was accepted into the RCAF in December 1940 and was sent to No. 1 Manning Depot, Toronto. "This young man has had good schooling. Now employed as an electrical draftsman. Bright, intelligent, keen to be an Observer. Recommend being enlisted as Observer."
From there, he went to TTS, St. Thomas for two months.
Willard was at No. 1 ITS, Toronto, Course 20, March 6 to April 10, 1941. He earned an 82% and was 51st in his class of 63. "Hard working, athletic type of airman who although not particularly impressive should stand up well." He was recommended for pilot.
He was sent to No. 1 EFTS, Malton, Ontario, April 10 to May 28, 1941. "Has had considerable difficulty in co-ordination of controls and in judging height and distance. His movements are erratic and though his faults had been overcome to a reasonable degree, he slumped back after soloing. It is doubtful if this pupil will make a capable pilot." His flying training was recommended to be discontinued.
At No. 6 AOS, Prince Albert, Saskatchewan, from June 9 to August 31, 1941: "Seems to understand air exercises but mistakes have resulted in exercise being poorly carried out. Appears to have the ability but has not applied himself sufficiently. Has a tendency to make many foolish errors in practical problems. This airman is a washed-out pilot." He failed the course with a 59%. He was 42 out of 42 in his class. He was to be sent to be trained as a Wireless Operator/Air Gunner. "Failed in five examinations out of eight with an average of 496% in mid-term tests. Seems to have the ability but will not apply himself." More comments: "On a progress test, marks awarded were low and showed a poor application to studies. LAC Anderson would be Air Observer material if he would apply himself and work hard at his ground theory subjects."
Willard was well-mannered with an average mentality, a good type but did not apply himself. "Failed at EFTS and was so down-hearted he forgot to keep on trying hard after he got to AOS. He did not throw his full effort into it." Later: "Still down-hearted and very loathe to take a WAG course. Has been talked over very thoroughly with him however, and he does agree to accept it if he has to, but would prefer to have straight AG course."
He was at No. 2 Wireless School, Calgary until March 30, 1942. He earned 74% and was 34th out of 113 in his class.
Willard was at No. 8 BGS, Lethbridge, Alberta, from March 30 until April 27, 1942. "Average ability, but capable of doing better." He was 23rd out of 29 in his class. Air Training: "Only moderately good in air exercises." He earned 68.1% and was 10th out of 29 in his class. He earned his Air Gunner's Badge April 27, 1942.
In May 1942, he was sent to Western Air Command, Victoria, BC, then to RCAF Station Coal Harbour, BC.
Over the course of his journey through the BCATP, Willard had many entries on his General Conduct Sheet. First was in Toronto being AWL May 27, 1941, then in Calgary at No. 2 Wireless School, six more notations being AWL or failing to appear on parade or failed to obey local orders. He was confined to barracks, plus forfeited pay.
From Aviation Safety Network: "At 1750 on August 23, 1942, Supermarine Stranraer 951 of 120 (BR) Squadron RCAF, with a crew of eight was on a routine combat patrol out of Coal Harbour, Vancouver Naval Air Station Base when it suffered engine failure and was forced to ditch. An SOS was received at 18.18 hours to say that it was sinking. A search located the aircraft but due to high sea conditions, rescue was impossible. Later searches failed to locate the aircraft or crew and they were lost without further trace."
From the Court of Inquiry: "One man in excess of the normal crew of seven was carried. This airman was a WAG under instruction…the aircraft was not overloaded…equipped with one dinghy which would accommodate five men. One spare dinghy was available at the Station which could have been drawn by the captain of the aircraft but was not. Two rescue boats…attempted to reach the aircraft…but due to high seas and failure of radio returned to base. One reached the reported position before daylight the morning following the crash but could not locate the aircraft. The captain of the sighting aircraft carried only one dingy and was having trouble with both engines during the time he circled above the aircraft hence he did not drop his dinghy."
In early September 1942, Mrs. Anderson received a letter from S/L P. B. Cox, Officer Commanding 120 B(BR) Squadron, Coal Harbour, BC: "It is with deepest regret that I must inform you that very little hope can now be held out for the survival of your son. Although the search is still continuing, there is, I am afraid, small chance of success at this late date. The most hopeful outcome, though its likelihood is admittedly faint, is that the crew was picked up by an outgoing freighter which was unable to report owing to enforced wireless silence. In extending my most heartfelt sympathy, I should add that the loss of your son will be felt keenly on this station. New to the squadron, he had come to us as the result of his fine quick work in the ground wireless station. It is tragic that his industry should have received such reward, but it may be some consolation to you to know that he was giving forth his highest effort for this service and his country. Should any further information reach us about your son, you will be notified immediately."
On September 8, 1942, reports were made about the missing Stranraer. "Missing after air operations. Low clouds, visibility 1 to 5 miles. Wind velocity 30 knots. Forced down approximately 1820 hours PWT. Last seen at 22 hours by F/O Snyder."
Mr. and Mrs. Anderson, moving to Winnipeg in 1944, received a telegram on April 21, 1943. "Previously reported missing August 23, 1942 as a result of a flying accident. Patrol. Aircraft reported down at sea by forced landing. Now presumed dead August 23, 1942 for official purposes."
Crew: • F/S Everard Thomas Cox (Captain) Vancouver, BC • F/S Lawrence Alfred Bernard Horn, (2nd Pilot) Regina Sask • Sgt Robert Stuart, (Observer) Vancouver, BC • F/S Mervyn Cram, (WAG) Renfrew, Ont. • Sgt Adolf Anderson, (WAG) Selkirk, Man (under training) • Sgt Kenneth Hope, (AFM) Vancouver, BC • Sgt Leslie Oldford, (AEM) Penhold, Alta • Sgt Charles Franklin Beeching, (AEM) Regina, Sask
On January 11, 1944, a memorandum to the Deputy Minister, Department of National Defence, from the Canadian Pension Commission: "The marginally named died at 'missing' 90 miles at sea west of Vancouver Island…cause of death: flying accident. In the opinion of the Commission, death was related to Air Force service."
In late October 1955, Mr. and Mrs. Anderson received a letter informing them that since their son had no known grave, his name would appear on the Ottawa Memorial.
In September 2007, a memorial was held to commemorate those lost aboard Stranraer 951. See links below.
LINKS: